What to Know in Washington: Cheney Ouster Tightens Trump's Grip
Donald Trump's grip on the GOP will tighten with a vote by House Republicans today to depose Rep. Liz Cheney (R-Wyo.) from her leadership post for her persistent rebuttals to the former president's false claims that the 2020 election was stolen from him.
The outcome of the closed-door vote of the 212-member Republican conference is largely settled. House Minority Leader Kevin McCarthy (R-Calif.) and his chief deputy, Rep. Steve Scalise (R-La.), are publicly supporting Cheney's ouster and her replacement with Rep. Elise Stefanik (R-N.Y.), a Trump loyalist. The former president also is backing Stefanik.
Cheney, a conservative and daughter of former vice president Dick Cheney, has not campaigned to keep her job as conference chair, but her spokesman said in a text message last night that she will not step down before the House Republican meeting. She warned anew in a House floor speech yesterday that the GOP's embrace of Trump and his repeated unfounded election claims is damaging the party and the country.
"Remaining silent and ignoring the lie emboldens the liar," Cheney said. "I will not participate in that. I will not sit back and watch in silence while others lead our party down a path that abandons the rule of law and joins the former president's crusade to undermine our democracy." Read more from Billy House.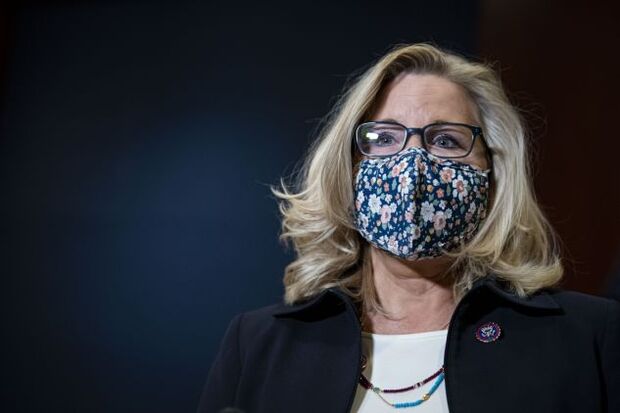 Cheney Vote Highlights GOP 2022 Turnout Priority: House Republicans say today's vote is about fostering a unified message before the 2022 midterms. But it's also about the relationship between Trump and GOP leaders, who view the former president as a critical ally in taking back the House.
The move signals McCarthy's belief that appealing to Trump and his supporters is how to win in 2022, said Scott Jennings, a Republican campaign adviser. "That's the bet McCarthy has made," Jennings said. "He needs Trump in the tent pissing out, and not out of the tent pissing in."
From his Mar-a-Lago resort, Trump has continued to hold fundraisers and donor retreats. His Save America PAC had more than $80 million after the first quarter, according to Trump adviser Jason Miller. He's also doled out endorsements to incumbents and candidates, including Susan Wright, who advanced to the special election runoff to succeed her late husband in Texas' 6th District. And Republican voters are still overwhelmingly loyal to Trump. Read more from Emily Wilkins.
Trump-Backed Super-PAC Sets First Fundraiser: A new super-political action committee backed by Trump is holding its initial fundraiser at the former president's New Jersey golf club to raise money to help loyal Republicans win 2022 midterm races. The Make America Great Again Action Super-PAC, run by longtime Trump adviser Corey Lewandowski, is set for May 22 at Trump National Golf Club Bedminster. Trump will attend the event, which will take place shortly after his seasonal move to New Jersey from Mar-a-Lago in Florida, Lewandowski said. Mark Niquette has more.
Today's Agenda
Biden Meets With Leadership: President Joe Biden plans to meet this morning with House and Senate leadership to discuss areas of potential agreement as the president pushes his $4 trillion economic plan. Biden will meet in the Oval Office at 11 a.m. with Senate Majority Leader Chuck Schumer (D-N.Y.), Senate Minority Leader Mitch McConnell (Ky.), Speaker Nancy Pelosi (D-Calif.) and House Minority Leader Kevin McCarthy (Calif.).
The House will vote on a large list of broadly bipartisan measures today, while the Senate begins work on the nomination of Chiquita Brooks-LaSure to be administrator of the Centers for Medicare and Medicaid Services.
Click here for a complete list of today's hearings and markups.
China Bill Offers Bipartisan Opportunity: An effort in the Senate to ramp up federal support for U.S. research and development in the aim of better competing with China heads toward a committee vote today, posing a chance for lawmakers' to bridge sharp partisan differences across most of the congressional agenda. The Senate Commerce, Science and Transportation Committee is scheduled to vote on whether to advance the package, framed around a $100 billion, five-year injection to American colleges and universities, to the Senate floor. Read more from Daniel Flatley.
Former Defense Chief Cites Coup Speculation Before Jan. 6 Riot: The former acting U.S. defense chief plans to tell a House panel that he was concerned that sending troops to protect the Capitol in anticipation of a pro-Trump rally on Jan. 6 would heighten speculation about a coup. "My concerns regarding the appropriate and limited use of the military in domestic matters were heightened by commentary in the media about the possibility of a military coup or that advisers to the President were advocating the declaration of martial law," Christopher Miller, who Trump appointed as acting Defense Secretary, says in prepared testimony for a House hearing today. Read more from Billy House.
Garland Eyes Powers to Confront Domestic Terror: The U.S. Justice Department is assessing whether it is well positioned to combat the rise of violent extremism inside the U.S., which the FBI warns now surpasses foreign-linked terrorism as the most lethal threat facing the country. That effort includes collaborating with foreign allies to find connections between extremists in the U.S. with those abroad, Attorney General Merrick Garland said in testimony prepared for a Senate hearing today. Read more from Chris Strohm.
Also on Lawmakers' Radar
Tensions Still High on House Floor: A bill on drug market exclusivity that previously had wide bipartisan support was rejected by the House last night, the latest sign of how divided lawmakers remain over the Jan. 6 vote to certify the electoral college, Emily Wilkins reports. The legislation would prevent drug makers from obtaining market exclusivity for certain drugs used to treat rare diseases. In 2019, the bill was sponsored by Rep. Madeleine Dean (D-Penn.) with Rep. Buddy Carter (R-Ga.) as a co-lead. It was passed easily by voice vote.
But this year, Dean refused to let Carter be a co-lead after Carter was one of 138 House Republicans to object to Pennsylvania's' electoral college votes. As a result, 168 Republicans voted against the bill. The final vote of 250-168 was insufficient for passage because the bill was moving under suspension of the rules—something reserved for bills that the vast majority of members support—which requires two-thirds of members to support for passage.
House Majority Leader Steny Hoyer (D-Md.) said in a statement the bill will return to the floor next week via a process that will only require a simple majority for passage.
Sinema Rivals Manchin as Democrats' Wild Card: Sen. Kyrsten Sinema (D-Ariz.) holds the power to quash any element of Biden's agenda by withholding her vote in a 50-50 Senate. But where she stands on issues is something of a mystery. The other Senate Democrat most likely to split with his party, Joe Manchin (W-Va.), appears frequently on Sunday talk shows to discuss policy and navigates the Capitol's corridors with reporters in tow. By contrast, Sinema is tight-lipped and seldom seen except on the Senate floor or inside committee rooms. Now the question is just how much of an impediment Sinema will be to Democrats' agenda. Read more from Laura Litvan and Brenna Goth.
GOP Pounces on Inflation Fear to Fight Spending Plan: Inflation fears are fueling a political threat to Biden's plans for vast new federal spending on infrastructure and social programs, adding to White House officials' worries after a disappointing jobs report on Friday. "There's so much money out there in the economy that the demand is high, and it's out pacing supply and it's starting to push prices up," Sen. John Thune (R-S.D.) said. "We need to be a little more cautious and restrained." The GOP criticism has helped put a spotlight on a monthly report on inflation due today. Read more from Nancy Cook.
Senate Panel Deadlocks on Elections Bill: A Senate panel deadlocked on a Democratic bill to set federal standards on voting access, with Senate GOP leader McConnell leading a day-long effort to thwart legislation he called a partisan power-grab. After hours of debate on amendments, the Senate Rules Committee tied 9-9 along party lines late yesterday on a vote to advance the legislation. Majority Leader Schumer would have to force a vote of the full Senate to bring it to the floor, but its unclear that he'll have the support necessary with some Democrats expressing reservations about the bill. Read more from Jarrell Dillard.
Senate Votes to Repeal Trump-era 'True Lender' Rule: The Senate voted to repeal a Trump-era rule that would make it easier for banks to partner with fintech lenders without running afoul of state interest rate limits. The Senate in a 52-47 vote yesterday passed a Congressional Review Act resolution to overturn the Office of the Comptroller of the Currency's "true lender" rule issued in October. Read more from Evan Weinberger.
Deal Reached on McGahn Subpoena: Congress and the Biden administration said they have reached an "agreement in principle" to settle a legal dispute over Democrats' subpoena for the testimony of former White House Counsel Donald McGahn. In a joint court filing yesterday, the two sides said they'd agreed on an "accommodation" without specifying what the deal would entail. Read more from David Yaffe-Bellany.
Around the Administration
Colonial Sets Deadline of Tonight: Colonial Pipeline told federal officials it'll know later this evening whether it's safe to restart gasoline and diesel shipments that have been put on hold since criminal hackers targeted the company last week. Beyond that deadline, vouched to Energy Secretary Jennifer Granholm by Colonial CEO Joe Blount, details over when the biggest North American fuel pipeline will recover have been scant, Joe Carroll and Jennifer Kay report.
U.S. Asks Mexico to Probe GM Labor Rights: The U.S. asked Mexico to review alleged denial of workers' rights at a General Motors truck plant in central Mexico, the first time Washington is self-initiating a labor dispute under the new trade pact between the countries. United States Trade Representative Katherine Tai has asked Mexico to review whether employees at the facility in Silao, Guanajuato, are being denied the right of free association and collective bargaining, the USTR said in a statement released early today. Read more from Jenny Leonard.
Walsh Lonely Without Deputies to Advance Agenda: The U.S. Labor Department lacks a single Senate-confirmed leader other than Labor Secretary Marty Walsh, posing challenges for the Biden administration as it attempts to advance a robust agenda geared toward a post-pandemic workforce. Six nominees are in varying stages of the confirmation process, and the White House has yet to announce a nomination for the seven other DOL leadership positions requiring Senate signoff. Read more from Austin R. Ramsey and Ben Penn.
IRS Needs More Than Audits to Find Tax Cheats: The Internal Revenue Service needs additional tools beyond audits to find individuals and businesses that are underpaying their federal tax bills, a former commissioner of the agency told a congressional panel yesterday. "Simply scaling up what the IRS does today will not produce the desired results," Charles Rossotti said at a Senate Finance subcommittee hearing. "As important as audits are, currently, all of IRS audit activity only recovers about 2.5% of the tax gap." Read more from Laura Davison.
Maduro, U.S. Signal Tentative Detente: After years of mounting hostility, the U.S.-Venezuela relationship is under quiet review, with Caracas taking conciliatory steps, top American figures serving as go-betweens and the Biden administration reviewing its sanctions policy. Over the last three weeks, President Nicolas Maduro has agreed to international food aid which he had long rejected, moved Citgo executives from prison to house arrest, and added two opposition members to the electoral council. Patricia Laya, Alex Vasquez, and Jennifer Jacobs have more.
To contact the reporters on this story: Zachary Sherwood in Washington at zsherwood@bgov.com; Brandon Lee in Washington at blee@bgov.com
To contact the editors responsible for this story: Giuseppe Macri at gmacri@bgov.com; Loren Duggan at lduggan@bgov.com; Michaela Ross at mross@bgov.com