What to Know in Washington: Caustic Ads Frame Bitter Ga. Runoffs
Republicans and Democrats are inundating Georgia with an inescapable flood of advertising before next week's high-stakes Senate runoff elections, with the typical state resident being exposed to some 500 ads in the past two months.
And a solid majority of the ads — about 70% — are partly or entirely negative.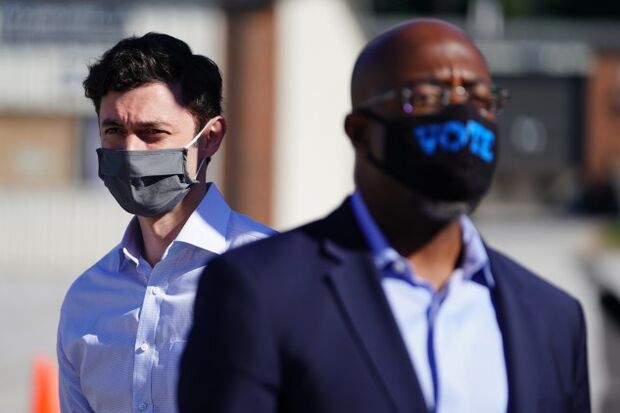 Republican spots portray Democrats Jon Ossoff and Raphael Warnock as "dangerously radical" and warn they'll hand over power to socialists like Sen. Bernie Sanders (I-Vt.) and Rep. Alexandria Ocasio-Cortez (D-N.Y.).
Democratic ads counter that Republicans David Perdue and Kelly Loeffler are out-of-touch multimillionaires who cashed in on the Covid-19 crisis but won't help out-of-work Georgians.
"We are seeing almost $500 million in advertising telling us one thing — this is a choice between two crooks versus two socialists," says Rick Dent, a Democratic political consultant in Georgia. "That's the extent of it. All that money and that is the messaging to determine to future of the U.S. Senate."
The sheer volume rivals any presidential campaign, with some television stations in the state broadcasting more than five hours of political commercials a day. The barrage is fueled by the record-breaking fundraising of small-dollar donors from both parties. The candidates and their party coordinated campaigns account for 73% of the ads broadcast but only 59% of the spending.
The biggest winners are Terrier Media Buyer, an arm of Apollo Global Management that bought Cox Enterprises stations last year, and Tegna, both of which stand to bring in more than $50 million in political advertising in the runoffs alone, according to Advertising Analytics data compiled by Bloomberg.
With no one receiving a majority in multi candidate races in the Nov. 3 general election, Georgia is conducting its first dual runoff for two Senate seats, pitting Perdue against Ossoff and Loeffler against Warnock. The election ends Jan. 5, with 2.5 million people already voting early and by mail.
The outcome of the two races determines which party will control the Senate — and thus President-elect Joe Biden's legislative agenda. In many of the ads, those stakes are made abundantly clear. Read more from Gregory Korte.
Loeffler's Husband Becomes Billionaire: Jeffrey Sprecher, owner of the New York Stock Exchange and husband to Loeffler, is now a billionaire, according to the Bloomberg Billionaires Index, cementing Loeffler's place as the wealthiest member of Congress. The couple has faced public scorn over a series of stock trades made before the coronavirus outbreak jolted markets. Read more from Anders Melin and Matthew Leising.
What to Watch Today
The House meets in a pro forma session at 10 a.m.
The Senate is scheduled to meet at noon today, and no votes are planned. A vote to invoke cloture, or limit debate, on the vetoed defense policy bill (H.R. 6395) is set to occur one hour after the chamber convenes tomorrow if no agreements are made in the meantime.
The Senate moved yesterday toward a vote to override President Donald Trump's veto of the bill, setting up a clash with the White House. Under Senate procedures, the vote on whether to override Trump for the first time could be delayed until Saturday, or even as late as Sunday before the current Congress ends at noon Washington time. Read more from Roxana Tiron.
Meanwhile, Sen.

Doug Jones

(D-Ala.) announced on Twitter he will not be able to vote to override Trump's defense bill veto as he is quarantining after his wife tested positive for Covid-19.
McConnell Spurns Quick Passage of $2,000 Checks: Senate Majority Leader Mitch McConnell (R-Ky.) closed off chances of the Senate acting anytime soon on a House measure that would give most Americans $2,000 stimulus payments.
McConnell said the House legislation, approved in a bipartisan vote Monday, "has no realistic path" to fast passage in the Senate and that it falls short of the demands made by Trump. He again blocked an attempt by Minority Leader Chuck Schumer (D-N.Y.) to adopt the bill to boost the payments to $2,000 from $600 by unanimous consent.
The Senate instead will work on combining the stimulus payments with measures on election integrity and rolling back social media liability protections, he said. That responds to all three issues Trump has said he wants, but a bill combining them likely will alienate enough senators in both parties to leave prospects for bigger stimulus payments dead in the Senate.
"The Senate is not going to be bullied into rushing out more borrowed money into the hands of the Democrats' rich friends who don't need the help," McConnell said. The House measure would raise the income cutoff to receive a payment. Read more from Erik Wasson.
Amid the surge in the ranks of the unemployed during the pandemic, another crucial problem in the labor market has gone mostly overlooked: Workers are calling out sick in record numbers this year. Whether it's because they have Covid-19 themselves, are worried about getting it or are taking care of someone who already has it, the number of workers who've missed days on the job has doubled in the pandemic. Read more from Olivia Rockeman.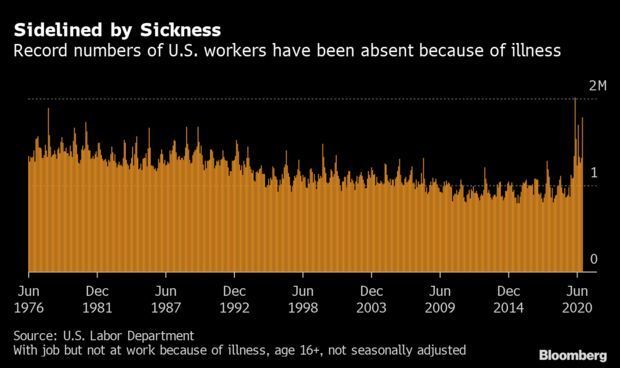 Also on Lawmakers' Radars
Hawley Joins Push to Object to Electors: Sen. Josh Hawley (R-Mo.) said he'll object to certifying the Electoral College's votes for Joe Biden as president when Congress convenes Jan. 6, defying warnings from GOP leaders against staging a doomed-to-fail political spectacle. Hawley claims he can't vote to certify the results "without raising the fact that some states, particularly Pennsylvania, failed to follow their own state election laws."
The effort in the House is being led by Rep. Mo Brooks (R-Ala.). Several other House Republicans said they would join him, including Rep.-elect Marjorie Taylor Greene of Georgia. But their campaign puts many Republicans in a difficult position of having to take a vote that may potentially follow them for the rest of their political careers: Buck Trump and risk the ire of his coalition, or back him and lend credence to the notion that the election was illegitimate. Read more from Daniel Flatley.
On Twitter, Hawley responded to an accidental tweet critical of his plans to object to the certification, from Walmart. Sharing a screenshot showing Walmart respond "Go ahead. Get your 2 hour debate. #soreloser," Hawley fired back at the company, asking if it will "apologize for using slave labor." Walmart later said the tweet was posted by mistake by a member of their social team. Read more from Luke McGrath.
Mazars Suit Remanded as House Signals Subpoenas: A federal appeals court in Washington agreed with Trump that a lower court should decide whether Democrats in Congress need to narrow their subpoena to his accounting firm for his financial records. Trump argued that the case over records held by Mazars ought to be remanded to a district judge after the Supreme Court altered the standards for such subpoenas, while the House Oversight and Reform Committee urged the appeals court to rule on its own. Read more from Erik Larson.
Republican Who Won by Six Votes to Provisionally Join House: Pelosi plans to provisionally seat Iowa Republican Mariannette Miller-Meeks on Sunday while her opponent, Democrat Rita Hart, contests her six-vote defeat. "Every vote counts and that's why the Committee on House Administration is conducting a thorough and fair review of this election," Drew Hammill, a spokesman for Pelosi, said in a statement. Pending the investigation's conclusion, "we intend to provisionally seat the Republican candidate on Sunday." Emily Wilkins has more.
Pelosi Unveils Income and Wealth Disparity Panel: Pelosi yesterday announced the creation of the Select Committee on Economic Disparity and Fairness in Growth in the 117th Congress to "combat the crisis of income and wealth disparity in America," according to a statement. "The past several decades have shown with devastating clarity the marked imbalance between the financial fortunes of CEOs and workers," Pelosi said.
Bill Targets Forced Labor in Xinjiang Area: Rep. Jim McGovern (D-Mass.), chair of the Congressional Executive Commission on China, said he plans to re-introduce his bill that takes aim at companies using forced labor in China's Xinjiang province in the next Congress. McGovern says the legislation has the support of Pelosi and that he expects it to pass quickly. "Speaker Pelosi is very much committed to this," McGovern said at a press conference. Read more from Daniel Flatley.
Democrats Urge OCC Against Risky Client Bank Rule: House Democrats called on the Office of the Comptroller of the Currency to withdraw a plan that would force banks to serve gunmakers, fossil-fuel companies and other large customers that the lawmakers see as posing material risks, Catherine Larkin reports.
Child Tax Credit Boost in Democrats' Sights: Democrats are looking to build on a small win for a tax benefit that can make or break the finances of low-income parents as Biden is sworn in. Tucked in the 5,600-page, recently enacted coronavirus relief and budget law is a provision allowing recipients of credits for low-income earners and low- and middle-income parents to use their 2019 income instead of this year's to calculate their amounts. Lydia O'Neal, Kaustuv Basu, and David Hood have more.
Meanwhile, a plan to expand federal tax credits for buyers of electric cars didn't make the cut in the year-end government funding and pandemic relief bill, but financial help for those installing home electric charging stations did. Read more from Dean Scott.
Ocasio-Cortez Targets Small Business Evictions: Rep. Ocasio-Cortez wants New York Gov. Andrew Cuomo (D) to extend his statewide ban on evictions to include small businesses. She also suggested that New York should bolster rent protections for vulnerable small businesses and that the federal government should step in to help with rents and mortgages nationwide. Read more from Catherine Larkin.
From the White House: Trump yesterday withdrew the nominations of Shon Manasco to be undersecretary of the Air Force, and Eric Ueland to be undersecretary of civilian security, democracy, and human rights at the State Department. Trump also signed several pieces of legislation, including S. 5036 to extend Secret Service overtime pay. Read the BGOV Bill Summary here.
Louisiana Plans Election After Letlow's Death: Louisiana Gov. John Bel Edwards (D) will schedule a special election March 20 to fill the seat of the late Congressman-elect Luke Letlow, who died Tuesday from complications of Covid-19, Edwards' office said yesterday, the Monroe News-Star reports. The special election for the 5th Congressional District may be combined with the election to replace 2nd Congressional District Rep. Cedric Richmond (D-La.), who is joining Biden's leadership team, the outlet reported.
The Presidential Transition
Biden Taps First Woman for Deputy Defense Chief: Biden will nominate former Department of Defense official Kathleen Hicks to serve as the first female deputy defense secretary, saying he wanted someone who knows the department "inside and out" to help restore order to an agency he says was cast into disarray by Trump. Colin Kahl, who was Biden's national security adviser when he was vice president, will be named to be undersecretary of defense for policy.
The adds to Biden's national security team signal a return to experienced hands after Trump has run through a number of defense leaders, including two confirmed secretaries and three acting secretaries of defense. Biden complained Monday that critical national security posts have been "hollowed out" in personnel, capacity and morale. Hicks and Kahl would report to Lloyd Austin, the retired four-star Army general and Raytheon board member who Biden has tapped to be secretary of Defense. Read more from Jennifer Jacobs and Gregory Korte.
Biden Labor Chief Choice Stalls on Walsh, Su: Biden's transition team faces an increasingly difficult decision in its search for labor secretary, as it weighs what's come down to a contest between Boston Mayor Marty Walsh and California Secretary of Labor Julie Su. Biden is under mounting pressure from Asian-American and Pacific Islander leaders to give Su the top spot, instead of Walsh. The transition has sought to broker a compromise by floating Su as deputy labor secretary, but she's expressed reservations about the post. Read more from Ben Penn.
Biden Seeks Senate Input to Move Judges Quickly: Biden's transition team is asking Democratic senators to send in their picks for judicial vacancies promptly, signaling a sense of urgency progressives had sought. Incoming White House counsel Dana Remus asked for "highly qualified and diverse candidates for U.S. Attorney, U.S. Marshal, and U.S. District Court nominations" in a Dec. 22 letter to Democratic senators obtained by Bloomberg Law. Read more from Madison Alder.
Surprise Billing Law Poses Key Test for Biden: Protecting Americans from surprise medical bills without inflating health insurance costs will be a pivotal first-year challenge for the Biden administration, industry observers say. The U.S. government will next year create a sweeping system to stop instances where insured individuals get unexpectedly expensive medical bills and to settle pricing disputes between doctors and insurers via arbitration. Trump signed the legislation into law as part of the omnibus spending and virus relief package. Read more from Alex Ruoff and Danielle Parnass.
Biden to Block Pending Trump Regulations: Biden will issue a memo effective Inauguration Day that will block actions taken by the outgoing administration that haven't become official, the transition announced yesterday. Incoming White House press secretary Jen Psaki said the move will curb "midnight" regulations and actions. She cited a Trump Labor Department plan to make it easier for companies to classify employees as contractors, who normally don't get overtime pay or health benefits. Read more from Emma Kinery and Jennifer A. Dlouhy.
The Coronavirus Pandemic
California Sees Case of New Virus Variant: A second U.S. case of the highly infectious strain of Covid-19 that emerged in the U.K. has been detected in California, just a day after Colorado reported the nation's first known infection. Gov. Gavin Newsom (D) revealed the case during a virtual conversation yesterday with Anthony Fauci, the nation's top infectious disease expert. Meanwhile, Colorado officials said yesterday they're investigating another possible infection involving the strain. Catherine Traywick, Michelle Fay Cortez and Michael B. Marois have more.
Sluggish Vaccine Rollout Raises Specter of U.S. Dysfunction: U.S. health officials acknowledged that a Covid-19 immunization campaign is crawling out of the starting gate, raising the prospect that the nation's all-in bet on vaccines could be afflicted by the same dysfunction that hobbled other measures to contain the pandemic.
Senior public-health officials said the vaccination pace will accelerate as soon as next week. Nursing homes and other long-term care facilities are likely to get more shots done as the new year dawns and the holidays recede, said Nancy Messonnier, director of the CDC's National Center for Immunization and Respiratory Diseases.
Messonnier attributed the slow rollout to public health departments being strained by the pandemic, launching the inoculation campaign amid the holiday season and the Covid-19 vaccines' special handling and storage requirements. The leader of the logistics effort, Army General Gustave Perna, said that it will take time to understand why uptake has proceeded so slowly. Read more from Angelica LaVito.
States Rewriting Rules to Get Vaccine Moving: States are improvising new delivery systems and rewriting priorities as Covid-19 vaccinations are off to a tortoise-paced start. Colorado on Wednesday said it would vaccinate people 70 and older, joining Texas and Florida in trying to quickly immunize older residents—even though federal guidelines favor health-care workers. Other cities and states are just now registering recipients, weeks after Trump's administration made clear it considered its job done after the vaccines were delivered to hospitals and public health agencies. Read more from Angelica LaVito.
Pelosi said that the vaccine rollout overseen by the Trump administration has been too slow due to logistics and health infrastructure issues. "It's one thing to be in the lab, it's another thing to be in the arm," Pelosi told reporters on Capitol Hill yesterday. "This has to be done better." However, she recognized the impressive speed with which vaccines were developed, Erik Wasson reports.
At the same time, the expedited federal process used to approve vaccines adds another layer of legal risk to employer mandates requiring workers to take the shot, lawyers say. Companies typically have the authority to enforce vaccine mandates under the threat of termination. But rules related to the Food and Drug Administration's sped-up procedure for authorization in a public health crisis gives some workers an avenue to sue over such firings, attorneys said. Read more from Robert Iafolla.
Worst Spot for U.S. Brain Drain Gets Vaccine Hope: The old factory town of Kalamazoo, Michigan, has become a center for Covid-19 vaccine manufacturing. That may help the area's economy turn a corner after some tough years. Ranked highest in this year's Bloomberg Brain Drain Index of population loss of top talent, Kalamazoo has struggled like the rest of the U.S. with the job-crushing pandemic. But the city got some hope when Pfizer's factory in adjacent Portage recently became a key distribution point for the vaccine. Vincent Del Giudice and Wei Lu have more.
N.Y. Reports Record Daily Virus Cases: Cuomo reported a new daily high of 13,422 cases of Covid-19 as he stressed the need to open the economy before the majority of the population is vaccinated. Of the nearly 155,000 tests conducted statewide on Tuesday, 8.7% were positive, including hot-spot areas. The state conducted fewer tests than it has in recent weeks, Cuomo said. The state is testing a program that would let businesses stay open with rapid testing. The first pilot will be during the Buffalo Bills playoff game, he said. Keshia Clukey has more.
U.S. Mulling Expanded Testing for Overseas Travel: The U.S. may boost Covid-19 testing for international passengers who come from destinations in addition to the U.K., a bid to increase overseas travel. Federal agencies have been in negotiations with airlines about how to restore international air travel safely amid the pandemic. The CDC has said that passengers flying to the U.S. from the U.K. must test negative before departing, following the discovery of a new strain of the disease that spreads more rapidly. Keith Laing has more.
The Outgoing White House
Possible Trump Pardon Overshadows Assange Trial: A U.K. judge will rule Monday on whether WikiLeaks founder Julian Assange should be extradited to the U.S. to face criminal charges after weeks of talk about a possible pardon from Trump. The decision from a London judge will come after Trump, whose administration brought the charges, issued a plethora of pardons to political allies. And lawyers say the odds of clemency from Trump are better than a judge buying Assange's arguments that his human rights will be trampled on in America. Read more from Ellen Milligan.
U.S. Touts Gulf Deployment as Signal to Iran: Commander of U.S. Central Command Gen. Frank McKenzie said in a statement yesterday the latest B-52 deployment makes "clear that we are ready and able to respond to any aggression directed at Americans or our interests." The B-52 announcement follows a U.S. Navy statement last week noting the Ohio-class guided missile submarine USS Georgia had entered the Persian Gulf along with two guided-missile cruisers in the first "overt" transit by a U.S. nuclear submarine since 2012, Tony Capaccio reports.
Separately, Yemen President Abd Rabbuh Mansur Hadi blamed Iran-backed Houthi rebels who have been fighting the government since 2014 for an airport bombing that killed about 30 people and wounded 60, including new cabinet members who were flying in from refuge in Saudi Arabia, according to the Al-Masdar news website. Read more from Mohammed Hatem.
DOD Keeps F-35's Full-Rate Production on Hold: The Pentagon has put a decision on approving full-rate production of Lockheed Martin's F-35 on indefinite hold, as officials remain unable to say when the fighter jet will be ready for combat testing that's been delayed repeatedly since 2017. "Technical challenges and the impact of Covid-19" have delayed preparation of the simulation facility, according to a spokeswoman for Ellen Lord, the Defense Department's acquisitions chief. Read more from Tony Capaccio.
Pence Calls Off Planned Middle East Trip: Vice President Mike Pence won't be traveling to the Middle East and Europe as scheduled next week amid global spikes in coronavirus cases, according to people familiar with the matter. Pence had been discussing travel to countries including Israel, Bahrain and Belgium, after presiding over a Jan. 6 joint session of Congress that would finalize Biden's Electoral College victory, the people said. Pence's office never formally announced the trip. Read more from Jennifer Jacobs.
Drugmakers Must Give Discounts to Contracting Pharmacies: Drugmakers must pass on federal kickbacks to pharmacies that contract with lower-income hospitals and health centers, the Department of Health and Human Services said yesterday. The advisory opinion from the HHS's general counsel comes after drugmakers like Eli Lilly and AstraZeneca started limiting which health centers can access product discounts under the 340B drug pricing program—a move that prompted litigation over a gray area within the program. Lydia Wheeler has more.
States are required to cover all forms of treatment for opioid use disorder, including methadone and counseling, for patients in their low-income Medicaid health program, the Centers for Medicare & Medicaid Services said yesterday. Read more from Fawn Johnson.
U.S. Loses Bid to Escape Gilead Claims: Gilead Sciences's claims that the Centers for Disease Control and Prevention breached research agreements by applying for HIV-medicine patents using its research survived the CDC's attempt to dismiss the case in federal court yesterday. Gilead's April complaint said it shared its information with the government while developing its HIV-prevention drug Truvada for PrEP. Read more from Blake Brittain.
Groups Lose Bid to Ban Hunting Within Grand Teton: The National Park Service lacks the authority to ban hunting on a small percentage of public and private land within Wyoming's Grand Teton National Park, the Tenth Circuit affirmed yesterday, in a defeat for conservation groups. Groups like the National Parks Conservation Association and Defenders of Wildlife disputed the agency's 2014 finding that a wildlife regulation prohibiting hunting in national parks doesn't apply to land within the park known as "inholdings." Maya Earls has more.
Robocall Crackdown to Be Policed With U.S. Company Help: The Federal Communications Commission set new rules to curb annoying robocalls, limiting the number of calls companies can make and requiring phone companies to take greater steps to make sure their networks aren't used to transmit illegal calls. The FCC said it receives more complaints about unwanted calls than any other issue and has been on a years-long quest to limit calls that can be used to commit fraud and identity theft. Read more from Susan Decker.
DOL Complied With 'Divisive'-Training Order: The Labor Department was complying with mandates of a Trump executive order banning federal contractors from providing "divisive" workplace training as of Dec. 21, according to an agency watchdog. The Labor Department's acting Inspector General Larry Turner informed the Office of Management and Budget of the agency's compliance with Executive Order 13950, which outlawed trainings involving "race or sex stereotyping or scapegoating," in a letter dated Tuesday. Read more from Paige Smith.
Trump Indefinitely Extends Visa Sanctions: The White House is extending its pandemic-era policy of imposing visa sanctions on countries that fail to take back their citizens who violate U.S. laws. The policy, first issued April 10, "shall continue in force until terminated by the President," according to a White House statement last night. The original memo was set to expire Dec. 31, Catherine Larkin reports.
EPA Wants Asbestos Restrictions to Protect Workers: Asbestos regulations will be developed to protect certain car mechanics, oil drillers, and other workers from cancer they might get from working with or near the mineral, the EPA said yesterday in publishing its final risk evaluation for the chemical. Read more from Pat Rizzuto.
To contact the reporters on this story: Brandon Lee in Washington at blee@bgov.com; Michaela Ross in Washington at mross@bgov.com
To contact the editors responsible for this story: Giuseppe Macri at gmacri@bgov.com; Zachary Sherwood at zsherwood@bgov.com