What to Know in Washington: Buffalo Killings Lay Bare DC Inertia
Congress reckons with own inaction on guns, extremism
Senate votes to advance Ukraine aid; final vote in days
President Joe Biden will visit Buffalo on Tuesday to honor the victims of what authorities are calling a racist mass shooting, as Washington remains paralyzed around issues of gun violence and extremism.
Biden will underscore the threat of hate crimes and renew his plea for new gun restrictions, according to a White House official.
The massacre at a supermarket in a mostly Black neighborhood on Saturday left 10 people dead and three wounded. The killings, which are being investigated as a racially-motivated hate crime, renewed calls among congressional Democrats for stricter gun control legislation and stronger hate-crime laws. But Capitol Hill action on such intractable, divisive issues is highly unlikely with midterm elections just months away.
The shooting has caused blowback for some conservative lawmakers, candidates and commentators who've espoused versions of the "replacement theory" that apparently inspired the alleged gunman, an 18-year-old White man. According to the fringe theory, Jewish-controlled elites are trying to dis-empower White Americans.
Representative Liz Cheney, a Wyoming Republican, accused her party's leadership of enabling "white nationalism, white supremacy and antisemitism" and pressured them to root it out.
Representative Adam Kinzinger, an Illinois Republican, accused Representative Elise Stefanik of New York, who replaced Cheney as the No. 3 House Republican a year ago, of pushing replacement theory.
Kinzinger cited a Stefanik ad posted on Facebook showing images of migrants crossing the border over the text: "Radical Democrats are planning their most aggressive move yet: a PERMANENT ELECTION INSURRECTION."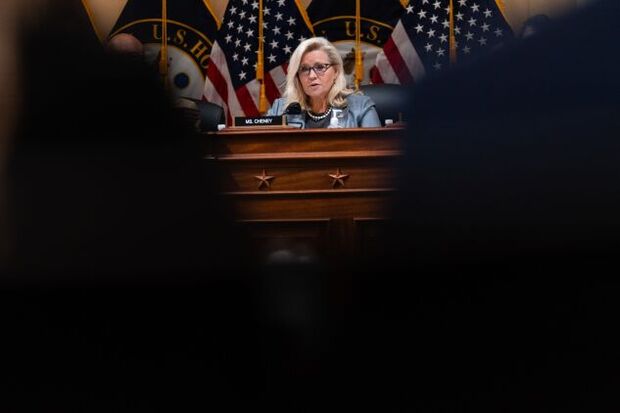 Stefanik senior adviser Alex DeGrasse on Monday called any attempt "to blame the heinous shooting in Buffalo on the congresswoman is a new disgusting low for the Left, their Never Trump allies, and the sycophant stenographers in the media."
Democrats have repeatedly tried and failed to enact new gun-control measures — such as universal background checks and an assault weapons ban — in the decade since a gunman killed 26 people, most of them first graders, at the Sandy Hook elementary school in Newtown, Connecticut.
Efforts to advance bipartisan background-check legislation sputtered last year in the evenly divided Senate, even after a mass shooting that targeted Asian-owned businesses in the Atlanta area.
The inaction has led Biden to resort to executive measures, which are limited in scope, to address the problem. Meanwhile, Biden nominated Steven Dettelbach to lead the Bureau of Alcohol, Tobacco, Firearms and Explosives. The former federal prosecutor would be the first permanent agency chief since 2015, if confirmed by the Senate.
Senate Judiciary Committee Chair Dick Durbin (D-Ill.) said Monday that the panel would soon hold a hearing on domestic terrorism. "We have to break down these groups. They are recruiting young people into their ranks," he told Bloomberg Television. Read more from Jordan Fabian.
CONGRESS' SCHEDULE:
At 11 a.m., Greek Prime Minister Kyriakos Mitsotakis delivers remarks to a joint session.
The House meets at 9 a.m. and plans to complete consideration of job training legislation.
The Senate meets at 2:30 p.m. and plans to resume consideration of aid to Ukraine.
The Senate overwhelmingly voted to move toward passage of $40 billion in Ukraine aid, underscoring broad Republican and Democratic support for that country as it defends itself against Russia's invasion. Monday's 81-11 procedural vote sets up a final vote as soon as Wednesday if all lawmakers consent to waive rules on debate. Erik Wasson has more.
Meanwhile US Treasury Secretary Janet Yellen issued a call Tuesday for large-scale economic assistance to Ukraine, warning that the amounts of help pledged to date won't even meet short-term needs as the nation struggles with the devastation wrought by Russia's invasion. Christopher Condon and Christopher Anstey have more.
Yellen also said that western democracies have become "too vulnerable" to countries that use their market positions as geopolitical leverage, and called for the US and Europe to coordinate their approach toward China after having united against Russia. Yellen in a speech Tuesday in Brussels said countries have an interest in incentivizing China to refrain from practices such as "those affecting trade and investment, to development and climate policies, to approaches to provide debt relief to countries facing unsustainable debt burdens." Read more from Christopher Anstey and Christopher Condon.
Elections, Politics & Influence
Primary season is underway, setting November's matchups that will determine which party controls the House and Senate next year. Join Bloomberg Government reporters today at noon ET as they recap last week's primaries and what upcoming races to watch. Set a reminder here .
New York state Democrats would have the upper hand in just 16 congressional districts and Republicans would have a strong opportunity to win three or more seats under the map recommended Monday by the state's court-appointed special master. The draft from Special Master Jonathan Cervas is the bedrock for replacing a district plan that was struck down as unconstitutional. If adopted, it would improve GOP prospects for winning a House majority for a decade. Keshia Clukey and Greg Giroux have more.
Two senior House Democrats from New York City would be forced into a primary face-off to represent a new Manhattan-based district under the draft map.

Carolyn Maloney

and

Jerrold Nadler

, both of whom have been in Congress for 30 years and head influential House committees, both tweeted that they would run for the 12th District seat, and both are close allies of House Speaker

Nancy Pelosi

.
The map, if approved, would also pit

Sean Patrick Maloney

, chair of the Democratic Congressional Campaign Committee, against

Mondaire Jones

, a progressive first elected in 2020 from a district that spans Rockland and northern Westchester counties just north of New York City. House Democratic Caucus Chair

Hakeem Jeffries

of New York said in a tweet that the draft map "viciously targets historic Black representation in NY." Billy House has more.
Political commentator Kathy Barnette, running for US Senate in Pennsylvania, said she would not support Mitch McConnell (R-Ky.) as GOP leader in the chamber, and that Donald Trump made a mistake in not endorsing her. "He is not Jesus, so he gets to be wrong—and on this, he's wrong," Barnette told reporters after her final campaign event in Scranton before the Republican primary Tuesday. Read more from Mark Niquette.
Regulators at the Securities and Exchange Commission are demanding that one of the blank-check companies run by Patrick Orlando, the financier helping take Trump's media venture public, turn over documents related to meetings, communications and the evaluation of possible merger targets. The firm said it doesn't seem to be the focus the agency's investigation. Ben Bain and Nicola M. White have more.
George P. Bush, who's eyeing the GOP nomination for Texas attorney general, said he would support further efforts to limit abortion if he's elected, including prohibiting companies that pay for employees to travel to other states for the procedures from doing business with the state. He also pledged to crack down on mailed abortion pills to Texans. Read more from Shelly Hagan.
Around the Administration
PRESIDENT'S SCHEDULE:
Biden and First Lady Jill Biden will travel to Buffalo, New York and meet with families of those killed at a grocery store on Saturday, along with law enforcement and communities leaders. The president will deliver remarks at 1 p.m.
At 4 p.m., the president and First Lady will host a reception to celebrate Asian American, Native Hawaiian, and Pacific Islander Heritage Month in the Rose Garden.
The US announced a reversal of Trump's hard-line Cuba policy, expanding flights to the island, ramping up visa processing and allowing more support for local businesses and remittances inflows. The measures will make it easier for families to visit relatives and for authorized Americans to engage with Cubans and conduct research, the State Department said in a release. Eric Martin and Jenny Leonard have more.
Abbott Laboratories reached a pact with US authorities that would allow it to begin making baby formula again at a troubled plant in Michigan, a move that could help ease a supply shortfall that has rattled many parents. The deal still needs the approval of a federal court in Michigan, the FDA said Monday. Read more from Anna Edney.
The US will extend the Covid public-health emergency past mid-July, continuing pandemic-era policies as the nearly 2 1/2-year outbreak drags on. The declaration allows the US to grant emergency authorizations of drugs and vaccines, and enabled millions to get coverage through Medicaid. Riley Griffin has more.
A spike in drug abuse during the Covid pandemic has hampered the recovery in the American labor market, according to a recent paper published by the Federal Reserve Bank of Atlanta. Elevated substance abuse accounted for 9% to 26% of the decline in the workforce participation of workers age 25 to 54—the so-called prime-age—between February 2020 and June 2021, the study said. Read more from Alex Tanzi.
The Biden administration is considering a requirement that some health coverage plans cover fertility treatment for policyholders regardless of their sexual orientation or gender identity. The White House could use a pending Obamacare update to tackle the definition of infertility often used by insurers to determine eligibility for in-vitro fertilization, which is impossible for some LGBTQ people to meet. Shira Stein has more.
Employers and health insurers paid hospitals more than double what Medicare would have paid in 2020, according to a RAND report Tuesday. Sara Hansard has more.
Karine Jean-Pierre held her first briefing as White House press secretary Monday, observing that her ascension to the role of Biden's chief spokesperson has broken racial and sexual-orientation barriers. Kathleen Hunter and Jenny Leonard have more.
To contact the reporter on this story: Brandon Lee in Washington at blee@bgov.com
To contact the editors responsible for this story: Giuseppe Macri at gmacri@bgov.com; Loren Duggan at lduggan@bgov.com; Michaela Ross at mross@bgov.com