What to Know in Washington: Budget Official Questioned Aid Hold
A White House budget official said he warned his superiors that a hold on security assistance for Ukraine could be illegal, and he waited months for an explanation for the delay he described as unusual, according to transcripts released yesterday.
Mark Sandy, who was responsible for national security programs at the Office of Management and Budget, testified to the House impeachment inquiry that budget officials were told in mid-July that President Donald Trump had directed that the Ukraine aid be held up. Despite questions from OMB officials, no explanation was given nor was any time frame for the hold set out.
Sandy, a career official, said that as he and others raised questions about the delay responsibility for releasing the funds was taken from him in July and given to a political appointee, Michael Duffey, to whom he reported.
"As the hold was extended, we continued to express concerns about the potential implications vis-à-vis the Impoundment Control Act," Sandy said in his Nov. 16 testimony. "We expressed those concerns to Mike Duffey, and, on every occasion, we advised him to speak to the general counsel."
Under the 1974 law, the executive branch is legally obligated to spend the money that Congress approved in a bill the president signed into law.
Sandy said it wasn't until September — after members of Congress began questioning the delay and a whistleblower raised an alarm about Trump's phone call with Ukraine's president — that an explanation for why the nearly $400 million in aid for Ukraine had not yet been spent.
The three House committees leading the impeachment inquiry released the transcripts from Sandy and Philip Reeker, a State Department official, as part of the evidence collected behind closed doors and in public hearings over the past two months. The two documents provide additional accounts of two events central to the allegations against Trump: the motivation for withholding aid for Ukraine and the dismissal of the U.S. ambassador in Kyiv. Read more from Billy House and Nick Wadhams.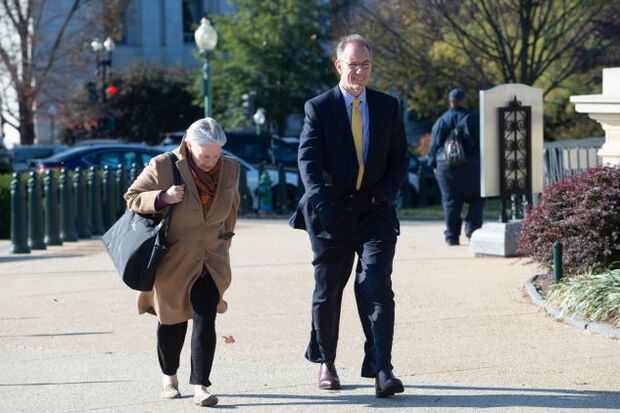 Trump Denies Sending Giuliani to Ukraine for Biden Probe: Trump denied directing Rudy Giuliani to go to Ukraine to look for dirt on his political rivals, in an interview with former Fox News host Bill O'Reilly. "No, I didn't direct him, but he is a warrior, he is a warrior," Trump told O'Reilly in an interview streamed on the internet yesterday. Giuliani has said publicly that he conducted an investigation "concerning 2016 Ukrainian collusion and corruption" on Trump's behalf.
Asked by O'Reilly what Giuliani was doing in Ukraine, Trump said "you have to ask that to Rudy."
"Rudy has other clients, other than me," the president added. "He's done a lot of work in Ukraine over the years." Read more from Justin Sink.
Committee Opposes Hold on McGahn Ruling: The House Judiciary Committee urged a judge yesterday to deny a Justice Department request to put on hold her ruling compelling former White House Counsel Don McGahn to comply with a subpoena for his testimony. In a federal court filing in Washington, the committee said the requested hold would "undermine public interest" and thwart the committee's ability to conduct an impeachment inquiry based on all of the relevant evidence, "which in turn could compromise the public's faith in the process."
The administration told U.S. District Judge Ketanji Brown Jackson if she didn't rule by this morning, it would ask the appeals court in Washington to put her ruling on hold — a move the committee said was wholly unnecessary since it agreed to wait for seven days to let the judge decide before taking any action. If the judge denies the administration's request, the committee said it would also give the appeals court seven days to consider the issue, Joe Schneider reports.
Elections & Politics
Warren Loses Momentum in 2020 Race: Sen. Elizabeth Warren's (D-Mass.) steady rise in the polls has shifted into reverse as attacks from her Democratic rivals over her Medicare for All plan take a toll. A Quinnipiac poll released yesterday found that Warren has dropped by 14 points since October, when she topped the field in the same poll. Joe Biden now has a clear lead and she is in a three-way statistical tie for second place with Pete Buttigieg and Sen. Bernie Sanders (I-Vt.). Every other candidate had 3% support or less.
Other surveys like Economist/YouGov show Warren's support dipping in recent weeks, and her standing in the RealClearPolitics average of polls has fallen by 9 points since early October. There's no obvious beneficiary of her struggles — Biden, Sanders and Buttigieg have each risen by a few points since then. Read more from Sahil Kapur.
Incomes Boom in Swing States: Personal income growth has been surging in some political battlegrounds, including a third of the counties in Pennsylvania, which Trump narrowly flipped in 2016 and may need to win re-election next year. In Trump's first two years in office, a total of 325 counties representing nearly 6% of the U.S. population experienced their best annualized income gains since at least 1992, according to data compiled by Bloomberg News. And 127 of those are located in perennial swing states, including Ohio and Iowa. Bloomberg News analyzed per capita income growth in all U.S. counties going back to Bill Clinton's first term. Read more from Alex Tanzi and Wei Lu.
Bloomberg Says He Should Pay More Taxes, Opposes Wealth Levy: Democratic presidential candidate Michael Bloomberg pledged to support "taxing wealthy people like me" but dismissed a wealth levy tried in other countries and supported by rivals including Warren and Sanders because "it just doesn't work." Campaigning in Phoenix on the second day of the rollout of his campaign, Bloomberg didn't offer a tax plan, but said one would be forthcoming. Read more from Mark Niquette. Bloomberg is the majority owner of Bloomberg Government's parent company.
Zeldin Gets Democratic Challenger: Bridget Fleming (D), a legislator in New York's Suffolk County, announced a campaign and filed FEC papers to oppose three-term Republican Rep. Lee Zeldin in the state's 1st congressional District. "For too long, politicians like Lee Zeldin have prioritized President Trump at the expense of our priorities," Fleming says in a campaign video that emphasizes environmental protections and health care. She joins a Democratic field that already includes Nancy Goroff, a chemistry professor who's endorsed by EMILY's List, and Perry Gershon, who's seeking rematch after losing 51%-47% to Zeldin in the 2018 election. Read more from Greg Giroux.
Defense & Foreign Affairs
Trump Says China Deal in 'Final Throes': Trump declared yesterday that talks with China on the first phase of a trade deal were near completion after negotiators from both sides spoke by phone, signaling progress on an accord in the works for nearly two years. "We're in the final throes of a very important deal," Trump told reporters at the White House. "It's going very well." The president said later in the nterview with O'Reilly that he's holding up the trade deal to ensure better terms for the U.S. "I'm holding it up because it's got to be a good deal," he said in the interview for O'Reilly's website. "We can't make a deal that's like, even. We have to make a deal where we do much better, because we have to catch up." Read more from Mario Parker and Shawn Donnan.
Trump to Designate Mexican Cartels as Terror Groups: Trump said the U.S. government intends to designate Mexican drug cartels as terrorist groups in the near future, and declined to say whether he was considering taking military action like drone strikes against the groups. "I don't want to say what I'm going to do, but they will be designated," Trump told O'Reilly. Trump said that he had already offered Mexican president Andres Manuel Lopez Obrador assistance but that his counterpart had declined the offer. "I've actually offered him to let us go in and clean it out," Trump said. "He so far has rejected the offer, but at some point something has to be done. Read more from Justin Sink.
Kim Jong Un Advances Nuke Threat: It's been about two years since Kim Jong Un launched a missile capable of hitting the entire U.S., declared his nuclear weapons program "complete" and halted all ICBM tests. In that time, the North Korean leader has also become an even bigger threat to America. Kim's testing freeze ushered in unprecedented diplomacy with Trump, leading to historic meetings in Singapore, Vietnam and the demilitarized zone separating the two Koreas. But at the same time, Kim has been busy churning out fissile material for bombs and developing new missile technology that could make the next big launch of an intercontinental ballistic missile even more concerning to Pentagon military planners. Read more from Jon Herskovitz.
Merkel Defends NATO Alliance: German Chancellor Angela Merkel made a spirited defense of the North Atlantic Treaty Organization, saying Europe is currently too weak to defend itself without the support of the U.S.-led military alliance. Merkel's comments in a speech today to the Bundestag were clearly directed at French President Emmanuel Macron, who has cast doubt on NATO's future by suggesting the 29-nation organization is "brain dead." NATO heads of state are scheduled to meet in London Dec. 3-4. Read more from Arne Delfs.
Corbyn Says U.S. Targeting NHS: British Labour leader Jeremy Corbyn accused the Conservative government of concealing secret negotiations between U.K. and U.S. officials on the future of Britain's National Health Service in any trade deal. U.S. pharmaceutical companies want to force up the price the NHS pays for drugs as part of a U.S.-U.K. deal, Corbyn said, noting that Trump frequently complains about "unreasonably low prices" other countries pay for medicines. Corbyn said both sides have already finished initial talks on lengthening patents for medicines in the U.K. Read more from Alex Morales and Greg Ritchie.
Around the Administration
Regulatory Chief Documents Sought: Democrats on the Senate Homeland Security and Governmental Affairs Committee are demanding more documents in advance of a hearing scheduled for Dec. 4 on Paul Ray, Trump's nominee to be the next regulatory chief. Sen. Gary Peters (D-Mich.), the ranking member of the committee, was joined by five panel Democrats in requesting the records from the White House Office of Management and Budget about the activities of its Office of Information and Regulatory Affairs. Read more from Cheryl Bolen.
SCOTUS to Confer on Tax Appeal: The Supreme Court indicated yesterday that it will use its Dec. 13 private conference to consider taking up Trump's bid to block a New York grand jury subpoena for his tax returns. The court could say as early as that day whether it will hear Trump's appeal. The case is one of two fights that are testing the court's willingness to shield the president from investigations into his personal and business affairs. Trump is separately fighting a subpoena for his financial records by a House committee. Read more from Greg Stohr.
FAA Rebuffs to Scrutinize All 737 Max Deliveries: U.S. aviation regulators will conduct the final approval of factory-fresh Boeing 737 Max jets rather than allowing company employees to handle routine sign-offs before the planes are delivered. The plan amounted to the latest signal from the Federal Aviation Administration that it intends to retain full control over all aspects of the grounded jetliner as Boeing prepares to finalize fixes and restart shipments to customers. The Max, the company's best-selling model, has been banned from flying since March after two deadly crashes killed 346 people. Read more from Alan Levin and Julie Johnsson.
Editor's Note: Bloomberg Government's What to Know in Washington will not publish on Thursday or Friday for the Thanksgiving holiday. We will return Monday, Dec. 2.
To contact the reporters on this story: Zachary Sherwood in Washington at zsherwood@bgov.com; Brandon Lee in Washington at blee@bgov.com
To contact the editors responsible for this story: Giuseppe Macri at gmacri@bgov.com; Loren Duggan at lduggan@bgov.com