What to Know in Washington: Bolton's Book Could Roil 2020 Race
Former National Security Adviser John Bolton writes in a new book that President Donald Trump asked Chinese leader Xi Jinping to help him win re-election by buying more U.S. farm products, according to an excerpt published by the Wall Street Journal.
The disclosure is part of a devastating portrayal of Trump's conduct of foreign policy by Bolton, the most senior official in this White House so far to publish an account of his experience. The book is poised to further burden Trump's effort to secure a second term.
In the book, which is scheduled to be released next week, Bolton describes a discussion between Trump and Xi at last year's Group of 20 summit in Osaka, Japan. Bolton writes that Trump was "pleading with Xi to ensure he'd win" but said he could not print the president's exact words because of the government's pre-publication review process for classified material forbade it, according to the excerpt.
The former top security aide said the result was emblematic of "the confluence in Trump's mind of his own political interests and U.S. national interests," writing that he routinely made foreign policy choices in order to benefit himself politically.
"I am hard-pressed to identify any significant Trump decision during my White House tenure that wasn't driven by re-election calculations," Bolton writes.
Chinese foreign ministry spokesman Zhao Lijian told reporters in Beijing today that the country "will not interfere in the U.S.'s internal affairs and election."
The Trump administration has been trying to stop the book's publication, and last night asked a federal judge in Washington to grant an emergency restraining order. But the New York Times and the Washington Post have both published reports on Bolton's book yesterday after obtaining copies.
In an interview with Sean Hannity on Fox News Wednesday night, Trump said that Bolton "broke the law, very simple. As much as it's going to be broken." He belittled Bolton as a "washed up guy" when he joined the administration.
Trump lashed out at his former adviser in tweets early today. He earlier told the Wall Street Journal that Bolton was "a liar" and offered a vindication of his foreign policies.
The White House is already struggling to consistently rebut Bolton's account. While Trump said Monday that "maybe he's not telling the truth," White House Press Secretary Kayleigh McEnany said yesterday the book is "full of classified information" without denying Bolton's assertions. Read more from Jordan Fabian and Nick Wadhams.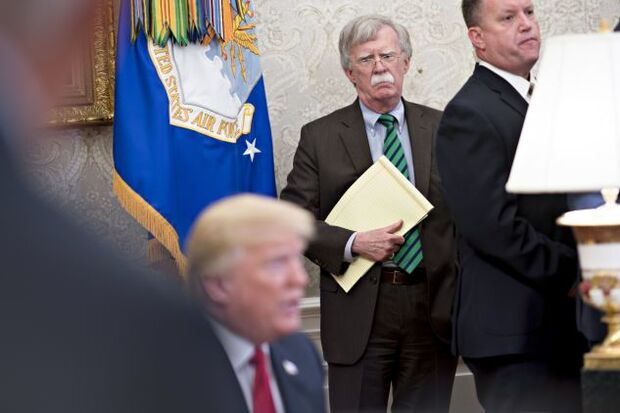 Top Bombshells in Bolton's Memoir: Bolton's tell-all paints an unflattering picture of Trump's leadership and accuses him of endangering the nation to be re-elected. Andrew Mach puts together a list of the most serious allegations.
The Coronavirus Pandemic
Trump Says Coronavirus Will 'Fade Away': The coronavirus pandemic will "fade away" even without a vaccine, but researchers are close to developing one anyway, Trump said.
"We're very close to a vaccine and we're very close to therapeutics, really good therapeutics," Trump said last night in a television interview with Fox News. "But even without that, I don't even like to talk about that, because it's fading away, it's going to fade away, but having a vaccine would be really nice and that's going to happen."
Trump's comments come as the U.S. continues to see 20,000 new daily cases from a pandemic that so far has killed 117,000 people in the country. The president has called for easing restrictions on public activity that were imposed to slow the spread of the virus but that plunged the U.S. into recession.
Anthony Fauci, the head of the U.S. National Institute of Allergy and Infectious Diseases, has said a vaccine could be ready by the end of the year or the first few months of 2021. More than 130 vaccines against coronavirus are in development, according to the World Health Organization. Read more from Josh Wingrove.
Democratic presidential nominee Joe Biden yesterday told Trump to "wake up," accusing him of waving a "white flag and retreating" from the battle against Covid-19 even as the it continues to ravage the health and finances of Americans. Trump "wants to style himself as a wartime president. Unlike any other wartime leader, he takes no responsibility, he exercises no leadership, now he has just flat surrendered the fight," Biden said during a campaign stop in a Philadelphia suburb. Read more from Jennifer Epstein.
Houston Leader Rebuffs Governor With Stay-Home Plea: Houston-area residents should follow stay-at-home guidelines that were discontinued weeks ago to cope with a resurgence in Covid-19 cases and hospitalizations, the county's top official said. Harris County Judge Lina Hidalgo stopped short of making the restrictions mandatory in the third-largest U.S. county, because Governor Greg Abbott has ruled out such measures since reopening the state seven weeks ago. Covid-19 hospitalizations swelled by 11% in Texas to 2,793, the biggest 24-hour increase since June 4, state figures showed yesterday. Read more from Joe Carroll.
Meanwhile, Arizona Gov. Doug Ducey changed course yesterday and gave cities and counties the power to require people wear masks to slow the spread of the coronavirus as cases surge in the state. Ducey's executive order came after leaders across Arizona pleaded in recent days for more authority to address the lax social distancing they have noted since the end of the state's stay-at-home order on May 15. Ducey's previous executive orders limited local governments from imposing coronavirus policies more restrictive than state directives. Read more from Brenna Goth.
Workplace Antibody Tests Can't Be Required, EEOC Says: Federal disability law doesn't allow employers at this time to require coronavirus antibody testing before employees return to work, according to the Equal Employment Opportunity Commission. The civil rights agency's latest guidance falls in line with advice from the Centers for Disease Control and Prevention, which said the tests shouldn't be used to "make decisions about returning persons to the workplace." The presence of antibodies in a test can't be equated with a worker's immunity from Covid-19, the CDC guidance said. Read more from Paige Smith.
DOJ Says More Charges for Virus Aid Fraud Coming: Federal prosecutors are developing a host of criminal cases aimed at schemes to bilk the small business loan program designed to ease the economic fallout of the pandemic, a high-ranking Justice Department official said. "Many more" prosecutions are in the pipeline for fraudulent applications submitted under the Paycheck Protection Program, said Assistant Attorney General Brian Benczkowski, who heads the DOJ's Criminal Division. Read more from Jacob Rund.
SBA Urged to Comply With Watchdog Requests: The chairmen of five House panels are asking the Small Business Administration to comply immediately with requests from the Government Accountability Office for interviews, documents and data about the Paycheck Protection Program and other coronavirus relief efforts as required by law. The GAO has told the panels that the agency has not complied with its requests and "repeatedly failed" to commit to a time frame to do so, according to the letter from Democrats, Mark Niquette reports.
Elections & Politics
Trump Summons 'My Pillow' Pitchman to Talk Campaign: As Trump looked for help with his re-election advertising, he turned to a staunch supporter who built a national brand on the strength of ubiquitous cable TV ads: My Pillow founder Mike Lindell. Lindell was invited to a June 9 White House meeting with Trump, Vice President Mike Pence, campaign manager Brad Parscale and other officials, the My Pillow CEO said in an interview. He urged Trump to maintain a positive tone in his ads. "The president likes my opinions obviously with ads — I do put out a lot of ads," Lindell said. "My ads would all be positive. Here's a problem, solution, and here's what it's going to manifest to. And that's what our president is so skilled in." Read more from Josh Wingrove.
Trump Surrogates Will Attend Tulsa Rally: Trump's campaign plans to have more than 50 of its surrogates on hand for his rally Saturday in Tulsa, Okla., his first in more than three months. By bringing so many allies, Trump's campaign is resuming a strategy it's employed at rallies earlier this year, before Covid-19 forced an end to large gatherings. Surrogates who plan to attend include Sens. James Inhofe (R-Okla.) and James Lankford (R-Okla.). Read more from Mario Parker.
EPA Chief Spreads Trump's Message in Swing States: EPA head Andrew Wheeler's ongoing tour of swing states could rouse enthusiasm among Trump's supporters, though any effect on the November presidential election is likely to be small, political analysts say. Since late May, the administrator of the Environmental Protection Agency has visited Georgia, Michigan, Pennsylvania, and Wisconsin—all of which are likely battlegrounds in the November presidential election.
Wheeler isn't the only Cabinet official who has hit the road. Interior Secretary David Bernhardt recently visited Arizona, Ohio, and Alabama, and Energy Secretary Dan Brouillette has toured Florida and Iowa. Of those five states, only Alabama is considered firmly in Trump's column. Read more from Stephen Lee.
FEC Probes Candidate's Unlimited Funding of Party: A newly revived Federal Election Commission is set to examine today whether a presidential campaign funded by the candidate can provide unlimited money to a political party. The issue was highlighted recently by Republicans critical of an $18 million transfer to the Democratic National Committee from the presidential campaign of former New York City Mayor Michael Bloomberg, Kenneth P. Doyle reports. Bloomberg is the majority owner of Bloomberg Government's parent company. The FEC commissioners are set to meet publicly by teleconference for the first time since August 2019.
What Else to Know Today
Spring Regulatory Agenda Back on Track: Federal agencies that put Trump's planned regulatory agenda on the back burner this spring to respond to the coronavirus pandemic are catching up now, and determining which of their virus-related changes to keep.
The year had been shaping up to be Trump's most regulatory yet, even when accounting for rollbacks of major Obama-era water and auto emissions rules, according to researchers who analyzed federal agencies' 2020 rulemaking agendas published last fall. The White House has reviewed 75 significant final rules since the start of the year.
Proposals now under review by the White House Office of Management and Budget include a Department of Homeland Security rule to prevent the spouses of highly skilled foreign workers from receiving employment authorization, an Environmental Protection Agency rule to revise air quality standards, and a Health and Human Services rule to update the definition of "healthy" foods. But the trend toward greater regulation that began in 2019 won't be fully understood until OMB's Office of Information and Regulatory Affairs releases the spring 2020 unified regulatory agenda that was delayed because of the pandemic. Read more from Cheryl Bolen.
Lighthizer Concerned Aides Seeking Clients: U.S. Trade Representative Robert Lighthizer told lawmakers he was troubled to learn that two officials in his office had sought private-sector consulting work while still on the government payroll but said that the activity was presented to ethics personnel. Read more from Ryan Beene.
U.S. Pulls Out of Global Digital Tax Talks: Treasury Secretary Steven Mnuchin withdrew the U.S. from international talks over a digital tax deal after failing to reach an agreement with countries looking to place levies on the revenue of American tech companies, Lighthizer said yesterday. Read more from Jenny Leonard and Laura Davison.
Pompeo, China's Yang Pledge Cooperation: Secretary of State Michael Pompeo stressed the need for full transparency and information-sharing during the global Covid-19 pandemic and future outbreaks as he met his Chinese counterpart, Yang Jiechi. Yesterday's summit at Hickam Air Force Base in Hawaii between Pompeo and Yang, China's top foreign policy official, was the first time the two men had met since August 2019 — although they had spoken by telephone since then. Read more.
NATO Chief Claims U.S. Offered Europe Assurances: NATO Secretary General Jens Stoltenberg said the U.S. assured its alliance partners that it would consult them on changes to the deployment of American soldiers in Europe after a plan to cut their numbers in Germany sewed confusion. Stoltenberg said Secretary of Defense Mark Esper made the vow during a video conference with his counterparts from the 30-nation North Atlantic Treaty Organization. Read more from Jonathan Stearns.
Kim Jong Un Undoing Moon's Legacy: When North and South Korea opened their first liaison office less than two years ago, President Moon Jae-in in Seoul declared a "new era has dawned." This week, Kim Jong Un showed Moon how little had changed when he obliterated the $15 million building. Read more form Jeong-Ho Lee and Jon Herskovitz.
Trump Uses Latin America Split to Boost Adviser to Top Bank Job: The Trump administration's unprecedented decision to compete for the presidency of Latin America's most important development bank surprised even close allies, exploiting growing political divisions in a region that's struggling to contain the coronavirus. Read more from Eric Martin and Ben Bartenstein.
To contact the reporters on this story: Zachary Sherwood in Washington at zsherwood@bgov.com; Brandon Lee in Washington at blee@bgov.com
To contact the editors responsible for this story: Giuseppe Macri at gmacri@bgov.com; Loren Duggan at lduggan@bgov.com; Michaela Ross at mross@bgov.com