What to Know in Washington: Big Tech Steps Up Gifts to Lawmakers
Donation surge comes as Senate weighs tech antitrust bill
Additional $4 billion in drought relief might not be enough
As Senate Majority Leader Chuck Schumer (D-N.Y.) decides whether to hold a vote on legislation aimed at forcing more competition on big tech firms, he's become the beneficiary of a wave of personal donations from lobbyists for the internet giants.
After receiving no money from any of the top lobbyists for Apple, Amazon.com, or Alphabet in the two previous election cycles going back to 2017, Schumer's attracted some $30,000 in direct donations to his campaign from the lobbyists and executives of the companies opposed to a bill that would curb how the platforms operate.
It's a sign of stepped-up lobbying and donations by individuals as the power of the technology giants comes under scrutiny on Capitol Hill, a Bloomberg News review of giving shows.
Congress is considering the American Choice and Innovation Online Act from Sen. Amy Klobuchar (D-Minn.) to prevent companies from using their platforms to disadvantage rivals. The measure would be the most significant piece of legislation aimed at big tech to pass Congress after years of inaction. Despite bipartisan fury at the industry, lawmakers have been unable to pass significant regulation.
After delaying the vote, Schumer said he's working with Klobuchar and others to gather the 60 needed votes to pass the legislation and plans to bring it to the floor in September. If it becomes law, the largest tech companies could be forced to change their business practices, potentially costing them billions of dollars.
With a decision looming, the industry's lobbyists are reaching more deeply into their own pockets and targeting those who might be swayed against the bill. Emily Birnbaum and Alicia Diaz have the details.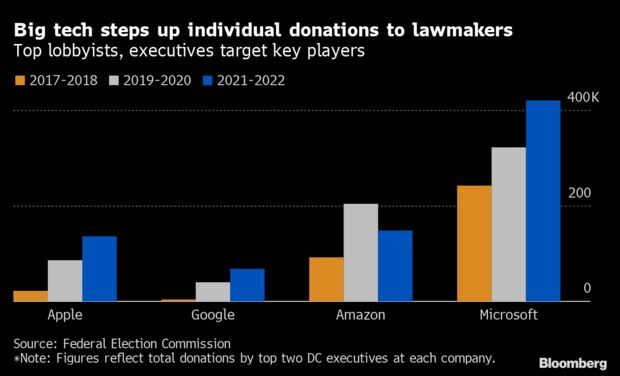 Politics, Policy & Probes
Vulnerable Democratic senators from the American Southwest—including Arizona's Mark Kelly and Kyrsten Sinema, Colorado's Michael Bennet and Nevada's Catherine Cortez Masto—relied on numbers to persuade key Democrats to squeeze an additional $4 billion into their caucus' sweeping tax, health, and climate bill to address severe drought in the West.
The law is poised to deliver some relief to their constituents, but it may not be enough to offset more painful cuts in Western states' water consumption in the next few years. And while the American West and the 40 million who rely on the Colorado River feel the most immediate effects of drought, the growing lack of water—exacerbated by climate change—is a problem for the whole country's food supply. Read more from Kellie Lunney.
Indiana Republicans from the current and future 2nd congressional districts will meet Saturday at 11 a.m. to decide who will replace the late Rep. Jackie Walorski (R) on the ballot for the November general election and nominate a candidate for the special election to be held on the same date, Emily Wilkins reports. Walorski, as well as two of her staffers, died in a car accident on Aug. 3.
The district is heavily Republican, and the candidate that the caucus chooses is likely to win in November. A dozen candidates—none of whom would have otherwise appeared on the ballot this November, per Indiana's state rules—are vying to fill the spot. The special and regular elections will be run on different lines because of redistricting. There will be separate votes on selecting the nominee for each, which could be the same person.
Walorski's widower, Dean Swihart, endorsed Rudy Yakym III, the representative's former finance director. Other candidates include Curtis Hill, the former state attorney general accused of groping four women, and state Rep. Curt Nisly, who lost his May primary to another incumbent.
Portions of the FBI affidavit used to secure a search warrant for former President Donald Trump's Mar-a-Lago estate should be unsealed, a federal judge in Florida said. US Magistrate Judge Bruce Reinhart on Thursday gave the Department of Justice to propose by noon on Aug. 25 what information in the affidavit should be kept secret. Read more from Erik Larson.
A group of media organizations—including The New York Times, CNN and Associated Press—sought the release, "with only those redactions that are necessary to protect a compelling interest articulated by the government," Larsen reports.
Trump and his allies have been blasting out attacks on the investigation, and some of the assertions hint at possible legal defenses if Trump is charged. Zoe Tillman and Mark Niquette list his claims.
The string of legal setbacks in the span of just one week for Trump and the Trump Organization mounted pressure on Allen Weisselberg, the company's top financial officer, to plead guilty to tax fraud. Against that backdrop, Weisselberg increasingly feared he wouldn't get a fair trial from a Manhattan jury, according to a person familiar with his thinking. Read more from Larsen and Patricia Hurtado.
Trump on Thursday also asked the full federal appeals court in Washington to reconsider an order from a lower court that cleared the way for a House committee to get his tax returns from the Treasury Department. The filings indicate that he'll ask the US Supreme Court to step in if the appeals court won't halt the release of documents to the committee, Zoe Tillman reports.
Georgia Gov. Brian Kemp (R) accused Fani Willis, the Fulton County prosecutor investigating former President Donald Trump's attempt to overturn his 2020 election loss, of using the probe to hurt his re-election campaign. Margaret Newkirk summarizes the legal filing.
A recent Seventh Circuit decision upholding a Walmart distribution center's temporary light duty policy that excludes pregnant workers is creating urgency for the Senate to pass bipartisan legislation that would require such accommodations. Read more from J. Edward Moreno.
Around the Administration
PRESIDENT'S SCHEDULE
Biden has no public events scheduled.
China's military moves in response to House Speaker Nancy Pelosi's (D-Calif.) recent visit to Taiwan increased the risk of a mistake in the region, Secretary of the US Air Force Frank Kendall said Friday, reiterating US concerns over a potential conflict. "They violated a number of norms," he said, citing China's regular crossing over the Taiwan Strait's median line as an example. Philip J. Heijmans has more.
Almost half of US companies in Taiwan expect increased Chinese military activity to affect their operations through next year, according to a new survey. Read more.
Celeste Drake is wearing "two hats," as she describes it, working both as the National Economic Council's labor expert and as "Made in America" director for the White House Office of Management and Budget. In an interview with Bloomberg Law—her first since taking the job as Biden's top labor adviser in July—she explains how she'll to bring the White House's labor agenda to fruition. Read more from Rebecca Rainey and Ian Kullgren.
Over at another labor agency, Pablo Godoy has been named the deputy assistant general counsel of the National Labor Relations Board's operations-management division, according to an agency press release.
Efforts to end the spread of HIV in the US are slowly recovering after the Covid pandemic hindered a federal initiative to end the epidemic by 2030, public health officials and researchers said. But the Biden administration said meeting these goals is still a top priority. Read more from Shira Stein.
Aiming to ramp up supplies of scarce monkeypox vaccine, the Biden administration cleared the way for a deal to be struck between manufacturer Bavarian Nordic and a Michigan-based company to finish packaging millions of doses in the US. Madison Muller and Riley Griffin have more.
Biden signed sweeping legislation this week requiring the Department of Health and Human Services—for the first time—to negotiate Medicare prescription drug prices. A new BGOV OnPoint offers highlights of drug pricing provisions in the reconciliation measure, data on Medicare drug spending, and GOP and private sector responses. Read more from Christina Banoub.
A rule for resolving payment disputes over emergency health care and when patients don't have the chance to select medical providers in their insurance networks, is one step closer to being finalized. The rule has cleared review by the Office of Management and Budget and can be issued at any time, Sara Hansard reports.
The Biden administration is taking steps to advance offshore wind development in the Gulf of Maine, setting the stage for potentially the first floating turbines deployed in US waters. The Biden administration has laid out ambitions to deploy 30 gigawatts of offshore wind power by 2030, with plans to sell leases along most every US coast, Jennifer A. Dlouhy reports.
The Army aims to submit early results on testing of Microsoft's new combat goggle by the end of August, with a final report going to Congress in October, the Pentagon said. The test report will help Congress decide whether to approve the $424.2 million the Army proposed to spend on the program for fiscal year 2023. Read more from Tony Capaccio.
WHAT ELSE TO KNOW TODAY
With assistance from Katrice Eborn, Andrew Small, and Emily Wilkins
To contact the reporter on this story: Brandon Lee in Washington at blee@bgov.com
To contact the editors responsible for this story: Giuseppe Macri at gmacri@bgov.com; Loren Duggan at lduggan@bgov.com