What to Know in Washington: Big Changes at Senate Appropriations
Bloomberg Government subscribers get the stories like this first. Act now and gain unlimited access to everything you need to know. Learn more.
Change is coming to the Senate Appropriations Committee as a new chair and ranking member at the top could translate into revamped subcommittee leaders on both sides of the aisle.
Sens. Patty Murray (D-Wash.) and Susan Collins (R-Maine) will be formally named to serve as the new chair and ranking member of the committee overseeing federal spending after the Senate returns Jan. 23.
But party leaders may be negotiating into February over the size and shape of the panel and who will serve as subcommittee leaders in the 118th Congress.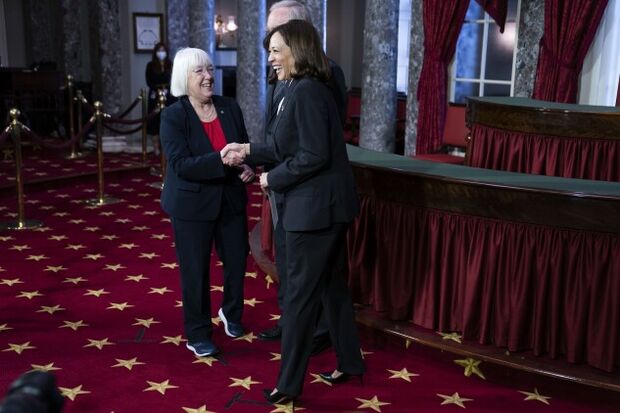 Subcommittee leaders or "cardinals" have a large say over the details of bills funding the government, which totaled $1.7 trillion for this year but will be a target for significant cuts by House Republicans who want to roll back to fiscal 2022 levels.
Members in charge of the process can use measures to steer federal money to their states to boost local industry, colleges, health facilities, and more. That sway includes recently revived earmarks, which totaled $15.3 billion and supported more than 7,000 priorities identified by lawmakers last year. Read more from Nancy Ognanovich.
Happening on the Hill
CONGRESS' SCHEDULE:
The Senate returns Monday, Jan. 23
The House returns Tuesday, Jan. 24
Social media companies bent their own rules in favor of former President Donald Trump and his supporters in the volatile weeks preceding the 2021 attack on the US Capitol, according to an unpublished staff report from the House's Jan. 6 committee.
The 122-page "Summary of Investigative Findings," which was obtained and posted by the Washington Post, analyzes testimony from employees and documents received from tech companies including Twitter and Meta. It details how the companies failed to adequately address the calls to violence and election-related conspiracy theories circulating online after the 2020 presidential election.
Direct threats or "concerning statements" made against members of Congress decreased in 2022, reversing an upward trend over "the last couple of decades," the US Capitol Police said Tuesday.
Sens. Kyrsten Sinema (I-Ariz.) and Joe Manchin (D-W.Va.) — who foiled Democrats' efforts to pass a voting-rights overhaul by a simple majority — shared a high-five on the stage in Davos as they reaffirmed their opposition to overturning the Senate's filibuster rule.
Roughly 16 Democratic-appointed appellate judges eligible for a form of semi-retirement provide President Joe Biden with the most likely pool of potential circuit seats to fill before his first term ends. Additional vacancies are vital for Biden and Senate Democrats, if they hope to match the record 54 circuit court judges confirmed under Donald Trump.
House Speaker Kevin McCarthy (R-Calif.) called on Democrats to engage in talks with Republicans over a fiscal plan including an increase in the federal debt limit, while the White House reiterated its rejection of such negotiations, highlighting the risk of a market-rattling battle over the ceiling later this year. Meanwhile, Senate Majority Leader Chuck Schumer (D-N.Y.) reinforced that message as well, saying it would be "reckless" to try and bargain with the nation's debt.
Embattled New York Republican George Santos has been chosen for two low-profile House committees despite questions about his finances and the fabrications on his resume.
The US Senate Judiciary Committee will hold a hearing at 10:00 a.m. on Jan. 24 to examine the lack of competition in the country's ticketing industry, according to a statement from senators Amy Klobuchar (D-Minn.) and Mike Lee (R-Utah).
Around the Administration
BIDEN'S SCHEDULE:
Biden has no public events scheduled. At 3 p.m., White House Press Secretary Karine Jean-Pierre gives a briefing.
Environmental justice advocates say the year ahead will be crucial in translating environmental justice promises, strategies, and billions of dollars of funding into results for neglected communities.
The IRS is moving forward with hiring and other organizational changes to implement the Inflation Reduction Act, including on an operational plan on how it will spend nearly $80 billion, according to a watchdog report released Tuesday.
The Justice Department will recommend as much as a 75% reduction in fines for companies that voluntarily report wrongdoing to the government and fully cooperate with investigations.
Secretary of State Antony Blinken said Iran had rejected the chance to return to a nuclear deal with the US months ago and he reiterated that a new agreement was no longer a Biden administration priority.
The top US and UK diplomats pledged to give Ukraine the weapons it needs to recapture the territory it lost after Russia invaded last February, with the goal of putting it in the best possible position to negotiate once talks to end the war eventually begin.
To contact the reporter on this story: Michaela Ross in Washington at mross@bgov.com
To contact the editor responsible for this story: Andrew Small at asmall@bgov.com
Stay informed with more news like this – from the largest team of reporters on Capitol Hill – subscribe to Bloomberg Government today. Learn more.