What to Know in Washington: Biden's Revival Renews Ukraine Probe
The resurrection of Joe Biden's presidential campaign is also reviving attention on Republican efforts in the Senate to investigate the former vice president's son and his work with a Ukrainian energy company.
As President Donald Trump vows to turn Hunter Biden's service on the board of Burisma Holdings into a campaign issue, two GOP committee chairmen in the Senate are pressing ahead with investigations of the Bidens.
But with the presidential election now just eight months away, Democrats are crying foul and even some Republicans are questioning whether Congress should be pursuing politically fraught probes.
"The appearance is unfortunate to have an investigation going on that involves a person in an active campaign for president," said Sen. Mitt Romney (R-Utah), the only Republican to vote to convict Trump in the Senate impeachment trial. "It would be my preference to have a nonpolitical body evaluating whether an investigation is merited and carrying it out."
Romney's a member of the Homeland Security and Government Affairs Committee, where Chairman Ron Johnson (R-Wis.) plans to hold a vote on subpoenaing records of a U.S.-based consulting firm that represented Burisma when Hunter Biden was a well-paid member of Burisma's board and his father oversaw U.S. policy on Ukraine.
Johnson and Finance Chairman Chuck Grassley (R-Iowa) have been investigating the Bidens for potential conflicts of interest involving Ukraine and China, where Hunter Biden also did business. Shortly after Trump was acquitted by the Senate on impeachment charges last month, the chairmen said they were seeking records of Hunter Biden's travel.
The GOP-led investigations have taken on new prominence since Tuesday's round of primaries in the Democratic presidential nomination race that vaulted Biden back into the front-runner spot after his campaign stumbled through the first three contests. Read more from Steven T. Dennis and Erik Wasson.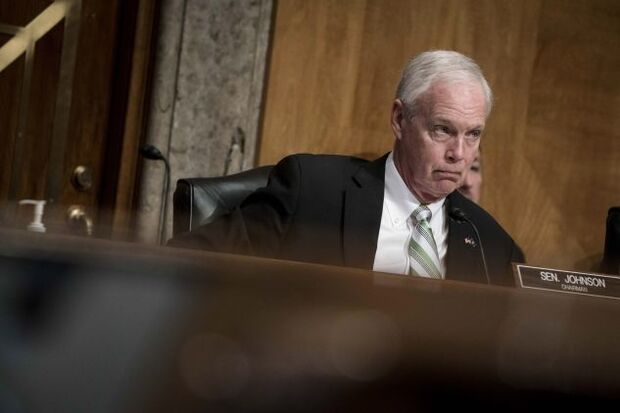 Happening on the Hill
Senators Clash on Energy Amendments: Bands of Senate Democrats and Republicans are fighting uphill battles to get amendments to the floor on an energy package that aims to boost clean energy and combat climate change. Senators yesterday were trying to attach more than 185 amendments to the the 555-page energy package, the American Energy Innovation Act. Both parties continued negotiations toward a broad amendment agreement—one that's likely to include fewer than a dozen proposals—ahead of what will be another week of floor action on the energy package.
Sen. Joe Manchin (D-W.Va.), who co-authored the energy package with Senate Energy and Natural Resources Committee Chairman Lisa Murkowski (R-Alaska), told reporters yesterday that some limited progress had been made toward an amendment deal. Read more from Dean Scott.
Senate Passes Deployed Children Citizenship Bill: The Senate yesterday unanimously passed legislation granting U.S. citizenship to the children of U.S. military and government personnel stationed abroad without having to establish physical residency within the U.S. To automatically receive citizenship under current law, a child born abroad with at least one U.S. citizen parent must reside in the U.S. as a permanent resident in the custody of that parent before turning 18. The bill would deem the residency requirement to be satisfied for children living with a service member or federal employee stationed overseas. The measure, passed by the House on Dec. 3, 2019, now heads to Trump. For more, read the BGOV Bill Summary by Adam M. Taylor.
Lawmakers Brace for Virus on Capitol Hill: Members of Congress are bracing for the potential spread of the coronavirus on Capitol Hill, with some acknowledging an outbreak is only a "matter of time" even as they urge their constituents and fellow lawmakers to remain calm. "I assume that we're going to have infections on Capitol Hill," said Sen. Marco Rubio (R-Fla.). "I don't think there's any way to avoid that, to be frank." Read more from Daniel Flatley.
Senate Democrats Seek Records on Leonard Leo's Trump Work: Senate Democrats are seeking documents related to Leonard Leo's role in advising the Trump White House on judicial nominations while a driving force at the conservative Federalist Society. In letters to Leo, his former group, the White House, and the Justice Department, Democrats led by key Judiciary Committee members raised concerns yesterday of potential financial conflicts of interest arising from what they said was more than $250 million in donations from outside sources that flowed to "Mr. Leo's network" between 2014 and 2017. Read more from Madison Alder.
Elections, Politics & Policy
Ami Bera on House Democrats' Reaction to Super Tuesday: Rep. Ami Bera, chairman of the political arm of the New Democrat Coalition, joined Bloomberg Government's Kyle Trygstad and Greg Giroux on a bonus episode of Downballot Counts. The California Democrat discusses why former Vice President Joe Biden's strong Super Tuesday was cheered by House freshmen from suburban districts. He also spelled out the kinds of policies his caucus supports and identified the races in which the NewDem Action Fund is boosting candidates. Listen to the latest episode of Downballot Counts.
Subscribe and Listen to Downballot Counts from your mobile device: Via Apple Podcast | Via Overcast | Via Stitcher | Via Spotify
Democrats Savor 33% Turnout Surge: The extraordinary number of Democrats who cast ballots in presidential primaries on Super Tuesday might be worrisome for Trump. But Republicans appear to be just as excited to keep him in the White House.
Across nine Super Tuesday states where data is available, Democratic turnout rose an average of 33% compared to 2016. Virginia saw the most dramatic rise with a 69% spike in turnout. Texas had a 43% jump from 2016 numbers and in Tennessee, turnout increased by 38%. "The turnout turned out for us," Biden said on Super Tuesday.
But enthusiasm is up on the GOP side as well. Trump, who faces only token opposition for re-nomination, drew some 1.9 million votes in Texas, more than Sen. Bernie Sanders (I-Vt.), Biden and Sen. Elizabeth Warren (D-Mass.) combined. He also enjoyed high turnout for his certain nomination in Iowa and New Hampshire. Read more from Emma Kinery and Mario Parker.
Bloomberg Plans New Entity to Boost Biden: Michael Bloomberg plans a new organization with offices in six battleground states to help Joe Biden beat Sanders for the Democratic presidential nomination and then defeat Trump in November, his campaign said. The new entity will also work to elect Democrats in races for Congress and state seats. The name, budget and scope of the effort is still being formed but will absorb field offices that Bloomberg opened in Arizona, Florida, Michigan, North Carolina, Pennsylvania and Wisconsin, a Bloomberg campaign aide said on condition of anonymity. Read more from Mark Niquette. Bloomberg is the majority owner of Bloomberg Government's parent company.
Secret Service Denies It's Unprepared for Race: The U.S. Secret Service, responding to questions about security for Democratic presidential candidates, said last night that it remained "fully prepared to execute this vital mission." "Recent media reporting" characterizing the agency "as unprepared for candidate protection is categorically false," Director of Communications Cathy Milhoan said in a statement, adding that "at this time, no candidates have requested protection." Read more from John Harney.
Trump Facebook Ads Removed: Facebook will remove ads from Trump that encouraged users to take the "Official 2020 Congressional District Census," but included a link that led them to a re-election campaign survey unrelated to the official U.S. Census. The social network, which has come under fire for its policy against fact-checking ads from politicians, makes exceptions for ads that share misleading information around certain categories, like voting or the 2020 Census. The ads were published on March 4, according to Facebook's ad library. A Facebook spokesperson said the ads are in the process of being rejected. "There are policies in place to prevent confusion around the official U.S. Census and this is an example of those being enforced," the company spokesperson said in the statement. Read more from Kurt Wagner.
Pence's Virus Tour Takes Him to 3M, Washington State
Vice President Mike Pence visited surgical-mask maker 3M and one of the U.S. areas hardest hit by the novel coronavirus yesterday, as the Trump administration tries to show it has the outbreak under control.
Pence met 3M executives in Minneapolis to discuss ramping up mask production. From there, he traveled to Olympia, Wash., to meet with Gov. Jay Inslee (D) after the state reported its 10th death from the illness.
The trip comes amid criticism that Trump's administration has fumbled the distribution of coronavirus test kits, reinforcing uncertainty over how widely the virus has spread in the U.S. Pence, who is leading the White House coronavirus task force, has repeatedly said the risk to Americans remains low.
Pence said in Washington state that by the end of next week, enough test kits would be distributed nationally to allow the diagnosis of 1.2 million people. "We're making great progress," Pence said. Read more from Mario Parker and Emma Kinery.
Trump Downplays Threat From Virus to Economy, Re-Election: Trump downplayed the risk to the U.S. economy — and his re-election — posed by the coronavirus. "Everybody has to be calm," Trump said yesterday at a Fox News town hall in Scranton, Pennsylvania. "It's going to all work out." Asked about the threat to the economy and his campaign, Trump said the virus "certainly might have an impact" but said his administration is prepared for whatever happens. "We hope it doesn't last too long," said Trump, who praised his administration's response to the global outbreak. Read more from Justin Sink.
Outbreak Stretches U.S. Health System: Strains on the U.S. health-care system appeared to increase yesterday under the weight of the outbreak. Medical workers warned of supply shortages, and hospitals were uncertain when they'll be able to test suspected cases without relying on government labs. Even as the number of confirmed infections in the New York area doubled, lawmakers said the federal government would fall far short of being able to test a million people by week's end as promised. America struggled to catch up with an outbreak that began months ago far from the nation's shores and is increasingly affecting daily life. Authorities warned the public to brace for more. Read more from John Tozzi.
Globalization Faces a Bend-But-Won't-Break Crisis: Globalization is going through its biggest stress test since the 2008 global financial crisis and its aftermath. But if you want to understand why the forces of economic integration may be more resilient than many think, consider the centerpiece of a fancy new kitchen. When executives from Middleby Corp., the kitchen equipment maker behind the commercial-grade Viking and Aga stoves, reported earnings last month, they joined the growing chorus of business people warning of supply chain disruptions in China that would hit its first-quarter profits. Middleby also offered a curious upside twist. The supply stresses it had suffered over the past two years thanks to Trump's tariff war on China had actually prepped the company for the new crisis in a way that meant it would be able to limit the damage. Read more from Shawn Donnan.
Lawmakers Say Banks Need Guidance on Virus Workarounds: Lawmakers are pushing regulators to provide room for banks to work out loans with businesses and consumers who may be affected by the coronavirus. Banks may need some "ability to work with the regulators so that if people look like they're becoming more credit risky because of the virus, the banks aren't treated badly for treating them fairly," Sen. Mark Warner (D-Va.), a member of the Senate Banking Committee, said in an interview. Read more from Kevin Cirilli and Craig Torres.
Coronavirus-Tied Bias Against Students Must Stop, Official Says: School leaders need to respond to reports that coronavirus concerns are fueling discrimination or harassment targeting Asian American students, the Education Department's top civil rights official said. Some individuals, in a climate of fear caused by the outbreak, may turn to racial or ethnic stereotypes, Kenneth Marcus, the assistant secretary of the Office for Civil Rights, said in a letter this week. "Ethnic harassment or bullying exacerbates hatred, harms students, and is never justified," Marcus wrote in the letter, sent Wednesday to 18,000 education leaders across the country. Read more from Andrew Kreighbaum.
What Else to Know
Trump Plans to Meet Brazil's Bolsonaro: Trump has tentative plans to meet with his Brazilian counterpart, Jair Bolsonaro, in Florida tomorrow night, according to two people familiar with the matter. Vice President Mike Pence and Trump's national security adviser, Robert O'Brien, are to be among those attending the meeting at Trump's Mar-a-Lago resort, said one of the people, who was granted anonymity to discuss the plans. Bolsonaro, a Trump admirer who fashioned his successful election campaign after the American president's, is traveling to Florida to meet with business leaders. Read more from Jennifer Jacobs.
Trump to Appeal Ruling Imperiling Biofuel Waivers: Trump has decided to appeal a federal court ruling that jeopardized the U.S. government's ability to widely exempt refineries from requirements to use renewable fuels. The decision follows an intense pressure campaign by oil-state senators, including Sen. Ted Cruz (R-Texas). The plan was described by four people familiar with the matter who asked for anonymity before a formal announcement. Read more from Jennifer A. Dlouhy and Mario Parker.
Trump Warned on Security Risk in Infineon's Cypress Deal: U.S. national security officials are recommending that Trump block Infineon Technologie's proposed acquisition of Cypress Semiconductor, according to people familiar with the matter. The officials are concerned that Infineon's $8.7 billion deal for the American chipmaker poses a risk to national security, said three people familiar with the matter. Infineon, a German semiconductor maker with substantial Chinese revenue, has tried to negotiate an agreement with the government that would let the takeover proceed, but hasn't been able to reach a deal, one of the people said. All of the people asked not to be named discussing a national security matter. Read more from Saleha Mohsin, David McLaughlin and Jenny Leonard.
USDA Rule Aims to Draw Nutrition Aid Recipients Into Workforce: The Agriculture Department is opening up more apprenticeships, subsidized employment, and workforce partnerships in an attempt to recruit more Supplemental Nutrition Assistance Program, or SNAP, recipients into the workforce, according to a new rule. Expanding employment and training services provided through SNAP is the focus of a rule proposed yesterday—the same day a multistate lawsuit challenging another Agriculture Department SNAP rule was argued in U.S. District Court in Washington. The proposed rule is part of the Trump administration's effort to toughen SNAP work requirements and restrict states from waiving them in areas with fewer jobs. Read more from Megan U. Boyanton.
Top Trump Communications Strategist Set to Leave White House: Deputy White House communications director Adam Kennedy, who was part of the administration's rapid response efforts during the impeachment trial, is leaving his post for a job in the private sector, an official said. Kennedy's last day will be Friday, but he'll remain on staff until the end of the month, the official added. Kennedy wasn't a familiar face on cable news networks but played a behind-the-scenes role for the administration, most notably during the Senate impeachment trial that resulted in Trump's acquittal. Read more from Jordan Fabian and Justin Sink.
To contact the reporters on this story: Zachary Sherwood in Washington at zsherwood@bgov.com; Brandon Lee in Washington at blee@bgov.com
To contact the editors responsible for this story: Giuseppe Macri at gmacri@bgov.com; Loren Duggan at lduggan@bgov.com