What to Know in Washington: Biden's Plan to Rival Space Race
President Joe Biden will unveil a $2.25 trillion infrastructure plan today that the administration says will prove the most sweeping since investments in the 1960s space program and 1950s interstate-highway system.
"Like great projects of the past, the president's plan will unify and mobilize the country to meet the great challenges of our time: the climate crisis and the ambitions of an autocratic China," the White House said in a statement before Biden's afternoon speech in Pittsburgh.
The four-part, eight-year plan dedicates $621 billion for transportation — including a doubling in federal funding for public transit — and $650 billion for initiatives tied to improving quality of life at home, like clean water and high-speed broadband. There's $580 billion for strengthening American manufacturing — some $180 billion of which goes to what's billed as the biggest non-defense research and development program on record — and $400 billion to address improved care for the elderly and people with disabilities.
Tax increases will be "fully paying for the investments in this plan over the next 15 years," the White House said. The U.S. corporate income tax will go up to 28% from 21%, and a 21% minimum tax will be set on global corporate earnings. Read more from Nancy Cook and Jennifer Epstein.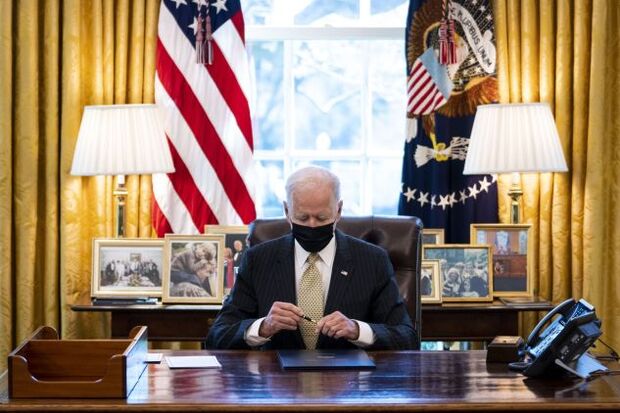 Plan Includes $621 Billion for Highways, Transit: The $621 billion Biden plans to lay out for transportation focuses on roads, bridges, transit and electric vehicles.
The administration hasn't laid out a plan to reauthorize surface transportation programs, which expire Sept. 30. It's not clear how those programs will be addressed in the administration's legislative push.
The sweeping proposal, which must be enacted by Congress, is unlikely to garner the support of Republicans, who have previously called for a narrower package focused on traditional infrastructure. Democrats and the Biden administration are considering advancing an infrastructure package using budget reconciliation, a process that could allow them to pass the legislation without Republican votes. Read more from Lillianna Byington.
Electric Cars, Clean Power Boosted Under Plan: Biden is calling for sweeping investment in electric vehicles, renewable power and the electric grid. The president's plans are meant to catalyze investments in a clean energy economy and encourage low-emission technology necessary to constrain global warming.
Biden's initiative would give a 10-year extension to tax credits that have been a boon to wind, solar and other renewable energy projects. His plan would also make those clean energy tax credits refundable — a so-called direct-pay option that developers have sought as tax equity financing has dried up. Read more from Ari Natter and Jennifer A. Dlouhy.
Overview:What's in Biden's $2.25 Trillion Infrastructure and Tax Proposal
Also on Lawmakers' Radars
SALT-Cap Foes Threaten Biden Tax Efforts: Three House Democrats say they won't support any of Biden's tax hikes to fund his infrastructure proposal unless the plan includes a repeal of the $10,000 cap on state and local tax deductions, making them one single vote shy of the number needed to block the president's tax plan in the narrowly divided House. "We say 'No SALT, no deal,'" Reps. Bill Pascrell (D-N.J.), Josh Gottheimer (D-N.J.), and Tom Suozzi (D-N.Y.) said. Read more from Laura Litvan.
Schumer Pushes Senate on Pot Legalization: Senate Majority Leader Chuck Schumer (D-N.Y.) is pushing the Senate toward lifting the federal prohibition on marijuana with legislation that would represent the biggest overhaul of federal drug policy in decades. The bill that Schumer is drafting with Senate Finance Chair Ron Wyden (D-Ore.) and Sen. Cory Booker (D-N.J.) is still being written. Though they avoided the term legalization when announcing their plan, it is expected to remove marijuana from the list of controlled substances and tax and regulate it on the federal level while leaving states able to enforce their own laws regarding the drug. Read more from Steven T. Dennis.
Measure to Avoid Deporting Farmworkers Gains Support: A bill that would create a program for agricultural workers to earn legal status has the potential to break through a partisan logjam in the Senate—if the measure gets revised to address GOP concerns about business liabilities and caps on year-round visas. The Farm Workforce Modernization Act, which passed the House earlier this month, would overhaul the immigration system for farmworkers and alter the H-2A temporary agricultural visa program, cementing a stable workforce for employers and more protections for laborers. Read more from Megan U. Boyanton.
New Mexico Democratic Runoff in 1st District: New Mexico Democratic officials today will choose either state Sen. Antoinette Sedillo Lopez or state Rep. Melanie Stansbury as their nominee in the June 1 special election in the vacant 1st congressional district, Greg Giroux reports. Sedillo Lopez and Stansbury were the top vote-getters in an initial vote yesterday by 199 members of the party's state central committee, though neither came close to winning a majority in the eight-candidate field. Committee members can vote from 9 a.m. to 9 p.m. Washington time. The Democratic nominee will face Republican state Sen. Mark Moores in a Democratic-leaning Albuquerque-based district that Deb Haaland vacated earlier this month to become interior secretary.
Gaetz Probed for Possible Relationship With a Minor: Rep. Matt Gaetz (R-Fla.) is being investigated by the Department of Justice on whether he had a sexual relationship with a 17-year-old girl and paid for her to travel with him, the New York Times reports, citing three people briefed on the matter. The investigation was opened in the final months of the Trump administration, and investigators are examining whether Gaetz, 38, broke U.S. sex trafficking laws, the Times reports.
Around the Administration
Biden's First Judicial Picks Balance Progressive Priorities: Biden's first judicial nominations largely managed to satisfy progressives seeking to diversify the demographics and resumes of the federal bench. Not a single white male made the list composed entirely of women and people of color and more than a third served as public defenders.
Yet Biden also chose four former federal prosecutors and several law firm partners, including Regina Rodriguez, who progressive groups had resisted as being of the traditional mold they want to avoid. Progressive activists stayed mostly positive while hinting at disappointment that more of the nominees didn't come from non-traditional backgrounds in public interest law and criminal defense. Read more from Madison Alder.
Biden to Let Trump's H1-B Visa Ban Expire: Biden plans to allow a pandemic-related ban on visas for certain temporary workers, enacted by Trump, to expire today, according to people familiar with the matter. The moratorium, which affected H-1B visas used by tech companies to hire foreign coders and engineers, was imposed last June. Biden is opting not to renew it, said the people, who asked not to be identified because the decision hasn't been announced. Read more from Jordan Fabian and Genevieve Douglas.
Agencies Seek Workers for Humanitarian Aid at Border: Federal agencies are asking their workers to volunteer to help humanitarian relief efforts at the U.S.-Mexico border, as a surge of migrants, many of them children, overwhelm U.S. personnel there. The Equal Employment Opportunity Commission's Chair Charlotte Burrows asked the civil rights agency's employees to apply for deployment in 30- to 120-day stints, as part of an initiative led by the Department of Health and Human Services' Office of Refugee Resettlement. Read more from Paige Smith, Louis C. LaBrecque and Genevieve Douglas.
FCC OKs Process to Distribute Telehealth Funds: The Federal Communications Commission unanimously approved a process for distributing nearly $250 million to help fund health care providers' telehealth costs during the Covid-19 pandemic. The agency said it expects to begin accepting health care providers' applications for the funds, which Congress appropriated last December, in 30 days. The funds will cover costs of health care providers' telecommunications services and connected devices. Read more from Jon Reid.
What Else to Know Today
Trump Sued by 2 Capitol Police Officers for Inciting Riot: Two U.S. Capitol Police veterans who were on duty during the Jan. 6 riot sued Donald Trump accusing the former president of inciting the violent mob that injured scores of officers. The complaint filed yesterday follows earlier suits by two Democratic members of Congress who also blamed Trump for stoking the insurrection in a months-long effort to reverse his election loss to Biden. Read more from Malathi Nayak.
G. Gordon Liddy, Who Organized Watergate Burglary, Dies: G. Gordon Liddy, the former FBI agent and White House staffer imprisoned for organizing the 1972 Watergate burglary that led to the resignation of President Richard Nixon, has died. He was 90. He died yesterday at his daughter's home in Mount Vernon, Virginia, according to the New York Times, citing his son Thomas P. Liddy, who said that his father had Parkinson's disease and had been in declining health. Read more from David Henry.
With assistance from Greg Giroux
To contact the reporters on this story: Giuseppe Macri in Washington at gmacri@bgov.com; Brandon Lee in Washington at blee@bgov.com
To contact the editors responsible for this story: Zachary Sherwood at zsherwood@bgov.com; Loren Duggan at lduggan@bgov.com; Michaela Ross at mross@bgov.com