What to Know in Washington: Biden's Oil Leasing Pause Reinstated
Judge's oil lease ruling may conflict with new climate law
Biden calls Cheney as she weighs 2024 White House run
President Joe Biden won temporary permission to once again pause energy leasing on federal lands and waters, after a US appeals court found a trial judge's order against the moratorium too vague to review.
The court Wednesday threw out the judge's nationwide injunction forcing a restart of leasing from the Gulf of Mexico to Alaska and ordered the judge to revisit the issue. In the meantime, Biden's pause stands.
The ruling came in a dispute between the administration and 13 energy-producing states led by Louisiana that sued to force Biden to resume leasing he paused a week after taking office. After the lower court last year issued its preliminary injunction against the leasing moratorium, the government appealed.
It isn't clear what immediate effect the ruling will have. Under Democrats' just-enacted tax-and-climate spending package, which provides hundreds of billions of dollars to combat climate change, the Interior Department is required to hold two auctions of oil and gas leases in the Gulf of Mexico.
The law also makes future renewable energy projects on federal lands and waters contingent on leasing. The government can issue new wind and solar rights only if it has recently sold new drilling rights too—a requirement designed to spur more fossil fuel leasing despite Biden's campaign pledge to stop permitting such projects on public lands. Read more from Laurel Calkins and Jennifer A. Dlouhy.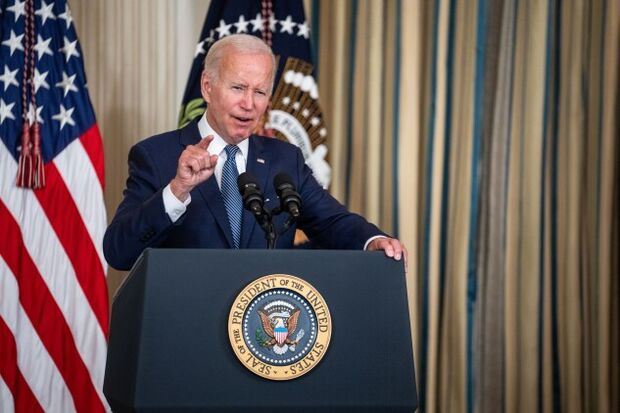 MORE ON THE NEW LAW
Policy, Politics & Probes
President Joe Biden called Rep. Liz Cheney on Wednesday after the congresswoman—a top critic of former President Donald Trump—was defeated in her state's Republican primary. Biden reached out to Cheney (R-Wyo.), who earned the ire of the former president when she voted to impeach him over his role in the January 6, 2021 insurrection and her subsequent work on the congressional committee investigating the matter, a person familiar said. Read more from Jennifer Jacobs and Justin Sink.
Cheney said she wants to lead the charge to break Trump's hold on the GOP, setting up a new political action committee and saying she's considering a run for the White House. After being trounced in Wyoming's GOP primary Tuesday by Trump-backed conservative lawyer Harriet Hageman, Cheney said she's "thinking about" a bid for the presidency and would make a decision "in the coming months." Read more from Billy House.
The Cook Political Report updated its ratings for three Senate races ahead of the November elections. Pennsylvania's race between Lt. Gov. John Fetterman (D) and Mehmet Oz (R) is now "Lean Democrat" from "Toss Up," Colorado's race between Sen. Michael Bennet (D) and Joe O'Dea (R) is now "Lean Democrat" from "Likely Democrat," and Utah's race between Sen. Mike Lee (R) and Evan McMullin (I) is now "Likely Republican" from "Solid Republican." Read the report here.
Sen. Lisa Murkowski is making abortion rights a key element of her re-election race in a year when many other Republicans are avoiding it, after she advanced to the general election Tuesday along with a Trump-backed Republican. Murkowski (R-Alaska) and her allies say they can beat Kelly Tshibaka, the former head of Alaska's Department of Administration, by painting her as extreme on abortion and other women's health issues, such as birth control. Kenneth P. Doyle has the story.
Longtime Trump Organization CFO Allen Weisselberg's expected guilty plea to tax fraud Thursday is the latest blow to Trump in a fraught few weeks that've seen fresh legal peril emerge from several directions. Trump hasn't been charged in the case and, according to a person familiar with the matter, Weisselberg won't implicate his boss. But because his deal requires him to testify against his employer, an admission of criminal conduct could still mean trouble. Patricia Hurtado and Caleb Melby have more.
A group of media organizations want a Florida judge to release most of an FBI affidavit that helped the Department of Justice get a search warrant for Trump's Mar-a-Lago resort. The public has a "clear and powerful interest" in understanding the unprecedented investigation into Trump's handling of classified material, said the group, which includes The New York Times, CNN and Associated Press. Read more from Erik Larson.
Former Vice President Mike Pence said he'll give "due consideration" to testifying before the House panel investigating the Jan. 6, 2021 insurrection at the Capitol and criticized Republicans for attacking the FBI over the search of Trump's home. Speaking at a "Politics & Eggs" event in New Hampshire on Wednesday, Pence was asked whether he would agree to appear before the committee. "If there was an invitation to participate, I would consider it," he said. Mark Niquette has more.
Sen. Pat Toomey questioned FDIC chief Martin Gruenberg about reports citing the agency may be deterring banks from doing business with crypto companies. The letter comes on the heels of whistleblower reports stating that the FDIC requests that banks refrain from broadening relationships with crypto companies. Toomey (R-Pa.), the Banking Committee's top Republican, wants a response by the end of the month, Brianna Jackson reports.
Around the Administration
PRESIDENT'S SCHEDULE
Biden has no public events scheduled.
Pritesh Gandhi has a daunting set of responsibilities: keep the Department of Homeland Security's workforce healthy, ensure care for thousands of desperate migrants at the border, prepare for the next pandemic. And horses. Gandhi is Homeland's chief medical officer and leader of DHS's Office of Health Security, an ambitious new division tasked with addressing health threats to the department and the US. Gandhi spoke with Bloomberg Government's Ellen M. Gilmer in an interview.
The director of the CDC announced an overhaul of the agency meant to revamp everything from its operations to its culture, saying it had failed to meet expectations during the Covid pandemic. Rochelle Walensky began telling CDC's staff the changes are aimed at replacing the agency's insular, academic culture with one that's quicker to respond to emergencies. That will mean more rapidly turning research into health recommendations and improving communication with the public. Riley Griffin has more.
The US and Taiwan will start formal talks on a trade and economic initiative, following through on a long-planned promise to deepen ties amid opposition from China. The first round of trade talks is set to take place "early this fall," according to the Office of the US Trade Representative in a statement Wednesday, unveiling a negotiating mandate for the US-Taiwan Initiative on 21st Century Trade announced in June. Read more from Bloomberg News.
Meanwhile, China lashed out at the recent $52 billion Chips Act to expand American chipmaking, saying the landmark blueprint contains elements that violate fair market principles and targets Beijing's efforts to build its industries. Read more.
The seven states using Colorado River water likely will avoid an epic legal showdown over the most severe water cuts amid the region's megadrought—but legal analysts say California, Nevada, and Arizona especially will face heavy burdens to conserve. The need to cut water use is so urgent that there's not enough time to wait for a legal showdown to play out. If the dispute spurs litigation, it's likely to originate at the Supreme Court and take years to resolve. Read more from Bobby Magill.
WHAT ELSE TO KNOW TODAY
With assistance from Andrew Small and Brianna Jackson
To contact the reporter on this story: Brandon Lee in Washington at blee@bgov.com
To contact the editors responsible for this story: Giuseppe Macri at gmacri@bgov.com; Loren Duggan at lduggan@bgov.com