What to Know in Washington: Biden's Moment to Take on Trump
Joe Biden will set the tone for a bruising general election battle against President Donald Trump as he accepts the Democratic nomination tonight in a speech testing his ability to connect with voters in the virtual campaign format of the pandemic.
The former vice president's prime-time address will culminate four nights of withering attacks against Trump by Democrats who have called the president unfit for office and incapable of handling the coronavirus outbreak and a record surge in unemployment. In addition to laying a marker against his Republican opponent, Biden will also seek to uphold the centrist themes of this year's convention while keeping party progressives in the fold.
The nominee will speak live at the Chase Center in Wilmington, Del., without a packed house of supporters after the coronavirus forced Democrats to turn their convention into a largely virtual event. The setting may test Biden, who like many politicians, draws energy from a crowd and relishes making a personal connection with the audience.
Biden, 77, will be closely scrutinized by Trump, 74, who's ready to pounce on any misstep as a sign of age-related decline. Yet, although he's a gaffe-prone politician who was largely overshadowed by the charisma of President Barack Obama during their eight years in the White House, Biden's allies say they are confident he will rise to the moment.
"He's not Barack Obama, he's not Michelle Obama, he's not Bill Clinton, he's not even Hillary Clinton," said Patti Solis Doyle, Biden's 2008 campaign chief of staff. "But he is very good when he speaks about the things that he cares about and that's predominantly his family, his mother, his father, his upbringing."
The speech comes as Biden's edge over Trump has steadied at around 7 percentage points nationally, according to the RealClearPolitics average of polls. Read more from Jennifer Epstein.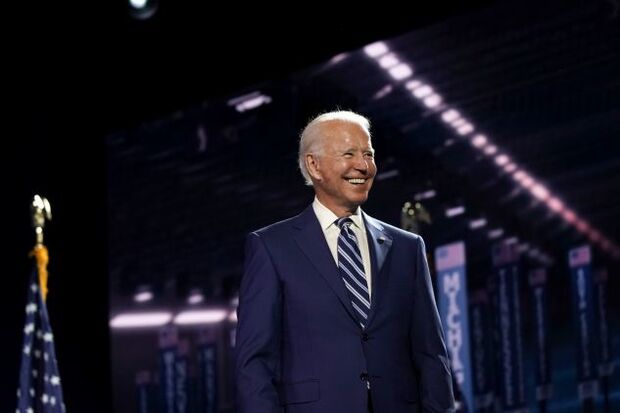 Harris Accepts Nomination: Kamala Harris accepted the vice presidential nomination last night, introducing herself to the nation as a historic choice for a major party ticket and urging a change in the nation's leadership.
"We are a nation that is grieving — grieving the loss of life, the loss of jobs, the loss of opportunities, the loss of normalcy, and yes, the loss of certainty," she said. "We must elect a president who will bring something different and something better and do the important work. We must elect Joe Biden."
The California senator urged the party at two points in the evening to defy what she called a Republican effort to suppress their votes.
Her acceptance speech capped a two-hour program focused on Democratic priorities including combating gun violence and climate change. She introduced the nation to the first Black and Indian-American woman to join a major party ticket, saying she and her sister had been raised to be "proud Black women" while also learning to respect their Indian heritage. Read more from Mark Niquette.
The backdrop of Sen. Elizabeth Warren's (D-Mass.) speech had a reference to Black Lives Matter. Hillary Clinton recalled her 2016 loss in her speech and used her win in the popular vote to press people to turn out in November. Obama said Trump has no interest in taking the job seriously. Read a recap of night three from Ryan Teague Beckwith.
Day three also included delicate attempts by the DNC to explain why it dropped language from its platform about eliminating subsidies for fossil fuels. In the weeks before the convention, delegates approved a draft of the party platform which included an amendment stating that "Democrats support eliminating tax breaks and subsidies for fossil fuels." By the time final draft was officially passed on night one of the convention, that language had disappeared. Read more from Lisa Kaufman.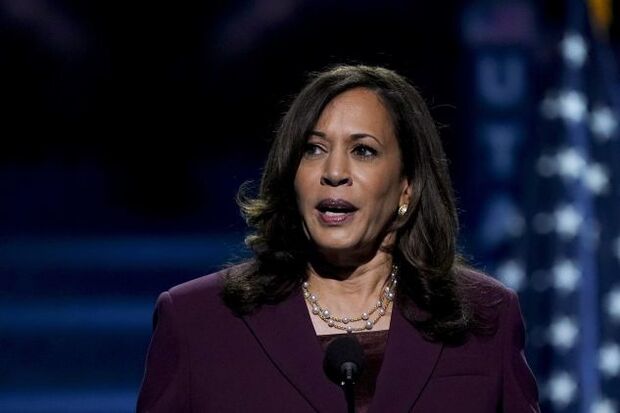 What to Watch Today
Democratic National Convention: Biden will formally accept the Democratic Party's nomination for president tonight, capping a week of carefully curated videos and performances designed to inspire supporters and make the case that he represents the only way forward for a country facing crises on multiple fronts. Emma Kinery highlights the main events, starting at 9 p.m. Washington time, and where to see them.
Congress: The Senate and House are not scheduled to meet and both chambers will hold their next pro forma sessions tomorrow.
White House: The president is scheduled to participate in a meeting with the Prime Minister of the Republic of Iraq beginning at 11:05 a.m. At 3 p.m., Trump will deliver remarks at Mariotti Building Products in Old Forge, Pa.
Postal & Stimulus Talks
Postal Chief's Path From Donor to Target: Louis DeJoy was a wealthy transportation executive and Republican megadonor with a limited national profile just months ago. He's now in the middle of a roiling political fight between Democrats and Trump over voting and the integrity of the November election.
DeJoy, the postmaster general, is set to be questioned over two days on Capitol Hill. Tomorrow, he is to go before the Senate Homeland Security and Governmental Affairs Committee and on Monday he is to face the House Oversight and Reform Committee. Both will be forums for DeJoy and Republicans to defend his management of the Postal Service and for Democrats to tether him to Trump and to mail slowdowns that they say could tarnish the presidential election. Read more from Todd Shields, Daniel Flatley and Bill Allison.
Momentum Swells for Job Retention Credit: There is widespread, bipartisan agreement that it is crucial to expand a tax credit to help businesses avoid layoffs, but the effort is stalled until a consensus is reached on another relief package. A loan program enacted in the CARES Act recently expired, but the growing number of virus cases across the country heightens the risk that many businesses may permanently shutter. The employee retention tax credit remains a key form of pandemic relief for businesses.
A narrow relief package that Republicans released this week doesn't include references to the credit, and negotiations haven't resumed after faltering. As a result, legislation to broaden the credit is stuck in limbo.
Business advocacy groups are pushing for lawmakers to allow businesses that receive Paycheck Protection Program loans under the CARES Act to have access to the employee retention tax credit, as well as to lower the loss threshold businesses needed to use the benefit. The credit is intended to prevent layoffs and is available to all firms regardless of employee count. Read more from David Hood, Lydia O'Neal and Colin Wilhelm.
Democrats Seek Data on Eliminating Payroll Tax: Democrats are asking the Social Security Administration how eliminating the payroll tax would affect its ability to make benefit payments. Senate Minority Leader Chuck Schumer (D-N.Y.), Chris Van Hollen (D-Md.), Ron Wyden (D-Ore.) and Bernie Sanders (I-Vt.) wrote in a letter to Chief Actuary Stephen Goss that they would not be supportive of the hypothetical legislation, but would like to be aware of its potential implications, Luke McGrath reports.
Wall Street Underestimates U.S. Consumers: The American consumer is proving more resilient than predicted. Conventional wisdom, which initially assumed many U.S. shoppers would save their paychecks and stimulus funds until the pandemic subsided, has proved unfounded. The largest American retailers all reported sales in the latest quarter that blew away expectations. From Wall Street to the retailers themselves to the manufacturers that supply them, it seemed no one was ready for just how brisk demand would be from a consumer base stuck inside with nowhere to go. Read more from Anne Riley Moffat and Jordyn Holman.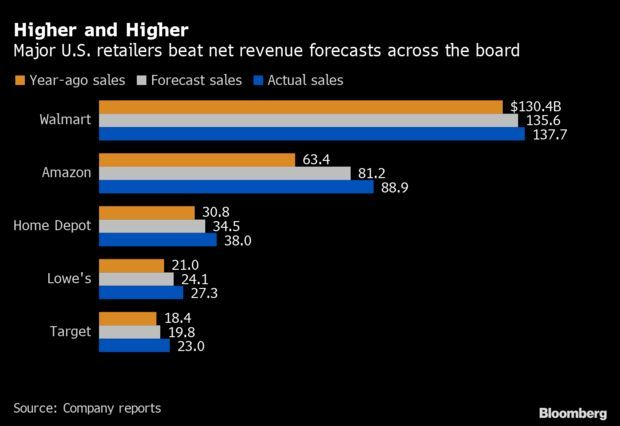 More Elections & Politics
Silicon Valley Sees Harris as Known Quantity: Many people in Silicon Valley sighed a breath of relief when Biden selected Harris as his running mate. After a primary season in which hostility toward the tech industry ran hot, Biden tapped a politician who has spent most of her career representing the Bay Area, who has a tight relationship with billionaire Laurene Powell Jobs—and whose brother-in-law is one of the top executives at ride hailing company Uber. Read more from Eric Newcomer.
Trump Declines to Disavow QAnon: Trump refused to criticize the far-right conspiracy theory movement QAnon, saying its supporters just don't like seeing what's going on in Democratic cities like New York and Portland. "I understand they like me very much, which I appreciate," Trump said yesterday. "I've heard these are people that love our country." QAnon believers claim that the world is run by a cabal of Satan-worshiping pedophiles who are plotting against Trump while operating a global child sex-trafficking ring. Read more from Saleha Mohsin and Josh Wingrove.
Trump Says He'll Change Goodyear Tires: Trump said he'll change Goodyear Tire & Rubber tires on the presidential limousine hours after seeking a boycott against the company for allegedly prohibiting his trademark MAGA hats at its workplaces. "I would swap them out based on what I heard," Trump said of the tires on the bullet-proof limousine, called The Beast. "We'll see what happens." Read more from Josh Wingrove.
Melania Trump to Speak From Rose Garden: First Lady Melania Trump will give her address to the Republican National Convention from the Rose Garden, according to a person familiar with the planning. She announced in July that she will oversee a renovation of the iconic White House garden that will restore it to its original design from the Kennedy administration. Justin Sink has more.
Louisiana Gov. Rejects Plan to Limit Absentee Ballots: Louisiana Gov. John Bel Edwards (D) rejected plans for the Nov. 3 and Dec. 5 elections that would roll back some of the expansions the state made for its rescheduled primaries. Only people who test positive for Covid-19 "during and after early voting but before Election Day" would have been able to request absentee ballots under Secretary of State Kyle Ardoin's (R) plan. Read more.
The Coronavirus Pandemic
Trump Pushes for In-Person Classes at Colleges: Trump criticized colleges that have turned to remote learning after Covid-19 outbreaks, saying it would be safer for communities if students stay put on campus. "Colleges should take reasonable precautions," Trump said at the White House yesterday. "Students who feel sick should not attend class and should limit social interaction as they would for any other illness." But he said that it would be safer to keep students living with one another than sending them home to live with relatives. Saleha Mohsin and Josh Wingrove have more.
Trump Says Plasma Approval Delay May Be Political: Trump alleged that U.S. health regulators may be delaying the emergency authorization of blood plasma to treat coronavirus patients until after the election to hurt him politically, while offering no substantiation for the charge. "I hear great things about it, that's all I can tell you," Trump said. "It could be a political decision because you have a lot of people over there that don't want to rush things because they want to do it after November 3rd," the date of the election. Mohsin and Wingrove have more.
Puerto Rico Orders New Containment Measures: Facing a spike in Covid-19 cases, Puerto Rico is clamping down again, closing beaches, bars, gyms, theaters and casinos through Sept. 11 and putting strict new controls in place for other establishments. Gov. Wanda Vazquez (R) announced the new rules, which will take effect on Saturday, in a national address yesterday. Under the regulations, all businesses except grocery stores, pharmacies and hospitals will be closed on Sundays. Read more.
Defense & Foreign Affairs
Trump Touts Diplomacy: Trump is keeping up a steady pace of events tied to his foreign-policy agenda with less than three months to go before the presidential election. His critics say the efforts have a distinctly second-tier feel. Trump scored an important victory with last week's historic agreement between the United Arab Emirates and Israel. Now, the president's team is trumpeting today visit by Iraq's prime minister, a move to shift American troops from Germany to Poland, and peace talks between Serbia and Kosovo. There's even talk he'll deliver a speech in person at the annual U.N. General Assembly in September, though other world leaders are staying home and participating online. Read more from Nick Wadhams.
Trump Seeks to Restore All Iran Sanctions: Trump said he would call on the U.N. Security Council to restore all nuclear-related sanctions on Iran, an attempt to kill off the 2015 nuclear agreement and force Tehran back to the negotiating table. "Mark it down, Iran will never have a nuclear weapon," Trump said at a White House news conference. "We paid a fortune for a failed concept, a failed policy that would have made it impossible to have peace in the Middle East." Read more from Saleha Mohsin and David Wainer.
Meanwhile, the U.S. will hold China and Russia accountable if either violate renewed "snap back" U.N. sanctions on Iran, as requested by Trump, Secretary of State Mike Pompeo said in a Fox News interview, Teaganne Finn and Josh Wingrove report.
Iran unveiled new missiles, including one named after slain General Qassem Soleimani. In a ceremony broadcast live on state TV, Defense Minister Amir Hatami announced a ballistic missile with a range of 870 miles named after Soleimani, and dedicated a cruise missile with a shorter range to Iraqi militia leader Abu Mahdi al-Muhandis. Read more from Patrick Sykes.
Trump Sees Saudis Joining Israel-UAE Deal: Trump said that he expects Saudi Arabia to join a peace deal agreed between Israel and the UAE last week, and that the emirates might be allowed to buy U.S. F-35 jets, one of the most advanced fighters in the world. Asked at the White House whether he expected the Saudis to take part in the accord, in which Israel and the UAE have agreed to normalize relations in exchange for Israel putting off for now plans to annex part of the West Bank, Trump answered: "I do." Read more from Saleha Mohsin and Josh Wingrove.
Barr Says ISIS Suspects Won't Face Death Penalty: The U.S. won't seek the death penalty for two Islamic State terrorists believed to have been involved in the killing of American journalist James Foley if the U.K. agrees to provide the evidence necessary for their prosecution in America, Attorney General William Barr said. The U.S. is seeking the evidence to prosecute El Shafee Elsheikh and Alexanda Kotey, who are currently in U.S. military custody at an undisclosed location. Read more from Chris Strohm.
Kim Jong Un Gives Dire Warning on Economy: Kim Jong Un acknowledged that North Korea's development goals have been "seriously delayed," in the latest sign that sanctions, flooding and the coronavirus have dealt a triple blow to the country's already anemic economy. Read more from Jeong-Ho Lee.
What Else to Know Today
Lawmaker Asks DOL to Alter Rules After LGBT Decision: House Oversight and Reform Subcommittee on Civil Rights and Civil Liberties Chairman Jamie Raskin (D-Md.) called on the Labor Department to "reevaluate and alter" proposed policies and rules that "allow for discrimination against LGBTQ+ people," following the landmark U.S. Supreme Court decision that confirmed federal workplace protections extend to those workers. Read more from Paige Smith.
HHS Makes It Easier to Sign Up for ACA: People who have lost their health coverage since the beginning of the year now have a streamlined pathway to sign up for Obamacare. The Health and Human Services Department recently changed a question on the application for Affordable Care Act insurance to indicate that losing coverage since the start of the year allows people to sign up outside of the normal open enrollment period, according to people following ACA coverage. Read more from Sara Hansard.
Trump Officials Won't Defend Methane Rule: The Trump administration won't defend an Obama-era rule to cut methane emissions from oil and gas development on public and tribal lands, saying the Bureau of Land Management made legal errors when it crafted the regulation in 2016. Justice Department lawyers representing the agency acknowledged the error Tuesday in a brief to the U.S. District Court for the District of Wyoming. Read more from Ellen M. Gilmer.
Stock Exchanges Hit by SEC on Fees: The New York Stock Exchange, Nasdaq and their peers will have to seek public comment and get Securities and Exchange Commission approval to change how much they charge for widely used, basic price data under rules adopted yesterday. The move to finalize a measure proposed in October continues an SEC effort to rein in exchanges' ability to raise fees by rescinding an exemption the companies had used for years to make adjustments collectively without approval through so-called national market system plans. Read more from Ben Bain.
TikTok Near Deal to Avoid Millions in U.S. Privacy Damages: TikTok's Chinese owner is proposing to settle consumer privacy litigation that has exposed it to hundreds of millions of dollars in damages as the video-streaming app prepares for a possible acquisition under threat of being shut down in the U.S. over national security concerns. Read more from Malathi Nayak.
To contact the reporters on this story: Zachary Sherwood in Washington at zsherwood@bgov.com; Brandon Lee in Washington at blee@bgov.com
To contact the editors responsible for this story: Giuseppe Macri at gmacri@bgov.com; Loren Duggan at lduggan@bgov.com; Michaela Ross at mross@bgov.com