What to Know in Washington: Biden's Investment Plan Trails China
What President Joe Biden touted as a historic U.S. federal investment program that will position the country to win the global innovation race still leaves it well behind China's continuing, giant infrastructure upgrading campaign.
While the top-line for Biden's American Jobs Plan is $2.25 trillion, China's government and private companies pour the equivalent of trillions of dollars each year into new infrastructure ranging from transport to communications networks, water projects to manufacturing.
If spread evenly over the eight-year timeframe, Biden's plan would be a little over $280 billion a year. By comparison, in China, just one source of public funds used mainly for infrastructure investment — local government "special" bonds — will total 3.65 trillion yuan ($556 billion) this year.
Looking purely at research and development, China's is current second in the world behind the U.S. in terms of annual investment, but is aiming to increase total spending by private companies and state agencies to 3.76 trillion yuan in 2025, the government said last month. That would be 1.3 trillion yuan more than the amount spent last year.
Biden's program includes $180 billion of government funding for R&D. According to Biden that is the biggest increase in such spending outside of defense on record, but some question whether it is enough. "That doesn't sound like catching up to me," Jared Woodard, head of Bank of America's research investment committee, said on Bloomberg TV Thursday. Read more from Tom Hancock.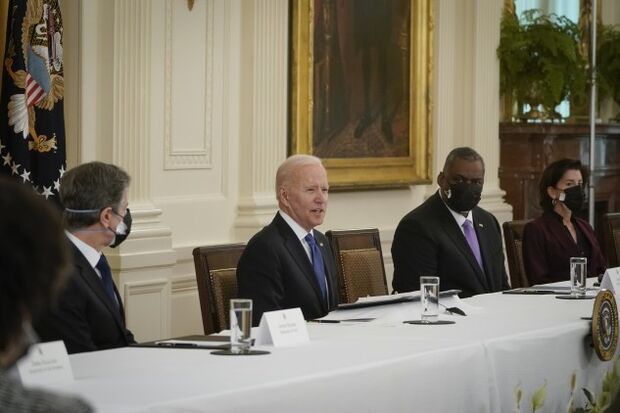 Plan Has Unlikely Ally in Trump Permit Redo: A set of Trump-era changes to the nation's permitting laws—which Democrats fiercely rejected—could end up helping Biden get his $2.25 trillion infrastructure plan off the ground if they're not tossed out, law professors and free marketeers say. The 2020 White House Council on Environmental Quality rewrite limits the scope of agency permit reviews under the National Environmental Policy Act for large projects, such as highways and bridges. It also more narrowly defines which projects warrant scrutiny. Read more from Stephen Lee.
Around the Administration
DOD, OMB Battles Delay Budget Request: When Biden releases his discretionary priorities, it'll be the result of a tug-of-war between the Pentagon and the Office of Management and Budget, Roxana Tiron and Tony Capaccio report.
The White House was expected to release discretionary spending priorities this week, but part of the delay is due to some disagreement between the Defense Department and the White House over the defense-spending topline for fiscal year 2022, according to two people familiar with the issues who asked not to be named because the information isn't public.
The Pentagon has been crafting a fiscal 2022 budget plan that assumes the military will receive $704 billion to $708 billion, essentially a flat budget instead of the increase anticipated under former President Donald Trump. A "topline" of $704 billion to $708 billion under Biden would amount to a decrease of about 2% in real terms, adjusting for inflation from this year's enacted appropriation of about $704 billion. The topline proposed by OMB is still unclear.
Jobs Report: U.S. employment probably swelled in March by the most in five months as millions of Covid-19 vaccinations and a more open economy helped invigorate hiring, including at businesses hit hardest by the pandemic. Today's monthly jobs report will show 650,000 people were added to payrolls and the unemployment rate dropped to 6%, according to the median forecasts of economists surveyed by Bloomberg. Some are projecting an increase of 1 million or more, which would be the sharpest gain since August. Read more from Olivia Rockeman and Reade Pickert.
Biden will address the monthly jobs report in remarks at the White House at 11 a.m., according to his schedule. At noon, the president will depart for Camp David.
White House to Discuss Chip Shortage with Industry: Biden's top national security and economic advisers plan to meet April 12 with semiconductor and auto companies to discuss the global shortage of microprocessors, according to people familiar with the matter. National Security Adviser Jake Sullivan and National Economic Council director Brian Deese will discuss the impacts of the shortage and a path forward with industry leaders, an administration official said.
The official added that the White House is also engaged with Congress and allies abroad on the issue. Companies invited to the meeting include automakers and semiconductor manufacturers, as well as technology and medical devices firms, according to one of the people. Read more from Jenny Leonard.
Top Biden Aide to Meet Asia Allies in Maryland: White House National Security Adviser Jake Sullivan will lay out the emerging U.S. strategy toward North Korea in a meeting with his Japanese and South Korean counterparts today at the U.S. Naval Academy, a senior administration official said. Sullivan will host National Security Secretariat Secretary General Shigeru Kitamura of Japan and South Korean National Security Adviser Suh Hoon at the academy in Annapolis, Maryland, the official said in a briefing for reporters. Read more from Jenny Leonard.
Japan's Suga to Be the First Foreign Leader to Meet With Biden: Japanese Prime Minister Yoshihide Suga will become the first foreign leader to hold a face-to-face meeting with Biden in a summit planned for April 16, where China will be high on the agenda. The meeting in Washington demonstrates the importance the U.S. attaches to relations with Japan, Chief Cabinet Secretary Katsunobu Kato said in announcing the trip today. "The U.S. and Japan share the basic values of freedom, human rights and the rule of law," he added. Read more from Isabel Reynolds.
Biden Tasks Cardona with Review of Student Debt Cancellation: Biden asked the Education Department to review the president's legal authority to cancel student debt via executive action, White House Chief of Staff Ron Klain said yesterday. The White House said earlier this year that the Department of Justice would look into legal questions around student debt cancellation.
Several national labor groups yesterday also asked Cardona to cancel student debt for public service workers. Unions representing teachers, firefighters, and auto workers said executive action was needed because borrowers have been slow to receive debt relief through the Public Service Loan Forgiveness program, Andrew Kreighbaum reports.
White House Wants Nuclear in Clean Energy Mandate: Nuclear energy should be one of the power sources eligible for a national clean energy mandate sought by the White House as part of its infrastructure plan, presidential climate adviser Gina McCarthy told reporters. McCarthy's remarks yesterday came amid concern about the carbon-free fuel source from progressives and some environmentalists who have qualms about radioactive waste and uranium mining for reactor fuel. Read more from Ari Natter.
Vaccine Trickle Becomes Torrent: It's taking some effort and some patience, but as eligibility is opening to millions of people across the U.S. after months of cutthroat competition to find Covid-19 shots, vaccines are starting to stream into people's arms. States are offering shots to millions of people who want to return to life as it was before Covid-19, and officials in charge are reporting that the campaign is rounding into form. Nearly half of U.S. states will have opened vaccination to everyone 16 and older by the end of this week. That will rise to about three-quarters, or 35 states, by the end of next week. Read more from Angelica LaVito.
DOL Intensifies Anti-Bias Enforcement of Contractors: The Labor Department office that polices government contractors intensified its enforcement of anti-bias laws under Biden, a marked change from the Trump administration's focus on proactive measures, several management attorneys said. While the DOL's Office of Federal Contract Compliance Programs hasn't announced new litigation under Biden, the way its investigators are carrying out their mission has clearly changed—a trend that more than a half-dozen management attorneys said was evident soon after Inauguration Day. Read more from Paige Smith.
With assistance from Andrew Kreighbaum, Roxana Tiron, and Tony Capaccio
To contact the reporter on this story: Giuseppe Macri in Washington at gmacri@bgov.com
To contact the editors responsible for this story: Zachary Sherwood at zsherwood@bgov.com; Loren Duggan at lduggan@bgov.com