What to Know in Washington: Biden's Hopes for GOP Support Shrink
President Joe Biden's next major economic package will almost certainly have to rely once again on a Democrat-only approach after Senate Minority Leader Mitch McConnell shut the door yesterday on Republican support for tax hikes to pay for it.
While Sen. Joe Manchin (D-W.Va.) has insisted Democrats at least try to work with Republicans on an infrastructure package—and Biden also continues to hold out hope—there's little expectation now that such a bipartisan path exists for anything close to the scale the White House wants, and certainly not for the taxes on the wealthy and corporations they envision will pay for it.
"I don't think there's going to be any enthusiasm on our side for a tax increase," McConnell said.
That means for a big portion of Biden's plan, Democrats would have to employ the same budgetary maneuver, known as reconciliation, that they used to pass his $1.9 trillion economic package with a simple majority vote.
There are pitfalls to the partisan approach, given the budget rules, which could kill earmarks Democrats want to include in an infrastructure package. Reconciliation could also force assorted other clumsy workarounds for spending infrastructure money—giving Democrats some incentive to keep trying to pass at least a portion of the plan with bipartisan support. Read more from Steven T. Dennis, Erik Wasson and Laura Davison.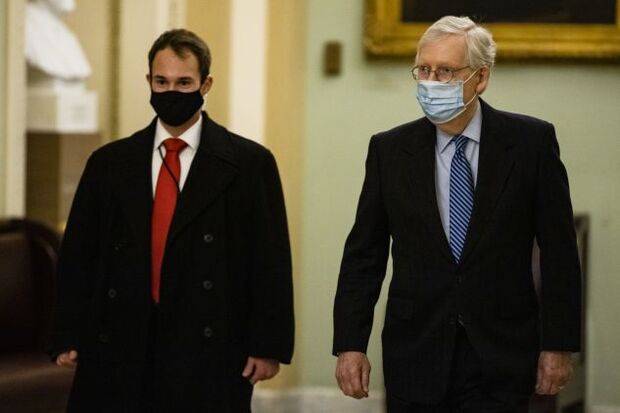 Biden Backs Filibuster Rule Change: Meanwhile, Biden signaled a willingness to overhaul the Senate rule that allows the minority party to block legislation, saying he'd support the return of the "talking filibuster" for senators seeking to stall a vote.
"I don't think that you have to eliminate the filibuster, you have to do it what it used to be when I first got to the Senate back in the old days," Biden said in an interview yesterday with ABC News. "You had to stand up and command the floor, you had to keep talking." The original rule for the filibuster was "what it was supposed to be," Biden said. "It's getting to the point where, you know, democracy is having a hard time functioning." Read more from Jennifer Epstein.
Happening on the Hill
DHS Chief Heads for Clash Over Surge of Migrants: Homeland Security Secretary Alejandro Mayorkas today will defend the Biden administration's approach to a surge in immigrants at the U.S.-Mexico border as GOP lawmakers blame the president's policies for creating a crisis.
Mayorkas is set to testify before the House Homeland Security Committee, where he'll argue that the Trump administration left behind an inhumane and inadequate system that his department is working swiftly to revamp. "The situation we are currently facing at the southwest border is a difficult one. We are tackling it," Mayorkas said yesterday in a 2,000-word statement responding to the concerns of immigrants' rights groups and Republicans. Read more from Jennifer Epstein.
Landmark Rights Measure Up for Debate: Democrats' momentum to enact landmark LGBT civil rights legislation is facing headwinds from opponents who say the measure would limit federal religious protections. Those objections will likely be raised at a Senate Judiciary Committee hearing today on the bill. But some legal experts disagree with critics and say the measure wouldn't completely wipe out religious rights of employers and other groups. Read more from Erin Mulvaney and Andrew Kreighbaum.
Click here for a complete list of today's hearings.
House Extends Small-Business Rescue: The House approved a two-month extension of a popular U.S. small-business rescue program that still has almost $93 billion left to distribute, giving companies until the end of May to apply for the forgivable loans. The Paycheck Protection Program was initially set up a year ago as lockdowns stemming from the coronavirus paralyzed the American economy. Lawmakers expanded and extended it as the Covid-19 crisis continued. The House voted 415-3 on a bill extending the PPP for two months from its current expiration date of March 31. Read more from Laura Davison.
Senators Renew Attack on Tech's Liability Shield: Senators are releasing the first bipartisan bill of the year to overhaul technology platforms' liability shield a week before the chief executives from Facebook, Google and Twitter testify before Congress about the prevalence of misinformation online. The latest version of the legislation, expected to be reintroduced today by Sens. Brian Schatz (D-Hawaii) and John Thune (R-S.D.), would hold technology companies accountable for moderating content on their platform by making changes to Section 230 of the Communications Decency Act of 1996, according to a Senate aide. Read more from Rebecca Kern.
Around the Administration
Biden to Hold First News Conference: Biden will hold his first formal news conference as president on March 25, White House Press Secretary Jen Psaki said, as he promotes his $1.9 trillion coronavirus relief measure and efforts to accelerate coronavirus vaccinations. Biden signed his "American Rescue Plan" into law last week, and he and other top Democrats are fanning out across the nation this week to tout its benefits. Read more from Josh Wingrove.
Biden today will attend mass in Wilmington, Del., in honor of St. Patrick's Day. He will then return to Washington, and host Ireland Prime Minister Micheál Martin at the White House this afternoon.
Judicial Picks Capture Theme for Nominations: Biden is expected to make his first judicial picks soon and if the practice of past presidents is any indication, those selections will reflect his priorities for judicial nominations. His immediate predecessor, Donald Trump, signaled a willingness to work with Senate Republicans with his first circuit court nominee: Amul Thapar, who was championed by his fellow Kentuckyian, McConnell, for the Sixth Circuit. Barack Obama tried showing he wanted to work across the aisle by announcing David Hamilton for the Seventh Circuit, a moderate pick supported by his Republican home-state senator Richard Lugar of Indiana. Read more from Madison Alder.
U.S. Cautions China Breakthrough Unlikely:Senior U.S. officials sought to set a low bar on expectations for the Biden administration's first face-to-face meeting with Chinese officials later this week, saying it will be more about discussing priorities — and differences — than trying to craft agreements. "We expect there are parts of the conversation that could be difficult," Psaki told reporters yesterday aboard Air Force One en route to Pennsylvania. "There are issues that the president has not held back on voicing concerns about, whether it's human rights, whether it's economic or technology issues." Read more from Jenny Leonard.
Taiwan is likely to be a major point of contention when top U.S. and Chinese diplomats meet. Taipei's envoy to Washington is confident that the new Biden administration will show support for its democratic partner. Hsiao Bi-khim told Bloomberg yesterday that Biden had maintained much of his predecessor's approach to Taiwan. Read more from Chris Horton and Stephen Engle.
Biden's White House is trying to reconcile his desire to ratchet up U.S. renewable power generation with his outrage over alleged Chinese human-rights abuses in Xinjiang, a major supplier of a key component in solar panels. Factories in Xinjiang, a western region of China that's home to the oppressed Uyghur minority, produce half the global supply of polysilicon, a metal critical for the panels that turn sunlight into electricity. But Biden has accused China of "genocide" in a campaign to erase the culture of the predominantly Muslim Uyghurs. Read more from Jenny Leonard and Jennifer A. Dlouhy.
U.S. Warns Banks Over Ties With Sanctioned Chinese Officials: The U.S. added more than a dozen Chinese officials to a list of people that banks must avoid, putting global financial institutions on notice that they risk running afoul of American sanctions. The State Department officially added 14 Chinese lawmakers, including a member of the Communist Party's ruling Politburo, to a blacklist under the Hong Kong Autonomy Act. Read more from Brendan Scott.
Yellen Says Poor Nations Need Help on Covid-19: Treasury Secretary Janet Yellen told a group of religious leaders yesterday that low-income nations needed continued international support to deal with Covid-19. Yellen told the leaders that she views the possible creation of new International Monetary Fund reserve assets called special drawing rights, or SDRs, as part of wider aid for poor countries, the Treasury Department said in a statement. Read more from Eric Martin.
Vaccine nationalism in countries including the U.S. and India will probably derail efforts by the World Health Organization to deliver 2 billion doses to poorer and middle-income countries by the end of the year, according to the head of the world's biggest vaccine maker. Countries are holding tight to their supplies and restricting access to materials, said Adar Poonawalla, CEO of the Indian company responsible for offering over half of doses used in the Covax program. Chris Kay and Haslinda Amin have more.
Politics & Influence
Contractors Violate Campaign Contribution Rules: Government contractors keep making large contributions to super political action committees despite enforcement complaints and fines by the Federal Election Commission, Kenneth P. Doyle reports. Some contractors have said they didn't know until after the fact that a long-standing federal ban on contractor campaign contributions applied to super PACs.
Complaints set to filed today by the watchdog Campaign Legal Center allege contractors Martin Marietta Materials, Inc., a building materials company, and the American College of Radiology, a medical trade association, illegally gave $10,000 each to the Senate Leadership Fund, a key Republican super PAC aligned with McConnell. Four other complaints regarding contributions to McConnell's fund and two other super PACs also were filed. CLC noted that its complaints last year resulted in over $1 million in super PAC contributions being refunded to the donors, and some donors have been fined by the FEC.
Wall Street Looking to Reopen Wallets for Politicians: Wall Street firms are quietly preparing to resume political giving in the next few months, marking an end to a freeze that many corporations vowed to impose after rioters stormed the U.S. Capitol in January to disrupt congressional certification of Trump's loss to Biden. The pause on political action committee contributions, touted by major financial companies like JPMorgan Chase, Goldman Sachs and BlackRock, alarmed lawmakers in both parties at the time. Yet it was never meant to be a shutdown of the Wall Street money machine, which contributed $787 million to the 2020 election, people familiar with the matter said. Read more from Robert Schmidt and Bill Allison.
Trump Recommends Coronavirus Vaccine: Trump said he would urge his supporters and others wary of the coronavirus vaccine to get it, while also saying that personal freedoms must be respected. "I would recommend it to a lot of people that don't want to get it, and a lot of those people voted for me, frankly," Trump said in a telephone interview with Fox News last night. "But you know again, we have our freedoms, and we have to live by that, and I agree with that also. But it's a great vaccine, it's a safe vaccine, and it's something that works." Read more from Mark Niquette.
Trump's net worth is down to $2.3 billion from $3 billion when he became president, according to the Bloomberg Billionaires Index. The pandemic he promised would disappear is walloping his company, and the riot that got him impeached for a second time is wounding his brand. Read more.
Biden Says Cuomo Should Resign If Allegations Confirmed: Biden said yesterday that New York Gov. Andrew Cuomo (D) should resign if an investigation confirms the sexual harassment allegations against him. In his most extensive comments about accusations made by several women against his longtime Democratic ally, Biden reiterated his support for seeing the inquiry carried out but said that its findings could force the three-term governor from office. Read more from Jennifer Epstein.
With assistance from Brandon Lee
To contact the reporter on this story: Zachary Sherwood in Washington at zsherwood@bgov.com
To contact the editors responsible for this story: Giuseppe Macri at gmacri@bgov.com; Loren Duggan at lduggan@bgov.com; Michaela Ross at mross@bgov.com