What to Know in Washington: Biden's Dealmaking Hopes Dealt Blow
President Joe Biden's hopes for a bipartisan deal on the biggest infrastructure package in decades took a blow with the end of direct talks with the lead GOP negotiator, increasing the likelihood that Democrats pursue a sweeping, multi-trillion dollar package on their own.
Negotiations between Biden and Sen. Shelley Moore Capito (R-W.Va.) ended with a phone call yesterday after almost four weeks of efforts failed to bridge wide differences on both spending and funding. Each side blamed the other for intransigence.
Bipartisan talks aren't entirely over, with a group of Republican and Democratic senators working on an alternative compromise and the president planning to engage with them even after he departs today on his first overseas trip, to Europe.
Yet with the GOP steadfast against the tax increases Biden has proposed to pay for the spending, and the White House rejecting the user fees and the repurposing of pandemic-relief funds that Republicans had pitched, top Democratic lawmakers are already moving forward with a go-it-alone strategy.
"We're pursuing two tracks: one bipartisan and one reconciliation," Senate Majority Leader Chuck Schumer (D-N.Y.) said yesterday. The budget reconciliation procedure allows for a simple majority vote, bypassing the filibuster, but it requires all 50 Democratic votes in the Senate. Read more from Nancy Cook, Laura Litvan and Erik Wasson.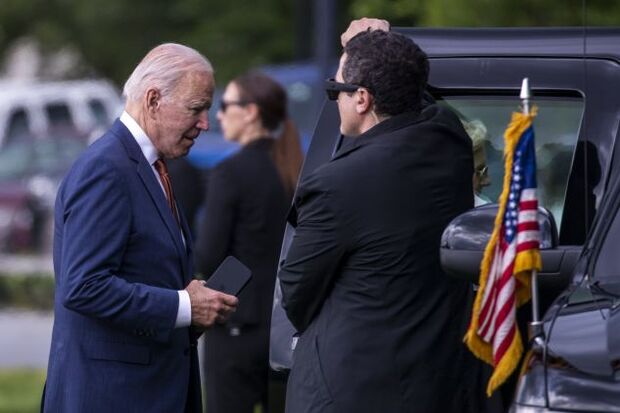 Biden will instead turn his attention to a bipartisan group of senators working on their own infrastructure plan, White House Press Secretary Jen Psaki said in a statement.
"The president is committed to moving his economic legislation through Congress this summer, and is pursuing multiple paths to get this done," Psaki said, adding that Biden also spoke with Speaker Nancy Pelosi (D-Calif.) yesterday about advancing Democratic-written legislation.
The bipartisan group of 20 senators has not yet signed off on a proposal, according to members. Instead, a smaller faction led by Sens. Mitt Romney (R-Utah) and Kyrsten Sinema (D-Ariz.) have agreed on a spending level and how to pay for it, according to Romney, but he declined to give more details. One senator in the group said that it has agreed to more than $900 billion over eight years. Read more from Nancy Cook, Josh Wingrove, and Erik Wasson.
Meanwhile, a group of Democratic and Republican House members who are trying to keep alive the hope of a bipartisan infrastructure package said late yesterday they had agreed to $761.8 billion in new spending over eight years. Together with $487.2 billion in already likely spending, the total would come to $1.2 trillion, according to a House aide. Read more from Billy House.
Rural Transit Gets Rare Bipartisan Backing: Lawmakers from both sides of the aisle showed sympathy yesterday to rural transit agencies' requests for more funding in surface transportation legislation. Republicans have previously refuted Democrats' calls to boost transit funds, saying agencies already received enough federal money from Covid-19 relief laws. Democrats are now seeing rural regions as an area of agreement with the GOP as lawmakers craft the transit portions of the Senate's surface transportation reauthorization bill. Read more from Lillianna Byington.
Yellen Says Global Tax Plan 'Largely' Revenue Neutral: The administration's proposal to change how and where multinational companies are taxed would be "largely revenue neutral" for the U.S., Treasury Secretary Janet Yellen said in a letter to a Republican tax writer. That's because the U.S. "will be on both the receiving and giving end of the proposed profit reallocations," she said in a response letter to Sen. Mike Crapo (R-Idaho). Read more from Colin Wilhelm.
Also Happening on the Hill
Today's Agenda: The Senate will consider Biden's nominee for the U.S. District Court for the District of New Jersey, Zahid Quraishi.
The House Transportation and Infrastructure Committee will mark up Democrats' $547 billion surface transportation bill as well as major wastewater infrastructure legislation.
Click here for a complete list of today's hearings and markups.
Senate Passes Bill to Help U.S. Compete Against China: The Senate passed by an wide margin an expansive bill to invest almost $250 billion in bolstering U.S. manufacturing and technology to meet the economic and strategic challenge from China. The 68-32 vote on the legislation was a rare spot of bipartisanship in an otherwise polarized Senate and a clear indicator of concerns in both political parties that the U.S. risks falling behind its biggest global competitor.
The legislation would authorize $190 billion in spending—much of it aimed at increased research and development at universities and other institutions. It also carries $52 billion in emergency outlays to assist domestic manufacturers of semiconductors to expand production, a provision that gained new urgency with a global chip shortage that's idled U.S. automotive facilities and disrupted the production of consumer electronics. Read more from Daniel Flatley.
Behind the Scenes: Gym Discussion Forges Unusual Senate Alliance to Pass China Bill
China blasted U.S. motivations underpinning the bill. While China is commited to "developing a win-win relationship" with the U.S., the legislation "distorts the facts, and slanders China's development path and domestic and foreign policies," Foreign Ministry Spokesman Wang Wenbin said today at a regular press briefing in Beijing. Read more .
Senate GOP Blocks Bill to Stiffen Pay Discrimination Rules: Senate Republicans blocked a Democratic bill that would impose tougher standards and bigger penalties on companies over claims of pay discrimination based on sex. The bill was blocked on a 49-50 vote that was well short of the 60 needed. It marked the second time Senate Republicans used the filibuster to block legislation since Biden took office. The Paycheck Fairness Act would limit an employer's defense in wage discrimination claims and set regulations for the Equal Employment Opportunity Commission for collecting compensation and employment data from employers. Republicans argued it would drastically limit an employer's ability to defend itself against pay discrimination claims. Read more from Jarrell Dillard.
Democrats Irked by Alzheimer's Drug's Price: The cost of Biogen's new Alzheimer's drug is drawing criticism from Democratic lawmakers a day after its approval by U.S. regulators. The $56,000-a-year price tag for Biogen's Aduhelm "will likely cost Medicare billions of dollars," said House Oversight Chair Carolyn Maloney (D-N.Y.). in an emailed statement. Senate Finance Chair Ron Wyden (D-Ore.) tweeted that it's "unconscionable" to charge so much for a drug that has not been proven to work. Read more from Brody Ford.
Politics & Influence
Virginia Offers First Test of Post-Trump Elections: Virginia's gubernatorial election will feature Democrat Terry McAuliffe and Republican Glenn Youngkin. It will star Donald Trump. The primary victory yesterday by McAuliffe, the former governor who was term-limited out of office four years ago, sets up one of the first competitive races in the post-Trump administration era and one that will test the extent of the former president's influence over voters — both Republicans and Democrats. Read more from Emily Wilkins.
Ex-N.J. Lawmaker to Challenge Murphy for Governor: Jack Ciattarelli, a former Republican assemblyman, will challenge Democratic incumbent Phil Murphy (D) in the November race for New Jersey governor after winning the Republican nomination in the state's primary election. No Democrat has won the seat twice since 1977. Ciattarelli, a retired businessman and former state Assembly member, defeated three Republican challengers: One ran a grassroots campaign, and two were die-hard Trump fans in a state that twice voted against him for president. Read more from Elise Young.
Around the Administration
Today's Agenda: Biden departs for his first international trip as president today, departing for the U.K. at 8:30 a.m. Biden arrives this evening, with plans to meet tomorrow with U.K. Prime Minister Boris Johnson.
DOJ Defenses of Trump Frustrate Accountability Push: The Biden administration's move to back Trump in a defamation suit filed by New York advice columnist E. Jean Carroll shows its priority is safeguarding the powers of the White House instead of holding the former occupant accountable, legal experts say. It wasn't the first time Biden's White House has stood behind Trump, and it may not be the last. Read more from Erik Larson and David Yaffe-Bellany.
Revamp Eyed for Covid-19 Health Provider Aid: The Biden administration will soon release guidance on what health-care providers can do with unspent stimulus funds, Health and Human Services Secretary Xavier Becerra told lawmakers. HHS later this month will outline how health-care providers may "apply for and make use, good use, of their monies," Becerra said. He declined to say whether HHS will extend the June 30 deadline for providers to spend Covid-19 stimulus money. Read more from Alex Ruoff.
Health Preparedness Pick Vows to Apply Lessons from Pandemic: "Be ready for the next public health emergency." That's the top priority for Biden's nominee to lead the agency within the HHS that prepares for and works to stop pandemics and biohazard attacks. "Make sure that we have the advantage of everything that we've learned this time" from the Covid-19 crisis, said Dawn O'Connell, who's seeking confirmation to be HHS assistant secretary for preparedness and response. Read more from Shira Stein.
Iran's Nuclear Program 'Galloping Forward,' Blinken Says: Secretary of State Antony Blinken warned Iran is rapidly developing its nuclear program, saying that returning to the 2015 deal that Trump pulled the U.S. out of is a needed first step to prevent Tehran from acquiring a bomb. "Iran's nuclear program is galloping forward," Blinken told the Senate Foreign Relations Committee yesterday at a hearing on the State Department's budget. Read more from David Wainer.
A top U.S. envoy appealed to Iran to accept a "mutual return" to a landmark nuclear agreement with world powers as diplomats are set to gather to negotiate a cap on the Persian Gulf country's atomic program in exchange for sanctions relief. The statement delivered by Washington's top International Atomic Energy Agency diplomat late yesterday acknowledged trust needs to be rebuilt after Trump unilaterally applied punishing economic sanctions three years ago, prompting Iran to respond by dramatically increasing its nuclear work. Read more from Jonathan Tirone.
Biden Asia Czar Says China to Blame for Diplomatic Woes: China has only itself to blame for a international backlash against its policies, the White House's top Asia official said. "Over the last year or two the country that has done the most to create problems for China is not the United States, but China," Kurt Campbell, the U.S. czar for Indo-Pacific affairs on the National Security Council said at an event hosted by the Center for a New American Security. Read more from Peter Martin.
Harris Promises Border Visit, Urges Focus on Root Causes: Vice President Kamala Harris said she'll visit the southern border but urged lawmakers to focus on the causes of mass migration from Central America, deflecting Republican criticism after meeting with Mexican leader Andres Manuel Lopez Obrador yesterday. "It would be very easy to just say we'll travel to one place and therefore it's solved," she said. Read more from Jennifer Epstein and Jordan Fabian.
With assistance from Andrew Kreighbaum and Megan R. Wilson
To contact the reporters on this story: Giuseppe Macri in Washington at gmacri@bgov.com; Brandon Lee in Washington at blee@bgov.com
To contact the editors responsible for this story: Zachary Sherwood at zsherwood@bgov.com; Loren Duggan at lduggan@bgov.com; Michaela Ross at mross@bgov.com