What to Know in Washington: Biden's Cabinet Picks Start to Move
President-elect Joe Biden's cabinet picks are beginning to work through the confirmation process in the Republican-controlled Senate as transition officials and Democrats press to avoid delays in putting key people in place amid the pandemic.
Despite the still simmering rancor of the election and President Donald Trump's refusal so far to recognize the outcome, some Senate committees are moving ahead on vetting nominees, potentially leading to some being confirmed on Inauguration Day or shortly afterward.
The Senate Finance Committee sent questionnaires Tuesday to Janet Yellen, the former Federal Reserve chair whom Biden has chosen to be Treasury secretary, and Xavier Becerra, the California attorney general tapped to run the Department of Health and Human Services, said Ashley Schapitl, a spokeswoman for ranking member Ron Wyden (D-Ore.).
The Senate Foreign Relations Committee has sent its list of questions to secretary of state nominee Antony Blinken, with the potential for a hearing before the inauguration on Jan. 20, according to a person familiar.
The process has been eased by the vote Monday of the Electoral College affirming Biden's victory and by Senate Majority Leader Mitch McConnell (R-Ky.) on Tuesday acknowledging Biden as the president-elect and speaking to him by phone.
"Leaders from both parties have now recognized that President-elect Joe Biden will be sworn-in on Jan. 20th," said Andrew Bates, a spokesman for the transition team. "And the American people rightfully expect that the Senate will confirm his tested, deeply qualified, history-making cabinet nominees as swiftly as possible to ensure that our nation is fully equipped to overcome the unprecedented coronavirus crisis, put Americans back to work, and protect our national security."
That doesn't mean Biden's nominees will have an easy road ahead. Republicans have raised concerns about several of them, including Neera Tanden, the head of the Center for American Progress, to lead the Office of Management and Budget, as well as Becerra, a former senior House Democrat.
Sen. John Barrasso (R-Wyo.), the No. 3 Senate Republican, warned in a recent Wall Street Journal op-ed that Democrats had "hamstrung" Trump's administration when he first took office and that would have consequences. "Don't expect Senate Republicans to forget how the Democrats treated Mr. Trump's nominees," he wrote. Republicans would "treat mainstream nominees fairly." But "those who are out of the mainstream will face a gauntlet, not a garden party." Read more from Steven T. Dennis, Daniel Flatley and Jennifer Epstein.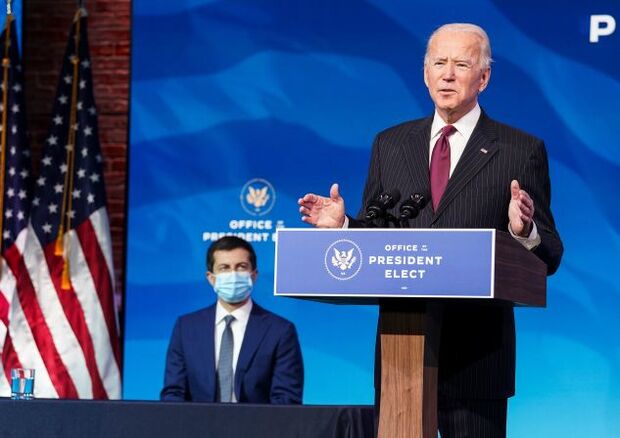 Biden Prodded by Left on Unlikely Tax Hikes: Biden had one of the most progressive tax plans of any presidential platform, and activists are seeking to make sure the momentum doesn't stop there. But Biden won't have a decisive Democratic majority in the House, and is unlikely to have a Democratic Senate, making grand plans tough to enact. The challenge isn't deterring progressive groups, who argue Biden has a mandate to enact proposals that leftist groups of the Democratic Party has been trying to make mainstream for years: taxing capital income the same as wages, putting a levy on offshore corporate profits and ending tax perks for assets the wealthy pass onto their heirs. Read more from Laura Davison and Jarrell Dillard.
Biden Eyes Howard, Connecticut Officials for Education Job: Former Howard University Dean Leslie T. Fenwick and the Connecticut commissioner of schools Miguel Cardona have emerged as front-runners for Biden's education secretary pick, the Washington Post reports, citing people familiar with the process. The situation is "fluid" with the transition committee focusing on these two candidates, according to the Post.
Happening on the Hill
Covid-Relief Plan Talks Down to Final Details: Congressional leaders and their staffs continued working out the details of a nearly $900 billion coronavirus relief plan in anticipation of unveiling it as soon as today. People briefed on the negotiations say the draft of the proposal includes $600 in payments for individuals, $300-per-week in supplemental unemployment insurance payments and aid for small businesses as well as roughly $17 billion for airlines. But it omits aid to state and local governments and lawsuit liability protection, the two issues that have stymied earlier attempts at an agreement.
Senate Majority Leader McConnell, Speaker Nancy Pelosi (D-Calif.), Senate Minority Leader Chuck Schumer (D-N.Y.) and House Minority Leader Kevin McCarthy (R-Calif.) have been directly involved in the negotiations, raising prospect for a package that can quickly pass the House and Senate. The principle negotiators on the deal for a pandemic relief bill said they continued to make progress as staff members hashed out details of legislation. "We're still close, and we're going to get there," McConnell said last night as he left the Capitol.
The House could move quickly toward a vote once the legislation is written. House Majority Leader Steny Hoyer (D-Md.) said the goal was a vote on Thursday but that it could slip to Friday. Read more from Erik Wasson.
Details are trickling in on the final provisions for the massive legislative package:
Foreign Election Meddling Report Delayed: Trump's spy chief won't meet tomorrow's deadline to submit a classified report to Congress on foreign efforts to sway the Nov. 3 election, officials said, because of arguments within the intelligence community over whether China should be cited more prominently for its attempts to influence American voters. A statement from Director of National Intelligence John Ratcliffe's office last night said the deadline won't be met because career officers in the intelligence community say they've "received relevant reporting since the election and a number of agencies have not finished coordinating on the product."
On Tuesday, Ratcliffe was weighing refusing to sign off on the report unless it more fully reflected the national security threat posed by China's efforts according to people familiar with the matter, who spoke on condition of anonymity owing to the sensitivity of the information. The intelligence report wouldn't deal with allegations of domestic fraud, such as in ballot-counting. Read more from Jennifer Jacobs.
Senate Bringing Down Curtain on Trump Judicial Transformation: The Senate is preparing for what could be the final judicial confirmation votes of Trump's presidency, rounding out his much-promoted effort to reshape the federal courts with conservatives. The Republican-led Senate yesterday confirmed Katherine Crytzer to be a district judge for the Eastern District of Tennessee by an unusually close 48-47 vote and Joseph Dawson III for the District of South Carolina by a 56-39 vote. It's also expected to hold a confirmation vote for another Eastern District of Tennessee nominee, Charles Edward Atchley.
Judiciary Committee Chairman Lindsey Graham (R-S.C.) said yesterday there wouldn't be a hearing on Trump's nominee for the U.S. Court of Appeals for the First Circuit, his last appellate selection. "This will be up to the next administration, from my point of view," Graham said of the incoming Biden presidency. Read more from Madison Alder.
Paul Blocks Judge Security Bill: Sen. Rand Paul (R-Ky.) blocked a bipartisan bill that would protect federal judges' personal information from being shared online in a bid to have the legislation also cover members of Congress. Sen. Bob Menendez (D-N.J.) had moved yesterday for unanimous consent on the legislation introduced after U.S. District Judge Esther Salas' son was shot and killed at their family home in New Jersey. Paul said he agreed with the legislation's intent, but wants to also protect lawmakers. Paul cited a 2017 shooting ambush on lawmakers practicing for the Congressional baseball game, during which Rep. Steve Scalise (R-La.) was wounded. Read more from Madison Alder.
Loeffler's Attacks Show Little Outreach to Georgia Moderates: Sen. Kelly Loeffler's campaign was designed to broaden the Republican Party's appeal to voters in Georgia's increasingly Democratic suburbs — instead the race has turned into a contest in which each side is hardening its core supporters and few undecideds remain. One of the main reasons Georgia Gov. Brian Kemp (R) tapped Loeffler to fill Sen. Johnny Isakson's (R) seat last year was that she might appeal to White suburban women who have been pivotal in recent elections and have been trending toward Democrats.
From the start, Loeffler described herself as a "lifelong conservative, pro-Second Amendment, pro-Trump, pro-military and pro-wall." And ever since, amid Trump's baseless insistence that he lost Georgia to Biden only because of widespread election fraud — charges that have divided the state GOP — Loeffler has only hardened her positions to ensure that loyal Republicans show up for a January runoff. Read more from Billy House.
Elections & Politics
Portman Says Election 'Poison' Needs a Bipartisan Fix: A bipartisan commission could be the solution to removing the "partisan poison" from debate over the 2020 election, the next top Republican on the Senate Homeland Security and Governmental Affairs Committee said. "Pulling this out of politics a little bit and having a bipartisan group that is more independent look at the issue is a good idea," Sen. Rob Portman (R-Ohio) said during a hearing. Read more from Shaun Courtney.
Facebook, Twitter Undo Changes Meant to Curb Vote Misinformation: Facebook and Twitter reversed changes to their content policies that were implemented to stem the viral spread of misinformation about November's U.S. presidential election, saying the temporary changes are no longer needed.
Twitter had made it harder to retweet others' posts, encouraging people to add commentary before posting something. The company said it will return to one-click retweets, after seeing a 20% decrease in sharing following the change. After the election, Facebook boosted news sources it considered authoritative on its social network, to make sure users were getting high-quality information on the outcome, but that problem isn't as urgent anymore. "This was a temporary change we made," the company said in a statement. Read more from Sarah Frier.
The Coronavirus Pandemic
Record US Deaths: The U.S. had reported 3,786 deaths at one point last night, another daily record as the country rushes out vaccine doses in an effort to slow down the virus's spread. Its 7-day average of fatalities is 2,560 and rising fast, according to Bloomberg data. Read more.
Virus Cases Falling or Flat in 38 States: Eighteen states, most in the Midwest, are reporting sharply declining seven-day averages of new coronavirus infections compared with the prior week. Another 20 states, peppered across the country, saw case rates stay below 10%, which the Covid Tracking Project considers as flat. The Centers for Disease Control and Prevention, using an ensemble of mathematical models, forecasts cases will begin decreasing in January. But health experts worry the holidays could scuttle those projections. Nic Querolo has more.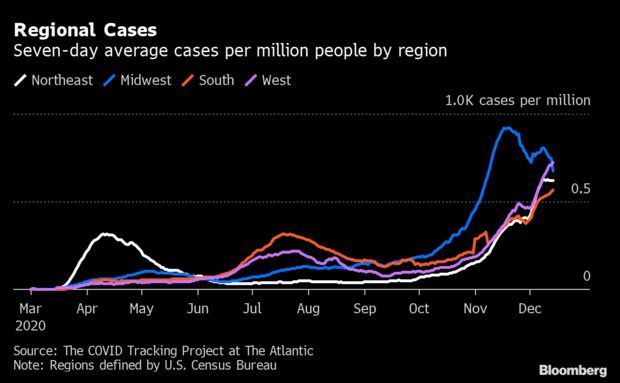 Half a Million Fewer College Students During Pandemic: More than 560,000 fewer undergraduates enrolled in college this fall compared to the prior year, according to a report released today by the National Student Clearinghouse Research Center. Overall enrollment in postsecondary enrollments fell 2.5% amid the coronavirus pandemic and freshman enrollment fell 13.1%, according to the report.
A previous report from the clearinghouse found that enrollment had fallen even more sharply among graduating high school students. The number of high school seniors who went directly to college declined 21.7% this fall. The clearinghouse said that trend was attributable to the pandemic, which made in-person instruction impossible for many programs and created insurmountable costs and other burdens for low-income students, Andrew Kreighbaum reports.
Pence to Receive Vaccine Tomorrow: Vice President Mike Pence will publicly receive the coronavirus vaccine tomorrow to "build confidence" in the shots as government officials raise concern that many Americans may refuse the injection. Second lady Karen Pence will also be vaccinated during an event at the White House, according to his office. Surgeon General Jerome Adams will also attend. Trump will encourage Americans to take the coronavirus vaccine though it isn't clear when he'll receive it, White House Press Secretary Kayleigh McEnany said this week. President-elect Joe Biden is expected to receive the vaccine as soon as next week, according to a transition official. Read more from Jordan Fabian.
Twitter to Remove False Info on Covid-19 Vaccinations: Twitter will require the removal of tweets with harmful, misleading or false information on Covid-19 vaccinations, the company said in a blog post. The policy begins Dec. 21 and will require removal of claims suggesting immunizations and vaccinations are used to intentionally cause harm or control populations, spreading widely debunked claims about effects of vaccinations or claims that Covid-19 is not real and that vaccination is unnecessary, Elizabeth Rembert reports. In early 2021, the company may label or place a warning on tweets with rumors, disputed claims or out-of-context information about vaccines.
Abbott's $25 Rapid Covid-19 Test Cleared: Abbott Laboratories won U.S. authorization for a rapid Covid-19 test that costs $25 and can be used at home, a new accessible option from the manufacturer after months of obstacles to screening access in the country. The authorization from the Food and Drug Administration opens a new market for Abbott's BinaxNOW, a single-use swab-collected test that produces results in 15 minutes. Until now, it had been conducted by health-care providers. Read more from Emma Court.
Storage Needs Push Employers' Shots Off Site: Employers eager to see workers inoculated against the coronavirus will likely have to lean on pharmacies and other vendors to administer the shots off site rather than have to tackle the litany of challenges the Covid-19 vaccine presents. To vaccinate workers on site, employers would need to acquire freezers to store the vaccines from Pfizer-BioNTech and Moderna at extremely cold temperatures, while also keeping track of how many doses each employee took. Warren Rojas and Ian Kullgren have more.
What Else to Know Today
White House Holds Urgent Daily Talks: The White House has convened urgent meetings of officials across multiple agencies to address a breach of U.S. government computer systems attributed to Russia, according to a person familiar with the matter. The Trump administration is holding daily discussions on the hack that include representatives of the FBI, the Office of the Director of National Intelligence, Department of Homeland Security and National Security Agency, according to the person.
U.S. government agencies were attacked as part of a global campaign orchestrated by hackers believed to be tied to the Russian government, according to U.S. officials. The hackers were reported to have installed a malicious vulnerability in software from Texas-based SolarWinds, whose customers include top government agencies and Fortune 500 companies.
It's unclear what information the hackers were after. No classified systems are believed to have been accessed, the person said.
A White House National Security Council spokesman had no immediate comment. The FBI is investigating and gathering intelligence to track down the responsible actors, national security officials said in a joint statement last night. Read more from Jennifer Jacobs.
DOD Asks Amazon Claims on Cloud Deal Be Tossed: The U.S. government asked a judge in a case concerning the award of a cloud-computing contract to Microsoft to dismiss some claims by Amazon, a rival bidder for the deal, because they were not sent in earlier. The court should first dismiss Amazon Web Services' "waived bias allegations because AWS was aware of all the facts on which it bases these allegations" far in advance of the original award and the Defense Department reaffirming it, the government said in a filing, Ben Livesey reports.
Google, Facebook Had Alleged Illegal Deal: Alphabet's Google reached an illegal deal with Facebook to maintain a chokehold over the lucrative digital advertising market, according to a lawsuit filed by 10 states led by Texas. The complaint, which targets Google's central role in the buying and selling of display ads across the web, was filed in federal court in Texas yesterday. Read more from Ben Brody and David McLaughlin.
Bernhardt Tests Positive for Covid-19: Interior Department Secretary David Bernhardt tested positive for Covid-19 yesterday before a planned meeting with Trump. Bernhardt did not attend the meeting after his positive result, which was received during routine screening at the White House. The White House did not include Bernhardt on a list of cabinet members who attended the midday session. Read more from Jennifer Dlouhy.
Trump Appoints Giuliani to Holocaust Museum Council: Trump yesterday announced his intention to appoint Andrew Giuliani, son of his personal lawyer Rudy Giuliani, to the U.S. Holocaust Memorial Council, according to a press release. Trump has tapped a string of his most loyal allies to government posts in the waning days of his administration.
Putin Delivers Annual Press Conference: President Vladimir Putin dismissed new information linking Russian secret services to the near-fatal poisoning of opposition leader Alexey Navalny, saying if Russia had wanted to kill the politician it would have succeeded. In a wide-ranging video-link with journalists from around the country, the Russian leader struck a confident tone, saying his nation had done better than the U.S. and Europe in combating the coronavirus pandemic. He expressed caution, however, about vaccinating himself with the Russian vaccine that Moscow has used as a soft-power tool because of his age. Read more from Henry Meyer, Ilya Arkhipov and Stepan Kravchenko.
With assistance from Andrew Kreighbaum
To contact the reporters on this story: Zachary Sherwood in Washington at zsherwood@bgov.com; Brandon Lee in Washington at blee@bgov.com
To contact the editors responsible for this story: Giuseppe Macri at gmacri@bgov.com; Loren Duggan at lduggan@bgov.com; Michaela Ross at mross@bgov.com