What to Know in Washington: Biden's Budget Aims to Woo Moderates
Biden pitches his fiscal 2023 budget to Congress Monday
President tries to walk back comment on ousting Putin
President Joe Biden's budget release on Monday is shaping up as a direct appeal to moderate Democrats, emphasizing deficit reduction and flexibility on social spending as the White House hopes to win support for new legislation before November's midterm elections.
The request will show a $1 trillion reduction in deficit spending over the coming decade, generated in part by a new tax targeting the income and unrealized capital gains of billionaires. Federal spending will decline $1.3 trillion from last year alone, as pandemic assistance programs and emergency financing offered to state and local governments are eliminated.
The budget also sidesteps the particulars of Biden's ambitious climate and social safety net proposals, in an explicit bid not to alienate lawmakers negotiating a pared-down version of the president's Build Back Better agenda. National security spending — which remains politically popular among moderate lawmakers — will top $813 billion, representing a 4% increase from spending approved for the current fiscal year. Read more from Justin Sink, Laura Davison and Erik Wasson.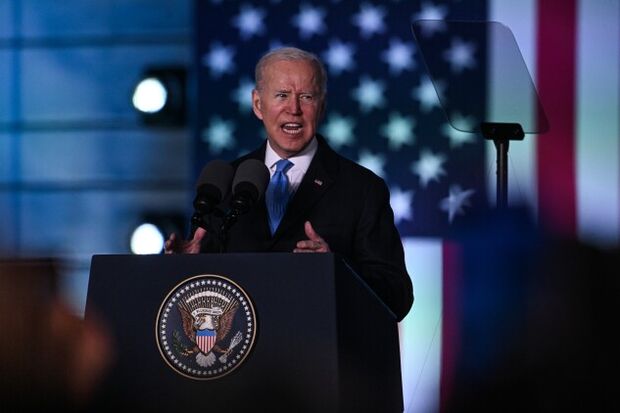 Biden will broadly endorse the climate, social safety net and tax-code changes the White House has pursued as part of his "Build Back Better" agenda in his budget, but he won't specify the costs or revenues in a bid to avoid disrupting congressional negotiations.
Instead, the fiscal 2023 budget document will include a placeholder known as a "deficit-neutral reserve fund," signaling Biden's commitment to sweeping policy changes without spelling out the costs and benefits.
As a result, Biden's budget tables won't include the prices of proposals such as universal free pre-school, an expanded Child Tax Credit, and funding to combat climate change, and also won't assume deficit reductions from policies such as prescription-drug reforms or tax increases on corporations and wealthy Americans. Read more from Justin Sink.
Biden will propose a minimum 20% tax rate that would hit both the income and unrealized capital gains of U.S. households worth more than $100 million as part of his budget proposal to be released on Monday.
The plan — called the "Billionaire Minimum Income Tax" by the White House — represents the most aggressive proposal by the administration yet in Biden's efforts to increase taxation on the wealthiest Americans.
If enacted, the tax would generate an estimated $360 billion in new revenue over the next decade, representing more than a third of the White House's projected $1 trillion cut to deficit spending over that period. Justin Sink has more.
Biden's Fiscal Year 2023 Budget Proposal — BGOV Webinar: In a March 30 webinar, Bloomberg Government's expert analysts lead a deep dive review of and provide insights on Biden's budget proposal for fiscal year 2023, and answer your questions on the administration's top priorities. Topics include topline agency funding levels, new spending initiatives and revenue proposals, and next steps in the budget process. Register here.
Also Happening on the Hill
CONGRESSIONAL SCHEDULE:
The House is slated to meet at 2 p.m. to consider five bills under expedited procedure.
The Senate will meet at 3 p.m. to continue consideration of legislation focused on semiconductors and competition with China.
Senator Joe Manchin has told climate activists and clean-energy executives that he is interested in restarting negotiations on a slimmed-down version of the Build Back Better Act that would focus on climate change, prescription-drug prices, and deficit reduction, according to a person familiar with the matter. The remarks, made earlier this week at a dinner held by the American Clean Power Association, dovetail with comments Manchin (D-W.Va.) made earlier this month to supporters of the legislation—about working on a deal after the April recess, another person said. Read more from Ari Natter and Erik Wasson.
Senator Amy Klobuchar called for the Supreme Court to adopt the same ethics standards as lower courts after revelations that a conservative justice's wife was active in attempts to overturn the 2020 presidential election. Klobuchar (D-Minn.), a member of the Judiciary Committee, said it was "unbelievable" that Justice Clarence Thomas hadn't recused himself from a Supreme Court decision this year on whether former President Donald Trump should turn over papers to a congressional panel investigating the Jan. 6, 2021 attack on the Capitol: Read more from Alan Levin.
Los Angeles Mayor Eric Garcetti—whose appointment as U.S. ambassador to India has faced months of delay—said there's a pressing need to fill the role since Russia's invasion of Ukraine. But Iowa Republican Sens. Joni Ernst and Chuck Grassley may try to hold up his confirmation over concerns about his alleged handling of sexual harassment claims against a top staffer. Read more from Brian Eckhouse and John Gittelsohn.
Jeff Fortenberry said he's resigning from Congress, two days after the Nebraska Republican was convicted on charges related to an illegal campaign contribution. "Due to the difficulties of my current circumstances, I can no longer effectively serve," Fortenberry said in a letter to his House colleagues on Saturday. "I will resign from Congress effective March 31, 2022." Read more from Erik Wasson and Susanne Barton.
Jan. 6 Panel Files Contempt Cases Against 2 Former Trump Allies
Two ex-advisers to Trump should be held in contempt of Congress because they are withholding information that a House committee considers "central" to its investigation of events surrounding the Jan. 6 attack on the U.S. Capitol.
Former White House Deputy Chief of Staff for Communications Dan Scavino "may have had advance warning about the potential for violence," according to a report released Sunday by the investigating committee.
The panel is set to meet at 7:30 p.m. Monday to vote on recommending that the House holds Scavino and Trump's trade adviser Peter Navarro in contempt. If a House majority approves, criminal referrals would likely be sent to the Justice Department, which will decide whether to pursue prosecution. Read more from Billy House.
Trump tried to rouse Georgia Republican voters to back struggling primary challenger David Perdue against incumbent Republican Governor Brian Kemp in a rally on Saturday night, less than two months before an election that will test the former president's status as GOP kingmaker. Trump held the rally in North Georgia, a Republican bastion, about 70 miles northeast of Atlanta. The event was for Perdue, the former senator whom Trump recruited to challenge Kemp, and others he endorsed, including former football star Herschel Walker, who is making a Georgia U.S. Senate seat bid. Read more from Mark Niquette and Margaret Newkirk.
Around the Administration
BIDEN'S SCHEDULE:
The president will announce his fiscal 2023 budget proposal alongside Office of Management and Budget Director Shalanda Young at the White House at 2:45 p.m.
Deputy Press Secretary Andrew Bates will hold a press conference at 3:30 p.m. and be joined by Young, Council of Economic Advisers Chair Cecilia Rouse, and National Security Adviser Jake Sullivan.
Biden sought to clarify his call for the removal of Vladimir Putin, saying he wasn't seeking regime change after European allies raised concern and critics said he was further inflaming tension with Russia. After Saturday's speech, Biden faced questions about the wisdom of going off-script and aides fanned out to say that the U.S. hasn't adopted a policy of seeking regime change. Biden gave a terse rebuttal Sunday in reply to a reporter's shouted question as he left a church in Washington. Asked whether he wanted Putin removed and was calling for regime change, Biden said, "No." Read more from Tony Czuczka.
Biden's statements about Putin are "alarming," Putin's spokesman Dmitry Peskov told reporters on a conference call. Russia will continue to monitor the U.S. president's words, he said. Follow the latest in the Bloomberg News Ukraine Update.
While in Europe, Biden also held talks with two top Ukrainian officials, met Poland's president and comforted refugees from Ukraine at a Warsaw stadium. During Biden's visit to Poland, the biggest recipient of Ukrainian refugees, he called Putin "a butcher." Read more from Josh Wingrove and Jordan Fabian.
Seven in 10 Americans polled by NBC News said they had very little, or only some, confidence in Biden's handling of the war in Ukraine. Just 12% expressed a great deal of confidence. More than 80% were concerned that the war would lead to the use of nuclear weapons, and 74% were worried that the U.S. would send combat troops into Ukraine. Biden's overall approval dipped to 40%, the lowest mark of his presidency, from 43% in January.
The U.S. said the revival of a nuclear deal with Iran may not happen soon following recent requests from Tehran, including that Washington removes the Islamic Revolutionary Guard Corps from its list of terrorist organizations. "I can't be confident it's imminent," Robert Malley, U.S. Special Envoy for Iran, told reporters on Sunday at a conference in Qatar. "A few months ago we thought it was imminent." Lifting the designation could alienate Saudi Arabia, the United Arab Emirates and Israel, just as Biden works to rally them against Moscow. Read more from Simone Foxman, Verity Ratcliffe and Arsalan Shahla.
The U.S. called on the United Nations to "update and strengthen" sanctions on North Korea following the country's launch of its first intercontinental ballistic missile since November 2017. U.S. Ambassador Linda Thomas-Greenfield told the UN Security Council last Friday that she would soon introduce a resolution to address North Korea's nuclear proliferation, describing the latest missile test as an "egregious and unprovoked escalation." Read more from David Wainer.
China's securities watchdog held candid and efficient talks with U.S. regulators, according to a media report, as Beijing works to prevent Chinese firms from being forced to delist en masse from U.S. exchanges. China Securities Regulatory Commission told a Sunday meeting of overseas listed Chinese companies and investment institutions that both sides showed a proactive willingness and pragmatic attitude toward solving issues, China Securities Journal reported citing a person close to the regulator. Read more from Bloomberg News.
The FDA is poised to clear a fourth dose of the mRNA coronavirus vaccine for adults age 50 and older, looking to shore up protections for more vulnerable groups, a person familiar with the matter said. The authorization could come as early as the week ahead and, for most Americans, it would mean a second booster shot of either the Pfizer-BioNTech or Moderna vaccines. Currently, only immunocompromised people are eligible in the U.S. for the additional dose. Read more from Josh Wingrove and Ella Ceron.
The Biden administration would need to secure as much as $9.4 billion more in funding to offer enough second round Covid-19 boosters to all eligible Americans, if those shots are deemed necessary, according to new estimates published Friday. The Kaiser Family Foundation's analysis quantifies what the U.S. government would have to spend should top health officials determine that fourth shots are needed for even a segment of the U.S. population. Biden has ramped up warnings of limited funding for future vaccine doses, pushing Democrats on Capitol Hill to negotiate with Republicans on a potential new Covid-19 relief bill. Read more from Celine Castronuovo.
A divided U.S. Supreme Court said the Navy can limit deployment and training for 35 Seals and other special operations forces who are refusing on religious grounds to get vaccinated against Covid-19. Granting a Biden administration request over three dissents, the justices partly blocked a federal judge's order that required the Navy to assign and deploy the sailors without regard to their unvaccinated status. The order will apply while litigation over the Navy's vaccine mandate goes forward. Read more from Greg Stohr.
To contact the reporters on this story: Michaela Ross in Washington at mross@bgov.com;
To contact the editors responsible for this story: Giuseppe Macri at gmacri@bgov.com; Loren Duggan at lduggan@bgov.com