What to Know in Washington: Biden's Agenda Waits on Congress
The timing for both President Donald Trump's impeachment trial and legislation to provide Americans with more Covid relief now largely depends on maneuvering by three of the most veteran legislative tacticians in Congress.
The first indication of how it will unfold may come today when House Speaker Nancy Pelosi (D-Calif.) holds her weekly news conference. Pelosi signed the single article of impeachment shortly after it was passed by the House on Wednesday. But she's given no public clue since then about when it will be formally transmitted to the Senate, a step that triggers the trial.
Senate Majority Leader Mitch McConnell (R-Ky.) and his Democratic counterpart, Chuck Schumer (D-N.Y.), have been publicly silent about how the Senate, which will be in nominal Democratic control after Inauguration Day, will handle the unprecedented case of trying a president after he leaves office while juggling legislative business.
What plays out over the next several days has major implications for President-elect Joe Biden, who is set to be sworn in along with Vice President-elect Kamala Harris five days from now. A Senate trial for Trump, which could begin no sooner than Jan. 20, risks delaying confirmation of Biden's cabinet nominees and early legislative initiatives, including a $1.9 trillion covid relief package. Read more from Mike Dorning, Billy House and Laura Litvan.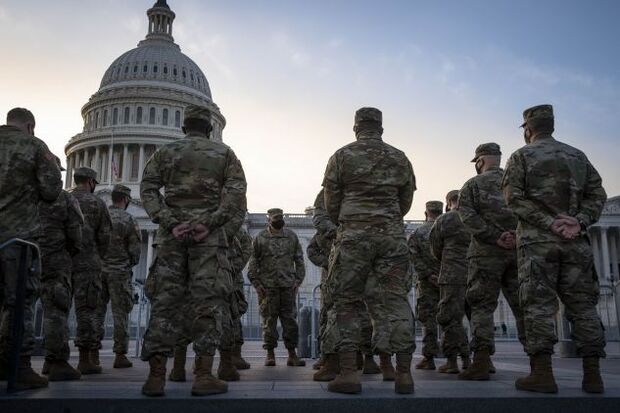 Biden's To-Do List
Biden Promises for Day One Could Take Months to Fulfill: Biden has pledged to take action "on Day One" to fulfill a wide range of campaign promises, including on climate change, immigration and taxes. But the "Day One" part is largely a rhetorical flourish, meant more to underscore a readiness to take office than an actual to-do list. After all, President Donald Trump also promised "executive actions on Day One," which took longer to roll out.
While some of Biden's promises can be accomplished with the stroke of a pen, others will require him to prod the bureaucracy to act. Some will rely on his ability to strike deals with Republicans in Congress. And still others are likely to be dead on arrival. Gregory Korte offers a scorecard of some of what Biden has promised — and what it will take to keep those promises.
Biden Urges Swift Action on Aid Plan: Biden's $1.9 trillion economic relief proposal serves as the opening salvo in a legislative battle that could be prolonged by the go-big price tag and the inclusion of initiatives opposed by many Republicans. "It's not hard to see that we're in a once-in-several-generations economic crisis," Biden said last night in unveiling his plan. "We have to act and we have to act now."
The package has elements that would likely appeal to enough moderate Republicans to gain favor in the Senate — including a $400 billion effort to contain the coronavirus and speed the economy's reopening, as well as $1,400 in additional direct stimulus payments. Other parts are set to spur partisan warfare, including Biden's proposals to more than double the federal minimum wage to $15 an hour, provide large-scale aid for state governments and offer higher unemployment benefits through September. Read more from Erik Wasson.
BGOV OnPoint: President-Elect Biden's $1.9T Virus Response Plan
Biden Vows to Speed Vaccine Effort He Calls 'Dismal Failure: Biden outlined plans for a $20 billion national vaccination program to speed up the pace of Covid-19 immunizations, calling the effort so far "a dismal failure" in an address last night. "We'll have to move heaven and earth to get more people vaccinated, to create more places for them to get vaccinated, to mobilize more medical teams to get shots in people's arms, to increase vaccine supply, and to get it out the door as fast as possible," Biden said.
Biden said he would lay out plans today to "correct course" and meet the goal for distributing 100 million shots in his administration's first 100 days. Read more from John Tozzi.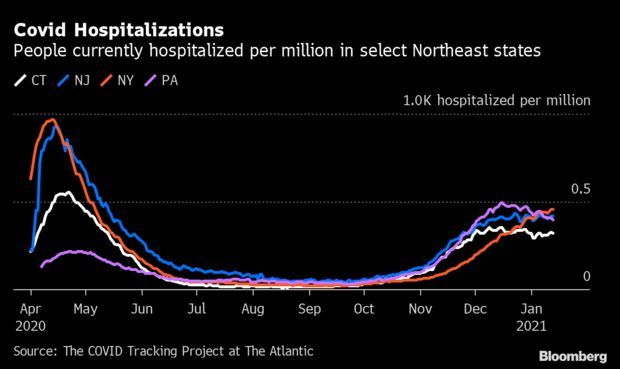 Biden Team Starts @PresElectBiden While Clashing With Twitter: Biden's transition team flipped the switch on a new Twitter account for the president-elect last night, while clashing with the social media company over its decision to deny the incoming administration millions of existing White House followers. Biden's transition opened @PresElectBiden in order to start building a following for one of the official accounts the new president will inherit at noon on Jan. 20: @POTUS. In a change in practice from 2017, when Trump entered office, Twitter plans to reset both the @POTUS and @WhiteHouse official accounts to zero followers for Biden. Read more from Jennifer Epstein.
Trump Prepares for Final Days
Trump Plans to Live at Mar-a-Lago: Donald Trump plans to fly to his Mar-a-Lago resort in Florida the morning of Biden's inauguration, where several current White House staff are expected to work for him or his son-in-law, Jared Kushner, after his presidency, according to people familiar with the matter. Trump intends to live at the Palm Beach resort, the people said, though some of his future neighbors are trying to stop him from taking up permanent residence. Read more from Jennifer Jacobs and Saleha Mohsin.
Trump Sends Congress $27 Billion in Budget Cuts: Trump sent lawmakers a list of $27.4 billion in proposed rescissions of funds yesterday targeting foreign health aid and Department of Energy programs, among others. House Democrats "will not entertain" the proposals, House Appropriations Chairwoman Rosa DeLauro (D-Conn.) said in a statement, Jack Fitzpatrick reports.
China Onslaught Leaves Key Decisions for Biden: A year ago today, President Xi Jinping asked the U.S. to treat Chinese companies "fairly" in a letter read out at the White House to mark the signing of a landmark trade deal between the world's biggest economies. At the time, Trump's actions against China Inc. had mostly been aimed at tech giant Huawei Technologies, which had become a global leader in the race to set up 5G networks across the world. Now, with Trump set to leave office next week, dozens of strategic Chinese companies find themselves in U.S. crosshairs after a year that saw relations nosedive as the coronavirus pandemic took hold. Read more.
Trump Leaves Fannie-Freddie Fates to Biden: The Trump administration has set a path for releasing Fannie Mae and Freddie Mac from the federal government's control, but Biden will get to decide whether to take it. In one of its last acts, the Treasury Department under Trump announced changes that allow Fannie and Freddie to retain their profits to build up hundreds of billions of dollars in capital, in effect indefinitely suspending dividend payments they make to the U.S. government. Read more from Joe Light.
Rule Allows States to Exit ACA, but Biden May Nix It: States would be able to largely bypass the federal Obamacare exchange under a rule finalized yesterday by Trump's administration. The last-minute rule is aimed at interjecting more free market competition into the Affordable Care Act marketplaces by allowing web brokers and health insurers to directly enroll people in health plans. But it's unclear whether the rule will actually take effect. Congress and the Biden administration could undo any recent regulation adopted by Trump under the Congressional Review Act. Read more from Sara Hansard.
EPA to Skip Action on Biofuel Waivers: The Trump administration isn't expected to act soon on pending requests from refineries asking to be exempted from biofuel-blending standards. Biofuel advocates, including Sen. Joni Ernst (R-Iowa), had implored the EPA against issuing new waivers. Ernst met with Biden's EPA nominee Michael Regan on Wednesday. The two discussed the need to deny pending exemptions for the 2019 and 2020 compliance years, Ernst's office said, Reuters reported.
Biden Can Reboot Trump's Federal Labor Impasses Panel: Biden has an opportunity to swiftly revamp a federal panel that's been accused during the Trump administration of unfairly siding with agencies in labor contract deadlocks with unions. The Federal Service Impasses Panel has allowed agencies to "turn back the tide" against collective bargaining in the federal government, said Joe Schimansky, who was the agency's executive director from 1996 to 2016. Read more from Louis C. LaBrecque.
District Readies for Inauguration
Washington Made a Fortress: The week before Biden's inauguration, downtown Washington looks like a city preparing for war. A huge swath of the city core is blocked off, patrolled by uniformed National Guard forces as part of a buildup not seen since the Civil War. And the U.S. capital is getting even more fortified as federal, state and local officials brace for a worst-case scenario of violence tied to the Jan. 20 inauguration. More than 25,000 law enforcement, military and intelligence personnel have been activated to provide security in Washington leading up to Biden's swearing-in, a ceremony that will have far less pomp than in the past because of the Covid-19 pandemic and last week's deadly riots at the Capitol. Chris Strohm has more on the preparations.
Congress Searches for Answers on Capitol Riot: Lawmakers from both parties are demanding investigations into how a mob of President Donald Trump supporters managed to overwhelm security at the U.S. Capitol, including whether they got any assistance from inside the building. Rep. Brian Fitzpatrick (R-Pa.), a former FBI agent, said allegations that rioters had help inside the Capitol will be subject to a nationwide investigation by the bureau. Meanwhile, Several Democrats are questioning the actions of some of their Republican colleagues and the Capitol Police force because the mob moved quickly through multiple stairways and hallways to find their way to the House and Senate chambers and various offices. Read more from Jarrell Dillard and Daniel Flatley.
Pence Praises 'Aggressive' Response to Siege: Vice President Mike Pence praised FBI Chief Christopher Wray for the "aggressive posture" law enforcement has taken to go after rioters involved in the Capitol siege. Pence, who was evacuated to a secure area after the Capitol was breached during the riot, said at an event alongside Wray that Americans could be confident that the Trump administration is doing everything it can to ensure "an orderly transition and safe inauguration." Read more from Justin Sink.
Donald Trump Jr. Sought for Questioning: Donald Trump Jr. was asked by the Attorney General's office in the District of Columbia to sit down for questioning in relation to a lawsuit claiming Trump's inaugural committee illegally overpaid for events at a Washington hotel owned by his family business. D.C. Attorney General Karl Racine sent a formal deposition request to Donald Trump Jr., spokesman David Mayorga said yesterday. Read more from David Yaffe-Bellany.
Donation Halt Chills Congress: The unprecedented decision by major U.S. corporations to suspend political contributions to 147 Republican lawmakers after last week's Capitol riot marks a sudden shift in the congressional campaign money machine, where donors are using their financial clout to punish more extreme views. Gregory Korte, Bill Allison and Ben Brody take a look at the numbers.
To contact the reporters on this story: Zachary Sherwood in Washington at zsherwood@bgov.com; Brandon Lee in Washington at blee@bgov.com
To contact the editors responsible for this story: Giuseppe Macri at gmacri@bgov.com; Loren Duggan at lduggan@bgov.com; Michaela Ross at mross@bgov.com