What to Know in Washington: Biden's Agenda is in Pelosi's Hands
The fate of President Joe Biden's economic agenda rests largely on Speaker Nancy Pelosi navigating deep Democratic rifts and the minefield of promises she's made to keep the party's moderate and progressive wings moving toward her goal.
The California Democrat, who has only three votes to spare on any party-line votes, has a jam-packed September agenda that includes action on a multi-trillion dollar tax and spending bill as well averting both a politically disastrous government shutdown and a potentially catastrophic Treasury default.
How she manages the stream of consequential legislation and the competing demands within her own party could come to define Biden's presidency and what may be her last term as speaker. The emerging strategy, to be carried out over the next two weeks, is as risky as it is high-stakes.
Pelosi and her team are, for now, sticking to a commitment to emboldened centrists to hold a vote by Sept. 27 on the portion of Biden's agenda already passed by the Senate that would deliver $550 billion in new infrastructure spending. That comes at the heavy price of breaking an earlier promise to progressives that she would hold up the public works bill until the Senate passes the larger package of as much at $3.5 trillion for social, climate and other programs. Read more from Billy House and Erik Wasson.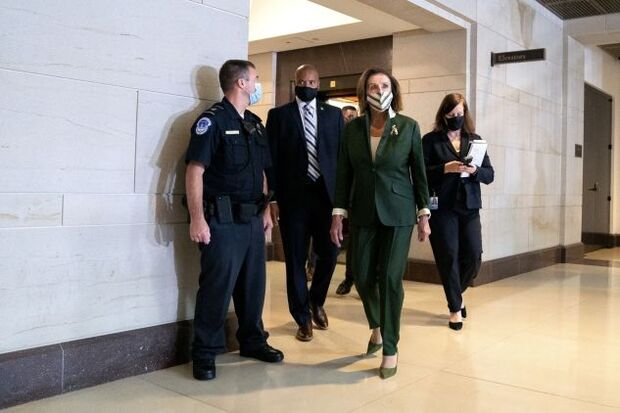 More on Democrats' Economic Agenda
Democrats May Slow Infrastructure Plan's Path: House Democrats may initially hold off on sending the $550 billion infrastructure bill to the president's for signature to help keep their party united and his economic agenda on track, House Budget Chair John Yarmuth (D-Ky.) said. Yarmuth suggested the maneuver could be part of Pelosi's balancing act between centrists, who support the deal, and progressives, who want to tether it to a bigger tax-and-spending plan.
Democrats are still planning for a House vote on the infrastructure bill on Sept. 27, though completion of both bills will probably be pushed till early next month, Yarmuth said on Fox News yesterday. "The speaker, if we pass it in the House, does not actually have to send it to the president for signature," he said. "She can hold on to that bill for a while. So there's some flexibility in how we mesh the two mandates." Read more from Susan Decker and Yueqi Yang.
Democrats Eye New Labor Fines: Democrats seeking to increase government penalties for workplace violations are banking on inclusion in the social spending measure. They'll hand labor unions a victory if they can ensure that the board that oversees union organizing can impose the new fines on employers under its existing structure, labor and congressional analysts say. Any new National Labor Relations Board programs for collecting the fines could raise questions about whether the legislative language is purely budget-related. If it's deemed closer to policymaking, it could be stripped from the broader social spending package. Read more from Andrew Kreighbaum.
Immigration Overhaul in Biden Economic Plan Dealt Setback: The Senate parliamentarian has blocked Democrats from including a plan to provide legal status to as many as 8 million undocumented immigrants as part of legislation encompassing Biden's economic agenda. Parliamentarian Elizabeth MacDonough issued an opinion yesterday that the broad and long-stalled immigration overhaul doesn't qualify for inclusion in a massive tax and spending plan under the Senate rules that Democrats are using to bypass a Republican filibuster. Read more from Laura Litvan.
Democrats' Clean Energy Plan Faces Skeptics: The Senate architect of a $150 billion program to increase clean power output to 80% by 2030 is optimistic Democrats will reach consensus on a plan, even as one moderate senator shows skepticism. Democrats led by Tina Smith (Minn.) want to enact a clean energy standard via a payment program that the budget bill could carry. But Energy and Natural Resources Chairman Joe Manchin (D-W.Va.) isn't on board yet. Kellie Lunney has more.
Uncertainty Around U.S. Default Date: As the federal debt limit brings a disastrous government default ever closer, Congress will turn to the Treasury Department for the one thing it cannot deliver: a precise deadline. House lawmakers this week are scheduled to vote on an increase in the debt ceiling, with no likelihood of passage in the 50-50 Senate assuming Republicans vote en masse against it. That leaves the Treasury on track to run out of cash, as Secretary Janet Yellen has said, "sometime in October." Given the massive economic and financial disruption that a U.S. payments default would cause, a drop-dead date for the Treasury running out of cash would offer lawmakers — whether Democrats on their own or in concert with the GOP — the ultimate prod to action. Read more from Christopher Condon.
Pro-Biden Agenda Ads Target Democrats: Lawmakers returning to the Capitol this week will be greeted with tens of millions of dollars in ads from Democratic groups pushing them to pass a budget reconciliation deal. The blitz is a continuation of spending in potential battleground districts over the August recess—$110 million, according to Building Back Together. While those spots aimed to sell the bill to the public, the next wave is aimed at lawmakers themselves, one official said.
"Now is crunch time," said Eddie Vale, a Democratic strategist serving as a spokesman for multiple groups sponsoring ads on the reconciliation package. "Now that everybody is back in D.C., we're doing the big push to make sure that members are seeing paid communications that these are things their constituents want." Read more from Emily Wilkins.
Also Happening on the Hill
Today's Agenda:
The House is scheduled to vote on five bills under expedited procedure.
The Senate plans to vote on two of Biden's judicial nominations.
Click here for a complete list of the week's hearings and markups.
House Plans Vote on Abortion Access This Week: The House will vote this week on a bill that would protect the right to abortion services across the country, a move spurred by a Texas-led effort to restrict abortion access. House Majority Leader Steny Hoyer (D-Md.) announced the chamber will vote on legislation that would enshrine abortion rights into law and protect health care servicers that offer abortion services. But the bill faces much longer odds in the Senate. Alex Ruoff has more.
Republicans Slam IMF Chief Over China Report: Republican lawmakers blasted the chief of the International Monetary Fund on Friday after a report that she pressured staff of the World Bank, when she was working at the institution, to boost China's position in a ranking of global economies. Sen. Bill Hagerty (R-Tenn.) urged the U.S. to "demand accountability," saying Kristalina Georgieva "masterminded a corrupt scheme" to manipulate the World Bank's Doing Business report. Read more from Eric Martin.
GOP Rep. Zeldin Reveals Leukemia Treatment: Rep. Lee Zeldin (R-N.Y.) said Saturday he was diagnosed with chronic myeloid leukemia and is in "complete remission" after nine months of treatment. The statement from the congressman seeking the GOP gubernatorial nomination for New York was the first time he made his diagnosis public. Zeldin, 41, said he has achieved "complete remission, am expected to live a normal life," and has resumed campaigning across the state, Anna Edgerton reports.
Rally Reprising Jan. 6 Has More Police, Fewer People: A few hundred supporters of Donald Trump demonstrated at the Capitol on Saturday amid a heavy police presence, protesting against the prosecutions of those who stormed the complex on Jan. 6 and marauded through the building's hallways and offices. Capitol Police patrolled rows of crowd-control fencing, while the National Guard was on standby in case the event devolved into the violence seen on Jan. 6. Read more from Mike Dorning and Billy House.
Around the Administration
Today's Agenda: Biden is scheduled to depart Delaware at 11 a.m. and return to Washington by noon. Shortly before 4 p.m., he'll leave Washington with plans to arrive in New York by 5 p.m. for a 6:30 p.m. meeting with U.N. Secretary General Antonio Guterres.
Vaccine Debate, Climate Goals Top U.N. Summit: Expanding access to Covid-19 vaccines and confronting the rising dangers of climate change will dominate a week-long United Nations gathering in New York that's taking place in person after going all-virtual in 2020. More than 100 world leaders are expected for the annual U.N. General Assembly, a sharp change from last year when the world struggled through the Covid-19 pandemic without vaccines. Now as nations debate how to distribute billions of doses of vaccine and the impacts of extreme weather events rise, the UNGA is back in a hybrid mode.
Heads of state scheduled to attend the Sept. 20-27 event include Biden, U.K. Prime Minister Boris Johnson, Turkish President Recep Tayyip Erdogan and Brazilian President Jair Bolsonaro. Among the no-shows are Russia's Vladimir Putin and China's Xi Jinping, who regularly skip the UN event, as well as France's Emmanuel Macron and Ebrahim Raisi, the new president of Iran. Read more from David Wainer.
Biden Booster, Export Plans Clash at U.N.: President Joe Biden will set a new course for global vaccine allocation this week, hosting a summit on the shortage of shots in poorer countries even as the U.S. moves to give booster doses to millions of fully inoculated Americans. The U.S.'s push for boosters will steer tens of millions of doses into the arms of many U.S. adults starting as soon as Friday. That has angered nations where many people are still struggling to obtain a first shot. Biden aims to counter world leaders' criticism by hosting a virtual summit at UNGA on Wednesday where he'll propose a target of fully vaccinating 70% of the world by September 2022. Read more from Josh Wingrove.
Biden's chief medical adviser said booster shots for more of the U.S. population remain a possibility soon, as additional data on the outbreak come in. Anthony Fauci, director of the National Institute of Allergy and Infectious Diseases, spoke two days after an advisory panel to the FDA rejected a national rollout of boosters for all ages, approving them only for people 65 and older and those who are medically vulnerable. Read more from Ian Fisher and Yueqi Yang.
Biden Upsets Allies on Foreign Affairs: Biden came into office promising to restore competency to U.S. foreign policy after four years of Trump's diplomatic bomb-throwing. But eight months later, a series of missteps have angered allies, drawn criticism even from supporters and raised concern that Biden isn't as sure-footed in international affairs as advertised. France on Friday even recalled its ambassador, an extraordinary escalation in tensions between the two allies. Read more from Nick Wadhams.
Biden and Emmanuel Macron will talk over the phone in the next few days as the French president seeks "clarification" about a deal that saw Paris lose its multibillion-dollar submarine contract with Australia. Blaise Robinson and James Paton have more.
Boris Johnson will land in the U.S. on his first trip outside of Europe since the beginning of the pandemic with his most critical relationship—with Joe Biden—at a delicate juncture following the sub deal. Read more from Kitty Donaldson.
Biden Fights to Keep Trump-Era Immigration Policy: The Biden administration is heading to a federal appeals court to defend a Trump-era border policy that critics have decried as inhumane. Justice Department lawyers filed a notice of appeal Friday, urging a three-judge panel in Washington to scrap a recent lower court decision that bars U.S. officials from immediately expelling migrant families at the border under a health order that claims it is necessary to prevent the spread of Covid-19. Ellen M. Gilmer has more.
Vaccine Rule Likely to Clash With State Mandate Bans: Biden's workplace vaccine mandates set up a conundrum for employers in places where state law limits their ability to mandate Covid-19 shots for their workers. Montana businesses in particular face the challenge of a law enacted this year banning private employers from requiring emergency-authorized vaccines for employees and banning discrimination by vaccine status. Similar proposals are pending in Ohio and Pennsylvania. Chris Marr has more.
HHS Extends ACA Open Enrollment by 30 Days: The 2022 Affordable Care Act marketplace enrollment period will increase from 45 to 75 days this year, and states will have the option to permit people with low incomes to sign up for coverage year-round, the administration said. Read more from Tony Pugh.
Land Bureau to Return to D.C. After Trump Move: The Bureau of Land Management is moving back to Washington, reversing a Trump administration decision that put the headquarters in the West, close to the land it manages, the Interior Department said. Read more from Bobby Magill.
To contact the reporters on this story: Zachary Sherwood in Washington at zsherwood@bgov.com; Brandon Lee in Washington at blee@bgov.com
To contact the editors responsible for this story: Giuseppe Macri at gmacri@bgov.com; Loren Duggan at lduggan@bgov.com; Michaela Ross at mross@bgov.com