What to Know in Washington: Biden's Agenda Advances in Senate
Bloomberg Government subscribers get the stories like this first. Act now and gain unlimited access to everything you need to know. Learn more.
President Joe Biden's ambitious economic plans got a major push forward with the Senate voting to begin work on a $550 billion infrastructure bill and Democrats uniting behind a plan to muscle through a broader budget resolution to carry the party's priorities.
The twinned proposals — which Senate Majority Leader Chuck Schumer (D-N.Y.) said he hopes to get through his chamber before the upcoming August recess — set the stage for some $4.1 trillion in new spending if they ultimately became law, amounting to the biggest overhaul of domestic programs in decades.
"My goal remains to pass both the bipartisan infrastructure bill and a budget resolution during this work period," Schumer said on the Senate floor. "We are going to get the job done and we are on track."
Biden, who has been heavily involved in Senate negotiations, had to give in order to get. He had originally pitched a $2.25 trillion infrastructure proposal, but had to scale that back in negotiations with Republicans. Democrats hope to recoup some elements that didn't make the Senate infrastructure deal in the Democrat-only legislation that will follow the budget resolution. The president is not assured victory on either front. But the legislative momentum yesterday is a notable success at a difficult time for the administration. Read more from Erik Wasson and Laura Litvan.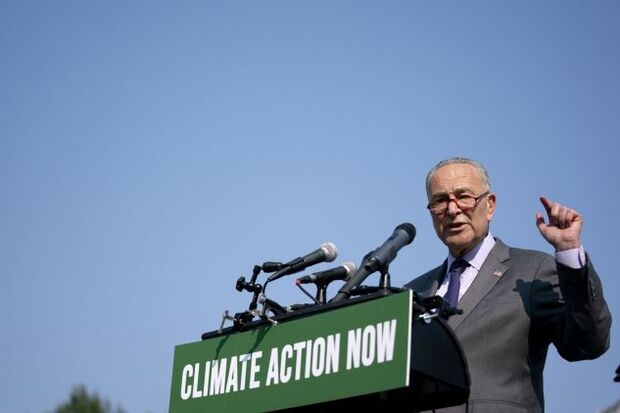 Hospitals and Doctors Win, Pharma Loses in Infrastructure Deal: Hospital and doctors' groups successfully lobbied to save Covid relief money earmarked for their members, while pharmaceutical companies are expected to lose billions of dollars as part of the infrastructure deal. The $550 billion infrastructure package negotiated by a bipartisan group of senators would be paid in part by delaying a Trump-era regulation to end some pharmaceutical rebates and refunds from drugmakers for some kinds of physician-administered single-use medicines. Read more from Alex Ruoff.
What's in the Deal: The release of the bill text, as well as additional debate and votes could occur in the coming days. For now, Laura Davison breaks down what we know about the proposal.
Also Happening on the Hill
Today's Agenda:
The House is scheduled to vote on a seven-bill minibus appropriations package.
The Senate plans to resume consideration of a bipartisan infrastructure package.
Click here for a complete list of today's hearings and markups.
GOP Delays Vote on Capitol Security: Sen. Mike Braun (R-Idaho) said he is slowing passage of a $2.1 billion emergency spending bill to pay for Capitol security and resettling Afghan nationals who assisted the U.S. over objections to the size of the package and its impact on the deficit. Braun said he plans to demand a roll call vote that won't stop passage of the legislation, but it will thwart plans by Schumer to get it through the Senate quickly by unanimous consent. Daniel Flatley and Steven T. Dennis have more.
House Passes Bill to Block Waiver of Nord Stream 2 Sanctions: The House passed a State Department funding bill by a 217-212 vote yesterday that would block Biden's ability to waive sanctions over the Russian Nord Stream 2 pipeline. The $62 billion State and Foreign Operations bill includes a provision that would eliminate for fiscal 2022 the president's waiver authority over Nord Stream 2 sanctions. Rep. Marcy Kaptur (D-Ohio) and other members of the House Appropriations Committee added the measure to push back on Biden's decision in May to waive sanctions. Read more from Jack Fitzpatrick.
House Passes Fiscal 2022 Legislative Branch Spending Bill: The House voted 215-207 yesterday to pass the annual Legislative Branch funding bill, which would support pay raises for staff and interns but block a raise for lawmakers, Jack Fitzpatrick reports. Before passage, lawmakers adopted amendments to the bill that would: require security officials to provide a report on procedures for evacuating members, staff, workforce, and visitors from the Capitol campus; increase funds by $3.5 million to remove accessibility barriers on the Capitol campus; call for a study on the Capitol switchboard and telephone system in the House to address security risks; and prohibit Capitol Police from enforcing a ban on scooters on Capitol grounds.
Staff, Intern Benefits Proposed by Modernization Panel: Hill staffers scraping by on meager salaries are getting attention from a House panel seeking to boost their benefits and provide more transparency about what lawmakers pay their staff. Recommendations set to be voted on today by the Select Committee on the Modernization of Congress include convening a task force to evaluate and update what benefits staffers receive as well as creating a database of average staff compensation. Another proposal up for a vote is a tuition assistance program for staffers. The bulk of the recommendations deal with staffer pay, diversity, and capacity. Several others address increasing accessibility in the Capitol and support for interns. Read more from Emily Wilkins.
Klobuchar, Lee Defend Antitrust Venue Bill: The four lawmakers responsible for antitrust legislation defended their bill to allow state attorneys general to determine the venue to bring an antitrust case, a measure that would prevent companies from choosing a court that might be more sympathetic to their defense. Sens. Amy Klobuchar (D-Minn.) and Mike Lee (R-Utah) joined Reps. David Cicilline (D-R-I.) and Ken Buck (R-Colo.) in a letter addressed to a judge who questioned the bill to exempt antitrust cases brought by attorneys general from review by the Judicial Panel on Multidistrict Litigation. This exemption already exists for federal antitrust cases. Read more from Anna Edgerton.
Cook, Pichai Press Congress on Path to Citizenship: More than 90 chief executive officers, including those at Apple, Amazon and Facebook, today urged Congress to pass a law offering a citizenship path to young immigrants brought illegally to the U.S. as children. In a letter to Biden and congressional leaders, the executives said thousands of the immigrants — known as Dreamers — are "valued employees at our companies," but a federal judge's recent ruling against a program protecting them "throws into chaos" their ability to live and work legally in the U.S. Read more from Jordan Fabian.
Politics & Influence
Democrats Hope to Defy History by Touting Wins: House Democrats' ability to defy historical trends and retain the majority in 2022 may hinge on their success in passing ambitious legislation on issues such as infrastructure and taxes. House Democrats will campaign as the party that's getting "results" for the American people in the face of Republican "recklessness," said Democratic Congressional Campaign Committee Chair Sean Patrick Maloney (N.Y.) in an interview with Bloomberg Government. Read more from Emily Wilkins and Greg Giroux.
PAC Money Plunge Offset by Explosion in Online Campaign Giving: The steep dropoff in political action committee contributions to members of Congress this year likely won't bring the same concerns for incumbents that it once might have. Precipitated by the Jan. 6 attack on the Capitol, congressional campaigns' total PAC receipts of $76.8 million through two quarters were about 31% lower than in the comparable period in the 2020 election cycle, according to FEC figures analyzed by Bloomberg Government. But PAC money as a percentage of overall fundraising was already on the decline. Read more from Kenneth P. Doyle.
FEC Considers Request to Transfer State Campaign Cash: The Federal Election Commission may be headed for deadlock today on Rep. Scott Fitzgerald's (R-Wis.) request to transfer money from a state campaign account to a federal PAC. Fitzgerald, who served in the Wisconsin Senate for nearly two decades and was majority leader before joining Congress this year, still carries about $250,000 in his state account, Kenneth P. Doyle reports.
Around the Administration
Today's Agenda: Biden will speak at 4 p.m. about new steps to boost Covid-19 vaccinations.
U.S. Sees Economic Aid as Key to Migration Dilemma: The Biden administration is releasing its long-awaited strategy on addressing the root causes of migration from Central America as it continues to struggle with record high numbers of apprehensions at the U.S. southern border. The strategy, spearheaded by Vice President Kamala Harris and the White House national security team, calls on the U.S. to help expand economic opportunities in Guatemala, Honduras and El Salvador in part by urging private-sector companies to invest there. It also includes programs to make agricultural operations that form the backbone of those nations' economies more resistant to natural disaster and climate, which have caused people to flee. Read more from Jordan Fabian.
Khan Vows Return to FTC's Trustbusting Roots: The new chair of the U.S. Federal Trade Commission said she intends to use the full arsenal of the agency's authority to take on dominant companies that are thwarting competition and signaled she's not afraid to pursue risky cases that officials have shied away from in the past. In a meeting with reporters yesterday at the FTC's headquarters in Washington, 32-year-old Lina Khan said the agency has failed to use the full scope of its powers laid out by Congress, which created the agency as an antitrust watchdog in 1914. Read more from David McLaughlin.
Biden Eyes Chance to Reshape Fed Leadership: Biden will soon get a chance to shape the Federal Reserve into an instrument better able to deliver on his vision of a more inclusive American capitalism. The seven-member Fed board will soon have four vacancies, including the chair occupied by Jerome Powell, who is said to have broad support among Biden aides but is not assured of a second term. A decision isn't expected before September at the earliest. There's a lot that Democrats want from these appointments, from tougher regulation on banks to more attention to climate change. What matters most to the president's goals of spreading the economy's benefits more widely, however, is ensuring a vigorous recovery. Read more from Craig Torres and Rich Miller.
Poorest Americans Risk Missing Out on Child Benefits: A key part of President Joe Biden's economic plan for families risks missing those Americans who need the most support, according to a new report. While the households of 60 million children have already received the administration's child tax credit, roughly 4 million or more are likely to fail to get the funds because they don't appear on a prior tax return, the Center on Budget and Policy Priorities said yesterday. The total amount of unclaimed government funds may amount to $13 billion, the group estimated. Read more from Katia Dmitrieva.
Afghan Chances Dire, U.S. Spent $837 Billion: After spending at least $837 billion, the U.S. military is leaving an Afghanistan that "remains poor, aid-dependent, and conflict-affected, with any potential economic growth in the short term further limited by the lingering effects of the Covid-19 pandemic," according to the latest report by Congress's independent watchdog. The grim accounting was offered today by the Special Inspector General for Afghanistan Reconstruction, the office that has documented billions in waste and corruption since lawmakers created it in fiscal 2008. The report was published just weeks before American forces are expected to complete their withdrawal after nearly 20 years. Read more from Tony Capaccio.
China Sends Sharp-Tongued Diplomat as Ambassador to U.S.: China dispatched a veteran diplomat known for pushing back against Western criticism to serve as its next ambassador to the U.S., an appointment that suggests Beijing is bracing for a period of prolonged tension with Washington. Qin Gang, 55, who most recently served as vice foreign minister, arrived in the U.S. yesterday to fill the post vacated last month by long-time ambassador, Cui Tiankai, according to a statement from the Chinese Embassy. Read more from Bloomberg News.
To contact the reporters on this story: Zachary Sherwood in Washington at zsherwood@bgov.com; Brandon Lee in Washington at blee@bgov.com
To contact the editors responsible for this story: Giuseppe Macri at gmacri@bgov.com; Loren Duggan at lduggan@bgov.com; Michaela Ross at mross@bgov.com
Stay informed with more news like this – from the largest team of reporters on Capitol Hill – subscribe to Bloomberg Government today. Learn more.