What to Know in Washington: Biden's 2024 Bid Has Formally Begun
Bloomberg Government subscribers get the stories like this first. Act now and gain unlimited access to everything you need to know. Learn more.
President Joe Biden formally announced he would seek re-election in 2024, readying a historic campaign against a Republican field dominated by his predecessor while economic uncertainty clouds his case for a second term.
Biden, 80, implored voters to let him "finish this job" he began when he took office and put aside any worries about his age. He said there is still work to do to give Americans a "fair shot" and beat back "extremists" in the Republican Party who want to cut government spending and curb abortion rights.
"The question we are facing is whether in the years ahead we have more freedom or less freedom," Biden said in a video released today. "I know what I want the answer to be and I think you do too. This is not a time to be complacent."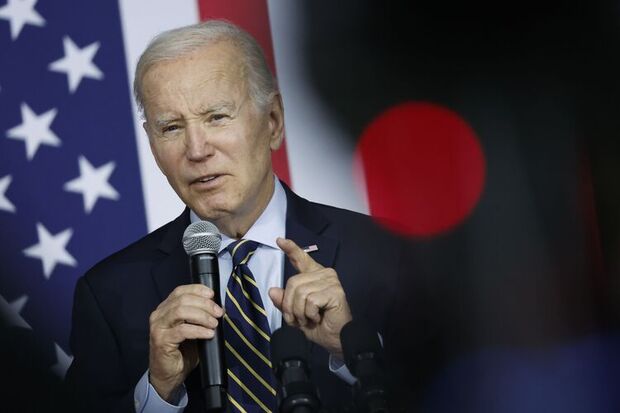 Already the oldest person ever elected president, Biden would be 86 at the end of a second term and faces intense scrutiny about his fitness to serve another four years in the White House. His kick-off message shows he is betting voters will reward him for his decades of experience and record, while looking past age concerns.
Biden had long said he intended to seek a second term, making the official announcement somewhat of a foregone conclusion. He hadn't felt pressure to declare his candidacy earlier because he faced no serious opposition for the Democratic Party's nomination, his advisers said. The Democrats' better-than-expected performance in the November midterm elections quieted talk of a significant primary challenge.
Vice President Kamala Harris, a potential Biden successor who's come under fire from some Democrats for her job performance, will reprise her role as Biden's running mate.
Biden tapped Julie Chavez Rodriguez, a senior White House official and veteran of the 2020 campaign, to manage his 2024 bid. Quentin Fulks, who managed Sen. Raphael Warnock's (D-Ga.) 2022 re-election campaign, will be her deputy. Sen. Chris Coons (D-Del.) and Rep. Jim Clyburn (D-S.C.), both longtime Biden allies, will serve as campaign co-chairs, as will Michigan Gov. Gretchen Whitmer (D) and Hollywood mogul Jeffrey Katzenberg. Read more from Jordan Fabian.
OTHER CAMPAIGN HIRES
Communications Hire: Longtime Democratic operative Michael Tyler is expected to be communications director. Politico first reported his hire on Sunday. He worked on Sen. Cory Booker's (D-N.J.) presidential campaign in 2020 and as the former chief of staff for the Democratic National Committee.
DNC Officials: Sam Cornale, executive director of the DNC, and his deputy Roger Lau are in talks to possibly join the campaign. Both are well-liked by Biden's top White House aides, two sources said. Lau was campaign manager for Sen. Elizabeth Warren's (D-Mass.) presidential campaign in 2020.
Other Hires: Former White House assistant press secretary Kevin Munoz, who oversaw messaging related to the pandemic, will be a campaign spokesperson. And T.J. Ducklo, a former Biden 2020 campaign aide who resigned in February 2021 after abusive interactions with a female journalist, is expected to join Biden's re-election effort.
Returning Staff: Much of Biden's 2024 campaign is still expected to be run of out the White House by long-time key aides, including Anita Dunn, Jen O'Malley Dillon, Mike Donilon, Steve Ricchetti and Bruce Reed.
BIDEN'S AGENDA
At 12:30 p.m., Biden delivers remarks in Washington on US manufacturing and union jobs.
The president then meets with South Korean leader Yoon Suk-Yul around 7:10 p.m.
CONGRESS' SCHEDULE
The House meets at 6:30 p.m. to vote on several measures under suspension of the rules.
The Senate meets at 3 p.m. with a procedural vote planned on a Veterans Affairs nominee.
More in Politics & Probes
Biden's main rival—former President Donald Trump—was endorsed by Sen. Steve Daines (Mont.), a significant step in Trump's quest to become his party's standard-bearer for the third time. Daines leads the GOP effort to retake the Senate in 2024.
Georgia Case: Trump has challenges of his own. Fani Willis, the district attorney in Atlanta, will decide this summer whether to charge him and his allies for trying to overturn the 2020 election in Georgia. Read more
Rape Suit: Allegations that Trump sexually assaulted women were supposed to sink his campaign in 2016. They didn't. Now, those claims will be put to the test in court this week in a suit brought by a New York author. Read more
Fox News, in announcing yesterday that it's parted ways with Tucker Carlson, is losing a host who brought in millions of viewers but proved too much to handle even for corporate chiefs Rupert and Lachlan Murdoch.
Carlson Allegations: The reasons for Carlson's firing remain under wraps, with both the former host and the network keeping mum. But lawsuits swirling around him might offer some clues. Read more
The debate over raising the debt ceiling, reauthorization of farm programs, and getting to know the new Congress kept Washington's lobbyists busy during the early months of 2023.
Justice Clarence Thomas said he was advised he didn't have to disclose private jet flights and luxury vacations paid by billionaire Harlan Crow because Crow "did not have business before the court."
Under Lawmaker Scrutiny
Speaker Kevin McCarthy (R-Calif.) and his vote-counting lieutenants are telling fellow Republicans they will not change their $1.5 trillion debt-ceiling proposal, despite rank-and-file GOP demands for alterations.
The plan, according to people familiar, is to send the bill as-is to the House floor for a vote later this week under a rule that does not permit amendments. That strategy comes as passage of a Republican debt plan looms as the biggest test of McCarthy's hold on the House GOP conference since January, when it took 15 ballots for him to win the speaker's gavel.
McCarthy acknowledges there remain a number of holdouts demanding changes in the bill in return for their support. As few as five House Republicans opposing it—combined with what is expected to be unified Democratic opposition—would defeat the bill.
Moody's Take: The deficit reduction plan put forward by McCarthy as the price for lifting the debt ceiling would notably slow economic growth and increase unemployment next year if enacted, according to Moody's Analytics. Read more
House Republicans Monday subpoenaed a top FBI official to testify about accusations conservative employees have made that they faced illegal retaliation after complaining to lawmakers about senior bureau leaders.
Two Republican lawmakers are seeking more information into the collapse of Silicon Valley Bank, citing frustration with the Federal Reserve Bank of San Francisco's initial explanations for the failure.
The National Institutes of Health is facing heat from House Republicans for spending nearly $1 billion over the past five years on public relations contracts.
The Labor Department may be "granting favors to the financial industry" by re-opening and extending the comment period on a proposed retirement plan asset manager rule, Sen. Elizabeth Warren (D-Mass.) said in a letter obtained by Bloomberg Law.
Republicans on the House Financial Services Committee unveiled their own version of a draft stablecoin bill that would provide for a narrower focus overall and a bigger role for state regulators than a prior proposal.
What Else We're Reading
To contact the reporter on this story: Brandon Lee in Washington at blee@bgov.com
To contact the editors responsible for this story: Giuseppe Macri at gmacri@bgov.com; Kayla Sharpe at ksharpe@bloombergindustry.com
Stay informed with more news like this – from the largest team of reporters on Capitol Hill – subscribe to Bloomberg Government today. Learn more.