What to Know in Washington: Biden, Zelenskiy to Talk Russia
President Joe Biden will seek to reassure Ukrainian President Volodymyr Zelenskiy that the U.S. is committed to countering Russian expansion in the region as the leaders meet for the first time today at the White House.
The two plan to discuss Ukraine's national security as it relates to Russia and ways the U.S. can provide assistance, according to a senior Biden administration official. They will also discuss the Ukraine's anti-corruption efforts.
Zelenskiy has had a complicated relationship with the U.S. A phone call with former President Donald Trump became central to his first impeachment after a whistle-blower complained that Trump held up military aid to pressure Zelinskiy to investigate Biden's son. Trump defended the call as "perfect."
The meeting with Biden comes amid tensions over Nordstream 2 after the U.S. all but abandoned its years-long campaign to halt the construction of the undersea pipeline that would transport natural gas from Russia to Germany, bypassing Ukraine. Zelenskiy called the project Biden's "loss."
Zelenskiy is seeking more clarity on how Western allies will ensure the former Soviet state's security, especially as its current gas deal with Russia expires in 2024 and Nordstream 2 threatens its vital revenue as a transit country. His concern is that Ukraine could suffer if the Biden makes concessions to win cooperation from Russian President Vladimir Putin on issues such as nuclear non-proliferation and China. Read more from Nancy Cook and Daryna Krasnolutska.
Today's Agenda: Biden hosts Zelenskiy at the White House at 2 p.m. Biden will receive his daily brief at 10 a.m., and weekly economic briefing at 4:30 p.m. He will also receive regular briefings from the homeland security team on the effects of Hurricane Ida.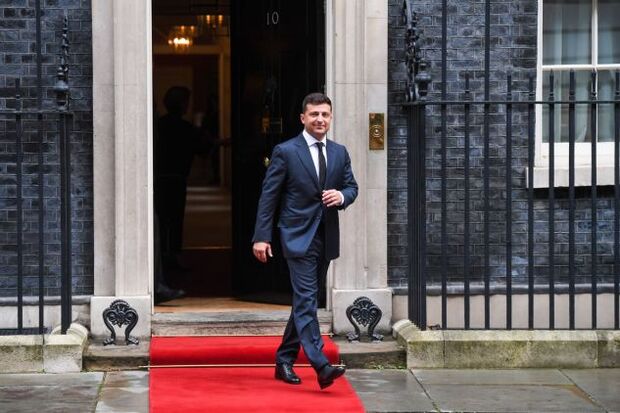 Democrats' Economic Agenda
Ida's Grid Damage Could Boost Infrastructure Bill: Hurricane Ida wrecked transmission lines and left New Orleans in darkness, but infrastructure advocates see an opportunity in the destruction for the region to rebuild a grid that's more resilient to the increasingly violent storms from the warming waters of the Gulf of Mexico. "If we are going to make our country more resilient to natural disasters wherever they are we have to start preparing now," Sen. Bill Cassidy (R-La.) said on CNBC. "We can't look in the rear view mirror and say 'boy I wish we were prepared.'"
Hurricane Ida took down more than 2,000 miles of transmission lines owned by Entergy Corp. and 216 substations, plunging more than a million homes and businesses into the dark. One transmission tower, a survivor of Hurricane Katrina, went down and sent its lines and conductor into the Mississippi River.
A $550 billion infrastructure bill working its way through Congress could help pay for some of the improvements and Cassidy said he hopes the havoc wreaked by the storm leads more of his GOP colleagues to support the infrastructure measure, which faces a House vote in coming weeks. Read more from Ari Natter and Naureen S. Malik.
As Hurricane Ida pummeled New Orleans, officials told residents needing help to flag down a police officer or go to a fire station. The city's 9-1-1 emergency calling service, served by AT&T, wasn't working. The failure, which was eventually rectified by Monday afternoon, is helping to spark calls for regulators in Washington to demand greater resiliency for mobile phone networks in the face of storms, fires and other natural disasters. Read more from Todd Shields.
Capital-Gains Tax Hike Exposes Democratic Divisions: Democrats on the House committee in charge of turning Joe Biden's tax plan into legislation are at odds over how high to increase levies on investment gains, a key part of the president's agenda. Most House Ways and Means Democrats support Biden's plan to raise the capital gains rate on those earning above $1 million to 39.6% from 20%, to make it equal with president's proposal for the top rate on income, according to a lawmaker and a House aide familiar with the talks. About a third of Democrats on the panel, however, are advocating for a lower rate on investments, potentially around 28%, according to the people, who requested anonymity because the discussions are private. Read more from Kaustuv Basu.
Climate-Friendly Food Systems Offer Dual Budget Wins: A $3.5 trillion social policy measure Congress is weighing can achieve Biden's climate and food- and health-equity goals should it boost funds for new agriculture producers and expand regional food systems, advocates say. Over 100 farm, food, and environmental groups are offering lawmakers sweeping policy priorities rather than specific monetary requests to focus on family farms and smaller producers rather than corporate agribusiness. Read more from Megan U. Boyanton and Andrew Kreighbaum.
Aftermath of Afghanistan
House Panel Considers Defense Policy Bill: House Armed Services Committee members are bracing for the yearly marathon consideration of the fiscal year 2022 defense authorization bill. There are more than 700 amendments submitted as the panel kicks off the markup at 10 a.m. this morning, according to Chairman Adam Smith (D-Wash.). Expect a day filled with passionate, and some partisan, debates over the level of the defense budget. The GOP plans to offer an amendment to increase the topline by $25 billion.
There will also be amendments on the Afghanistan withdrawal and what went wrong, including a line of questioning from Republicans over what happened to the U.S. military equipment left behind and the fateful decision to close Bagram air base and use only the Kabul airport as the evacuation hub.
Other amendments offered will cover critical race-related theory, and overhauling the way the military prosecutes sexual assault and other major crimes. Read more from Roxana Tiron.
Republicans Seek Midterm Advantage From Withdrawal: America's withdrawal from Afghanistan is already playing a role in Republican efforts to win back control of the House and Senate, with GOP campaign committees highlighting news coverage of the chaotic scenes at the Kabul airport in videos and other messaging. It's the latest issue Republicans are labeling a Joe Biden crisis, along with a surge in illegal border crossings, inflation risks due to increased government spending, and high fuel prices.
Republicans are hammering on these problems and seeking to hang the president's problems around the necks of congressional Democrats, who are clinging to slim majorities in both chambers. But it isn't clear to strategists in either party whether voters will be focused on these issues when they go to the polls next year, rather than economic and health care issues touted by Democrats. Read more from Kenneth P. Doyle and Emily Wilkins.
Biden Signs Bill for Funds to Returning Citizens: Biden yesterday evening signed a bill the Senate passed by unanimous consent that would aid with repatriating U.S. nationals returning from Afghanistan by offering temporary payments upon their return. The measure H.R. 5085, which the House passed last week, provides as much as $10 million in each of fiscal 2021 and 2022 in aid. Funding for the repatriation program is typically capped at $1 million per year. Adam M. Taylor has more in a BGOV Bill Summary.
Taliban to Unveil Government: The Taliban and other Afghan leaders have reached a "consensus" on the formation of a new government and cabinet under the leadership of the group's top spiritual leader, an official said. Taliban supreme commander Haibatullah Akhundzada will be the top leader of any governing council, Bilal Karimi, a member of the group's cultural commission said today. Mullah Abdul Ghani Baradar, one of Akhundzada's three deputies and the main public face of the Taliban, is likely to be in charge of the daily functioning of the government, Karimi added. Read more from Eltaf Najafizada.
What Else to Know Today
Texas Abortion Law Takes Effect for Now: A Texas law barring abortion after the sixth week of pregnancy took effect at least temporarily today as the U.S. Supreme Court deliberated over a bid by clinics and doctors to block the measure while a legal challenge goes forward. The high court took no action last night even as the challengers said the measure threatened to ban abortion for at least 85% of the women seeking the procedure in the country's second-most populous state. If it remains in effect, the law will be the strictest in the nation, prohibiting abortion before many women even know they are pregnant. Read more from Greg Stohr.
U.S. Takes Steps to Increase Affordable Housing: The Biden administration will take steps to add nearly 100,000 additional affordable homes for homeowners and renters over the next three years, according to a statement, Charles Capel reports. Federal agencies will increase the supply of affordable rental units through a partnership between the Treasury and HUD to provide low-cost capital. They will also increase the supply of manufactured housing and 2-4 unit properties by expanding financing through Freddie Mac and make more single-family homes available to individuals, families, and non-profits, by limiting the sale to large investors of certain FHA-insured and HUD-owned properties.
Lawsuit Against Biden Climate Metric Dismissed: A lawsuit brought by Missouri and 12 other Republican-led states against the White House's interim social cost of carbon is "not ripe" for court, a federal judge said yesterday, dismissing the case. The states' claims against the interim estimates— introduced in Executive Order 13990—are premature, since the effect of the order can't be felt yet, Judge Audrey Fleissig of the U.S. District Court for the Eastern District of Missouri decided. Read more from Jennifer Hijazi.
Litigation, Confusion to Follow Water Rule Reversal: A federal court ruling tossing out a Trump-era rule defining waters of the United States is fueling even more uncertainty about federal wetlands jurisdiction and puts possibly hundreds of projects in legal limbo, lawyers say. The decision in Pasqua Yaqui Tribe v. EPA is the latest twist in a decades-long tug-of-war on how to define the WOTUS under the Clean Water Act, which determines how wetlands in the U.S. may be developed. Read more from Bobby Magill.
Prosecutors Say Gaetz Target of $25 Million Pardon Scheme: Rep. Matt Gaetz (R-Fla.) was the target of a scam in which he was promised a presidential pardon in exchange for the payment of as much as $25 million to help free an American who had been taken prisoner in Iran, according to a person familiar with the matter. Stephen Alford was charged by federal prosecutors in Florida with wire fraud, and accused of trying to carry out the scheme in March and April, according to a Justice Department press release released yesterday. Read more from Tina Davis.
To contact the reporters on this story: Zachary Sherwood in Washington at zsherwood@bgov.com; Brandon Lee in Washington at blee@bgov.com
To contact the editors responsible for this story: Giuseppe Macri at gmacri@bgov.com; Loren Duggan at lduggan@bgov.com; Michaela Ross at mross@bgov.com