What to Know in Washington: Biden, Xi to Address APEC Leaders
Bloomberg Government subscribers get the stories like this first. Act now and gain unlimited access to everything you need to know. Learn more.
President Joe Biden, China's Xi Jinping and other world leaders will meet virtually today as part of an informal APEC meeting focused on ending the Covid-19 pandemic and supporting the global economic recovery as Asia struggles with a deadly resurgence of virus cases.
New Zealand Prime Minister Jacinda Ardern, whose country is chairing the Asia-Pacific Economic Cooperation this year, has called an unprecedented additional meeting of the heads of its 21 member economies before a formal summit later this year. The group includes the U.S., China, Taiwan, Japan, Australia and Canada, as well Southeast Asian and Pacific-facing countries.
"I will be inviting discussion on immediate measures to achieve more co-ordinated regional action to assist recovery, as well as steps that will support inclusive and sustainable growth over the long term," Ardern said in a statement.
The meeting comes as APEC countries from Indonesia and Malaysia to Thailand and Japan face rising coronavirus caseloads, and as Hong Kong and Singapore struggle to reopen their economies at a pace that matches New York and London. Southeast Asia is experiencing one of the worst virus situations in the world right now, with deaths surging by 39% in the seven days through Wednesday, the fastest increase globally. Read more from Iain Marlow.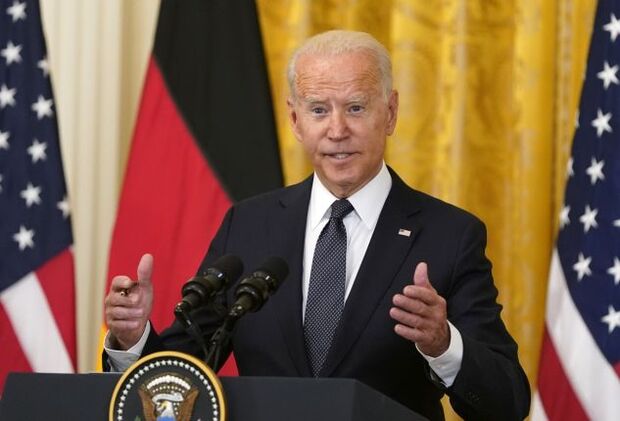 Biden's Economic Agenda
Democrats Hitch Immigration Plans to Tax, Spending Bill: Democrats are attempting to breathe new life to their stalled plans for changes to the nation's immigration system by opening the way for a revamp in a broad measure that'll carry major portions of Biden's agenda. The Senate Budget Committee agreed this week to include immigration policy, long a divisive issue even with Democrats, in its $3.5 trillion fiscal blueprint, which the Senate plans to vote on this month.
That will set up passage in the Senate later this year of a budget package with only Democratic votes, bypassing any Republican filibuster. That broad blueprint will include only vague language on immigration, leaving it to the Senate Judiciary Committee to iron out the details of what might be included in the later legislation. "It won't be the end of the negotiation," said Sen. Tim Kaine (D-Va.). "It will be the beginning." Read more from Laura Litvan and Sophia Cai.
Fines Eyed for Utilities That Miss Climate Targets: Also included in the budget blueprint is a proposal to penalize utilities that don't meet clean-energy targets. The proposal from Senate Democrats, known as a clean energy standard, would mandate 80% carbon-free electricity by 2030 and would require major changes to the nation's energy sector. The provision would help satisfy Biden's pledge to halve U.S. greenhouse gas emissions by the end of the decade. Ari Natter and Jennifer Dlouhy have more.
Pelosi Says House Will Tweak Senate Budget: Speaker Nancy Pelosi (D-Calif.) said the House will "realign" some of the priorities in the $3.5 trillion Senate Democrat budget blueprint to expand the proposal's social and environmental programs. "Many of the priorities of the House are already in the bill. The question is the top line," she said at an event in Los Angeles, "How we stay under the top line, as we perhaps realign some of those priorities." Read more from Billy House.
Ocasio-Cortez Warns Progressives Can 'Tank' Infrastructure Bill: Rep. Alexandria Ocasio-Cortez (D-N.Y.) said she and other House progressives would "tank" a bipartisan infrastructure bill unless Senate Democrats also pass a sweeping tax and spending measure to carry out priorities on climate change and social programs. "House progressives are standing up," Ocasio-Cortez said yesterday during a virtual town hall event. "We will tank the bipartisan infrastructure bill unless we will also pass the reconciliation bill." Ocasio-Cortez and her allies have the means to carry out that threat. Pelosi can afford to lose no more than four Democratic votes to get the $579 billion infrastructure plan passed in her chamber. Read more from Jarrell Dillard and Billy House.
Happening on the Hill
Today's Agenda:
Manchin Says No Filibuster Exception for Voting Rights Bill: Sen. Joe Manchin (D-W.Va.) said he wouldn't carve out an exemption to the chamber's filibuster rule for voting rights legislation, effectively dashing any chances that Democrats could maneuver around GOP opposition to overhauling the nation's elections laws. Manchin made the remarks after a meeting with a group of Texas House Democrats who left the state to stall a vote on GOP voting restrictions. Read more from Sophia Cai.
Panel Tees Up Health Funding Amid Abortion Spat: Federal health, education, and labor funds are heading for a vote in the full House after a panel approved a spending bill largely along party lines yesterday. The House Appropriations Committee approved the Labor-HHS-Education spending measure, which would provide $237 billion in discretionary funding next year, by a 33-25 vote. Most Republicans opposed the legislation, saying it was too expensive and would lift a ban on federal funds for abortion services. Read more from Alex Ruoff and Andrew Kreighbaum.
Commerce-Justice-Science Bill Approved: The House Appropriations Committee also voted 33-26 yesterday to advance the $81.3 billion Commerce-Justice-Science spending bill, a $10.2 billion increase over fiscal 2021, Jack Fitzpatrick reports. Members adopted by voice vote an amendment by Rep. Ben Cline (R-Va.) that would require that, out of a $110 million pot of money for a NASA nuclear thermal propulsion system, $80 million would be for the design of a flight demonstration system.
Schumer to Allow Military Sexual Assault Bill Vote: Senate Majority Leader Chuck Schumer (D-N.Y.) has committed to bringing up for a vote a sweeping bill that would change the way the military prosecutes sexual assault and harassment, murder, and other major crimes within the ranks, according to Sen. Kirsten Gillibrand (D-N.Y.), who wrote the measure. It would seek to take away the commanders' power to decide whether to prosecute cases of sexual assault. Read more from Roxana Tiron.
Panel Advances China Bill Over GOP Concerns: The House Foreign Affairs Committee advanced a bill to counter China along a party line vote of 26-20 yesterday as Republicans criticized the measure as too focused on climate change and too soft on Beijing. It was a rare instance of discord amid a growing consensus in Congress that the U.S. should take a harder line against China and comes weeks after the Senate passed a $250 billion package to bolster U.S. competitiveness. Read more from Daniel Flatley.
School Desegregation, Age Bias Measures Advance: The House Education and Labor Committee voted to approve four bills, including two measures to advance desegregation in schools. One would authorize school diversity grants, and another would give parents and students the right to challenge discriminatory school practices under the Civil Rights Act. Separately, another measure would restore federal protections for older job applicants who allege ageism, Andrew Kreighbaum reports.
Medicaid Cash, Drug Recovery Bills Sail in Panel: Lawmakers took the first step toward extending Medicaid funding for people in Puerto Rico and other U.S. territories before financial support expires this fall. The House Energy and Commerce Committee's Health Subcommittee approved the measure by unanimous voice vote and now it heads to the full committee for consideration. It was among 18 other approved bills tackling issues like substance use and vaccine education, Jacquie Lee and Allie Reed report.
PODCAST—DelBene Touts New Monthly Child Tax Credit: Tens of millions of families across the U.S. this week received their first monthly advance on the child tax credit from the IRS. House Ways and Means Committee member Suzan DelBene (D-Wash.) is among the lawmakers who have long championed an expanded tax credit as a way to help reduce child poverty. On this week's episode of Bloomberg Tax's podcast, Talking Tax, DelBene talks with reporter Kaustuv Basu about why Democrats pushed for the advanced payments and whether a permanent extension is possible. Listen to the episode here.
Elections & Politics
GOP Lawmakers Targeted by Trump Outraise Challengers: Three Republicans who've faced the wrath of former President Donald Trump raised more money in the second quarter than the challengers in their races he's endorsed. Sen. Lisa Murkowski (Alaska) and Rep. Anthony Gonzalez (Ohio) both infuriated the former president by voting against him during his second impeachment proceeding. He has also criticized Katie Britt, a former chief of staff for outgoing Sen. Richard Shelby (Ala.) who's now running for the seat. Read more from Bill Allison.
Republican Takes Money Lead to Replace Brooks: An early leader has emerged in the race to replace one of the most outspoken 2020 presidential election objectors in Congress. Fundraising reports due yesterday showed Dale Strong, the Madison County Commission chair, leading what's for now a pack of four primary contenders vying to replace Republican Rep. Mo Brooks in northern Alabama. Brooks, a Freedom Caucus member and top ally of Donald Trump, is running for the state's open Senate seat. Strong reported raising more than $430,000—including a $40,000 personal loan—through two quarters, about four times more than the next candidate. Read more from Nicole Sadek.
Demings Outraises Rubio in Second Quarter for Senate Race: Rep. Val Demings (Fla.) raised $4.7 million for her Senate campaign in the second quarter, more than twice what she took in for any of her House races and more than the $4 million raised by the Republican incumbent, Marco Rubio (Fla.), according to their latest filings with the Federal Election Commission. Read more from Bill Allison.
Warnock and Kelly Hold Early Cash Advantage: Two Democratic Senators who won special elections in battleground states carried by Biden in the 2020 election raked in millions of dollars in the second quarter to give them an early cash advantage over potential Republican challengers. Sen. Raphael Warnock of Georgia raised $7.2 million, spent $2.3 million and ended the quarter with $10.5 million in the bank. Arizona Sen. Mark Kelly took in $6 million against outlays of $2.8 million, leaving him with $7.6 million cash on hand, according to their latest filings with the Federal Election Commission. Read more from Bill Allison.
Around the Administration
White House, Builders, Unions Meet on Housing Shortage: The White House will hold a meeting with representatives from across the homebuilding industry today as Biden seeks to address a housing supply shortage that's spurring a record increase in home prices. Top Biden administration officials will sit down with representatives from across the supply chain, including builders, housing advocates, lumber companies, real estate firms, loggers and labor unions, according to White House officials. Builders cite high materials prices, scarce supplies and a dearth of skilled workers as ongoing challenges in the race to complete new homes. Read more from Eric Martin.
Yellen Demurs on Second Powell Term, Saying She'll Talk to Biden: Treasury Secretary Janet Yellen said the question of whether to nominate Federal Reserve Chair Jerome Powell for a second term is a conversation for her and Biden, declining to give her opinion in a televised interview. "That's a discussion I'm going to have with the president," Yellen said yesterday on CNBC. The Fed has done a "good job," she said, without elaborating. Read more from Saleha Mohsin.
Treasury's Adeyemo Says Debt Limit Timing Tough to Tell: Treasury Deputy Secretary Wally Adeyemo said that determining exactly how long his agency can keep from breaching the federal debt ceiling is difficult amid the continuing impact of Covid-19 spending measures. The issue is of looming importance to the Treasuries market given the end of a two-year suspension of the debt limit at the conclusion of this month. Lawmakers have yet to craft a plan to boost the ceiling. Read more from Saleha Mohsin and Joe Weisenthal.
Biden Says Team Looking at Europe Travel Ban: Biden said his Covid-19 advisers are weighing when to lift prohibitions on travel from Europe, after German Chancellor Angela Merkel raised the issue in a White House meeting. "It's in process now," Biden said after their meeting at the White House yesterday. "I am waiting to hear from our folks, our Covid team, as to when that should be done." He expects an answer "within the next several days." Read more from Jennifer Epstein, Jennifer Jacobs, and Jenny Leonard.
Also on Europe, Biden said he and Merkel agreed they would not allow Russia to use the contentious Nord Stream 2 pipeline to threaten its neighbors amid a push to limit the Kremlin's geopolitical clout. But the leaders acknowledged that differences remain over the project, which critics say could burnish Russian leverage and hurt Ukraine by reducing transit fees it collects on gas flowing to Europe. Read more from Justin Sink and Jenny Leonard.
U.S. Warns Investors on Hong Kong Risks, Citing China's Pressure: The Biden administration warned investors about the risks of doing business in Hong Kong, issuing an advisory that said China's push to exert more control over the financial hub threatens the rule of law and endangers employees and data. "Developments over the last year in Hong Kong present clear operational, financial, legal, and reputational risks for multinational firms," the administration said in the advisory, issued Friday by the State and Treasury, Homeland Security and Commerce departments. Read more from Nick Wadhams.
Biden Says Troops to Defend U.S. Embassy in Haiti: Biden said he sent Marines to fortify the U.S. Embassy in Haiti after the assassination of that country's president, but that he does not anticipate a broader deployment of troops in the Caribbean nation. He said at a media conference yesterday that the Marines were dispatched to the embassy to make sure it remains secure. But he said deploying U.S. forces into Haiti itself "is not on the agenda right now," Jenny Leonard and Jennifer Jacobs report.
To contact the reporters on this story: Zachary Sherwood in Washington at zsherwood@bgov.com; Brandon Lee in Washington at blee@bgov.com
To contact the editors responsible for this story: Giuseppe Macri at gmacri@bgov.com; Loren Duggan at lduggan@bgov.com; Michaela Ross at mross@bgov.com
Stay informed with more news like this – from the largest team of reporters on Capitol Hill – subscribe to Bloomberg Government today. Learn more.