What to Know in Washington: Biden Works to Deliver on Climate
President Joe Biden aims to prove to the world this week that the U.S. has rejoined the international fight against climate change by vowing cuts in greenhouse gas emissions that are both ambitious and achievable.
Whether those cuts will be either ambitious enough to reassure skeptical allies or achievable given myriad domestic obstacles is far from a sure thing.
The Biden administration is expected to unveil the country's new pledge under the Paris climate agreement, known as a nationally determined contribution, before the international climate summit set to begin this Thursday. He'll have to overcome the major trust deficit run up by former President Donald Trump, who withdrew from the Paris agreement and dismantled domestic policies key to driving the country's promised emissions cuts. The past four years revealed how tenuous pledges of U.S government action can be.
The White House is seriously considering a pledge to slash emissions 50% by 2030 relative to 2005 levels. To achieve that target, the administration will rely on a foundation of domestic climate programs and policies, including investments in renewable power and electric vehicles, as well as regulations throttling greenhouse gas emissions from power plants, oil wells, and automobiles. While those limits were relaxed under Trump, the Biden administration is set to revive more stringent replacements.
Environmental groups have armed the administration with blueprints for reaching the U.S. carbon-cutting goal through federal policies, new laws, and local government action. Each offers a different road map, giving the Biden administration flexibility to take some routes and forgo others. But any of the given options will demand serious, sustained, dramatic action of the sort the country has been unable to muster for decades past.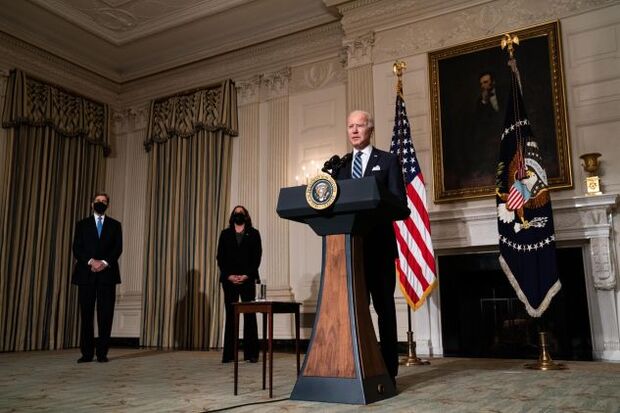 Biden Rushes Jobs Reassurance With Emissions Cut: As Biden unveils an ambitious target this week to cut the nation's climate-warming emissions, his administration is also taking steps to refute critics who say it'll put large numbers of American jobs at risk. Administration officials such as White House climate adviser Gina McCarthy and Energy Secretary Jennifer Granholm have events scheduled today to make the case that the president's fight against climate change will be a net gain for employment, creating more jobs than it will eliminate. Read more from Ari Natter.
Happening on the Hill
Today's Agenda: Biden plans to meet with a bipartisan group of lawmakers at the White House at 1:15 p.m. today as outreach continues on his $2.25 trillion infrastructure-and-tax plan. The meeting comes as talks on a potential bipartisan agreement on a scaled-down version of Biden's so-called American Jobs Plan have intensified.
Democrats' Tax-Hike Bet Relies on Wealthy Voters: Biden is asking congressional Democrats to vote for a tax increase that will test a long-held liberal article of faith: that many wealthy Democrats won't mind paying more in taxes if they can be convinced the money would lead to greater prosperity for everyone. Democrats now represent 65% of taxpayers with a household income of $500,000 or more, according to pre-pandemic Internal Revenue Service statistics. And as Congress begins considering Biden's $2.25 trillion spending and tax proposal, Democrats are being explicit with their constituents about how much it'll cost them — and how much they say it will begin to address issues like income inequality. The sales pitch reflects their theory that wealthy Democrats will support paying higher taxes because of a changed economy and a political realignment that's put cultural issues ahead of traditional pocketbook issues in voters' minds. Read more from Gregory Korte.
Senate GOP to Debate Debt Ceiling Approach: Senate Republicans will debate whether to push for spending cuts to balance any increase in the federal debt ceiling later this year. Sen. Rick Scott (R-Fla.) plans to force a debate at a Senate GOP conference meeting on Wednesday. He plans to offer an amendment to GOP rules that would require spending cuts equal to the amount of any debt-ceiling increase. While those rules aren't strictly binding on Republican members, adopting such a measure could complicate future efforts to raise the debt limit. Read more from Erik Wasson.
Around the Administration
Biden Clashes With His Allies in Green-Card Case: Biden's balancing act on the politically fraught issue of immigration moves to the U.S. Supreme Court in a case that finds the new administration at odds with Democratic lawmakers and progressive allies. In an argument set for today, the administration will defend the government's policy of blocking permanent-residency applications from thousands of immigrants who've been living legally in the U.S. for years.
The case underscores the challenges for Biden in navigating a polarizing subject and fending off criticism from both sides. It comes as his team eases away from the most hard-line policies of Trump while trying to manage the rising influx of migrants at the southern border. Read more from Greg Stohr.
Afghan Pullout Said to Fit With U.S. Shift to China: Withdrawing U.S. troops from Afghanistan meshes with the Biden administration's goal of focusing resources on challenges such as China and Covid-19, Secretary of State Antony Blinken said. "The terrorism threat has moved to other places," Blinken said on ABC yesterday. "And we have other very important items on our agenda, including the relationship with China, including dealing with everything from climate change to Covid. And that's where we have to focus our energy and resources." Read more from Tony Czuczka.
Biden Team Weighs Russia Sanctions Impact: The Biden administration is evaluating the impact of new sanctions on Russia and is prepared to escalate those penalties if the Kremlin fails to rein in hacking attacks and attempts to interfere with the U.S. political process, according to people familiar with the matter. Options available to Biden include expanding the measures announced Thursday to bar U.S. financial institutions from the secondary market for ruble-denominated bonds issued by Russian state banks, said the people, who discussed the matter on condition of anonymity. Jennifer Jacobs and Henry Meyer have more.
Signs of Thaw on Iran Nuclear Deal Emerge in Vienna Talks: The U.S. and Iran edged closer to ending their standoff over the nuclear deal abandoned by Trump, with Washington describing talks as "constructive" and the Islamic Republic signaling that it was ready to debate the details of how the two sides can revive the stricken 2015 accord. Jake Sullivan, United States National Security Adviser, told Fox News on Sunday "the talks in Vienna have been constructive in the sense that there is real effort underway there" and that world powers were focused on restoring the agreement on a "compliance for compliance" basis. Read more from Golnar Motevalli and Arsalan Shahla.
U.S. Is Unlikely to 'Just Cancel' J&J Shots, Fauci Says: A decision on how to resume vaccinating Americans with the Johnson & Johnson coronavirus shot will probably come by Friday, the top U.S. infectious-diseases specialist said, a faster timeline than other health officials have indicated. Anthony Fauci spoke as the U.S. reached a vaccination milestone: the U.S. Centers for Disease Control and Prevention reported on its website yesterday that more than half of people in the U.S. age 18 and older have now had at least one Covid-19 vaccine dose. Read more from Ros Krasny.
Biden Pick Gary Gensler Is Sworn In as SEC Chairman: Gary Gensler was sworn in Saturday to be chairman of the Securities and Exchange Commission, where he'll be Biden's top cop on Wall Street. Sen. Ben Cardin (D-Md.) swore in Gensler, 63, at a ceremony in Baltimore, the new chairman's home town, three days after the Senate approved his nomination on a 53-to-45 vote. Read more from Erik Wasson and Ben Bain.
Politics & Influence
Diverse Nevada Argues for a New Primary Lineup: Nevada wants to leapfrog Iowa and New Hampshire and hold the first U.S. presidential nominating contest in 2024, a move that would give the racially diverse state with powerful labor interests an early opportunity to shape the race for the White House. A bill with broad support is moving through the Nevada legislature to change the contest to a primary from a caucus, and move the date to early January from late February, before Iowa and New Hampshire traditionally vote. It's expected to pass by the April 20 legislative deadline, said State Assembly Speaker Jason Frierson. Read more from Emma Kinery.
Trump Rape Accuser Asks to Keep Suit Alive: A former New York advice columnist who says Donald Trump defamed her when he denied raping her two decades ago urged a federal appeals court to reject the former president's claim that he's protected from her lawsuit because he was a government employee when it was filed. E. Jean Carroll asked the U.S. Court of Appeals in Manhattan to affirm a trial judge's finding that the suit isn't blocked by a federal law that protects government workers from lawsuits related to their jobs. The Justice Department under Trump backed his argument before he lost re-election, and the Biden administration hasn't weighed in. Read more from Erik Larson.
To contact the reporter on this story: Zachary Sherwood in Washington at zsherwood@bgov.com
To contact the editors responsible for this story: Giuseppe Macri at gmacri@bgov.com; Brandon Lee at blee@bgov.com