What to Know in Washington: Biden Win Ramps Up Fight Over Agenda
President Joe Biden scored a political win by sealing a $579 billion infrastructure deal with a group of Democratic and Republican senators, yet the bipartisan plan faces hurdles in Congress that reflect challenges to his broader economic agenda.
With the agreement, announced outside the White House yesterday with grinning Republican senators at his side, Biden can claim he's meeting a promise to govern for all Americans and seek compromise with his opponents.
However, he made clear that partisan divides remain. As the Republican senators looked on, he told reporters that he expects Democrats to ram through an even larger bill with more spending alongside the bipartisan legislation.
"I have a little different view on that one," quipped Sen. Rob Portman (R-Ohio).
The infrastructure plan faces further obstacles in Congress. Many conservative Republicans plan to fight all of it — both the bipartisan agreement and the Democratic-written legislation. Liberals, perturbed by the lengths to which Biden went to secure Republican support for the bipartisan piece, say they won't support it unless they're assured the accompanying Democratic legislation will pass, too. Biden later made clear that he wouldn't sign either bill without the other.
Republicans will seek to make Democrats pay a political price for the Democratic legislation, expected to carry a price tag in the trillions of dollars, by accusing Biden of driving up deficits, debt and inflation with profligate spending.
Regardless of the legislation's future, yesterday's announcement was a buoyant moment for the president, a former senator of 36 years who delights in regularly telling reporters that he understands Congress better than they do. Read more from Nancy Cook and Jennifer Epstein.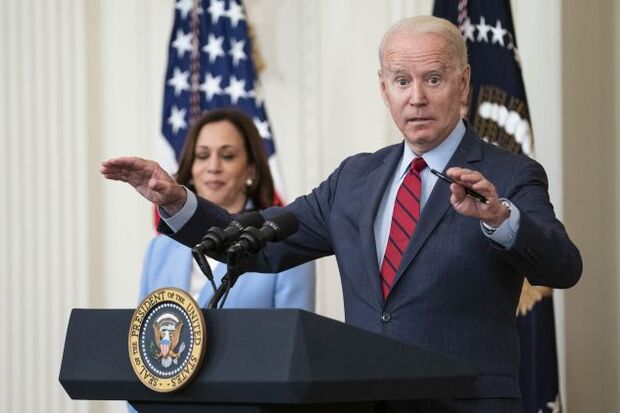 Progressives Aim to Hold Leaders to Promise: Progressive Democrats threatened to withhold support for a bill to hold Biden and party leaders to their promise to move a more expansive spending bill through Congress at the same time. "None of this matters unless we get the 50 votes we need for our reconciliation bill," Rep. Pramila Jayapal (D-Wash.), the leader of the Congressional Progressive Caucus, said yesterday.
Jayapal and other progressives have been critical of Biden's offers to compromise in order get Republican support on infrastructure. And they have been wary of resistance by Democratic moderates, particularly Sens. Joe Manchin (W-Va.) and Kyrsten Sinema (Ariz.), to progressive priorities on issues such as climate change, health care and social services. Read more from Jarrell Dillard.
Budget Move Makes Plan Work: The group succeeded in finding $579 billion by relying on tried-and-true budget maneuvers that have yet to be scrutinized by Congress's official scorekeepers. The spending on roads, bridges, public transit and other items in the agreement is offset by a hodgepodge of revenue-raising measures, economic-impact assumptions and projected savings from eliminating waste.
It's the result of weeks haggling over where to find hundreds of billions of dollars without reversing the 2017 tax cuts, a red line for Republicans, or increasing levies on households making less than $400,000, a Democratic priority. The bipartisan deal uses budget maneuvers to close the gap by finding the most money from politically palatable sources that both parties could agree to, including special municipal bonds, selling spectrum, and imposing a fee on chemical polluters. Read more from Laura Davison and Steven T. Dennis.
Read more: A Win for Roads, and No Tax Hikes—Infrastructure Deal Takeaways
Happening on the Hill
Today's Agenda:
The House plans to vote on a resolution to reinstate 2016 limits on methane emissions from oil and gas production.
The House Appropriations Agriculture-FDA and Military Construction-VA subcommittees are scheduled to mark up their fiscal 2022 bills.
The Senate is not in session.
Schumer Advances Su Nomination for Final Votes: Senate Majority Leader Chuck Schumer (D-N.Y.) filed a procedural motion to limit debate on the nomination of Julie Su to be deputy U.S. labor secretary, a move likely to tee up a final confirmation vote. The California labor secretary was advanced by the Senate's labor panel April 21 following a confirmation hearing March 16. But since then, she's experienced extended delay in gaining access to the Senate floor. Read more from Ben Penn.
House Votes to Repeal Trump-Era 'True Lender' Rule: The House voted to repeal a Trump-era rule that would make it easier for banks and financial technology lenders to partner up without violating state law. The House yesterday voted 218-208 to repeal the Office of the Comptroller of the Currency's "true lender" rule, issued last October to protect any fintech loan issued in partnership with a national bank from being subject to state laws. Read more from Evan Weinberger and Claire Hao.
Also yesterday, the House cleared legislation to reverse a rule from the Trump administration on how employers can resolve workplace bias claims. The Senate passed the measure in May and it now goes to Biden for his signature. The rule mandated the Equal Employment Opportunity Commission to turn over more information to employers during a "conciliation" process, which is used to resolve discrimination disputes as an alternative to litigation, Catherine Dodge reports.
Senators Propose Relief for Renters: Renters facing eviction when a federal moratorium ends next month could get some longer-term help under a bill unveiled this week by a bipartisan group of senators. Sen. Michael Bennet (D-Colo.) introduced the bill (S. 2182) on Wednesday. It would establish a permanent emergency assistance program similar to Covid-19 programs. It also would create a national database to track evictions. Read more from Nicole Sadek.
Minor League Baseball Aid Package Pitched: Minor league baseball would be able to draw from $550 million in unused Covid-19 relief funds under a bipartisan bill introduced yesterday. Up to $15 million in grants would be available to each team as part of the bill introduced in both chambers of Congress. The funds would be distributed by the Small Business Administration only after it is determined the money wasn't needed as initially planned. Read more from Brody Ford.
Politics & Influence
Ron Johnson's Future Clouds Senate Majority Fight: The stakes of the race, the ticking clock, and the repercussions of his indecision are ratcheting up the political intrigue as Sen. Ron Johnson (R-Wis.) chooses his next adventure. But an answer to whether or not the Wisconsin Republican will run for re-election isn't coming anytime soon. "We've got plenty of time to decide," Johnson said in an interview. "These campaigns are way too long and they cost way too much money. You don't have to decide or announce now." Whether he seeks a third term is one of the most consequential unknowns on the 2022 Senate map.
Wisconsin, which voted for Joe Biden in the presidential election, has the potential to swing the majority—whether Johnson runs again or joins five Senate Republicans who are retiring. But his presence or absence from the ballot will fundamentally alter the makeup of the race. Read more from Kenneth P. Doyle and Nancy Ognanovich.
Boebert Could Breathe Easy Under Map Draft: Rep. Lauren Boebert (R-Colo.), a freshman who often brags about her antipathy toward "left-wing lunatics," would have an easier path to re-election under the first draft of new congressional district lines in Colorado. The state's preliminary map would shift out of Boebert's district some areas that have supported Democrats in past elections. Read more from Tripp Baltz.
Pence Defends Accepting Votes for Biden: Former Vice President Mike Pence gave a forceful defense of his decision to accept Electoral College votes for Biden on Jan. 6, against then-President Donald Trump's wishes, saying he didn't have the authority under the U.S. Constitution and that he fulfilled his duty on that "tragic day." "The truth is, there's almost no idea more un-American than the notion that any one person could choose the American president," Pence said last night at the Ronald Reagan Presidential Library in California as part of a speaker series on the future of the Republican Party. "The presidency belongs to the American people, and the American people alone." Read more from Mark Niquette.
Around the Administration
Today's Agenda:
Biden at 1:30 p.m. will sign legislation to designate the National Pulse Memorial, followed by remarks to commemorate LGBTQ+ Pride Month.
At 3:30 p.m., Biden will welcome Afghanistan President Ashraf Ghani and Abdullah Abdullah, the chairman of the country's reconciliation council, to the White House.
Biden will leave for Camp David at 5:15 p.m., according to the White House schedule.
Harris Heads to Border as Critics Slam Biden Migration Policies: Vice President Kamala Harris today will tour a U.S. Customs and Border Protection facility in Texas and meet with immigrant-rights advocates on a fraught trip to the southern border, where record numbers of migrants from Central America have presented the Biden administration with a humanitarian and a political dilemma. Harris will receive a briefing and speak with migrants at El Paso's Central Processing Center, her spokeswoman Symone Sanders said last night. Read more from Jordan Fabian.
Biden Warns of Deadly Variant: Biden yesterday warned of the risks posed by a highly transmissible and potentially deadlier coronavirus variant as he prodded Americans to get vaccinated amid a decline in the pace of inoculations. "This new dangerous variant continues to emerge," Biden said in Raleigh, N.C., as he warned of the delta variant, first observed in India. Biden spoke as part of his administration's effort to re-ignite a U.S. vaccination campaign that is slowing to a crawl. Biden's White House conceded this week that he'd miss a pair of upcoming goals – for 70% of U.S. adults to have at least one shot, and for 160 million people to be fully vaccinated, by July 4. They're on pace to hit both measures a few weeks late. Read more from Josh Wingrove.
Acting CFPB Chief Named to HUD Job: CFPB acting director David Uejio was nominated by the White House to an undersecretary post at the HUD, signaling that the financial regulatory agency's permanent director nominee could soon assume the spot. Biden tasked Uejio in January with running the Consumer Financial Protection Bureau until the nominee to be permanent director, Rohit Chopra, is confirmed. Read more from Claire Hao.
High-Ranking HHS Nominees Confirmed: Two high-level nominees for the Department of Health and Human Services were confirmed yesterday by the Senate. Dawn O'Connell will serve as assistant secretary for preparedness and response, and Miriam Delphin-Rittmon as assistant secretary for mental health and substance use. Read more from Brent Bierman.
Pentagon Concerned by Situation in Afghanistan: U.S. military leaders are concerned about the deteriorating security situation in Afghanistan, Defense Department spokesman John Kirby said, as Afghan leaders are slated to visit the Pentagon later today to discuss the ongoing withdrawal of U.S. forces. The September deadline to complete military withdrawal is on schedule, Kirby said. "It's their responsibility to protect their citizens and their sovereignty." Travis Tritten has more.
Unruly Air Travelers Face Criminal Charges, TSA Says: Federal officials are warning travelers to behave or face potential criminal penalties for unruly behavior. The Transportation Security Administration stressed its "zero tolerance" policy in a release yesterday and said it could seek the maximum allowable criminal charges and civil penalties against violent passengers. The agency warning comes before the July 4 holiday weekend. Read more from Ellen Gilmer.
To contact the reporters on this story: Zachary Sherwood in Washington at zsherwood@bgov.com; Brandon Lee in Washington at blee@bgov.com
To contact the editors responsible for this story: Giuseppe Macri at gmacri@bgov.com; Loren Duggan at lduggan@bgov.com; Michaela Ross at mross@bgov.com