What to Know in Washington: Biden Win Certified by Congress
President Donald Trump, minutes after Congress certified President-elect Joe Biden's Electoral College victory and hours after Trump supporters broke into the Capitol, pledged "an orderly transition."
"Even though I totally disagree with the outcome of the election, and the facts bear me out, nevertheless there will be an orderly transition on January 20th," Trump said in a statement posted on Twitter by his aide Dan Scavino early this morning, Josh Wingrove reports.
Trump's statement came as staff resigned and as congressional allies abandoned him in the aftermath of a mob of his supporters laying siege to the Capitol yesterday. Trump had repeated his pledge that he would never concede at a rally earlier in the day.
Biden was formally recognized by Congress as the next U.S. president early this morning, ending two months of failed challenges by Trump. His victory was sealed after House and Senate members fended off a final round of objections to the Nov. 3 election outcome raised by a handful of Republicans on Trump's behalf.
The proceedings were disrupted for several hours as pro-Trump demonstrators overran police lines, besieged the House chamber and entered the Senate chamber, sending lawmakers fleeing for safety.
After authorities regained control of the Capitol complex, Congress returned to work last night, holding two rounds of votes that culminated in affirmation of Biden's win early this morning.
Vice President Mike Pence — who had split with Trump by calling for protesters inside the Capitol to be prosecuted — presided over the certification of Biden's 306 Electoral College votes. Earlier yesterday, he defied the president by telling lawmakers in a letter he would make no attempt to unilaterally block the certification from proceeding. Read more from Jennifer Epstein, Billy House and Erik Wasson.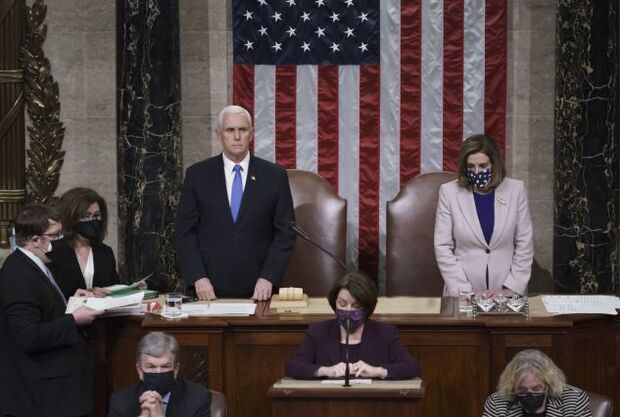 Trump Presidency Careens Toward End: Trump's presidency careened toward its conclusion with a shocking display of lawlessness. A day that started with Trump basking in the adulation of his supporters ended with him on defense and politically radioactive. His vice president, fellow Republicans and business leaders conspicuously distanced themselves while top advisers considered resigning their posts.
"Trump and I, we've had a hell of a journey. I hate it to end this way," said Sen. Lindsey Graham (R-S.C.), who was a confidant and golf partner to the president as recently as Christmas Day. "All I can say is, count me out. Enough is enough. I've tried to be helpful."
Senate Majority Leader Mitch McConnell (R-Ky.), an icon among conservatives, delivered a devastating condemnation on the floor of the Senate, warning that the attempts to overthrow the election "would damage our republic forever."
The historic spectacle only underscored the president's diminished standing and dissipating options after refusing to accept his defeat at the hands of American voters.
A senior Republican senator told White House Counsel Pat Cipollone that the Cabinet should consider removing Trump by invoking the 25th amendment if he doesn't stop inciting violence, a person familiar with the matter said. And some Republican lawmakers have discussed the possibility of impeaching Trump — a move that could prevent him from seeking public office again — though as of now the effort doesn't appear serious. Read more from Justin Sink, Jennifer Jacobs and Saleha Mohsin.
Related:
More Fallout from the Capitol Riot
Top White House Officials Weigh Exits: Trump's deputy national security adviser resigned yesterday afternoon and other White House officials are weighing departures after the president encouraged protests that led to his supporters storming the U.S. Capitol, according to people familiar with the matter. The deputy, Matt Pottinger, was dismayed by the attack on the Capitol and Trump's incitement of protesters, the people said. His boss, National Security Adviser Robert O'Brien, also considered leaving but was persuaded to stay on by allies, the people said. Also weighing a resignation is Chris Liddell, assistant to the president and deputy chief of staff for policy coordination.
A handful of aides already quit following the mayhem yesterday at the Capitol, including first lady Melania Trump's chief of staff. Read more from Jennifer Jacobs, Saleha Mohsin and Jordan Fabian.
Capitol Police Fail With Too Few Cops: The U.S. Capitol Police force was caught unprepared by the mob of pro-Trump extremists, in a failure to protect the seat of American democracy unparalleled in modern times. Rep. Tim Ryan (D-Ohio), chairman of the panel responsible for funding the Capitol Police, told reporters that some law enforcement officials should lose their jobs. "It's pretty clear that there's going to be a number of people who are going to be without employment very, very soon," Ryan said in a digital press conference. He criticized "the lack of professional planning and dealing with what we knew was going to occur." House Administration Chairwoman Zoe Lofgren (D-Calif.) promised a review of Capitol security.
Sen. Roy Blunt (R-Mo.) said the breach requires another look at the crowd security plans for Biden's inauguration on Jan. 20. "I think, you know, that's always a high security moment anyway because we're outside and it has so many different targets to it. There's always a significant security concern there," said Blunt, the chairman of the Joint Congressional Committee on Inaugural Ceremonies. Read more from Todd Shields, David Wainer and Sophia Cai.
Capitol Police Fatally Shoot a Woman: The U.S. Capitol police fatally shot a woman during yesterday's assault on the Capitol. Robert Contee, the chief of Washington's Metropolitan Police Department, said the shooting occurred after mobs had forced their way into the Capitol and people attempted to break into the House chamber. "They were confronted by plainclothes U.S. Capitol Police officers, at which time one Capitol Police officer discharged their service weapon striking an adult female," Contee said at a press conference, adding that the woman was pronounced dead at a hospital. He did not identify the woman and did not provide further details, but said that his department's internal affairs unit was investigating the episode. Read more from Sophia Cai and John Harney.
Twitter, Facebook Suspend Trump: Twitter, Facebook, Snapchat and YouTube all took steps to delete or limit the circulation of some of Trump's recent postings in the chaos of yesterday's events. But those moves didn't quell the calls to delete the president's accounts altogether. Twitter suspended Trump's account for the first time and required him to delete certain posts after "repeated and severe" violations of its rules on election misinformation, including a video sending love to supporters who violently rioted at the U.S. Capitol. Facebook also said it's banning Trump's page from posting for 24 hours. Twitter also threatened a permanent ban after Trump used the platform to egg on a violent mob that stormed the Capitol building. Read more from Kurt Wagner.
Supporter Rage Simmered on Social Media: In some of the more obscure corners of the internet, the calls for violence and revolution have been consistent among what appeared to be a subset of Trump's supporters in the months since he lost re-election. But in recent days, as Trump's attempts to delegitimize the election and remain in office have continually failed, the violent rhetoric sharply increased. It also blossomed in the far-more-mainstream Facebook, hidden away in private far-right groups with names like "Joe Biden is not my president." On pro-Trump forums such as thedonald.win, supporters couched their pronouncements in patriotic terms, calling for a "1776 moment" at Wednesday's protests, or more bluntly, a "reign of terror." Read more from Daniel Zuidijk and Kartikay Mehrotra.
World Reacts With Alarm: World leaders voiced alarm over a pro-Trump mob's breach of the U.S. Capitol, with the U.K. and Australia calling for a peaceful transfer of power and allies in Europe calling the protesters' actions an attack on democracy. "Disgraceful scenes in U.S. Congress," U.K. Prime Minister Boris Johnson tweeted after Trump's supporters stormed the building. Although well known for his admiration of the outgoing president, the British leader said "it is now vital that there should be a peaceful and orderly transfer of power." Read more from Jason Scott.
What's on Democrats' Agenda
Joe Biden won a huge boost with Democrats securing control of the Senate by the narrowest of margins, giving the president-elect a smoother path for advancing his nominees and legislative agenda.
Biden had promised that as a 36-year Senate veteran, he was uniquely qualified to restore bipartisanship to Congress. The narrow Senate majority already was going to put that pledge to a test, but the shocking scenes of political violence yesterday — against the backdrop of Republicans challenging the legitimacy of Biden's victory — showed just how much work he has ahead of him.
The incoming Biden administration will need some bipartisanship if it plans to advance an aggressive agenda that includes creating a more robust federal response to the coronavirus pandemic and a new stimulus package. That would be followed by higher taxes on corporations and people who make more than $400,000 a year, along with planned efforts on climate change, infrastructure and racial justice. Read more from Gregory Korte.
What's After Georgia: Join Bloomberg Government's Emily Wilkins on Friday at noon for a Reddit AMA ('ask me anything') on what's next for Congress after the Georgia runoffs determine control of the Senate. Follow along on Reddit.
Democrats Eye Fast Track Through Senate: Democrats are considering using a budgetary maneuver to pass key legislation through the Senate without the threat of a filibuster after winning a pair of Georgia runoffs, giving them a razor-thin majority in the chamber. Control of the House, Senate, and White House would offer Democrats an opportunity to use the budget reconciliation process to create a fast track for key fiscal legislation through the Senate with a simple majority, rather than the usual 60-vote threshold. That could pave the way for another round of coronavirus relief, health-care legislation, clean-energy investments, or infrastructure measures.
Democrats could use the reconciliation process to move their preferred policies just as Republicans used the maneuver to pass tax cuts in 2017 (Public Law 115-97) over Democratic objections. "With Democrats newly in the Majority in the Senate and the inauguration of the new Biden-Harris Administration just two weeks away, all options are on the table as we consider the best way to address the crises at hand and lead our nation forward," House Budget Chairman John Yarmuth (D-Ky.) said in a statement yesterday. "That includes potentially using reconciliation to advance critical priorities for American families." Read more from Jack Fitzpatrick.
School Spending Back on Agenda: Billions in school spending and debt relief for student borrowers is back on the agenda for Democrats in Congress. Biden's campaign backed tuition-free college for poor and middle-class students, $10,000 in debt relief for student borrowers, and doubling the value of the Pell Grant for low-income college students. Last month he also pledged that a majority of K-12 schools would reopen within 100 days of his inauguration after shutting down due to the coronavirus pandemic. The 50-50 split in the chamber gives the Biden administration a chance to push those education priorities and steer billions in new pandemic relief to schools through reconciliation. Read more from Andrew Kreighbaum.
Democrats' Health-Care Hopes: Democrats will set the health-care agenda in the new Congress but with a slim majority in both chambers face an uphill battle in sending major legislation to the president's desk. Biden has vowed to build on the Affordable Care Act by expanding its insurance subsidies and creating a government-run insurance plan. Those ideas face strong political headwinds.
A Senate majority means key members of Biden's Cabinet, such as his HHS pick, Xavier Becerra, will be easier to approve. Becerra has already started meeting with key Democrats ahead of confirmation hearings, according to a congressional aide. Becerra has spoken with the Senate Finance Committee's top Democrat, Ron Wyden (Ore.).
Democrats can also seek to roll back some Trump administration regulations through the Congressional Review Act, a process that allows Congress to end recent regulations by a simple majority. Big-ticket legislation such as a public health insurance option and expanding on the ACA aren't likely to pass the Senate through regular order. Democrats have signaled they are interested in reconciliation to address health care. Read more from Alex Ruoff.
Climate Home Runs Unlikely: Climate and energy legislation with bipartisan backing still has the best shot at passage given a narrowly divided Congress: clean-energy tax incentives; funding of low-carbon technologies; and new incentives for tree planting, agriculture, and other "natural" solutions.
Advocates for climate change action note that Democrats' control of the House was trimmed in November's elections. And while Democrats will control the Senate, they will hold a narrow majority that many groups say will still make broad and ambitious climate legislation difficult. Progress on climate is more likely to come from "singles" and not home runs, said Heather Reams, executive director of Citizens for Responsible Energy Solutions, a group advocating for clean-energy policies. Read more from Dean Scott and Kellie Lunney.
Path for Bold Push on Judges: Republicans' success at filling court vacancies means Biden might have to wait a while before he can make his mark on the judiciary. When vacancies open up, the question is whether Biden has the appetite to be as aggressive as Trump has been, and progressives in his party want him to be. Past Democratic presidents haven't shown the same ardor as Republicans for remaking the bench, a pattern that could repeat itself if Biden focuses on combating the pandemic and recession. Read more from Madison Alder.
FCC Set to Move on Net Neutrality, Broadband: A Democratic Federal Communications Commission is poised to restore net neutrality rules and move aggressively to expand broadband subsidies amid the pandemic. The election results end fears that Senate Republicans would leave the five-member commission evenly split after GOP chairman Ajit Pai departs Jan. 20—and empower Democrats to embark on an ambitious communications policy agenda. Restoring rules that banned internet service providers including AT&T and Comcast from blocking, throttling, or prioritizing certain internet traffic will be high among the Democrats' goals, agency watchers said. Read more from Jon Reid and Rebecca Kern.
Biden Names Garland: Biden formally named Merrick Garland to be attorney general as he builds his law enforcement team. Garland is currently chief judge of the U.S. Court of Appeals for the District of Columbia. Biden also named Lisa Monaco to be deputy attorney general and Vanita Guptaas associate attorney general. Read more from Magan Crane.
To contact the reporter on this story: Zachary Sherwood in Washington at zsherwood@bgov.com
To contact the editors responsible for this story: Giuseppe Macri at gmacri@bgov.com; Loren Duggan at lduggan@bgov.com; Michaela Ross at mross@bgov.com