What to Know in Washington: Biden White House Girds for Fights
Joe Biden is seeking to wipe away Donald Trump's fingerprints from U.S. policy, but his predecessor left lasting partisan divisions in Washington that pose a risk to getting the new president's agenda through Congress.
While Biden pleaded for unity in his inaugural address — "the most elusive of all things in a democracy," he allowed — his top policy priorities including coronavirus relief were already running into headwinds.
Several GOP senators led by Mitt Romney (Utah) expressed misgivings about his $1.9 trillion plan for addressing the pandemic's damage to the economy. Rep. Liz Cheney (R-Wyo.), who voted for Trump's impeachment last week, faulted Biden's first-day flurry of executive actions. More Republicans dismissed his proposed immigration overhaul as an "amnesty" for people who unlawfully entered the country.
The swift opposition from Republicans, now the minority party in both chambers of Congress, sets a rough road ahead for Biden's agenda on Capitol Hill. Seven hours after he took the oath of office, White House officials steeled themselves for legislative battle, hinting at their own escalation, if necessary.
As swiftly as they had slipped into a fruitless debate over whether Biden actually had won election, the two parties snapped back into their traditional disputes: how much money the government should spend, whether undocumented people living in the country deserve a shot at citizenship, the limits of executive power. Read more from Josh Wingrove, Jennifer Epstein and Jennifer Jacobs.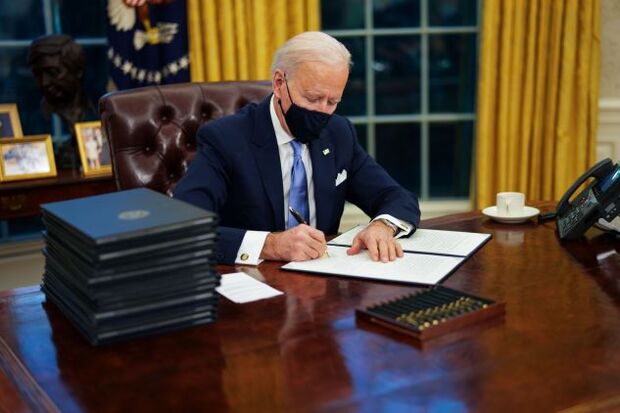 Biden's Day 1 Moves, Orders
Biden Ramps Up Covid Fight: Biden in his first full day in office plans to issue a sweeping set of executive orders to tackle the raging Covid-19 pandemic that will rapidly reverse or refashion many of his predecessor's most heavily criticized policies. Biden today is set to invoke orders to overhaul and unify the U.S. approach to virus testing, use federal powers to stabilize the supply chain for critical medical supplies, and boost the government's ability to provide rapid and equitable vaccine distribution, according to a Biden administration briefing. Read more from Anna Edney.
Biden will push for additional travel safety during the pandemic by requiring people to wear masks in airports and on planes while enforcing quarantines for people who arrive in the U.S. from other countries. In an executive order he will issue today, Biden will codify an action by Trump on Jan. 12 to require a negative Covid-19 test before flying to the U.S. from other nations, according to a Biden administration fact sheet. The order will be coupled with one requiring masks on federal properties that was signed by Biden on yesterday. Read more from Keith Laing and Alan Levin.
Biden's team is increasingly worried the pandemic is spiraling out of control, risking his promise to contain the coronavirus as cases and deaths mount, vaccinations lag, and the more-transmissible strain of the virus spreads across the country, according to people familiar with the matter. As they learned more about federal responses to the pandemic, Biden's advisers grew alarmed at the government's lack of coordination with states, the people said. Read more from Josh Wingrove and Nancy Cook.
Meanwhile, U.S. infectious-disease chief Anthony Fauci pledged his country's commitment to the World Health Organization, including membership in a global effort to deploy Covid-19 vaccines. Fauci addressed the Geneva-based group a day after Biden's inauguration, underlining the new U.S. president's effort to mend ties with an agency crucial to fighting the pandemic. He confirmed that the U.S. will join Covax, a 92-nation vaccine collaboration that the Trump administration declined to participate in. Read more from Corinne Gretler, Thomas Mulier and James Paton.
More Executive Actions:
Health Rules Subject to Biden 60-Day Pause: From insulin to life-saving medical devices to last-ditch efforts to protect premature infants (including those from "live birth" abortions), multiple rules posted by the Health and Human Services Department in the final days of Trump's presidency are subject to a 60-day pause. A memo circulated yesterday by White House Chief of Staff Ronald Klain said all rules, guidances, or other agency actions that didn't take effect prior to noon that day—the official handover time from Trump to Biden—will be subject to review by the new administration before they can take effect.
If the previous administration's actions raise questions of "fact, law, or policy," the designated officials now leading the agencies can further delay effective dates and consult with the Office of Management and Budget about other actions. The agencies can also open comment periods on those actions. Read more from Fawn Johnson.
Strategies for Biden's Green Buying Pledge: Biden's most potent weapon for making climate change a priority may be the country's roughly $600 billion annual procurement budget. Biden has said his administration would "harness the purchasing power of our federal government" to buy American-made electric cars. He has committed the federal government to focus on buying energy-efficient batteries and every federal infrastructure investment to consider climate change. He also could revive some of former boss Barack Obama's executive orders to consider environmental impact when shopping for a range of supplies and services. Read more from Courtney Rozen.
New Administration Takes Shape
Haines Confirmed as DNI: The Senate confirmed Avril Haines last night as director of national intelligence, the first woman to oversee the nation's spy agencies and the first member of Biden's cabinet to win approval. The 84-10 vote for confirmation came hours after Biden's inauguration. Haines pledged during her confirmation hearing on Tuesday that she'll never let politics affect decision-making in the collection and use of intelligence. Read more from Chris Strohm.
Biden Appoints Senior Staff for Treasury: The Biden administration named seven members to the Treasury Department's senior staff, including one former top aide to Sen. Elizabeth Warren (D-Mass.), Saleha Mohsin reports. Didem Nisanci, who most recently worked for Bloomberg LP, will be chief of staff to Janet Yellen once Yellen is confirmed as Treasury secretary. Bloomberg LP is owned by Michael Bloomberg, who is the majority owner of Bloomberg Government's parent company. Julie Brinn Siegel, a former senior counsel for economic policy for Warren joins as deputy chief of staff. Alfred Johnson, who previously worked at the Treasury, joins as another deputy chief of staff.
Yellen herself could be confirmed by the Senate as soon as tomorrow, according to a timeline from Sen. Ron Wyden (D-Ore.) earlier this week, before he assumed the chairmanship of the Finance Committee. But that would require the unanimous backing of the chamber. The Finance Committee has scheduled a meeting tomorrow to advance Yellen's nomination.
Acting Agency Heads Announced: Biden yesterday released a list of individuals who will temporarily lead federal agencies while cabinet nominees move through confirmation process, according to White House officials.
Happening on the Hill
Warnock, Padilla, Ossoff Add Diversity to Chamber: A trio of senators sworn in yesterday bring a little more diversity to a chamber that has long been dominated by older white men. Sen. Raphael Warnock (D-Ga.) is the first Black senator from Georgia, one of only three Black senators in the current Congress. Jon Ossoff (D-Ga.) is the first Jewish senator from Georgia and, at 33, the chamber's youngest member and its first to be born in the 1980s. Alex Padilla (D-Calif.) became the first Hispanic senator from the nation's most populous state, which is home to more than 15 million Hispanics.
But Harris' exit and two appointed senators' special election losses mean that the Senate now includes 24 women—16 of them Democrats and 8 Republicans—which is less than half of their representation in the general population and down from a record high 26 women in the 116th Congress. Read more from Greg Giroux.
Trump's Senate Trial Still on Hold as Democrats Take Control: Trump's second impeachment trial remains in limbo as Speaker Nancy Pelosi (D-Calif.) holds off on triggering a proceeding that could slow down the Senate's new Democratic majority and delay confirmation of key Biden administration officials.
Democrats regained control of the Senate after a six-year gap yesterday, with the swearing in of two new senators elected Jan. 5 from Georgia, who represented the tipping point. Schumer took the gavel from Republican leader Mitch McConnell (Ky.) — but it's not up to Schumer when the trial begins. That decision rests with Pelosi, who hasn't tipped her hand on when the House will formally transmit the single article of impeachment to the Senate, and multiple House officials said it wasn't clear how long she would wait. Read more from Billy House.
Concluding the Trump Administration
Biden said Trump left him a "very generous letter" before leaving Washington ahead of his inauguration. Biden told reporters in the Oval Office: "The president wrote a very generous letter. Because it was private, I will not talk about it until I talk to him."
The comments were Biden's first press availability in the Oval Office, where some decor from the previous administration has been replaced. He sat at the Resolute Desk, the same desk Trump, Barack Obama and several other presidents have used. Busts of Martin Luther King Jr. and Robert F. Kennedy, whose careers inspired Biden's work in public service, flanked the room's fireplace. On a table behind the desk sat pictures of Biden's family and a bust of the labor leader Cesar Chavez. Read more from Jennifer Epstein.
Riot, Inauguration Make Case for D.C. Statehood: One striking thing about the scenes of Washington, D.C., that filled TV screens as Americans watched the Jan. 20 inauguration was the near-total absence of Washingtonians. Since supporters of Trump sacked the Capitol on Jan. 6, a near-total lockdown descended on the city. Afterward, statehood emerged as an urgent priority for D.C. residents. With Democrats now in control of the House, Senate and White House, advocates sense that this could be their best shot in a decade to achieve equal representation. Read more from Kriston Capps.
QAnon Supporters Face Reckoning: QAnon supporters watching the inauguration struggled yesterday to grasp what they were seeing. In the few online spaces where they're still allowed to operate openly, followers of the loose-knit conspiracy theory reacted with a mixture of shock and horror as Biden put his hand on a Bible and was sworn into office by U.S. Supreme Court Chief Justice John Roberts. Daniel Zuidijk checks in on the movement.
Extent of Pandemic Damage to Trump's Empire: Trump's empire has been hit hard by coronavirus closures, with revenue from his Washington and Las Vegas hotels down by more than half. In his last financial disclosure form as president, Trump detailed the damage the pandemic has wrought, at a time when many tourism businesses are suffering from a lack of travelers. Read more from Sophie Alexander, Bill Allison and Shahien Nasiripour.
Trump accepted more than $40,000 in gifts in his last year in office, including freebies from executives of the Boeing, Apple and Ford, according to the financial disclosure report, Gregory Korte and Bill Allison report.
To contact the reporters on this story: Zachary Sherwood in Washington at zsherwood@bgov.com; Brandon Lee in Washington at blee@bgov.com
To contact the editors responsible for this story: Giuseppe Macri at gmacri@bgov.com; Loren Duggan at lduggan@bgov.com; Michaela Ross at mross@bgov.com