What to Know in Washington: Biden Weighs Saudi Oil Cuts Response
Biden rethinking US relationship with Saudis
OPEC+ oil cuts spurred lawmaker proposals
President Joe Biden voiced his fury with Saudi Arabia over OPEC+ oil production cuts Tuesday, accusing the kingdom of allying itself with Russia and vowing to engage with US lawmakers clamoring to punish Riyadh.
The president added that he believes it's time for the US to rethink its relationship with Saudi Arabia. But he and senior administration officials also conceded that a legislative plan to retaliate was unlikely to materialize until after November's midterm elections, underscoring the complex calculations the US faces as it weighs a longtime partnership that has quickly soured.
The president would only say he was "in the process" of evaluating consequences for the kingdom, and indicated they were not likely before lawmakers returned from a recess scheduled to last into November.
"I'm not going to get into what I'd consider and what I have in mind, but there will be consequences," he said.
State Department spokesman Ned Price said Tuesday that the administration would evaluate proposals from Congress and speak to allies about the US partnership with Saudi Arabia over the coming weeks and months. National Security Council spokesman John Kirby, for his part, said the White House would "start to have conversations" when lawmakers returned, while downplaying internal efforts within the administration.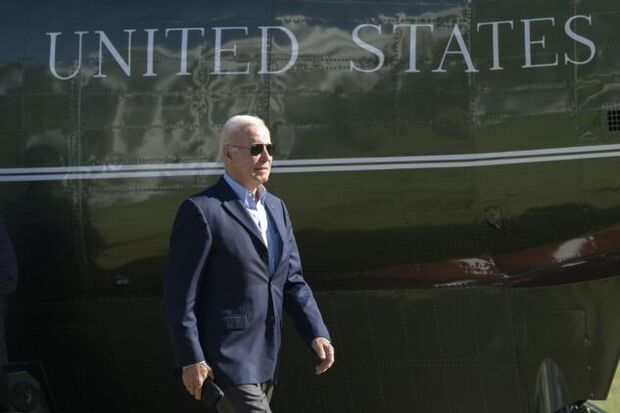 Saudi Arabia's move has prompted a flood of proposals from administration allies on Capitol Hill. Senator Richard Blumenthal (D) of Connecticut and Representative Ro Khanna (D) of California proposed legislation Tuesday to halt US arms sales to Saudi Arabia for one year.
Their proposal joins others made by members of Congress since the production cutbacks were announced and since Russia's barrage of missile attacks on civilian infrastructure across Ukraine.
The White House on Tuesday signaled it was unlikely to support legislation withdrawing support for the integrated air and missile defense network provided to Arab partners and intended as a bulwark against Iran.
Other administration officials have repeatedly declined the chance to endorse specific proposals from Capitol Hill, including bipartisan legislation known as the "NOPEC" bill that would allow US lawsuits against countries in the cartel for manipulating energy markets. Read more from Justin Sink and Steven T. Dennis.
Also in Foreign Affairs
During the same interview, Biden said the US has gamed out responses if Russian President Vladimir Putin uses a nuclear weapon in Ukraine.
Biden also said he'd meet with Putin to discuss the release of detained basketball star Brittney Griner, but would not talk with the Russian leader about resolving the war in Ukraine without Kyiv's involvement.
Before Russia's February invasion of Ukraine, successive US administrations were cautious in sending lethal weapons to Kyiv. Nearly eight months into the conflict, the US and allies have delivered thousands of lightweight Javelin anti-tank missiles and Stinger anti-aircraft missiles and a slew of even more powerful weapons.
The White House is reviewing a request from Haiti's government to deploy US or United Nations troops to restore order amid chaos prompted by a cholera outbreak and widespread gang violence.
Happening on the Hill
Join Our Oct. 19 Election Webinar : Bloomberg Government's election guru, Greg Giroux, will be providing a high-level update on the midterm elections and will take your questions on our Oct. 19 webinar. Register here .
A bill that would protect federal judges' personal information online was added to must-pass defense authorization legislation under Senate consideration, creating a potential path to final passage for the bipartisan measure.
Coal communities trying to lure development are likely to face competition from brownfields and areas with less fossil-fuel employment under a provision of the new climate and tax law intended to breathe life into areas with fading energy industries.
Energy investors, electric vehicle makers, and equipment manufacturers are in the middle of deciding what questions they need answered from the IRS on the new energy incentives in Biden's tax-and-climate law.
Elections & Politics
The Justice Department on Tuesday urged the US Supreme Court stay out of the Mar-a-Lago documents dispute and reject Donald Trump's bid to have an outside special master review more than 100 records with classified markings.
Trump is appealing the dismissal of his lawsuit accusing Hillary Clinton, the Democratic party and dozens of others of conspiring undermine his single term in office.
Biden during last night's CNN interview downplayed a report that federal investigators believe they have enough evidence to charge his son Hunter with tax and gun crimes, saying he "has confidence" in him.
Biden called on three Los Angeles City Council members to resign, joining the growing chorus of condemnation over racist remarks recorded in a 2021 meeting.
Around the Administration
PRESIDENT'S SCHEDULE
At 1:30 p.m., Biden is scheduled to give a speech in Vail, Colorado, on protecting and conserving America's outdoors. He will then travel to Santa Monica, California.
Biden said a recession in the US is possible but that any downturn would be "very slight" and that the US economy is resilient enough to ride out the turbulence.
Health experts are recommending children and adolescents be screened for anxiety and depression as a step to address the US youth mental health challenges.
Millions of Americans' Medicaid coverage and remote health-care services are among the items that will be cast into limbo once the Covid-19 public emergency comes to an end.
US Treasury Secretary Janet Yellen said the strength of the dollar is the "logical outcome" of different monetary policy stances globally and that its value should be set by the market.
While a new gig-worker test outlined by US Labor Department Tuesday makes it easier to classify workers as employees, the changes weren't nearly as sweeping as many in the industry were anticipating, given the Biden administration's pro-worker stance.
A US Labor Department plan to ease restrictions on green private-sector retirement investing is on track for release later this year amid a new wave of red-state anti-ESG policies clouding what was supposed to be a victory for socially-conscious investors.
The Mississippi River isn't out of the woods as falling water levels along its major tributaries threaten to deepen a crisis on the US's main artery for moving vital products.
To contact the reporter on this story: Michaela Ross in Washington at mross@bgov.com
To contact the editor responsible for this story: Andrew Small at asmall@bgov.com