What to Know in Washington: Biden Weighs Food Aid for Ukraine
Food aid could be attached to funds for Ukraine military
Manchin exploring climate package with GOP support
The Biden administration is weighing swift action to ramp up global food assistance amid rising concern that Russia's invasion of Ukraine is stoking a hunger crisis in many low-income nations, according to people familiar with the discussions.
The White House is considering attaching a global food aid request to the military assistance package for Ukraine President Joe Biden is preparing to send to Congress as a means to move the relief quickly.
The invasion has disrupted exports of wheat, corn, sunflower oil and other foods from Russia and Ukraine, and growing alarm about how to deal with rapidly rising food costs and insecurity is driving bipartisan support in Congress for providing as much as $5 billion in aid. "I don't know if it'd be that much, but we want money for food aid, yes," Sen. Lindsey Graham (R-S.C.) said Monday when asked about the potential push. "The world food program is under siege so we need to do something."
Sen. Cory Booker (D-N.J.) said the food assistance was being discussed by Democratic leaders in the chamber and that he urged it be attached to a package for aid to Ukraine. "We are in a global food crisis like we've never before seen," he said. "I'm really hoping that if we do a Ukraine bill, these issues are very tied." Read more from Mike Dorning and Jennifer Jacobs.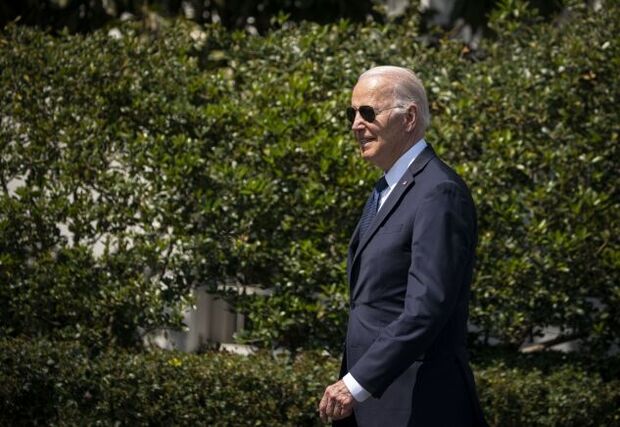 MORE ON THE UKRAINE WAR:
Russian Foreign Minister Sergei Lavrov warned of the risk of nuclear war in an interview with Russia's Channel 1 TV. "The danger is serious, the danger is real, and shouldn't be underestimated," the foreign minister said. Lavrov said that talks with Ukraine's negotiating team would continue even though many in Russia believe that the Kyiv government's position is set in Washington and other Western capitals.
Defense Secretary Lloyd Austin is hosting talks with officials from more than 40 countries at Ramstein Air Base in Germany to discuss ways of boosting weapons supplies to Ukraine, which has been fighting invading Russian forces for more than two months. Follow the latest in the Bloomberg News Ukraine Update.
The economic and budgetary benefits of lower military spending enjoyed by the West since the end of the Cold War look set to dwindle as Russia's war forces the focus back on to defense from Berlin to Washington. The coming ramp-up in security outlays could crowd out space in already-strained government budgets for popular social priorities, and may well lead to higher taxes and bigger deficits, Rich Miller and Alexander Weber report.
Also on Lawmakers' Radars
CONGRESSIONAL SCHEDULE:
The Senate meets at 10 a.m. and is poised to confirm Biden's Fed vice chair pick
The House meets at 2 p.m., with votes under expedited floor procedure set for 6:30 p.m.
Sen. Joe Manchin is exploring an energy and climate package aimed at winning enough Republican support to skirt the partisan budget reconciliation process that has held hostage hundreds of billions of dollars in potential spending on related priorities. "If I can find something bipartisan, we don't need reconciliation," Manchin (D-W.Va.) said in an interview Monday. A bipartisan energy package—like the infrastructure bill passed last year—could undercut the broader Democratic agenda but give Biden an election-year victory on an issue voters care about.
Manchin met with other senators from both parties Monday to "gauge bipartisan interest in a path forward that addresses our nation's climate and energy security needs head on," a spokeswoman said. Manchin told reporters after the meeting that one area of common ground might be reform of the federal oil and gas leasing process. The White House, which has sought ways to increase domestic oil production, has called on Congress to make oil drillers pay penalties when they don't use leases. Read more from Ari Natter and Steven T. Dennis.
MORE FROM MANCHIN:
Manchin also said he supports a ban on imports of Russian uranium, though concerns about domestic supply must be addressed first. "I support anything that would prevent us from giving one dollar to Russia with the atrocities that are going on," he said, Ari Natter reports.
On the Fed, Manchin said he's spoken to Michael Barr, Biden's choice to be the Federal Reserve's vice supervision chair, and so far doesn't see a problem with his nomination. "Michael Barr seems to be very solid," Manchin told reporters. "I've talked to him one time, I'm going to meet with him." Read more from Dennis.
U.S. Judge Michelle Childs is scheduled to appear before the Senate Judiciary Committee on Wednesday for her nomination to the D.C. Circuit after she was considered for the Supreme Court. The committee planned to schedule Childs' nomination to the federal appeals court in the capital for a February hearing, but the White House held off on moving her forward while she was being considered for the high court seat. Madison Alder has more.
MORE NOMINATIONS:
Lisa Gomez's nomination to lead the U.S. employee benefits agency is moving to final consideration after Senate Majority Leader

Chuck Schumer

(D-N.Y.) filed a procedural motion to limit floor debate. Gomez, a New York-based partner at Cohen, Weiss & Simon LLP, would head the DOL's Employee Benefits Security Administration, which enforces laws that protect employee benefit plan participants and beneficiaries. Read more from Paige Smith.
Susan Harthill withdrew her nomination to the Occupational Safety and Health Review Commission, according to the White House on Monday. If confirmed, Harthill would have given the panel a full complement of commissioners for the first time in over a year. Read more from Paige Smith.
The White House has pulled the nomination of Amanda Howe, its selection to be the EPA's assistant administrator for mission support. No reason was given for the withdrawal announced on Monday. A source familiar with the nomination said Howe has taken another job and asked the White House to withdraw her name. Read more from Stephen Lee and Kellie Lunney.
Balfour Beatty executives will face questions during a Senate Homeland Security and Governmental Affairs subcommittee hearing Tuesday after a bipartisan probe uncovered new details of the contractor's alleged mishandling of hazardous housing conditions. There were "numerous examples since late 2019 of poor conditions in Balfour's military housing and disregard of safety concerns and environmental hazards" including mold exposure and significant water damage, according to a report of the inquiry's findings. Read more from Katrice Eborn.
A Senate push to bring transparency to the cattle market would hit packers in the Southern Plains region—encompassing Texas and Oklahoma, among other areas—hardest, a new report says. A Senate panel Tuesday will weigh legislation to establish a cattle contract library and require the secretary of Agriculture to set a minimum threshold for negotiated trade volumes. Supporters say it would boost price transparency, but a report from the Agriculture and Food Policy Center at Texas A&M found it would place a "significant burden" on packers in the Southern Plains. Maeve Sheehey has more.
A congressional probe into consultancy McKinsey's role in advising its client on promoting opioid sales includes a look at "risk-management" processes that were overseen for a time by the current president of the Fed Bank of Richmond. Thomas Barkin, who was chief risk officer at McKinsey before joining the Richmond Fed, has not yet been a direct focus of the House Oversight Committee's investigation. But an interim report shows that lawmakers are delving into the firm's oversight of its engagement with Purdue Pharma, makers of OxyContin. Read more from Billy House, Christopher Condon, and Craig Torres.
An ocean shipping overhaul could move forward in Congress as lawmakers negotiate legislation aimed at bolstering U.S. competitiveness with China after returning from a two-week spring recess. The shipping proposals would update the Federal Maritime Commission's authority for the first time in decades, but major differences in ocean shipping rules remain between the House and Senate versions. Read a BGOV OnPoint breaking down the bills.
Elections, Politics & Probes
Elon Musk's deal to purchase Twitter may herald the return of Donald Trump to a platform that helped him win the White House just in time to influence the midterm elections. The former president told Fox News on Monday that he intends to stick with a social-media platform he launched, called Truth Social. But that operation has struggled and the temptation might be great to return to Twitter where he had more than 88 million followers. Read more from Mark Niquette.
Sen. Elizabeth Warren said Musk's deal demonstrated the need for "serious regulation" of Big Tech. "It's dangerous because one billionaire decides how millions of people will have an opportunity to communicate with each other," said

Warren

(D-Mass.). Regulation of technology giants is essential "because it's about concentration of power. And concentration of power means less competition, and ultimately means just one or a handful of people are deciding who talks, who gets heard and who gets shut down," she said. Steven T. Dennis and John Harney have more.
Celebrity physician Mehmet Oz relied on Trump's endorsement in Pennsylvania's GOP Senate primary to counter attacks from the other candidates in the campaign's first debate since the former president announced his support. Ex-Bridgewater Associates CEO David McCormick, who's also running to replace retiring Sen. Pat Toomey (R) in the May 17 primary, accused Oz in the televised debate Monday night of flip-flopping on issues including abortion, fracking, and the coronavirus pandemic. Read more from Mark Niquette.
Florida will open a new office solely to investigate allegations of voter fraud, under a bill signed by Gov. Ron DeSantis. Even though he praised Florida's election operations in 2020, the voting fraud squad was a priority for DeSantis (R), who's running for re-election this year and is a potential 2024 presidential candidate. The "Office of Election Crimes and Security" created by the law will exist within Florida's Department of State, whose secretary is appointed by the governor. Read more from Jennifer Kay.
Around the Administration
BIDEN'S SCHEDULE:
The president has no public events scheduled.
Pandemic response czar Ashish Jha is scheduled to brief reporters at 3 p.m.
Biden will issue his first round of presidential pardons and commutations on Tuesday, offering clemency to 77 nonviolent drug offenders and a former Secret Service agent who said he was singled out for prosecution after exposing racism in the agency. The president will also announce a new program designed to training to inmates to get and keep jobs after they leave federal custody. Biden's clemency offers come after the president did not pardon any Americans during his first year in office, despite promising during the 2020 campaign that he would release everyone in federal prison convicted of nonviolent marijuana offenses. Read more from Justin Sink.
Biden must pause plans to end Covid-related border restrictions under a federal court decision that marks a legal victory for Republican state officials looking to tighten border security. The U.S. District Court for the Western District of Louisiana on Monday granted a request from a multistate coalition to temporarily preserve Title 42, a public health authority that's allowed U.S. officials to turn away migrants at the border through the pandemic. The court will continue to consider the broader legal issues of Title 42. The judge made the decision verbally during a virtual conference Monday. Ellen M. Gilmer has more.
MORE ON THE PANDEMIC:
Ever-changing guidance on Covid-19 boosters could widen disparities in uptake for poorer and minority groups that face barriers to health information. After several CDC advisers said most Americans under 50 should wait for the next generation of boosters rather than get a fourth dose now, one official said last week the CDC "can rapidly adjust recommendations" if Covid's epidemiology changes. But public health analysts warn repeated changes to guidelines will stir hesitancy among those with limited opportunities to talk to trusted providers, Celine Castronuovo reports.
The Biden administration will allow all pharmacies to order Pfizer's Covid-19 therapy pill, as it looks to boost access to the promising drug as the supply increases. The administration announced new steps on Tuesday to expand access to the Paxlovid pills and encourage broader use, senior administration officials said, speaking on condition of anonymity to discuss the plan. Read more from Josh Wingrove and Riley Griffin.
Cedric Richmond will leave the White House for the Democratic National Committee as the party faces the possible loss of both houses of Congress in November's midterm elections, a person familiar with the matter said. Richmond (La.), a former congressman who became the head of White House Office of Public Engagement, will soon begin going around the country to help raise campaign funds and promote the party's message heading into the fall, the person said. He'll be working with DNC Chair Jaime Harrison. Read more from Josh Wingrove and John Harney.
The FAA would get new authority to impose fines for drone-related technology that interferes with airports and national airspace under a new White House legislative proposal. Officials have warned lawmakers of increased concerns about attacks, smuggling, and flight disruptions as drones become more technologically advanced. The Biden administration's proposal sent to lawmakers and obtained Monday by Bloomberg Government would allow airport and critical infrastructure officials to forgo prior consent to track and monitor drones if they put facilities at risk. Read more from Lillianna Byington and Ellen M. Gilmer.
The U.S. is restoring some environmental limitations on oil and gas development in the National Petroleum Reserve of Alaska, where ConocoPhillips and other companies conduct operations. The Bureau of Land Management's new plan follows an approach largely sketched out in 2013, with more safeguards and limitations on leases meant to protect threatened and endangered species. The Bureau of Land Management said the decision reflects priorities of Interior Secretary Deb Haaland, including reviews of existing oil and gas programs. Read more from Jennifer A. Dlouhy.
To contact the reporters on this story: Brandon Lee in Washington at blee@bgov.com; Giuseppe Macri in Washington at gmacri@bgov.com
To contact the editors responsible for this story: Loren Duggan at lduggan@bgov.com; Michaela Ross at mross@bgov.com