What to Know in Washington: Biden Warns Party of Voters' Anxiety
Biden urges party to draw sharper contrast with GOP
House, Senate negotiators to iron out China measure
Democrats must redouble their efforts to overcome voters' anger over inflation and to retain control of Congress by drawing sharper contrasts with Republicans, President Joe Biden said Wednesday evening.
Biden, speaking at a Democratic National Committee fundraiser in Chicago, said he and his administration hadn't done enough to tell voters about the Democrats' accomplishments and that he planned to remedy that. He also warned of the "ultra-MAGA" agenda of the Republicans, referring to Donald Trump's Make America Great Again slogan.
"It's going to be hard, it's going to be hard, because inflation is going to scare the living hell out of everybody," the president said, referring to the November elections that will decide control of Congress. "We're making progress, but it's going to be a way to go."
Biden asserted that the Republican Party is increasingly beholden to its hardcore pro-Trump base, and that it's up to Democrats to let voters know the difference. "We've got to take the fight to them, we've got to make our case and make it very strong, and we have a strong record to run on," Biden said. "You're going to hear me talking a lot more about not only what we've done but what they're trying to do."
Biden said Democrats could gain three Senate seats in the fall midterm elections, and increase their narrow House majority, but conceded that will be difficult as inflation runs hot—polls have indicated that Democrats are at risk of losing both. Read more from Josh Wingrove.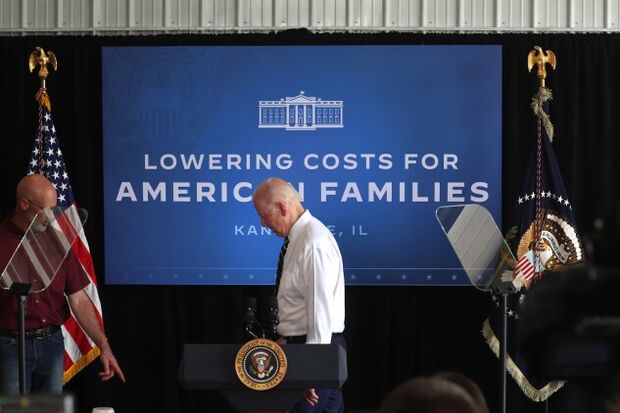 Happening on the Hill
CONGRESS' SCHEDULE:
The Senate meets at 10 a.m., and could vote on House-passed Ukraine funds.
The House convenes at noon, with debates set on TSA worker compensation.
House and Senate members will start to hash out their differences Thursday on a multi-billion-dollar manufacturing and innovation bill that could be one of the last major legislative accomplishments before the midterm elections. The negotiations over the final shape of the package intended to enhance US competitiveness with China are likely to touch on a wide range of subjects including computer chips, trade, immigration, and even Wisconsin mink farming. The opening session kicks off what has become an increasingly rare bicameral conference committee process.
More than 100 members of Congress are slated to give brief opening statements at an hours-long meeting of the conference committee tasked with coming up with an agreement on H.R. 4521, known in the House as the America COMPETES Act. Negotiators will then be able to debate individual provisions privately in the coming weeks or months.
Senators of both parties are hoping the base text of talks is the US Innovation and Competition Act (S. 1260), which over two-thirds of the Senate voted to pass last year. House Ways and Means Chair Richard Neal (D-Mass.) said there are competing timelines on when a final package could be voted on. He said that negotiations could potentially be completed by Memorial Day, while House Majority Leader Steny Hoyer (D-Md.) said he intends for it to get done by November. Read more from Zach C. Cohen.
Senators warned of what they see is a continuing technology threat from China as legislation to bolster the domestic semiconductor industry awaits action. Sen.

Mark Warner

(D-Va.), chairman of the Intelligence Committee, said that the US risked being caught "flat-footed" on the challenges posed by China's focus on innovation. Read more from Daniel Flatley.
More lawmakers say they're looking to add tax breaks for semiconductors to the package. The House- and Senate-passed measures include more than $50 billion for chip grants, but lawmakers say there's a need for tax credits as well. Maria Curi has more.
The House Oversight and Reform Committee on Wednesday approved legislation to bolster US competition with China in artificial intelligence and quantum computing with bipartisan support. The AI Training Act H.R. 7683 would target contractors' understanding of A.I., while the Quantum Computing Cybersecurity Preparedness Act (H.R. 7535) looks ahead to a set of tools not yet available. Read more from Josh Axelrod.
The Senate confirmed economist Philip Jefferson as a Federal Reserve governor on Wednesday, adding a third nominee of Biden's to the central bank's board. The vote was 91-7. Later Wednesday, Senate Democrats said they expect to vote Thursday to confirm Jerome Powell to a second term as Fed chair. Read more from Steven T. Dennis.
Consumer data protections are poised to be a priority for the Federal Trade Commission's newly minted Democratic majority, now that Alvaro Bedoya is joining the industry regulator. The Senate voted Wednesday to confirm the Georgetown University law professor's nomination to the FTC, breaking a partisan deadlock at the agency. Read more from Andrea Vittorio.
Biden marked 1 million US deaths from Covid-19 by calling on lawmakers to maintain funding for testing and treatments, saying the country "must not grow numb to such sorrow." The US opens its second summit Thursday aimed at quelling the spread of the coronavirus just as the country passes the grim milestone and lawmakers remain unable to agree on how to pay for the fight, Josh Wingrove and Celine Castronuovo report.
Democrats are scrambling to address a shortage of baby formula, while Republicans add it to their election-year criticisms of the Biden administration. Chair Frank Pallone (D-N.J.) announced that the Energy and Commerce Committee's oversight panel will hold a hearing on it on May 25, and Pallone said he'll also meet with the Food and Drug Administration "to try to determine what they can do better." Read more from Emily Wilkins and Zach C. Cohen.
Lawmakers renewed calls for rules after a popular stablecoin TerraUSD, or UST, lost its peg to the US dollar, putting investors and the market more broadly at risk. "If Congress does not act in this space," Senate Banking Committee ranking member Pat Toomey (R-Pa.) said, "a fiat-backed stablecoin might lose its dollar peg." Allyson Versprille, Laura Davison, and Steven T. Dennis have more.
Legislation requiring the Supreme Court to develop its own code of conduct advanced in the House on Wednesday night. The measure approved by the Democratic-led Judiciary Committee 22-16 over fierce Republican objection proposes disclosure rules covering travel, gifts, and income received by the justices. It also seeks new transparency around those filing amicus, or friend-of-the-court briefs, across the judiciary and deepens recusal rules for justices and lower court judges. Chief Justice John Roberts has resisted congressional efforts to impose ethics requirements. John Crawley has more.
House lawmakers have two different visions for how to better protect the families of those who work at the US Supreme Court after the Senate unanimously passed security legislation. One House proposal, introduced by Reps. Darrell Issa (R-Calif.) and Lou Correa (D-Calif.), is identical to the Senate bill that would extend security to the immediate families of justices, while another from Rep. Greg Stanton (D-Ariz.) seeks to also extend protection to the families of court employees, Madison Alder reports.
Meanwhile, the Justice Department will provide security to the Supreme Court and its justices in the face of national protests against a pending decision to overturn abortion rights, a spokesman for Attorney General Merrick Garland said. Garland has ordered the U.S. Marshals Service "to help ensure the Justices' safety" by providing additional support to the Marshal of the Supreme Court and Supreme Court police," spokesman Anthony Coley said. Read more from Chris Strohm.
Permanent roadless area protection is vital to preserving drinking water supplies, lowering wildfire risk, and saving Alaska's oldest forests, Democrats said during a House Natural Resources subcommittee hearing on Wednesday. Debate centered on a bill (H.R. 279) that would codify an existing US Forest Service rule barring road building across swaths of national forests nationwide, amid backlash to a Trump-era move to lift roadless protections in Alaska, Bobby Magill reports.
Around the Administration
PRESIDENT'S SCHEDULE:
At 5:30 p.m., Biden meets with leaders of the Association of Southeast Asian Nations for a special summit.
Southeast Asia is increasingly disappointed with the US over a lack of progress on trade, undermining Biden's efforts to strengthen ties with the region's leaders at a summit this week in Washington. The White House has repeatedly highlighted the importance of US leadership on the continent and building relationships to combat China's presence. But when it comes to substance, specifically free-trade deals, the US has little to show. Read more.
Meanwhile, Biden congratulated Philippines President-elect Ferdinand Marcos Jr. on his election and said he looks forward to building a stronger alliance between the two nations, according to the White House. The conversation provides an early indication of how Biden plans to conduct ties with one of its most important Asian allies. Philip J. Heijmans has more.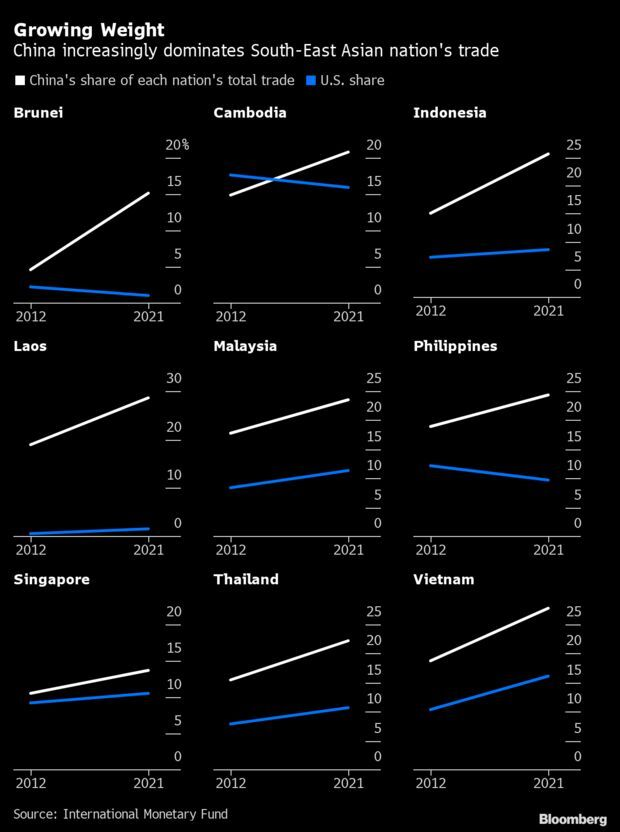 The Biden administration is scrapping planned auctions of drilling rights in the Gulf of Mexico and Alaska's Cook Inlet—a move that deepens uncertainty over the future of the US government's offshore oil leasing program. The Interior Department said in a statement it "will not move forward" with two Gulf lease auctions that were planned under Barack Obama "as a result of delays due to factors including conflicting court rulings that impacted work on these proposed sales." A separate sale in the Cook Inlet in Alaska, originally slated to occur last year, also is being canceled. Read more from Jennifer A. Dlouhy.
The Defense Department is negotiating with AeroVironment to buy 10 of a new armor-piercing model of its Switchblade dive-bombing drone. The US has committed to send at least 700 Switchblades to Ukraine and about 100 already have arrived. Those have been the Series-300 model, designed to attack personnel and light vehicles. Tony Capaccio has more.
Finland and Sweden are taking the final steps to join NATO, spurred by the full-scale war Russia is waging in Ukraine. The Nordic countries are seeking to deter aggression from Russia, which has already threatened the pair with consequences if they join the security bloc. Read more from Kati Pohjanpalo.
Russian setbacks in Ukraine have begun to prompt more explicit warnings in China about Moscow's value as a diplomatic partner, in a sign of growing unease over President Xi Jinping's strategic embrace of Vladimir Putin, Bloomberg News reports.
Two months after negotiators left Vienna, expectations are fading that Iran nuclear talks will resume, leaving the world with the remains of an agreement no one's willing to pronounce dead. European Union envoy Enrique Mora is in Tehran this week for a last-ditch effort to revive the landmark 2015 accord, which curbed Iran's nuclear activities in return for sanctions relief, including on oil. Read more from Samy Adghirni and Jonathan Tirone.
Elon Musk's effort to buy Twitter is facing more scrutiny in Washington following a report that the Securities and Exchange Commission is probing whether he broke rules last month when disclosing a large stake in the social media platform. The Wall Street Journal reported Wednesday that the SEC is investigating Musk's submission of a form that investors must file when they accumulate more than 5% of a company. The Federal Trade Commission is also reviewing the bid by the world's richest person to take Twitter private. Read more from Matt Robinson.
To contact the reporter on this story: Brandon Lee in Washington at blee@bgov.com
To contact the editors responsible for this story: Giuseppe Macri at gmacri@bgov.com; Loren Duggan at lduggan@bgov.com; Michaela Ross at mross@bgov.com