What to Know in Washington: Biden Warns of Climate Change in NY
President Joe Biden warned that storm-ravaged New York and New Jersey are signs of worsening climate change, redoubling his push for a $550 billion public works bill that he said would help build more resilient communities.
"The threat is here. It's not going to get any better. The question — can it get worse?" Biden said in Queens, N.Y., yesterday after surveying storm damage there and in New Jersey. "We can stop it from getting worse."
Biden toured areas of Louisiana devastated by Hurricane Ida last week. In Queens, there were many deaths after the storm flooded basement apartments. The New York subway system and commuter rail services were ground to a halt, with commuters posting video on social media of water pouring into tunnels and onto trains.
Biden noted that Ida hit the New York region days after another hurricane, Henri, drenched the area with rain, and that wildfires have burned 5 million acres in the American West this year so far.
"These disasters aren't going to stop," he said. "They're only going to come with more frequency and ferocity."
The trip came as lawmakers in Washington prepare to debate the president's $3.5 trillion spending plan for social issues spanning education and senior care to climate change. Democrats aim to have the package wrapped up by the end of this month, which would set up the House to approve the separate bipartisan infrastructure bill negotiated at the same time.
The legislation, Biden said, would also create economic growth and jobs. "Wall Street, not too far from here, acknowledges that we spend the money on these things, we're going to grow the economy, increase employment," he said. Read more from Mario Parker and Josh Wingrove.
Today's Agenda: Biden will deliver remarks in honor of labor unions at 11:20 a.m. Biden at 2:45 p.m. is to receive a briefing from members of the White House Covid-19 response team. White House Press Secretary Jen Psaki, Secretary of Agriculture Tom Vilsack, and Director of the National Economic Council Brian Deese will give a press briefing at 2 p.m.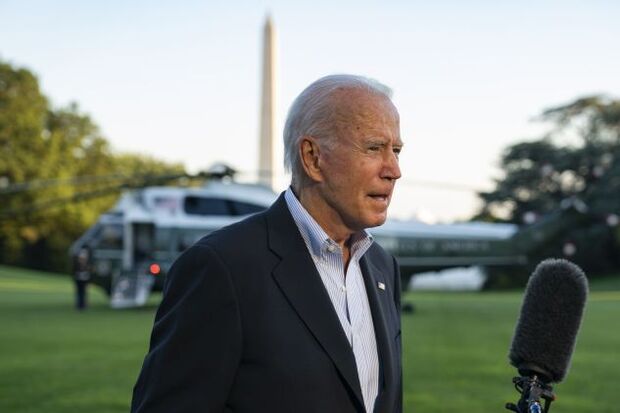 Happening on the Hill
GOP Senators Call for Full Finance Markup of Democratic Tax Plan: Senate Republicans are pushing Senate Finance Chair Ron Wyden (D-Ore.) to allow for a chance to amend the tax portions of the $3.5 trillion budget reconciliation bill that congressional Democrats and the Biden administration hope to advance this month.
The House Ways and Means Committee yesterday released part of its reconciliation package in advance of a markup later this week. But Wyden has yet to announce his markup plans for the tax measures, which are expected to include rate increases on corporations and the wealthy to help fund new spending in the broad bill. Read more from Colin Wilhelm.
Meanwhile, House Democrats proposed requiring companies to automatically enroll workers for IRAs or 401(k)-type retirement plans under a provision tucked into the draft legislation. The plan would direct 6% of each employee's pay into a retirement savings plan, gradually escalating to 10%, unless they took action to opt out or change their contribution rate. The idea is a pet cause of House Ways and Means Chair

Richard Neal

(D-Mass.) and his counterpart

Kevin Brady

(R-Texas), who jointly introduced legislation last year to bolster retirement savings through automatic contributions. Read more from Mike Dorning.
Apple Changes Fail to Sway Lawmakers: Lawmakers are barreling ahead with legislation to change the way Apple runs its App Store, unconvinced by the company's recent moves to address antitrust complaints from developers and regulators around the world. A proposed bill from a bipartisan trio of senators would force significant changes to the way consumers download and use apps on their iPhones and other Apple devices. Sen. Amy Klobuchar (D-Minn.), head of the Senate antitrust subcommittee and one of the bill's sponsors, said Congress is no longer willing to trust tech companies to "do the right thing."
"Though Apple has taken some small steps to respond to criticism of its anti-competitive conduct, they did not go nearly far enough," Klobuchar said Tuesday in a statement to Bloomberg. "There is growing momentum to pass the Open App Markets Act to finally address Apple and Google's twin monopolies, and I will continue working with my colleagues on both sides of the aisle to get it done." Read more from Anna Edgerton.
Beyer Proposes EV Tax Credit for Vans, Trucks: Rep. Don Beyer (D-Va.) yesterday proposed a new tax credit for electric vans and trucks. Beyer's bill, which he said will hopefully be considered as part of a larger EV incentive package, would offer a 30% tax credit for qualifying commercial vehicles, Patrick Ambrosio reports. "Commercial vehicles remain a significant source of emissions and electrification in the sector lags far behind personal vehicles," Beyer said in a statement. "By using tax policy to promote the adoption of zero-emission vehicles, we can greatly reduce emissions from working vehicles," he said.
Politics & Influence
Iowa's Nonpartisan Redistricting Set for Test: Iowa's Legislative Services Agency will release its first set of political maps by Sept. 16, making the state one of the first to initiate congressional redistricting and setting the table for multiple House races to watch next year. The intensely political map-drawing process is led in most states by state legislators and governors determined to fortify their party at the expense of the other.
Then there's Iowa, where duties are handled by the nonpartisan agency, which is prohibited from considering political data, including past election results or incumbents' home addresses. How it redraws Iowa's four districts — and whether Republicans who control the governorship and state legislature accept or replace it — could have an outsized influence on a 2022 midterm election. Read more from Greg Giroux and Emily Wilkins.
Trump Sidelines Rivals, Keeps Cash for 2024: Former President Donald Trump frequently teases another presidential bid, without actually announcing, a strategy that leaves him with access to a $102 million war chest, an unrivaled haul that could scare off donors to other candidates and freeze the Republican 2024 race. By not formally declaring, Trump is free to use money from his political action committees to act very much like a candidate without the restrictions that come with an announcement.
His coyness keeps the focus on him and maintains his fundraising advantage over would-be rivals. While he has spent a tiny fraction of that money on rallies and is planning travel to early voting states like Iowa, he has reported donating to very few of the Republican congressional candidates he has endorsed. Instead, the nine-figure bank account serves as a warning to would-be challengers of what they would have to raise to best him. Read more from Bill Allison and Mark Niquette.
Arizona Voters, Lawmakers Face Off Over Last Word: When Arizonans went to the polls last year and approved a tax on the wealthy to fund public schools, they did so in a state that has among the nation's toughest protections against legislators reversing voter-approved changes to state law. That didn't stop lawmakers from trying. Leaders in the Republican-controlled Arizona Legislature sued to overturn Proposition 208, and then passed the biggest tax cut in state history, including a measure that could reduce the new education revenue by roughly a third. Read more from Brenna Goth.
Twitter Reinstates JD Vance's Campaign Account After Error: Twitter said it has reinstated the campaign press account of Republican Senate hopeful and venture capitalist JD Vance after briefly suspending it in error yesterday, drawing outrage from the candidate. A spokesperson for Twitter said in a statement that the account was suspended for violating its impersonation policy in error and that the enforcement has been reversed and the account reinstated. Read more from Mark Niquette.
Kentucky GOP Pushes Bills Eliminating School Mask Mandates: Kentucky Republican leaders yesterday announced plans during a special session to eliminate the state's school mask mandate and prohibit schools from requiring staff to get vaccinated. A legislative package would continue roughly 57 executive orders and administrative rules issued by Gov. Andy Beshear (D), who the Kentucky Supreme Court stripped of unilateral pandemic rule-making power. But Beshear's mask mandate would end. Read more from Alex Ebert.
Around the Administration
Trump's Oil Plan for Arctic Reserve Will Get Review: The Biden administration said yesterday it will reconsider the environmental analysis that underpinned a Trump-era decision to open wide swaths of the National Petroleum Reserve-Alaska for oil development, Jennifer A. Dlouhy reports. The move paves the way for a possible decision to reject or modify the integrated activity plan adopted by the Trump administration on Dec. 31, 2020, which allowed oil and gas development across 18.6 million acres of the reserve — about 7.6 million more than previously available.
Federal Cyber Strategy Plans for 'Zero Trust' Security Approach: Federal agency staff would need to use a single sign-on to access applications for their work as part of a newly released plan to implement a so-called zero trust cybersecurity model across government. The draft strategy, released yesterday by the White House, also calls for an inventory of all devices authorized for government use so that security teams can detect and respond to incidents on those devices. Other measures include encrypting traffic on agency networks, routinely testing applications for vulnerabilities, and monitoring access to sensitive data. Read more from Andrea Vittorio.
The infamous criminal ransomware group "REvil," short for "Ransomware-Evil," has returned to the dark web after vanishing this summer. The group operates from Russia, according to cybersecurity firms and the U.S. government, and is accused of leading a flurry of attacks this year against companies and organizations. A portal REvil uses to negotiate with victims came back online yesterday, according to Adam Meyers, vice president of intelligence at cybersecurity firm CrowdStrike, although the cybergang hasn't posted any new victims. Read more from William Turton and Kartikay Mehrotra.
NLRB Majority Can Alter Labor Law With Cases at Hand: The National Labor Relations Board's new Democratic majority can select from cases available in the agency's pipeline to quickly reconsider Trump-era precedents, with subjects like workplace rules, employee classification, and the scope of labor law protections poised for review. But many other NLRB precedents don't appear to be similarly ready for review and likely will take time to percolate up to the board, according to a Bloomberg Law analysis of cases. Read more from Robert Iafolla.
Biden Hurting Poor by Blocking Afghan Reserves, Official Says: The Biden administration's move to freeze Afghan government reserves held in U.S. accounts last month would dry up liquidity, force banks to close and push the country into further poverty, an Afghanistan central bank official said. Shah Mehrabi, a senior board member of Da Afghanistan Bank, has been lobbying members of the U.S. Congress and policy makers for a "conditional release" of these funds amounting to about $9.4 billion. Mehrabi, who lives in the U.S. and has been a board member since 2002, said talks have been productive although he declined to provide further details. Read more from Eltaf Najafizada.
Iran Signals No Let Up in Atomic Escalation: Iran's new government continued to dramatically increase production of highly-enriched uranium while failing to resume full cooperation with international monitors, signaling a new round of escalation awaits officials when they convene this month to discuss the country's atomic program. International Atomic Energy Agency inspectors reported yesterday that the Islamic Republic increased its stockpile of uranium enriched close to the levels needed for weapons and was expanding its production capacity. Read more from Jonathan Tirone.
To contact the reporters on this story: Zachary Sherwood in Washington at zsherwood@bgov.com; Brandon Lee in Washington at blee@bgov.com
To contact the editors responsible for this story: Giuseppe Macri at gmacri@bgov.com; Loren Duggan at lduggan@bgov.com