What to Know in Washington: Biden Vows to Act Alone on Climate
Move follows Manchin's second reconciliation snub
Prescription drug pricing, Obamacare subsidies could move
President Joe Biden vowed to take executive action on climate change after Sen. Joe Manchin (D-W.Va.) put a sweeping tax and energy bill on hold, telling congressional Democrats to move ahead on a smaller measure to rein in drug prices and stop premium hikes for Obamacare.
Manchin said he'd be willing back a prescription drug pricing package tied to a two-year extension of Affordable Care Act subsidies before a scheduled August recess. But he put the brakes on enacting a wider package of tax changes and measures to address climate change until at least September.
"The Senate should move forward, pass it before the August recess, and get it to my desk so I can sign it," Biden said in the statement. While the statement never mentioned Manchin by name, Biden added that cutting the cost of prescription drugs and health care would reduce the deficit and fight inflation, two major issue for Manchin. Read more from Nancy Cook and Erik Wasson.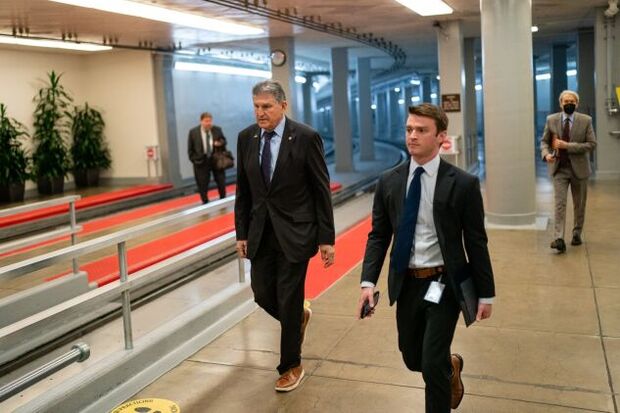 Happening on the Hill
CONGRESS' AGENDA:
The Senate will meet at 5:30 p.m. to vote on a federal judge nomination.
The House meets at 2 p.m. to vote on a series of bills under expedited procedure.
Regulations giving US House staffers the right to unionize kick in Monday, allowing workers who have been negotiating behind the scenes for months to move into a more public phase. Members of the Congressional Workers Union—the primary group leading the drive for staffers—said in an interview that the regulations taking effect allow staffers to "feel fully secure and protected once they begin organizing in the daylight." Read more from Emily Wilkins and Paige Smith.
New requirements for contractor labor practices, improvements to federal and defense supply chains, and increased opportunities for small businesses are all part of the House-passed annual defense policy bill. The chamber approved the following contractor-related provisions as amendments to H.R. 7900, the National Defense Authorization Act for fiscal 2023. It passed the final version July 14. Read more from Patty Nieberg.
The House committee investigating Jan. 6 expects to receive texts it has subpoenaed from the Secret Service by Tuesday, panel member Zoe Lofgren (D-Calif.) said. A US Secret Service spokesman said Saturday the agency will cooperate "by responding swiftly" to the subpoena. Read more from Tony Capaccio.
Steve Bannon finally goes on trial on criminal contempt charges relating to the congressional probe of the Capitol riot in what promises to be a circus of accusations, brash pronouncements and politics playing out daily in front of the media. Sabrina Willmer previews the trial.
Donald Trump saw a drop of contributions from the army of donors who've combined to give tens of millions to his political operation after the 2020 election. During the reporting period, six hearings of the House committee investigating the Capitol riot took place. The session considered most damaging to Trump, featuring testimony former White House aide Cassidy Hutchinson, unfolded on June 28, too late to have a major effect on Trump's haul, Bill Allison reports.
Leadership have circulated text and a summary of legislation that would include $52 billion in grants and incentives to attract chip companies to the US along with money for training and wireless technology, according to a person familiar with the matter. Daniel Flately has more details.
Politics & Influence
Democratic candidates started July with a huge financial advantage in four of five US Senate battlegrounds that could determine which party controls the chamber next January, Federal Election Commission filings show. Republicans need to pick up one seat to take the chamber. But in three states that represent the most likely pick-ups and one where they must hold an open seat, Republicans will have to overcome a mountain of Democratic cash. Read more from Bill Allison.
Texas Democrats, underdogs for decades, probed for possible GOP weakness this election year at a biennial convention that focused on restoring access to abortion, protecting transgender rights and fortifying the electric grid. The goals were listed in a draft of the party platform released Saturday at an event in Dallas. Read more from Shelly Hagan.
Gubernatorial hopeful Beto O'Rourke rallied Texas Democrats on abortion rights, gun control and securing the state electric grid in a prime-time speech at the Texas Democratic Convention Friday. O'Rourke told state party members that he would fight to reverse some of the conservative social policies enacted in the last few years under Gov. Greg Abbot—including voting restrictions, looser gun laws and a ban on abortions. Read more from Hagan.
Maryland primaries on Tuesday will pave the way for Republicans to retain control of one House district and have a shot at winning a second. If that doesn't sound like much for Republicans, it's more than they may have expected after redistricting in staunchly Democratic Maryland. The Democratic legislature's initial congressional map—one that could have delivered an 8-0 shutout for the party—was struck down earlier this year. Read more from Greg Giroux.
Four years after angrily denying sexual assault allegations at his Senate confirmation, Justice Brett Kavanaugh remains the Supreme Court's lightning rod no matter how many conciliatory opinions he writes. Read more from Greg Stohr.
Around the Administration
PRESIDENT'S SCHEDULE:
Biden has no public events scheduled.
Press Secretary Karine Jean-Pierre holds a briefing at 3 p.m.
A US energy envoy said he is confident Gulf producers will increase oil output after Biden's visit to Saudi Arabia, where he met with regional leaders. "Based on what we heard on the trip, I'm pretty confident that we'll see a few more steps in the coming weeks," Amos Hochstein, the State Department's senior adviser for energy security, told CBS Sunday. Hochstein, who was part of Biden's delegation on the visit, also cited Gulf oil producers Kuwait and the United Arab Emirates. Read more from Victoria Cavaliere.
Saudi ministers insisted that oil policy decisions would be taken according to market logic and within the OPEC+ coalition, Salma El Wardany, Annmarie Hordern, and Matthew Martin report.
Yemen's Shiite Houthi rebels, slamming Biden's visit to Saudi Arabia, said they would not agree to extend a truce in the seven-year war. After Biden met with officials in his trip there this week, the White House in a statement said that Saudi Arabia had committed to extending and strengthening a UN-mediated truce in Yemen and will engage in talks to end the war that's roiled the Persian Gulf and triggered a humanitarian crisis, Mohammed Hatem reports.
Finance chiefs from the world's biggest economies lined up to blame Russia for the global inflation wave and sharply deteriorating growth outlook. Read more from Michelle Jamrisko.
Yellen said her plan to limit Russia's oil earnings can overcome fears among potential partners that President Vladimir Putin may retaliate. "What I heard was concern about retaliation," Yellen said Monday in an interview en route to Seoul, South Korea, after attending a gathering of Group of 20 finance ministers in Bali, Indonesia. Chrisopher Condon has more.
Yellen called on "trusted" US allies to strengthen trade relationships to shore up global supply chains disrupted by the pandemic, worsened by Russia's war in Ukraine and threatened longer term by a reliance on China, Condon reports.
A judge in Tennessee temporarily blocked the Biden administration's rules ensuring transgender people at schools and workplaces have access to bathrooms, locker rooms and sports teams, the latest setback for LGBTQ Americans amid a backlash from Republican-led states. Read more from Erik Larson.
Civil liberties advocates are accusing Homeland Security of skirting the Fourth Amendment by buying access to people's cellphone location data. The ACLU unveiled a tranche of records Monday showing how DHS obtained vast amounts of location data from companies that aggregate and sell the records. Read more from Ellen M. Gilmer.
To contact the reporters on this story: Brandon Lee in Washington at blee@bgov.com; Michaela Ross in Washington at mross@bgov.com
To contact the editors responsible for this story: Giuseppe Macri at gmacri@bgov.com; Loren Duggan at lduggan@bgov.com