What to Know in Washington: Biden Virus Plan Faces Senate Hurdle
Bloomberg Government subscribers get the stories like this first. Act now and gain unlimited access to everything you need to know. Learn more.
President Joe Biden's imperative of swiftly passing his $1.9 trillion pandemic-relief program faces one of its final hurdles: settling disputes among Senate Democrats over how to ensure aid gets to those who truly need it.
With Republicans accusing Democrats of advancing a mammoth spending bill just as the economy is poised to accelerate, a handful of moderate senators is pushing for changes that reduce the risk of assistance flowing to households relatively unscathed by the crisis or to individuals who'd otherwise head back to work.
The Biden administration has consistently argued that the risk of going too small is greater than the danger of excess spending. The president has urged Democrats, above all, to get the bill passed quickly.
The Senate is planning to formally open debate on the pandemic-relief bill as soon as this afternoon. Senior Democratic lawmakers gave every indication that their caucus will be able to sort through the debate over potential tweaks to the proposed $400-a-week supplemental unemployment benefit and $1,400 stimulus checks included in the House version of the aid bill.
Democrats are aiming to resolve their outstanding differences before the amendment process, known as the vote-a-rama, begins as soon as tomorrow. Once that begins, the danger is that Republicans could reshape some of the provisions by peeling off just one Democrat, given the chamber's 50-50 partisan split.
Senate Majority Leader Chuck Schumer (D-N.Y.) said yesterday, "We'll have the votes we need to pass this bill." Read more from Erik Wasson and Laura Litvan.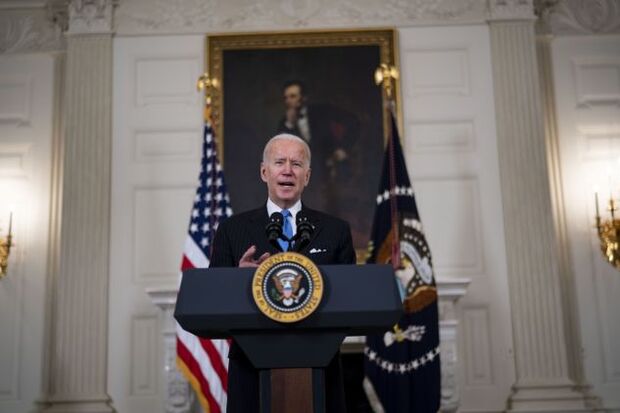 Biden's State Rescue Dwarfs Tax Hit: Listen to the architects of the spending package and they'll tell you the aid is urgently needed to rescue the economy. It's simply relief for Americans struggling to get through the pandemic. But the nearly $200 billion being earmarked to state governments goes beyond a rescue and is almost certain to further stimulate an economy that is already beginning to rapidly recover. That's because those proposed cash transfers are more than six times greater than the approximately $31 billion of expected tax revenue that disappeared in the current fiscal year, according to pre-pandemic and more recent forecasts compiled by Bloomberg. Read more from Amanda Albright and Danielle Moran.
Also Happening on the Hill
Riot Hearing to Look at Slow Guard Deployment: Federal officials will face stern questioning about delays in deploying the National Guard during the Jan. 6 riot at the U.S. Capitol, as lawmakers probe broader intelligence failures in the days before the violent insurrection. Major General William Walker is set to appear alongside three intelligence and counter-terrorism experts from the FBI, the Department of Homeland Security and the Defense Department in a joint hearing with the Senate committees on Homeland Security and Rules. It is uncertain how much added detail Walker can provide about Capitol security officials' requests for assistance on Jan. 6 as Congress was under attack by a mob of former President Donald Trump's supporters. Read more from Billy House.
Threats to members of Congress have nearly doubled in the first two months this year compared to the same time span in 2020, according to the acting head of the U.S. Capitol Police, who plans to ask lawmakers for a more than 20% budget increase for the department. In testimony prepared for a House hearing today, acting Chief Yogananda Pittman said there's been a 94% increase in threats to lawmakers in January and February in the aftermath of the Jan. 6 riot. Read more from Billy House.
Congress Weighs Tech Shield Options: Lawmakers are taking aim at the controversial law that shields internet platforms including Facebook and Twitter from lawsuits over content posted by users. The measure, Section 230, now faces its biggest reckoning since it was included in the Communications Decency Act of 1996. Calls to revise it grew in the months before the November election and intensified after the deadly attack on Congress by Trump's loyalists. New measures to redraw Section 230 are expected in the coming weeks. Bloomberg Government's Rebecca Kern offers a guide to legislative efforts to overhaul Section 230.
Warren Backs More Audits for Rich: Sen. Elizabeth Warren (D-Mass.) said that IRS funding should be bolstered so the richest Americans can get audited about once every three years as part of her proposed 2% annual tax on wealth over $50 million. Warren said she aims to nearly double the Internal Revenue Service budget, which would also help with enforcing a wealth tax. She added she plans to talk to Treasury Secretary Janet Yellen about how to implement such a tax. Read more from Steven T. Dennis and Kevin Cirilli.
Grassley Files Paperwork to Set Up Re-election Bid: Sen. Chuck Grassley (R-Iowa), 87, filed Federal Election Commission paperwork today to set up possible 2022 re-election campaign. Grassley declined to comment on his re-election plans during a Fox Business interview late yesterday, saying he'd answer the question in September, October, November of this year, Kathleen Miller reports.
Movers & Shakeups
White House Withdraws Tanden's Nomination: Biden suffered his first major setback in filling his cabinet yesterday as Neera Tanden withdrew from consideration to lead the Office of Management and Budget after facing opposition from senators over her partisanship. Biden said in a statement that he had accepted Tanden's request and would find another place for her. "I have the utmost respect for her record of accomplishment, her experience and her counsel, and I look forward to having her serve in a role in my administration," he said. Tanden, who led the liberal Center for American Progress for nearly a decade, is Biden's first cabinet-level nominee to fail to reach confirmation, as the Senate slowly considers remaining nominees. Read more from Jordan Fabian and Jennifer Epstein.
Senate Confirms Rouse to Head Council of Economic Advisers: Princeton University economist Cecilia Rouse won Senate confirmation last night as chair of Biden's Council of Economic Advisers, becoming the first Black American to take the cabinet-level position. The Senate voted 95 to 4 to approve Rouse for the post, which is sometimes referred to as the White House's chief economist. Biden restored the position to a cabinet-level post after Trump removed that distinction. Read more from Scott Lanman.
Biden Adds Former Obama Labor Official Harris: Former Obama Labor Department official Seth Harris is joining the White House as a senior adviser to the president on labor issues, an administration official said. A former acting and deputy labor secretary, Harris will coordinate the White House's relationship with labor groups and efforts on workers' rights. His title will be Deputy Assistant to the President for Labor and the Economy. Jennifer Epstein has more.
Phillips to be Acting U.S. Attorney for D.C.: The Justice Department is tapping an Obama-era prosecutor to serve as acting U.S. attorney for the nation's capital, a prestigious assignment overseeing some of the nation's most complicated cases, including the investigation into the deadly Jan. 6 Capitol riot. The department planned to name Channing Phillips to the post yesterday, and he'll serve on an interim basis until a new U.S. attorney for the District of Columbia is nominated by Biden and confirmed by the Senate, according to a Justice Department official who asked not to be identified because the information isn't public. Read more from Chris Strohm.
Keystone XL Firm Hires Brother of Biden Aide: A lobbying firm run by the brother of White House counselor Steve Ricchetti has signed the Canadian company behind the Keystone XL oil pipeline project, which Biden effectively canceled upon taking office. Jeff Ricchetti, who runs Ricchetti Incorporated, will be lobbying on behalf of TC Energy, regarding "legislative issues affecting energy infrastructure," according to disclosure forms recently filed with the Senate. Read more from Megan R. Wilson.
Around the Administration
Buttigieg Is Bullish on Infrastructure Plan: Transportation Secretary Pete Buttigieg said yesterday that Congress has an opportunity to deliver a generational boost in infrastructure spending as the Biden administration readies a package that could reach as high as $2 trillion. "If we get this moment right, we can have a once-in-a-generation delivery of infrastructure support that can be used by states, by cities, by counties, by tribes and territories," Buttigieg said in an interview at CityLab 2021, a virtual summit for urban leaders hosted by Bloomberg Philanthropies and the Aspen Institute.
"Of course this is not the first time that a new administration has raised expectations and hopes around infrastructure," he continued. "So we've got make sure that this time we actually get to deliver. But I really believe because of the urgency of the moment, and frankly because of the impatience of the public, that with some support and prodding of Washington by local leaders like some of the folks we're gathered with today, we really can get it done this time." Read more from Keith Laing.
U.S. infrastructure including roads, bridges and sewers received a mediocre grade from the American Society of Civil Engineers, an assessment that will help buttress Biden's coming plan for a major infrastructure-spending package. Across the country, crucial systems from public transit to wastewater treatment and the energy grid remain badly underfunded despite modest improvements over the past four years, according to ASCE. The group's overall grade rose to "C-" from a "D+" in 2017, the last time it issued its quadrennial report card on infrastructure. Read more from Christopher Condon.
Biden Sets May Goal for Adult Shots: Biden called for states to give every teacher and child-care worker at least one dose of coronavirus vaccine by the end of the month in a fresh drive to re-open schools, and said there will be enough shots for adults by the end of May, up from July. Biden announced a contract with Merck to help its rival Johnson & Johnson expand production of its single-shot vaccine. The new vaccine, authorized Saturday for use in the U.S., will speed the timetable for most Americans to be vaccinated, he said. Read more from Justin Sink, Josh Wingrove, and Riley Griffin.
Texas Gov. Greg Abbott (R) lifted the mask mandate and other anti-pandemic restrictions, defying warnings from health officials about the perils of dropping those precautions too soon, Joe Carroll and Paul Stinson report.
To contact the reporters on this story: Zachary Sherwood in Washington at zsherwood@bgov.com; Brandon Lee in Washington at blee@bgov.com
To contact the editors responsible for this story: Giuseppe Macri at gmacri@bgov.com; Loren Duggan at lduggan@bgov.com; Michaela Ross at mross@bgov.com
Stay informed with more news like this – from the largest team of reporters on Capitol Hill – subscribe to Bloomberg Government today. Learn more.