What to Know in Washington: Biden Urged to Go Big on Drug Prices
Democrats are pressing the White House to include their health policy ideas in the next part of Biden's infrastructure push, with hopes of gaining an edge over colleagues with competing plans.
Congressional leaders, top senators, and rank-and-file Democrats say they've put in calls or visits to the White House this week plugging their legislation to broaden health insurance, expand Medicare, or lower drug prices.
Biden has kept quiet on whether he plans to include health care as part of the next phase of his infrastructure plan, which has left some lawmakers fearful it's being left out.
Biden's next piece of his massive infrastructure and economic plan, called the American Families Plan, isn't expected to include expanding health coverage or reduce prescription drug prices, the New York Times reported yesterday. White House spokeswoman Jen Psaki yesterday outlined what would be included in that plan, and didn't mention any health care policies. Read more from Alex Ruoff.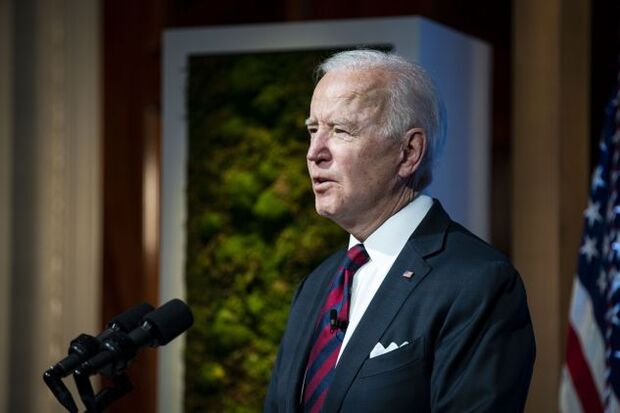 More on Biden's Economic Plans
Biden Aims at Top 0.3% With Capital Gains Tax: Biden wants to end the preferential U.S. tax treatment of investment income that has benefited the nation's wealthy as he seeks to fund a sweeping new social-spending program. But he will need to overcome a major political hurdle in Congress to do so. The White House plans to propose almost doubling the capital gains tax rate for those earning $1 million or more, to 39.6%, according to people familiar with the proposal. That wouldn't affect many. Only about 0.32% of American taxpayers reported adjusted gross income of more than $1 million and capital gains or losses on their returns, according to Internal Revenue Service tax return data from 2018. The president is betting that will make it popular enough to win passage in Congress. Read more from Laura Davison and Allyson Versprille.
Race to Snap Up Lobbyists: The race is on to hire lobbying firms to secure a piece of a massive infrastructure package, with municipalities, companies and others seeking funds for everything from a planned expressway in California to a Shakespeare festival in New York. So far this year, more than 120 new lobbying client registrations mention the word "infrastructure," with municipal governments and public utilities comprising more than a quarter of the new clients — the most new registrations of any other sector, a Bloomberg Government analysis of filings with the Senate shows. Megan Wilson highlights the top lobbying issues.
Local Hiring Eyed For Infrastructure: The Department of Transportation is aiming to reinstate a program the Trump administration scrapped that would allow local hiring requirements to be added to federally funded infrastructure projects. Transition officials and congressional Democrats are pushing Transportation Secretary Pete Buttigieg to implement a local-hire program, arguing that workers—particularly those in disadvantaged demographics—should have a hand in building big-ticket infrastructure projects in their communities. Read more from Lillianna Byington and Ben Penn.
Happening on the Hill
Senators Seek to Tie Self-Driving Car Bill to China Measure: Lawmakers pushing to allow U.S. automakers to sell as many as 80,000 self-driving cars apiece each year are trying to pin the fate of their measure to bipartisan legislation to enhance American competitiveness with China. The legislation sponsored by Sens. Gary Peters (D-Mich.) and John Thune (R-S.D.) aims to provide U.S. safety regulators the authority to grant exemptions from motor vehicle safety standards that assume a human driver is controlling the vehicle—only if the same level of safety is maintained. Read more from Keith Laing.
Cyber Agency Wants Law to Improve Data Sharing: The government needs legislation to encourage the private sector to share its information about cyber vulnerabilities, the acting head of the Cybersecurity and Infrastructure Security Agency said yesterday. "Without legislation, you're not going to have consistent information sharing," Brandon Wales, the acting director, said yesterday during the Billington CyberSecurity Defense Summit. CISA wants to work with lawmakers to craft legislation, Wales said. Read more from Shaun Courtney.
Build America Bonds Sequel Gains Traction: There's a growing push in Congress to extend subsidies to states and local governments that sell bonds to fund infrastructure projects, revisiting an Obama-era program enacted after the last financial crisis. Sens. Roger Wicker (R-Miss.) and Michael Bennet (D-Colo.) reintroduced a bill that would create American Infrastructure Bonds, whose interest bills would be partially covered by the federal government. Read more from Amanda Albright.
'Forever Chemicals' Bill Cites Victims' Rights: House and Senate Democrats introduced a bill that would allow people exposed to "forever chemicals" to sue manufacturers to pay for medical monitoring to detect health problems related to the toxins. Their bill would amend the Toxic Substances Control Act and enable contamination victims to file a federal cause of action, letting them bring claims against companies for significant exposure. Victims would not have to wait until they are demonstrably sick to sue. Kellie Lunney has more.
Politics & Influence
Louisiana Special Election to Fill Richmond Seat: Voters in Louisiana's 2nd district will elect a new House member tomorrow to fill the seat vacated by Cedric Richmond (D-La.), who resigned in January to become a senior adviser to Biden, Greg Giroux reports. Democratic state Sens. Troy Carter and Karen Carter Peterson are vying for the seat. Carter's supporters include Richmond, Majority Whip Jim Clyburn (S.C.), Caucus Chair Hakeem Jeffries (N.Y.), and many unions.
Peterson's backers include progressives such as Rep. Alexandria Ocasio-Cortez (D-N.Y.) and Sen. Elizabeth Warren (D-Mass.), as well as environmental groups and Emily's List, which aids Democratic women who support abortion rights. Peterson would become the first Black woman to represent Louisiana in Congress. The 2nd District is a Black-majority and overwhelmingly Democratic area in and around New Orleans and Baton Rouge.
States Prepare for Reapportionment: Pennsylvania is one of the states Bloomberg Government's Greg Giroux will be watching when the Census Bureau releases official congressional apportionment figures later this month. The state's been on a losing streak – its House delegation has shrunk in nine straight reapportionments – and it's on track to make that 10 in a row. Read more on the states bracing for the Census report.
Google, Amazon Spent Millions Lobbying Amid Scrutiny: Technology giants, including Google and Amazon, spent millions on lobbying in the first quarter of 2021 as they face heightened scrutiny from Democrats and Republicans over alleged anticompetitive practices. Read more from Ilya Banares.
In the Courts
Deadline for Judicial Nominees Challenges Democrats: The Biden administration's aggressive timeline for vetting potential judges while seeking nominees who would bring experiential, racial, and gender diversity to the federal bench is proving difficult for several Democratic senators to meet. Senators from at least six states represented by two Democrats, including California, Virginia, and Massachusetts, have missed deadlines set by White House counsel Dana Remus. She had asked senators from states with vacant district court seats to submit recommendations by Jan. 19—the day before Biden's inauguration—and within 45 days of the announcement of a new vacancy. Read more from Courtney Rozen and Madison Alder.
Kavanaugh Ruling on Juvenile Life Terms Underscores Divide: The Supreme Court made it more likely that people who committed homicides as minors will die in prison, after ruling that judges aren't required to find them "permanently incorrigible" before imposing life-without-parole-sentences. Yesterday's ruling spotlighted the stark ideological divide on the 6-3 court, with Justice Brett Kavanaugh writing for the Republican-appointed majority over dissent by Justice Sonia Sotomayor for the Democratic appointees that accused the majority of gutting precedent. Read more from Jordan S. Rubin.
Around the Administration
Climate Summit Shows How Far U.S. Leadership Has to Go: Biden convened world leaders for a two-day virtual climate summit starting yesterday to send a message that the U.S. is back and ready to lead. Many of the 40 heads of state who participated had their own message for America: Prove it. Leslie Kaufman and Eric Roston review the highlights of day one.
Biden's Schedule: Climate Summit sessions continue today, and Biden will deliver remarks at 9:15 a.m.
The president today will also participate at 2:45 p.m. in a virtual Defense Department senior leaders conference.
Biden to Tap U.S. Safety Agency Leader: Biden is poised to nominate Jennifer Homendy, a member of the U.S. National Transportation Safety Board and former congressional aide, to become the investigative agency's new leader, two people familiar said. The nomination of Homendy could come as soon as this week, said the people. Homendy previously served as staff director on the House Subcommittee on Railroads, Pipelines, and Hazardous Materials. Read more from Alan Levin.
White House Taps Environmentalist for Land Management Bureau: The White House yesterday nominated Tracy Stone-Manning as the Bureau of Land Management director, potentially putting an environmentalist in charge of America's largest land-owning agency. Manning is a senior adviser for conservation policy at the National Wildlife Federation and is the organization's former associate vice president for public lands. If confirmed as land bureau chief, she would preside over all of America's onshore oil, gas and coal reserves and manage more than 244 million acres of federal public land, mostly in the West. Read more from Bobby Magill.
Afghanistan Exit Alarms Contractors: U.S. contractors are staring down a tight deadline—with very little direction—to move out of Afghanistan by Biden's planned troop withdrawal of Sept. 11. The Defense Department has 16,832 workers employed by contractors in Afghanistan, of whom 6,147 are U.S. citizens. That's more than double the remaining 2,500 U.S. troops. Contractors support the military with everything from lodging, laundry, and food to transportation, equipment maintenance, and fuel. Since 2002, the Pentagon has spent $107.9 billion on contracted services in Afghanistan, a Bloomberg Government analysis shows. Read more from Roxana Tiron and Paul Murphy.
Meanwhile, the Pentagon is planning an increase in air power over Afghanistan as it pulls out about 2,500 remaining troops as well as civilian contractors from the country by early September, General Kenneth McKenzie, head of U.S. Central Command, told reporters yesterday. "I would advise the Taliban that we will be well-prepared to defend ourselves throughout the withdrawal process," McKenzie said at a Pentagon briefing. He said Defense Secretary Lloyd Austin is now reviewing the level of additional air power, and final plans will be made public. Read more from Travis Tritten.
To contact the reporters on this story: Zachary Sherwood in Washington at zsherwood@bgov.com; Brandon Lee in Washington at blee@bgov.com
To contact the editors responsible for this story: Giuseppe Macri at gmacri@bgov.com; Michaela Ross at mross@bgov.com