What to Know in Washington: Biden Ups Pressure in Spending Pitch
President Joe Biden is ramping up pressure on Republicans to support his $2.25 trillion infrastructure plan, appealing directly to GOP voters while lawmakers are in their home districts during the current congressional recess.
Biden will deliver his second major sales pitch in a week for the "American jobs plan" with a White House speech today, as he and his team reach out to governors, mayors and the broader public through phone calls, briefings and local TV appearances to make their case.
"I'm going to push as hard as I can to change the circumstances so we can compete with the rest of the world," Biden said Monday when asked about negotiations with Republicans over the proposal. "Everybody around the world is investing billions and billions of dollars in infrastructure. And we're going to do it here."
White House aides have said they want Congress to make significant progress on an infrastructure bill by Memorial Day. House Transportation and Infrastructure Committee Chair Peter DeFazio (D-Ore.) said yesterday his panel aims to complete its part "probably" in the third week of May.
White House Press Secretary Jen Psaki said Biden will host lawmakers in the Oval Office to exchange views on the plan. But the White House is also prepared to use a budget measure called reconciliation that would allow Democrats — as long as they stay unified in the 50-50 Senate — to pass a bill without any Republican support.
Republican lawmakers have blasted Biden's plan, calling it too large after his $1.9 trillion pandemic-relief bill and saying it would damage the economy with the proposed corporate-tax hikes to help fund it. The White House is hoping to make an end-run around that criticism through public appeals.
"We hope that Republicans can join their constituents across the country in supporting this effort," Energy Secretary Jennifer Granholm said Sunday on CNN's State of the Union. "Ultimately, if that doesn't happen, he is elected to do the job, to win the future for America, to invest in our people." Read more from Nancy Cook.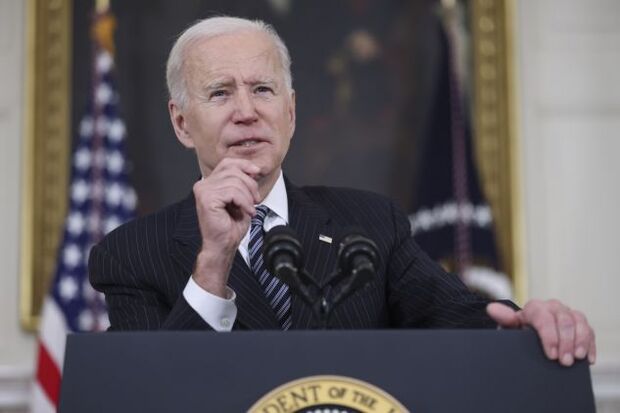 Biden's Economic Plan Hinges on Party Unity After Procedural Win: Biden now likely has several chances to pass parts of his economic agenda without needing any Republican votes, but that doesn't solve his biggest problem: keeping his own party unified.
Democrats could have at least three more chances in 2021 to pass legislation with a simple majority, instead of the 60 votes needed to overcome a Republican filibuster, thanks to a Monday ruling from Senate Parliamentarian Elizabeth MacDonough.
The details of that ruling and what it would mean in practice are still being litigated behind the scenes, but won't change the basic math governing Washington: Biden needs support of all 50 senators who caucus with Democrats, including Sen. Joe Manchin (W.Va.), who has already expressed some reservations. Read more from Steven T. Dennis and Erik Wasson.
Also on Lawmakers' Radars
Hoyer Unveils House Upcoming Agenda: House Majority Leader Steny Hoyer (D-Md.) is teeing up several bills around pay disparities and workplace violence when Congress returns next week, according to a letter to lawmakers yesterday. Legislation providing stronger protections for victims of wage discrimination (H.R. 7) would again be on the floor after passing in 2019 with mostly Democratic support. The House also plans to vote on a bill addressing workplace violence in health care and social service industries (H.R. 1195), which got support from 32 Republicans who joined Democrats in voting for the bill in 2019.
The week of April 19, the House plans to take up two bills on immigration, including one that aims to prevent future travel bans like those the Trump administration imposed and another to ensure detained immigrants have access to counsel. Lawmakers will also vote on whether D.C. should become a state (H.R. 51), a highly partisan issue that stands little chance to clear the Senate, Emily Wilkins reports.
Covid-19, Rare Diseases Frame Drug Pricing Debate: Tackling high drug prices will get a renewed focus in Congress this year as lawmakers turn their attention to boosting access to treatments for Covid-19, rare diseases, and other life-threatening conditions. Roughly two dozen bills are floating around Congress that would alter how drugs get marketing exclusivity, require companies to report planned price hikes, and allow the government to directly negotiate prices. One bill that would modify eligibility for five years of exclusivity sailed through the Senate but awaits action in the House. The others have yet to see action. Speaker Nancy Pelosi (D-Calif.) said last month that Democrats were weighing whether to add a provision to upcoming infrastructure legislation that would let the government negotiate drug prices. Such a provision is still in the works. Read more from Jacquie Lee.
Look for Auto-Enroll, Student Loan Provisions in Retirement Bill: Benefits advisers encouraged by a major retirement savings overhaul in 2019 are calling on Congress for a complementary legislative package that could include automatic enrollment and student loan repayment provisions. The House introduced Securing a Strong Retirement Act of 2020 at the end of the last legislative session, but, with strong bipartisan support and ties to a similar Senate-backed proposal, it's expected to form the framework for a new package dubbed the "SECURE Act 2.0″ on Capitol Hill. Read more from Austin Ramsey.
Trump-Era Tax Break Seen as Key to Wyden's Global Overhaul Plans: A key part of top Senate Democrats' global tax plan would use a Trump-era tax break to help levy higher taxes on corporate income from tax havens. The plan, spearheaded by Senate Finance Committee Chairman Ron Wyden (D-Ore.) and released Monday, contemplates using a 2020 regulation issued by then-President Donald Trump's Treasury Department that allows U.S. multinationals to avoid paying U.S. taxes on some of their foreign income that's already highly taxed abroad. Read more from Michael Rapoport.
Around the Administration
Biden Urges Opening Vaccine to All Adults: Biden said yesterday that he wants all American adults to be eligible for a coronavirus vaccine by April 19, citing a target date all but two states are already set to meet. "By no later than April 19 in every part of this country, every adult over the age of 18 — 18 or over — will be eligible to be vaccinated. No more confusing rules. No more confusing restrictions," Biden said at the White House. Read more from Jennifer Jacobs, Josh Wingrove and Angelica LaVito.
Garland Shuns Spotlight in Bid to Rebuild DOJ: Merrick Garland had been attorney general for less than a week when a gunman killed eight people in the Atlanta area, six of whom were Asian women, sending a wave of terror through the Asian-American community and reigniting a national debate on gun control. But in a break with his predecessors' actions, the nation's top law enforcement officer largely stayed out of public view, working behind the scenes to shape the department's response.
The move was part of a conscious strategy to steer clear of politics and the limelight, according to interviews with Justice Department officials. Yet it also carries risks as the Justice Department confronts a slew of several highly-charged issues, including prosecutions stemming from the Jan. 6 riot at the Capitol to a wave of bills in state legislatures that Biden's supporters say are meant to disenfranchise minorities. Read more from Chris Strohm.
Biden, Touting Fed Independence, Says Yet to Speak With Powell: Biden said he hasn't spoken with Federal Reserve Chair Jerome Powell since taking office more than two months ago, citing respect for the central bank's independence and marking a sharp turn from his predecessor, Trump. "The Federal Reserve is an independent operation and, starting off my presidency, I want to be real clear that I'm not going to do the kinds of things that have been done in the last administration," Biden said yesterday in response to a question. Read more from Jennifer Jacobs and Saleha Mohsin.
EPA Chief Focuses on Climate Goals and Hiring Scientists: Biden has promised to put the U.S. on a path to net-zero greenhouse gas emissions by 2050 that also turns around decades of environmental injustice, in which poorer and non-White communities have carried a heavier burden from pollution. Meeting both goals will go through Michael Regan, the new leader of the Environmental Protection Agency. Before he even begins pursuing what he terms an "aggressive climate agenda," Regan faces the daunting task of rebuilding an agency left in disarray by the previous administration. Read more from Jennifer A Dlouhy and Stephen Lee.
Labor Chief Walsh Puts Hold on OSHA Virus Rule for More Analysis: Release of OSHA's Covid-19 emergency temporary standard is on hold at the request of Secretary of Labor Marty Walsh. "Secretary Walsh reviewed the materials, and determined that they should be updated to reflect the latest scientific analysis of the state of the disease," a Labor Department spokesperson told Bloomberg Law yesterday. Read more from Bruce Rolfsen and Courtney Rozen.
Biden Intends to Nominate Robin Carnahan to Lead GSA: Biden plans to nominate former Missouri Secretary of State Robin Carnahan as administrator of the General Services Administration, the White House said in a statement, Teaganne Finn reports.
Elections, Politics & Influence
McConnell Now Decries Corporate Politicking He Once Championed:Mitch McConnell (R-Ky.) is telling U.S. chief executives to stay out of politics in response to the corporate backlash against a new GOP Georgia voting law—a shift for the Senate Republican leader who has long encouraged corporate political activity in the form of donations. "My advice to the corporate CEOs of America is to stay out of politics," McConnell said at a news conference on Monday. "Don't pick sides in these big fights." But he added, "I'm not talking about political contributions." Read more from Mark Niquette and Bill Allison.
Voting Fight Signals a Rupture Between Big Business and the GOP: Like so much else in American politics, the corporate backlash to Republican-led voter-suppression bills in Georgia and Texas is a direct consequence of Trump's presidency—in this case, the manner in which it ended. Companies from Coca-Cola to Delta Air Lines to Microsoft and dozens of others have condemned a wave of new voting restrictions pushed by Republicans to limit or ban absentee voting, mail voting, drop boxes, and even providing water to people standing in line to cast their ballot.
The sudden blitz of voting restrictions has an unmistakable purpose: A report from the Brennan Center for Justice at New York University Law School found that "the cumulative effect of so many targeted bills will reduce access to the ballot box for Black voters." Read more from Joshua Green.
Firebrands Get Path to Campaign Cash in Democratic Election Bill: Democrats in Congress are trying to increase the clout of small donors, yet a provision in their voting-rights legislation risks favoring candidates from either party who hold polarizing views and widening ideological divisions on Capitol Hill. As part of the sweeping voting-rights bill, House candidates who opt into public financing would get a 600% match for individual contributions of as much as $200, a move intended to lessen the power of deep-pocketed backers. Small-dollar donors, however, tend to give more to candidates who draw national attention as firebrands — meaning the provision could end up rewarding partisanship. Read more from Bill Allison.
Democrats Betting Millions on Flipping 'Must-Win' Seat in Senate: The Democratic primary for a Pennsylvania Senate seat that's key to future control of the chamber is shaping up to be expensive and crowded, with Lt. Gov. John Fetterman setting the pace with a substantial early cash haul. Fetterman's receipt of $3.9 million in first quarter contributions already is starting to affect the 2022 race to replace retiring Republican Patrick Toomey, according to outside analysts and campaign aides.
"It certainly helps" get him attention and support from national Democrats seeking to expand their majority, said J. Miles Coleman, an analyst at the University of Virginia Center for Politics who analyzes Senate races for political scientist Larry Sabato's Crystal Ball race ratings. Pennsylvania is "probably the closest thing to a must-win seat" for Democrats if they want to expand their hold on the Senate, Coleman said. Read more from Kenneth P. Doyle.
Share of Democrats in U.S. Spikes After Biden Win, Poll Shows: A new poll conducted since Trump left office shows a 9-point gap between the number of Americans who identify as Democrats or lean Democratic, compared to those aligned with the Republican Party, the largest gap in almost a decade. A Gallup poll conducted from January to March showed that 49% of respondents consider themselves Democrats or leaning that way, while 40% consider themselves Republicans or lean that way. Read more from Emma Kinery.
Justice Breyer Rejects 'Conservative' Tag for U.S. Supreme Court: Justice Stephen Breyer rejected the characterization of the U.S. Supreme Court as "conservative," pointing to its decision to stay out of the 2020 presidential election fray as evidence that the court doesn't operate as a political body. Speaking at a Harvard Law School event yesterday, the Democratic-appointed Breyer also cited recent decisions upholding the Affordable Care Act, reaffirming abortion rights and rebuffing Trump on his immigration policies in arguing that Supreme Court justices shouldn't be seen as "junior league politicians." Read more from Greg Stohr.
To contact the reporter on this story: Giuseppe Macri in Washington at gmacri@bgov.com
To contact the editor responsible for this story: Michaela Ross at mross@bgov.com