What to Know in Washington: Biden Unveils Big Family Aid Plan
President Joe Biden will unveil today a sweeping $1.8 trillion plan to expand educational opportunities and child care for families, funded in part by the largest tax increases on wealthy Americans in decades — the centerpiece of his first address tonight to a joint session of Congress.
Called the American Families Plan, Biden's third major legislative proposal combines $1 trillion in spending with $800 billion in tax cuts and credits for middle- and lower-income families.
The plan would make pre-kindergarten and community college free across the country, extend the child tax credit through 2025 and make permanent an expansion of the earned income tax credit to childless adults with low incomes, provide direct support to families for child care, finance teacher training and create a national paid family leave program.
The proposal follows on the heels of a $2.25 trillion infrastructure plan that has yet to be taken up by Congress and a $1.9 trillion pandemic relief plan that Biden has signed into law. Together, the measures would remake the U.S. tax code and social welfare programs, vastly expanding federal support even for families that consider themselves upper-middle class while substantially shifting the overall tax burden to the wealthy.
"The president has been clear that our tax system is broken when a hedge fund manager making hundreds of millions of dollars is paying taxes at a lower rate than the janitor working in his office or the housekeeper at his mansion," White House senior adviser Anita Dunn wrote yesterday in a memo obtained by Bloomberg News. "And he's going to take steps — steps which are supported by the American public — to address the fairness in the tax code." Read more from Nancy Cook and Justin Sink.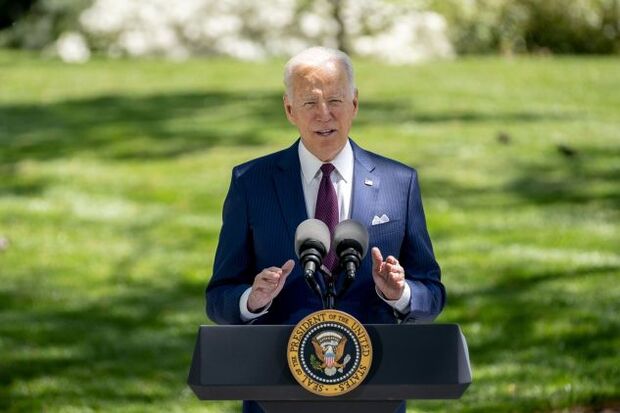 Biden's Plan Would Eliminate Private Equity's Coveted Tax Break: Private equity's most lucrative tax break is in peril once more. Included in Biden's plan is a call on Congress to abolish the preferential treatment given to a key method of compensation for private equity managers.
In addition to salaries, those managers rely especially on a share of the appreciation in the assets they oversee — known as carried interest. Those profits — sometimes in the millions of dollars — have been taxed as capital gains, at a rate much lower than the top marginal income tax rate applied to wages. Lawmakers have long battled over the benefit's validity, and Congress will ultimately be the arbiter of the latest proposal. Biden's plan would not only raise the top rate on capital gains for the wealthiest, but do away with the tax break altogether. Read more from Sabrina Willmer and Melissa Karsh.
More on the Plan:
Happening on the Hill
Today's Agenda:
Senate to Start Undoing Trump's Rollbacks Using Once Obscure Law: Senate Democrats will begin using a special procedure to undo parts of Donald Trump's regulatory agenda today, starting by rescinding a measure that made it harder for the Environmental Protection Agency to limit leaks of the powerful greenhouse gas methane from oil and gas wells. The vote on the methane rule is the first of several that Democrats plan to use under the Congressional Review Act. That 1996 law allows lawmakers to rescind federal regulations passed in the waning days of a presidential administration as long as they act within a few months of a new Congress. Read more from Ari Natter.
Circuit Pick Jackson's Reversals a Likely Target for Senate GOP: Republicans are expected to make U.S. District Judge Ketanji Brown Jackson the focus when Biden's first five judicial nominees appear before the Senate Judiciary Committee today. Jackson, who was nominated for a seat on the D.C. federal appeals court, is considered a contender for further elevation as the first Black female justice should a vacancy open on the Supreme Court. Read more from Madison Alder.
Democrats' Push to Lower Medicare Age: Congressional Democrats appear to have found common ground in a proposal that has animated both their progressive and moderate factions: lowering the Medicare eligibility age from 65 to 60—or even lower. Supporters want to help fund the benefits expansion with $456 billion that Medicare could save over 10 years through Biden's plan to let the program negotiate its own drug prices. After the massive loss of jobs and employer-based health coverage due to Covid-19, Democrats say public support for their plan is strong. Read more form Tony Pugh.
Republicans Use Medical Backgrounds to Tout Vaccine: A group of Republican lawmakers with backgrounds as medical professionals launched a public service campaign yesterday to encourage people to get Covid-19 vaccines as polls show a substantial chunk of Republicans are resisting getting the shot. Sen. John Barrasso, a physician, said hesitancy in his home state of Wyoming is one of the reasons he wanted to take part in the campaign, which was initiated by Sen. Roger Marshall (Kan.), a medical doctor, Jarrell Dillard reports.
Republican Criticizes China Competition Bill: A bipartisan Senate bill that seeks to bolster U.S. competition with China would create duplicative multibillion-dollar programs, the head Republican on the House Energy and Commerce Committee said. The measure, "which tries to beat the Chinese Communist Party at their own game of expansive government subsidies, is not how we will win the future," Rep. Cathy McMorris Rodgers (R-Wash.) said of the measure. Read more from Megan Howard.
Congress Asked to Revive Consumer Relief Authority: The acting chief of the Federal Trade Commission urged Congress to restore the agency's authority to return money to consumers harmed by fraudsters, following last week's Supreme Court decision that sharply reduced its powers. The FTC lost its best tool to get consumer redress when the Supreme Court removed its monetary relief powers under Section 13(b) of the FTC Act, Acting Chair Rebecca Slaughter told a House Energy and Commerce subcommittee. Read more from Siri Bulusu.
Scam Political Giving Sparks Federal Scrutiny: The growth in political contribution fraud, fueled by the ease of online fundraising and lax government oversight, is prompting warnings by law enforcement and a renewed effort by a top federal election official to provide more transparency about scam operators. The FBI is receiving more complaints than ever about potentially crooked political action committees that benefit deceptive operators and vendors, according to a report released this month. The bureau recommended greater vigilance and more research by donors. Read more from Kenneth P. Doyle.
What Else to Know
Kahl Wins Pentagon Post Despite Complaints: Colin Kahl won Senate confirmation as the Defense Department's policy chief yesterday over objections from Republicans on his possible disclosure of classified information on social media and his role in negotiating the 2015 Iran nuclear deal. The vote was 49-45 for Kahl, who as under secretary of defense for policy will advise Defense Secretary Lloyd Austin both on broad strategy and on more immediate concerns, including completing budget plans for the coming fiscal year and planning the withdrawal of U.S. troops from Afghanistan. Read more from Roxana Tiron.
Biden Targets Smuggler Finances, Visas: The Biden administration is targeting criminal networks in a bid to counter the smuggling of migrants, while curtailing civil enforcement actions in or near courthouses against those currently in the U.S. "Smugglers disregard our borders, and our laws, while endangering the lives of those they smuggle," Ian Brownlee, acting assistant secretary for consular affairs at the State Department, said on a call with reporters yesterday. "This operation allows us to both protect our borders, and to protect would-be immigrants from those who trade in the desperation of others." Read more from Shaun Courtney.
Deported Green Card Holders at Supreme Court: The U.S. Supreme Court seemed primed after oral arguments to rule against former green card holders unlawfully deported due to a change in federal law, suggesting they must continue to pursue their claims even if it seems like an impossible task. Justice Clarence Thomas got right to the point during the proceeding, asking why the Department of Justice was even "pursuing this case if you would say today he would not be deported." Read more from Kimberly Strawbridge Robinson.
'Ghost Gun' Plans Can Be Posted Online: Plans for so-called ghost guns can be posted online after a federal appeals court overturned an injunction blocking the move and reinstated a Trump administration order that opened the door to the practice. The State Department in 2018 removed 3D-printed guns from the Munitions List, and they were placed on the Commerce Control List, which is regulated by the Department of Commerce. That change effectively allowed plans for their construction to be posted online. Read more from Joe Schneider.
To contact the reporters on this story: Zachary Sherwood in Washington at zsherwood@bgov.com; Brandon Lee in Washington at blee@bgov.com
To contact the editors responsible for this story: Giuseppe Macri at gmacri@bgov.com; Michaela Ross at mross@bgov.com