What to Know in Washington: Biden, Trudeau Work on Relations
President Joe Biden will seek to repair relations with Canada that have been strained by disputes over trade and an oil pipeline as he meets virtually with Prime Minister Justin Trudeau today.
The two leaders plan to unveil a road map on how to improve cooperation on a range of topics, from global alliances to the coronavirus, according to a senior U.S. official, who requested anonymity to preview the meeting.
As part of that effort, Biden and Trudeau will announce a forthcoming ministerial meeting on climate and the resumption of the Cross-Border Crime Forum, an annual gathering of top law enforcement officials from each country to examine ways to collaborate on counterterrorism and efforts to combat smuggling, and organized crime.
The meeting, set for late afternoon, comes at a time when Canadians have become increasingly uncertain about where they stand with their closest ally. After four years of bruising trade battles with Donald Trump, the Biden administration already has canceled a permit for TC Energy's Keystone XL oil pipeline and threatened new "Buy American" provisions for government procurement contracts.
But the White House is hoping to improve the tenor of relations with a coronavirus-era variation of the longstanding tradition of the U.S. president making his first foreign trip to Canada. Read more from Justin Sink and Theophilos Argitis.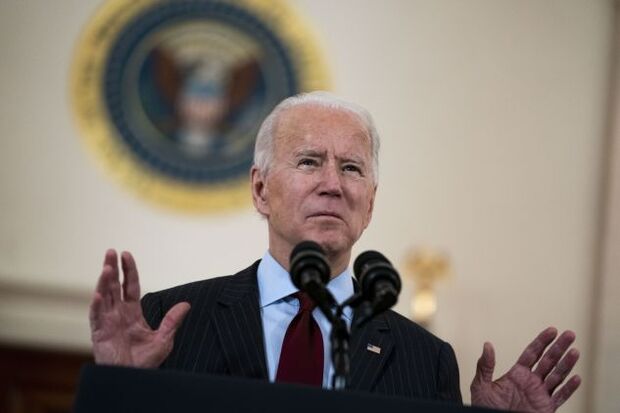 Trade Chief Tasked With Reset: Katherine Tai, Biden's pick for U.S. Trade Representative, will take a methodical approach as America's top trade official, as well as the hard line she's expected to pursue in U.S.-China negotiations. Biden is banking on Tai's low profile — she's not as well-known as some of his other economic advisers – and her pragmatic style to distance him from the chaos that defined the Trump administration's trade agenda.
Biden plans to take a more careful approach to trade, but his administration has provided scant details on the specific policies he'll pursue. Tai's confirmation hearing Thursday before the Senate Finance Committee will be one of the first opportunities to hear more about the administration's plans and her personal views on a long list of challenges ahead. Read more from Jenny Leonard.
Happening on the Hill
Pentagon Spending May Escape Deep Cuts: The high price tag of taming the coronavirus pandemic and pressure from some Democrats to significantly reduce the Pentagon's $700 billion budget probably won't force arbitrary national security budget cuts, the Senate Armed Services Committee's new chairman said. "Arbitrary reductions would not be the right way to go," Sen. Jack Reed (D-R.I.), who leads the panel, said in an interview yesterday. Congress will weigh Biden's first budget request and review the military services' proposals to see if they cut unnecessary, so-called "legacy" weapons programs and facilities, Reed said. Read more from Roxana Tiron and Tony Capaccio.
Capitol Security Flaws Probed: Three former top U.S. Capitol security officials are facing aggressive questions from two Senate panels digging into the lapses that allowed a mob of Trump's supporters to overwhelm police officers and ransack the building as Congress was certifying the presidential election results. The joint hearing of the Senate Homeland Security and Rules and Administration Committees today is the first in a series of lawmaker inquiries into the origins of the Jan. 6 insurrection and the failure of the Capitol's security forces to anticipate and then quell the riot, which left five people dead. Billy House previews the hearing.
Senate Probes Solarwinds Hack: The suspected Russian hackers who compromised software created by SolarWinds to break into American agencies and companies used a cyber weapon "so potentially powerful it could have been crippling," according to Sen. Mark Warner (D-Va.), chairman of the Senate Intelligence Committee. Warner called the hacking campaign "a level of attack and level of penetration that is much greater than what we have seen" in previous cyberattacks on the U.S. His comments came during an interview yesterday with Bloomberg News, a day before executives from key technology companies, including SolarWinds, testify before his committee about the sprawling breach. Warner's committee will convene this afternoon for the first public hearing on the attack, which was disclosed in December. Read more from Alyza Sebenius and Kevin Cirilli.
Homeland Security Secretary Alejandro Mayorkas is trying to assure lawmakers that cybersecurity is a leading concern as Congress prepares for a series of hearings into recent breaches and attacks on federal agencies and critical infrastructure. "Cybersecurity is more important than ever," he said as members of both chambers prepare hearings on the SolarWinds hack. Read more from Shaun Courtney.
Manchin Undecided on Biden's Pick to Run Interior: Sen. Joe Manchin (D-W.Va.) is undecided on Rep. Deb Haaland (D-N.M.), Biden's nominee to run the Interior Department, Manchin spokeswoman Sam Runyon said in an email late yesterday. Manchin, a moderate, chairs the Senate Energy and Natural Resources Committee, which will hold a nomination hearing on Haaland today, and also serves as a key swing vote in the narrowly divided Senate, Ari Natter reports. Kellie Lunney previews today's hearing here.
Murkowski Undecided on OMB Pick Tanden: Senator Lisa Murkowski (R-Alaska) says she has not decided how she will vote on Neera Tanden's nomination to lead the Office of Management and Budget. Murkowski told reporters she has not spoken to the White House about Tanden's nomination, Laura Litvan reports. Tanden will need the backing of at least one Republican after Manchin said last week he wouldn't vote to confirm her.
Timmons to be GOP Leader on Modernization Panel: Rep. William Timmons (R-S.C.) will serve as the top Republican on a temporary House select committee focused on modernizing Congress. Rep. Derek Kilmer (D-Wash.) will again serve as chair of the evenly divided panel, which made dozens of bipartisan recommendations in the 116th Congress, Emily Wilkins reports.
Around the Administration
Death Toll Reaches 500,000 in U.S.: A half-million Americans are now dead as a result of the novel coronavirus that first hit U.S. shores just a little more than a year ago, a dark milestone that's left families mourning nationwide. U.S. deaths surpassed that 500,000 mark yesterday. Global deaths related to Covid-19 are 2.5 million, with the U.S. leading all countries with more than twice the number recorded by the next closest, Brazil.
Still, hospitalizations and deaths have fallen since peaking in early January as treatments have improved, and a rising number of Americans have gotten natural immunity from surviving the virus, with more people getting shots of vaccines. There's still a threat, though, from swift-moving mutations that have emerged in the U.K., South Africa and Brazil, and are now seen in the U.S. Read more from Reg Gale and Ros Krasny.
Biden marked the "truly grim, heartbreaking milestone" during a candlelit ceremony at the White House yesterday. The president asked Americans to join him in a moment of silence and to wear masks and practice social distancing to "spare more pain and more loss." The president also ordered all flags on federal property to be lowered to half-staff over the next five days, the White House said. Justin Sink and Jenny Leonard have more.
UN Security Council Takes Up Climate Change: Wealthy nations will come under pressure to boost funding to tackle climate change during a United Nations discussion that will warn how unchecked rising temperatures could stir resource depletion, wars and mass migration. The discussion will be led by U.K. Prime Minister Boris Johnson and include participants such as Biden's chief climate envoy, John Kerry. Read more from Jessica Shankleman.
U.S. to Probe Grid Reliability, Market Abuse: U.S. energy regulators will examine the threat from climate change and whether markets were manipulated after the deep freeze last week that caused blackouts and surging power prices. The Federal Energy Regulatory Commission will investigate the risks that climate change and extreme weather pose to electric reliability, according to a statement. Read more from Naureen S. Malik.
Biden Administration Tweaks School Testing Requirements: The Department of Education will keep federal school testing requirements for the 2020-21 school year but offer states flexibility on accountability as well as the timing and format of tests, the agency said yesterday, Andrew Kreighbaum reports. The Trump administration granted each state waivers for testing requirements last year as the Covid-19 pandemic forced the closure of schools across the country. Many state and local school administrators have called for new waivers while testing advocates, including influential Congressional Democrats, say assessments are still needed to measure student struggles during the pandemic.
Politics & Influence
Trump Taxes Will Soon Be in Prosecutor's Hands: Trump, who managed to keep his tax returns a secret the entire time he was in the White House, is about to see them fall into the hands of a New York prosecutor looking into possible criminal charges against him. Manhattan District Attorney Cyrus Vance Jr. subpoenaed Trump's accounting firm for eight years of records in 2019, but the then-president took the case to the U.S. Supreme Court, twice. Yesterday, the justices abruptly rejected Trump's final bid to block Vance, a Democrat. Greg Farrell and Greg Stohr have more on what's at stake for Trump.
Corporate Backers Abandon Mo Brooks: Rep. Mo Brooks (R-Ala.) won national notoriety on Jan. 6 when he told a restless crowd to "start taking down names and kicking ass," shortly before some listeners besieged the U.S. Capitol. Hours later, Brooks objected to the electoral vote count that made Biden the winner of the 2020 presidential race. Corporate donors have since backed away from Brooks and others who objected to certification, but in an era of one-click donations, individual voters can fund huge campaign accounts a few dollars at a time. Brooks may be calling on them soon. Read more from Margaret Newkirk and Brett Pulley.
Walden Launches Strategic Advisory Firm: Greg Walden is joining the ranks of former lawmakers on K Street. The Oregon Republican's new strategic advisory firm, Alpine Advisors, went live yesterday, weeks after he retired from Congress in January following his 11th term. The venture is a partnership with top lobby shop Alpine Group, whose clients include Shell Oil, U.S. Cellular, Edison Electric Institute, Amgen, Duke Energy, and Ford. Walden, who once ran a family radio company with his wife, still considers himself an entrepreneur — choosing to build his own business, rather than going to a large firm. Read more from Megan R. Wilson.
With assistance from Emily Wilkins and Andrew Kreighbaum
To contact the reporters on this story: Giuseppe Macri in Washington at gmacri@bgov.com; Brandon Lee in Washington at blee@bgov.com
To contact the editors responsible for this story: Zachary Sherwood at zsherwood@bgov.com; Loren Duggan at lduggan@bgov.com; Michaela Ross at mross@bgov.com