What to Know in Washington: Biden to Visit Busiest US Port
President seeks to head off supply chain woes
New gun controls would cost billions
President Joe Biden's administration is trying to avert another inflation-spawning logjam at the nation's busiest seaport, just as the economy is starting to recover from the last one.
Biden will visit the port of Los Angeles on Friday with the White House closely watching talks on a new union contract for 22,000 West Coast dockworkers. A collapse of the negotiations risks a work stoppage during the port's busiest time of year, one that would snarl US supply chains still suffering pandemic disruptions.
The International Longshore and Warehouse Union and the Pacific Maritime Association, which represents more than 70 terminal operators and ocean carriers, are negotiating in San Francisco over a contract for workers at 29 ports in California, Oregon and Washington. The current pact expires July 1.
The president and his administration have helped since last year to reduce massive backlogs at the twin ports of Los Angeles and Long Beach that contributed to inflation across the US. Together, the two ports handle the most container traffic in the country.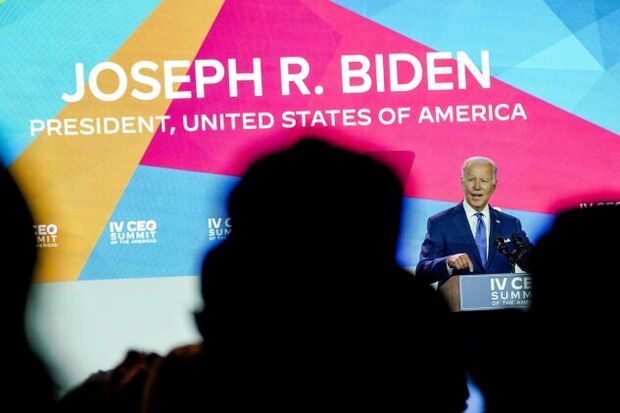 Biden, who's pledged to be the most pro-union president in US history, has directed Cabinet members and supply-chain experts to smooth negotiations between the ports and dockworkers in hopes of avoiding a repeat of the months-long disruptions that followed a 2014 labor dispute.
Highlighting the stakes, Biden will discuss the latest data on US inflation while at the port and argue that cutting shipping costs will curb price increases, a White House official said. Augusta Saraiva has more.
Happening on the Hill
Senators negotiating new gun legislation are proposing billions in new federal programs for mental health services and school security as well as grants to states to enact so-called red flag laws. Deciding where that money comes could add a wrinkle to the talks as Republicans and Democrats struggle to find some common ground on policies to respond to the massacres last month at an elementary school in Uvalde, Texas, and a grocery store in Buffalo, New York, that killed a total of 31 people. Read more from Laura Litvan and Steven T. Dennis.
Texas Governor Greg Abbott Thursday directed the Texas Education Agency to create a new position of school safety and security chief following the Uvalde school shooting last month, Shelly Hagan reports.
Congress will likely rely on a stopgap funding measure to keep the government running beyond Sept. 30, though they could at least manage to strike a deal in November or December, a key senator told reporters Thursday. Lawmakers are "looking at a CR right now," Senate Appropriations Vice Chairman Richard Shelby (R-Ala.) said, referring to a continuing resolution, as an agreement on total spending for next year remains elusive. Jack Fitzpatrick has more.
Senate Intelligence Chair Mark Warner (D-Va.) has joined a bipartisan group of senators unveiling a bill to create an Office of Global Competition Analysis, Daniel Flatley reports. The bill would authorize $20 million to set up the office—which would be staffed by people from the Treasury, Commerce and Defense Departments along with members of the intelligence community—and Sen. Michael Bennet (D-Colo.) plans to advocate to include it in the Intelligence Authorization Act, his office said in a statement.
Sen. Elizabeth Warren (D-Mass.) and Rep. John Garamendi (D-Calif.) introduced legislation to help prevent price gouging by defense contractors of the military, Alisa Parenti reports. The bill would require contractors to provide cost information if there isn't adequate price competition, and would also seek to tie payments to performance.
A tug of war between legislation aimed at reducing asbestos' deadly effects and concerns that the bill's timeline to ban the chemical could jack up drinking water costs and impede medicine production played out during a Senate hearing Thursday.
Asbestos is used to make the chlorine used to disinfect drinking water. Chlorine can be made in other ways, but the bill's requirement to phase out asbestos imports in two years would reduce chlorine supplies and raise costs, Robert J. Simmon, a vice president of the American Chemistry Council said at a Senate Committee on Environment and Public Works subcommittee hearing on the Alan Reinstein Ban Asbestos Now Act of 2022 (S. 4244). Pat Rizzuto has more.
Democrats on a House climate panel praised Biden administration officials at a hearing Thursday for hitting the ground running on ocean climate action, but expressed worry about deepening issues of climate change. The climate crisis is an ocean crisis, Rep. Kathy Castor (D-Fla.) said at a House Select Committee on Climate Crisis hearing on Thursday. Read more from Nyah Phengsitthy.
Elections & Politics
House lawmakers investigating the US Capitol insurrection detailed then-President Donald Trump's efforts to undo his election loss during a televised hearing that ended with the chilling account of a police officer injured in the Jan. 6, 2021, melee.
She was one of two witnesses to appear at Thursday night's hearing, the first of seven sessions that the committee says will reveal the key role Trump played in piling up lies to build a false narrative about the 2020 election. Read more from Mike Dorning and Billy House.
Ivanka Trump, the daughter of Trump and a former White House adviser, said she accepted that there was no evidence of fraud and that her father had lost the 2020 election. A clip of her testimony was played during the hearing, Mike Dorning reports.
Jared Kushner, the son-in-law of Trump, told House investigators that he hadn't taken seriously the White House counsel's threats to resign over Trump's attempts to overturn the 2020 election. He dismissed it as "whining." Dorning recaps more of the hearing.
Lawyers for members of the right-wing Proud Boys accused the US of bringing seditious-conspiracy charges against their clients to coincide with televised congressional hearings on the Capitol riot starting Thursday night. Sabrina Willmer covers the reaction.
The US Supreme Court issued a fresh sign of its divide over voting issues, allowing the counting of disputed mail-in ballots in a local Pennsylvania election.
Over three dissents, the justices left in force a federal appeals court ruling that said the 257 ballots should be counted even though they lacked a required date on the return envelope. The high court order is a setback for David Ritter, a Republican who holds a 71-vote lead over Democrat Zachary Cohen in a 2021 race for a Lehigh County judgeship and is trying to block the processing of additional ballots. Read more from Greg Stohr.
The US Court of Appeals for the Fifth Circuit on Thursday issued an administrative stay that blocks a judge's order that Louisiana should redraw its new congressional map to include a second majority-Black district. Meghashyam Mali and Jennifer Kay have more.
Around the Administration
BIDEN'S AGENDA:
The president delivers remarks on inflation and supply chain issues at the Port of Los Angeles at 10:45 a.m. Pacific time.
He'll meet with delegations at the Summit of the Americas throughout the day before participating in two Democratic National Committee receptions at 5 p.m. and 7 p.m.
Biden welcomed Western Hemisphere leaders to the Los Angeles Summit of the Americas, assuring them that the region remains a priority for the US. The president said his administration is eager to work with Latin American governments to boost food security, fight and adapt to climate change and improve health systems. He promoted a migration pact due to be announced Friday without revealing new details. Read the latest from Bloomberg News.
The Department of Health and Human Services' new top lawyer will step into thousands of high-profile legal challenges that test the bounds of the agency's authority as it targets novel public health threats with unprecedented policies.
The Senate voted 49-43 Thursday to confirm the nomination of Samuel Bagenstos to serve as general counsel. He will defend the agency against litigation over vaccine mandates, efforts to end surprise medical billing, and payment cuts to hospitals participating in a federal drug discount program. Read more from Allie Reed.
Treasury Secretary Janet Yellen rejected the idea that corporate greed is causing the US inflation surge, differing with fellow Democrats who have accused big businesses of price gouging. Christopher Condon has more.
Yellen said that crytocurrency assets are a "very risky" choice to include in the retirement plans of average savers, and that it would be reasonable for Congress to address the danger. Read more from Condon.
NASA is setting a team to conduct a scientific study into the existence of "unidentified aerial phenomena" — popularly known as UFOs, Lindsey Rupp reports. The study will begin in the early fall and take about nine months to complete, costing no more than $100,000, said Daniel Evans, the assistant deputy associate administrator for research at NASA's Science Mission Directorate. The resulting report will be published in full and NASA will hold meetings to discuss its findings with the public.
US relations with China are likely in the worst state since former President Richard Nixon's historic trip in 1972 helped re-establish diplomatic ties between Washington and Beijing, according to Nicholas Burns, the current American ambassador to the Asian nation. Iain Marlow and Ana Monteiro recaps his remarks.
To contact the reporter on this story: Giuseppe Macri in Washington at gmacri@bgov.com
To contact the editors responsible for this story: Andrew Small at asmall@bgov.com; Loren Duggan at lduggan@bgov.com