What to Know in Washington: Biden to Unveil Student Loan Plan
Biden to announce loan plan after year of temporary pauses
House Judiciary Chair Nadler ousts Oversight Chair Maloney
President Joe Biden will make a long-awaited announcement on student debt relief today, and yet some of the biggest drivers behind the forgiveness plan will be left disappointed. Biden plans to unveil his approach Wednesday, according to people familiar with the timing.
For several months, Biden has been weighing forgiving $10,000 per borrower in student debt and capping the relief at incomes of $125,000 to $150,000 a year. But advocates—including progressive lawmakers, civil rights groups and labor leaders—have all pressured the White House to forgive higher debt-loads, arguing they are disproportionately carried by Black and lower-income students. These leaders and groups, including the NAACP, would like Biden to forgive $50,000 per borrower.
"If the rumors are true, we've got a problem. And tragically, we've experienced this so many times before," said NAACP President Derrick Johnson in a statement Tuesday. "This is not how you treat Black voters who turned out in record numbers and provided 90% of their vote to once again save democracy in 2020."
Senate Majority Leader Chuck Schumer (D-N.Y.), in a telephone conversation on Tuesday night, urged Biden to cancel as much debt as possible, according to a Democrat familiar with the call.
Biden allies and advocates also expect the president to extend the pause on repaying student loan debt for a few more months, likely through December 2022. That would take the repayment freeze beyond the November midterms, in which Democrats are hoping to stave off a loss of their slim House and Senate majorities. Support from younger voters could help boost Democrats' showing in the upcoming balloting. Read more from Nancy Cook and Josh Wingrove.
Forgiving student debt will cost between $300 billion and $980 billion over 10 years, according to a new analysis, with the majority of relief going toward borrowers in the top 60% of earners. The latest Penn Wharton Budget Model estimate—influential with key lawmakers including Sen.

Joe Manchin

(D-W.Va.)—was released Tuesday ahead of Biden's long-anticipated announcement. Read more from Nancy Cook.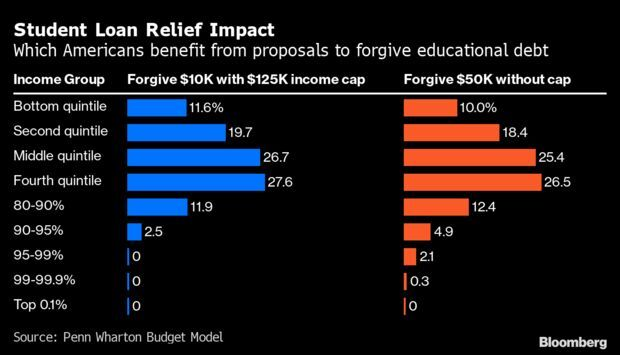 Elections, Politics & Probes
Jerrold Nadler beat fellow incumbent Carolyn Maloney in a race that pit the two 30-year congressional veterans against one another. The 12th Congressional District matchup on Manhattan's Upper West Side and Upper East Side featured two powerful committee chairs: Nadler, 75, on the Judiciary Committee and Maloney, 76, on Oversight. A third candidate, Suraj Patel, is a 38-year-old former adviser to President Barack Obama who touted himself as a generational alternative.
Nadler as of this morning had 55% of the vote to Maloney's 24% and Patel's 19%. "The voters made themselves clear tonight," he said in a victory speech Tuesday. Maloney, in her concession speech, said she continued to face misogyny after a 30-year career in Congress. "I'm really saddened that we no longer have a woman representing Manhattan in Congress, and we cannot and will not give up. The fight continues," she said. Read more from Gregory Korte.
Dan Goldman, a Levi Strauss heir who was lead Democratic counsel during Donald Trump's first impeachment case, won the House primary in New York's 10th Congressional District, a race that was reshaped by a court ruling earlier this year and marked by fierce competition. Goldman won with 25.8% of the vote at 12:39 a.m., The Associated Press reported. State Assemblywoman Yuh-Line Niou was second with 23.7% of the vote, followed by incumbent Rep. Mondaire Jones. Emma Court has more.
In Florida, Rep. Charlie Crist will be the Democratic candidate to challenge incumbent Gov. Ron DeSantis this November, in an election that could have nationwide implications for the 2024 presidential contest. Anything less than a convincing win over Crist could spell doom for DeSantis' possible White House aspirations. Read more from Mark Niquette.
In New York's Hudson Valley, Rep.

Sean Patrick Maloney

, who is leading the Democratic effort to keep control of the House, trounced progressive state Sen. Alessandra Biaggi, by over 34 percentage points, The Associated Press reported.
Also in Florida, Rep.

Val Demings

handily won a four-way Democratic primary to run against Sen.

Marco Rubio

. Rep.

Matt Gaetz

, a staunch Trump ally, beat former Marine Mark Lombardo for the state's 1st district.
And in Oklahoma, the only other state holding elections on Tuesday, Trump-endorsed Rep.

Markwayne Mullin

won a special runoff election to become the Republican nominee for the Senate seat now held by the retiring

Jim Inhofe

.
Gregory Korte breaks down yesterday's results here.
Mitch McConnell is trying hard to avoid conflicts with Donald Trump, as Republicans face increasing difficulties to regain the majority in the fall election, Nancy Ognanovich reports. McConnell (R-Ky.) indicated he won't wade into the controversy over the Justice Department's seizure of documents from Trump's Mar-a-Lago resort, and said that he hasn't asked DOJ for more details. "I don't have any observations about it right now," he said. "It's obviously an unfolding episode that we're all watching."
McConnell said he won't address Trump's follow-on criticisms of him and his wife, former Transportation Secretary Elaine Chao. Instead he said he prefers to discuss legislative wins that promise help for his home state, even if they come in bills initiated by Biden. McConnell simply answered "no" when asked to respond to Trump's description of him as "a broken down hack" Tuesday. McConnell also declined to respond to Trump's labeling of Chao as "crazy."
ALSO IN ELECTIONS & POLITICS
A judge on Tuesday gave former president Donald Trump's lawyers until Aug. 26 to explain the legal basis for his request of a neutral third-party to review documents seized from his estate by the FBI. Erik Larson summarizes the latest lawsuit.
In the wake of the FBI's search of Trump's residence in Florida, some users of the social media platform he helped start urged Americans to respond with violence. Julia Love delves into Truth Social's content moderation problem.
Republicans who have been using eye-popping gasoline prices as a potent political tool to bash Democrats in the run-up to the midterm election have a problem: Steadily falling prices at the pump. Ari Natter has the story.
Also on Lawmakers' Radars
The race to be the top Republican on the House Homeland Security Committee next year is getting crowded, with at least six members competing for the job. Reps. Dan Crenshaw (Texas) and Mark Green (Tenn.) have joined the pursuit, following Michael Guest (Miss.), Clay Higgins (La.), Dan Bishop (N.C.), and Scott Perry (Pa.), who all expressed interest earlier this year. Read more from Emily Wilkins, Ellen M. Gilmer, and Zach C. Cohen.
Rich Americans are hiding "vast amounts of income" from the IRS by exploiting a "deeply troubling" loophole in a 12-year-old US law designed to crack down on offshore tax evasion, according to a Senate Finance Committee report. The panel focused on the loophole after investigating Robert Brockman, the billionaire software developer indicted in the largest tax-evasion case against an individual in US history. Neil Weinberg and David Voreacos have more.
Lawmakers are investigating allegations of security failures at Twitter. "The Energy and Commerce Committee is actively reviewing the Twitter whistleblower disclosure and assessing next steps," Frank Pallone (D-N.J.) and Cathy McMorris Rodgers (R-Wash.), the leaders of the House panel that received the report, said in a statement on Tuesday. Senate Judiciary Chair Dick Durbin (D-Ill.) said he'll investigate the allegations as well, Lauren Dezenski reports.
Twitter's former head of security filed a complaint with the US government, claiming severe shortcomings in the social media company's handling of users' personal data, as well as "egregious deficiencies" in their defenses against hackers and other lax approaches to security. Brody Ford, Anna Edgerton and Leah Nylen overview the ramifications for the company.
Whistle-blower Peiter Zatko is a longtime cybersecurity executive who worked at Defense Advanced Research Projects Agency, and Google. He has also testified before Congress about vulnerabilities in global technology. Jeff Stone recaps his distinguished cyber pedigree.
The whistle-blower complaint will help Tesla CEO Elon Musk in his effort to walk away from a $44 billion buyout of the company, legal experts say. Read more from Jef Feeley.
A top House Republican wants Congress to get the chance to review any revival of the Iran nuclear deal. "It is completely unreasonable for this administration to think that a review could be favorable without a robust history of engagement with Congress," Rep. Michael McCaul (R-Texas), the House Foreign Affairs Committee's ranking member, said in a letter Tuesday to Biden. Read more from Daniel Flatley.
Meanwhile, US forces carried out airstrikes in Syria against groups tied to Iran's Islamic Revolutionary Guard Corps, US Central Command said, just as Washington and Tehran continue negotiations on the new nuclear agreement. Read more from John Harney.
The US must maintain its close ties with Taiwan and deter China from forcefully intervening on the island, and it can do so without altering the status quo in American-Chinese relations, Rep. Don Beyer (D-Va.), who recently returned from a congressional trip from the island, said Tuesday on Bloomberg TV. Read more from Laura Davison and Jane Wu.
Senate leaders should take action to approve a tax treaty with Chile, Treasury Secretary Janet Yellen wrote to Majority Leader Chuck Schumer (D-N.Y.) and Minority Leader Mitch McConnell (R-Ky.) in letters posted Tuesday. The Treasury believes that the Senate should move on the treaty by the end of the year, Isabel Gottlieb reports.
Lawmakers are calling on the Nuclear Regulatory Commission to address vulnerabilities in how it regulates the purchase of radiological materials, Alicia Diaz reports. A bipartisan letter from members of the House Energy and Commerce and Homeland Security committees relates how the Federal Bureau of Investigation and Department of Homeland Security "have observed calls for using dirty bombs against law enforcement."
Anthony Fauci's departure gives the Biden administration an opportunity to install the next generation of US leadership in biomedical research, but it must move swiftly with a Senate that's losing some strong allies of the National Institutes of Health. Jeannie Baumann overviews the changing dynamics between the groups.
Around the Administration
PRESIDENT'S SCHEDULE
Biden returns to the White House around 11 a.m. after vacationing in Delaware.
The US will announce $3 billion more in arms for Ukraine today, when the country will mark a tense Independence Day and six months since Russia's invasion first began, a US official said. It will be the largest single installment of US security assistance since Russia's invasion began in February, Bloomberg News reports.
Six months into Putin's invasion, the war has upended fundamental assumptions about Russia's military and economy. When the US warned of impending war earlier this year, officials and analysts in Washington and Europe alike assumed the Russian military would quickly dominate Ukraine's forces. They also believed Putin would find himself constrained by a weak domestic economy. Those expectations were wrong. Read more from Marc Champion.
A bipartisan Senate group wants Secretary of State Antony Blinken to designate US citizen and teacher Marc Fogel as "wrongfully detained" by Moscow, arguing that his "case warrants the same degree of political attention and diplomatic intervention" as basketball player Brittney Griner's, Lauren Dezenski reports.
The Biden administration's new policy regulating untraceable "ghost guns" in the US for the first time may remain in effect while a group of GOP-led states sues to vacate the rule, a judge ruled. The states' motion for a preliminary injunction against the rule was denied Tuesday by US District Judge Peter Welte in Fargo, North Dakota, handing a significant victory to Democratic-led states and gun-control groups. Read more from Erik Larson.
Food assistance advocates, weeks before a White House summit on fighting hunger nationwide, are divided over how and whether to restrict access to the government's Supplemental Nutrition Assistance Program. The White House conference—the first since 1969—slated for next month sets an ambitious goal to end hunger, increase healthy eating, and get more Americans exercising by 2030. Maeve Sheehey previews the ongoing battle.
The White House announced more grants for tribal communities to get high-speed internet access. The latest wave of grants, worth roughly $118 million, will go toward internet infrastructure deployment and the adoption of projects in tribal communities in Idaho, Montana, Nebraska, South Dakota, and Wisconsin. Maria Curi has the story.
Booster shots for Covid-19 vaccines will be discussed by advisers to the Centers for Disease Control and Prevention during a Sept. 1 and 2 meeting, according to an agency spokesperson. The meeting comes as Moderna plans to soon request clearance for a booster shot that targets the latest omicron Covid variants. Read more from Robert Langreth.
WHAT ELSE TO KNOW TODAY
With assistance from Katrice Eborn, Andrew Small, and Nancy Ognanovich
To contact the reporter on this story: Brandon Lee in Washington at blee@bgov.com
To contact the editors responsible for this story: Giuseppe Macri at gmacri@bgov.com; Loren Duggan at lduggan@bgov.com