What to Know in Washington: Biden to Tout Funds for Rail in NYC
Bloomberg Government subscribers get the stories like this first. Act now and gain unlimited access to everything you need to know. Learn more.
President Joe Biden will take a victory lap today as officials prepare to begin work on a massive rail plan hard-pressed New York City commuters have waited years for: the Gateway tunnel project.
The tunnel is one of a number of efforts to revamp the nation's roads, rail and bridges that Biden has been touting around the country. But how well the administration delivers on getting the project off the ground will go far in determining the country's most prominent train lover's political legacy on infrastructure.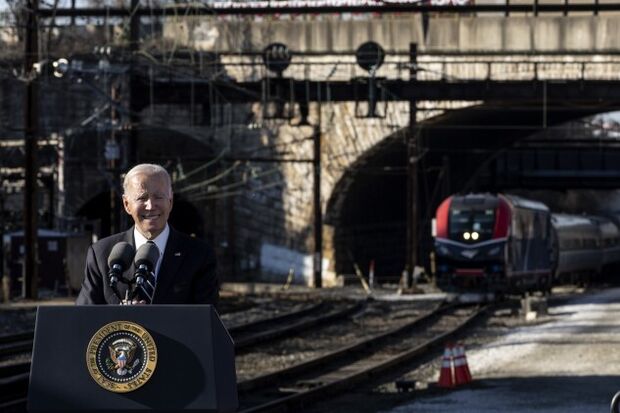 Biden has long touted his affection for passenger rail, especially Amtrak. His infrastructure chief, Mitch Landrieu, has showcased the effort to construct a new Hudson River tunnel between New York and New Jersey and rehabilitate existing Amtrak and New Jersey Transit track lines as a "cathedral project" for the administration.
The endeavor will be critical to easing congestion at a critical choke point on the Northeast Corridor, Amtrak's busiest route, from Boston to Washington, with more than 2,200 trains a day. But the project, which New York and New Jersey commuters say cannot be completed soon enough has already faced cost increases and delays. The cost of the project has spiked to over $16 billion, the Gateway Development Commission said in August, an estimate that's 14% higher than the 2021 projection.
Biden in New York City today will announce $292 million from the 2021 bipartisan infrastructure law (Public Law 117-58) to complete a critical early phase of the project, the White House said. The project will create 72,000 jobs and improve rail reliability for an estimated 200,000 commuters on Amtrak and New Jersey Transit, according to a White House official.
At the event at the West Side Rail Yard, Biden will also announce that his administration has awarded nearly $1.2 billion from the infrastructure law's discretionary grant program for projects all across the US. Akayla Gardner and Skylar Woodhouse have more.
Happening on the Hill
CONGRESS' SCHEDULE
The House convenes at noon to debate pandemic-related legislation.
The Senate meets at 10 a.m. with no votes expected.
House Oversight and Accountability Chair James Comer (R-Ky.) is planning for legislation to ensure presidents, vice presidents and high ranking officials don't take classified documents with them when they return to civilian life.
The fatal beating of Tyre Nichols earlier this month by Memphis police officers has led US senators in both parties to consider restarting talks on an overhaul of America's policing practices.
Four White House officials will attend Nichols' funeral this week—Keisha Lance Bottoms, Mitch Landrieu, Tara Murray and Erica Loewe—in Memphis. Read more
The US defense budget should grow 3% to 5% over inflation, but isn't immune to cuts and changes in the way the Pentagon does business, according to the top Republican on the House Defense spending panel.
The oil and gas industry is lobbying lawmakers and the Treasury to get an adjustment for intangible drilling costs included when calculating the corporate alternative minimum tax.

Elections, Politics & Probes
Sen. Dianne Feinstein (D-Calif.) said she'll announce this spring whether she will seek reelection to a seventh term even as fellow California Democrats announce plans to compete for the seat.
West Virginia Gov. Jim Justice (R) expressed a keen interest in running for the state's Senate seat now held by Sen. Joe Manchin (D-W.Va.). Rep. Alex Mooney (R-W.Va.) has already jumped into the race.
Donald Trump is suing journalist Bob Woodward for releasing recordings of interviews that he gave to the journalist in 2019 and 2020, claiming he never agreed to those tapes being shared with the public.
Trump faces new legal jeopardy after Manhattan prosecutors convened a state grand jury to investigate any role he may have played in making hush money payments to a porn star on the eve of the 2016 election.
Around the Administration
BIDEN'S AGENDA
Biden at 12:30 p.m. gives a speech in New York City about the bipartisan infrastructure law's funding for the Gateway Tunnel under the Hudson River for rail passengers.
At 3:30 p.m., the president participates in a Democratic National Committee reception in New York City. Biden returns to the White House at 6:25 p.m.
The White House will end a pair of Covid emergency declarations on May 11, spelling the elimination of the controversial Title 42 restrictions and expulsion measures at the US-Mexico border, according to a statement.
The Covid-19 national emergency and public health emergency will be extended to that date and then lifted, the administration said Monday in a statement of policy on bills related to the measures. That would be a milestone in a coronavirus response that dominated much of the early weeks of Biden's administration.
It also may mean the end of Title 42, a border policy that expanded expulsion powers based on the emergency declaration. The measure will end on May 11 when the emergency underpinning it expires, an administration official said in a written statement.
The US Medicare agency will seek about $4.7 billion over 10 years in clawback payments from private insurers that manage its programs under a long-awaited rule finalized Monday, a blow to the industry that sets up a likely court fight.
Meanwhile, a report found that the US spends up to three times more on health care per person as other high-income countries, yet residents are often less likely to visit doctors. Read more
A re-booted Justice Department office that aims to expand legal services for people who can't afford lawyers is working to ensure its survival after being defunded under then-President Trump.
The US is set to ban the dumping of mining waste near Bristol Bay, Alaska, by issuing a decree that thwarts longstanding plans to extract gold, copper and molybdenum because of potential harm to the region's salmon industry.
A deluge of layoffs at Google and other tech companies is throwing a wrench into immigrant workers' green card plans, even if they managed to keep their jobs as their employers reduced their head counts.
Defense & Foreign Affairs
The US and South Korea are planning to step up the scale of their joint military exercises, a move that has in the past prompted threats and weapons tests by North Korea.
Biden, speaking to reporters on Monday, said the US would not provide F-16 fighter jets to Ukraine. He also said he wasn't sure whether he will travel to Europe to mark the anniversary next month of Russia's invasion.
The Biden administration is considering cutting off Huawei Technologies from all of its American suppliers, including Intel and Qualcomm, as the US government intensifies a crackdown on the Chinese technology sector.
Former Brazilian leader Jair Bolsonaro is in no rush to leave Florida, making things uncomfortable for Biden as lawmakers urge the US to kick him out—and as the White House gets ready to welcome Bolsonaro's successor and bitter rival in days.
A cybersecurity rule coming this year on federal software purchases has elicited objections from contracting offices and vendors. It will require agencies to obtain "self-attestation letters" from vendors declaring a product adheres to guidance.
To contact the reporter on this story: Brandon Lee in Washington at blee@bgov.com
To contact the editors responsible for this story: Giuseppe Macri at gmacri@bgov.com; Michaela Ross at mross@bgov.com
Stay informed with more news like this – from the largest team of reporters on Capitol Hill – subscribe to Bloomberg Government today. Learn more.