What to Know in Washington: Biden to Tout EV Plant For Tennessee
Biden today will talk up his administration's infrastructure efforts
House to vote on government funding bill ahead of deadline
President Joe Biden and Tritium DCFC Chief Executive Officer Jane Hunter will announce today that the Australian electric vehicle charging company is planning to build its first U.S. manufacturing facility in Tennessee.
The facility in Lebanon, east of Nashville, is expected to produce as many as 30,000 electric vehicle chargers annually and create 500 jobs, the White House said.
Hunter said her company decided to invest more heavily in its American operations after seeing demand surge following the passage of the Biden administration's infrastructure law last year. That eventually accelerated both plans to open a North American plant as well as expectations for how many chargers could be produced annually. The company listed on the Nasdaq exchange in January and plans to move some senior executive positions to the U.S. as part of its expanding focus.
The White House has said its goal is to build a national network of at least half a million electric vehicle charging stations by the end of the decade. The infrastructure law includes $65 billion for upgrades to the nation's electrical grid, $7 billion earmarked to bolster the supply chain for electric vehicles, and $7.5 billion specifically earmarked for charging stations.
The first $5 billion tranche of charging station funding is expected to be distributed over the next five days, with Transportation Secretary Pete Buttigieg and Energy Secretary Jennifer Granholm set to announce later this week how much each state will receive under the program. The federal government plans to designate corridors along the interstate highway system where drivers could be assured they would have access to charging stations. Read more from Justin Sink.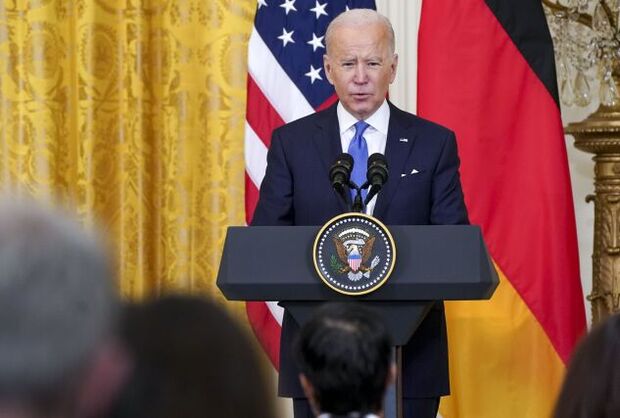 BIDEN'S AGENDA:
Biden will deliver remarks at the White House at 1:45 p.m. with secretaries Buttigieg and Granholm on manufacturing, jobs and energy costs.
Press Secretary Jen Psaki holds a press briefing at 2 p.m.
AROUND THE ADMINISTRATION:
White House science adviser Eric Lander will resign from his post effective by Feb. 18 in the wake of furor that erupted over reports of bullying behavior toward members of his staff. A White House investigation had found Lander, the director of the Office of Science and Technology Policy, bullied subordinates and created a hostile work environment for those on his team. Lander yesterday apologized before later issuing his resignation letter. Read more from Jeannie Baumann.
The Federal Trade Commission is under mounting pressure to kick off long-anticipated federal rules protecting personal information collected by companies amid delays with Biden's pick to fill the deadlocked agency's vacant seat. Advocacy groups are looking to the commission for policy action amid years of stalled negotiations in Congress over a national privacy law and a growing patchwork of state laws imposing new compliance obligations on companies. But with two Democrats and two Republicans on the commission, having the votes to launch a potentially years-long rulemaking process likely depends on Senate confirmation of Alvaro Bedoya, Biden's pick to fill the FTC's empty fifth seat. Read more from Andrea Vittorio.
A Pentagon official who led a new cybersecurity initiative for defense contractors and was later placed on administrative leave after her security clearance was suspended has resigned, saying she was punished for political reasons. Katie Arrington, the chief information security officer for the Pentagon's acquisition office, informed the department's senior industrial affairs officials of her decision yesterday, according to a resignation letter obtained by Bloomberg. Arrington is a former Republican state representative from South Carolina brought into the Pentagon under Trump. Tony Capaccio has more.
The Federal Reserve Bank of Kansas City said it's normal for its staff to communicate with directors of companies seeking access to the central bank's payment system, after Biden's nominee to be Fed vice chair for supervision came under fire from Republican lawmakers for her interactions with the regional institution. During her confirmation hearing before the Senate Banking Committee last week, Raskin faced questions from Cynthia Lummis (R-Wyo.) about communicating with the Kansas City Fed regarding a Colorado-based fintech firm called Reserve Trust that received a master account — which allows access to the central bank's payment system — while she was a director of that firm. Read more from Laura Curtis.
Congress & Politics
CONGRESSIONAL SCHEDULE:
House returns at 10 a.m. to vote on a government funding bill and legislation to overhaul the U.S. Postal Service.
The Senate meets at 10 a.m. to vote on judicial and ambassador nominations.
Click here for a complete list of today's hearings and markups.
The House is set to vote today on legislation to extend government funding through March 11. The stopgap measure also would provide funding to address water contamination from a Navy fuel storage facility in Hawaii. The continuing resolution, or CR, would generally extend fiscal 2021 funding levels and prevent a government shutdown after existing funds run out Feb. 18. It also would continue and add to a list of "anomalies" that would adjust the amounts available during the CR and would extend other programs also set to expire Feb. 18. House passage would send the measure to the Senate for consideration ahead of the deadline. For a complete look at the bill, read the BGOV Bill Summary by Naoreen Chowdhury.
The House passed a #MeToo-inspired measure that would block enforcement of arbitration requirements for workers alleging sexual harassment or assault, moving it one step closer to Biden's desk. The House voted 335-97 yesterday to advance the measure, creating a rare opportunity for employment legislation to pass Congress. The Senate is expected to take up the bill as soon as this week, Majority Leader Chuck Schumer (D-N.Y.) said yesterday. A companion bill in the Senate has the support of 10 Republicans, which would make it filibuster-proof. Paige Smith has more.
POLITICS & ELECTIONS:
Defense & Foreign Policy
Biden will likely request a 2% hike for DOD's fiscal 2023 budget, a modest increase despite a surge in inflation and a push in Congress to spend more on defense, budget analysts estimate. They predict Biden's Defense Department budget request could range between $733 billion and $755 billion, with the most optimistic assumption reaching $765 billion. The Biden administration is "going to go lower on defense than what they might really want and they are expecting the Hill to come back and add in," said Stacie Pettyjohn, director of the defense program at the Center for a New American Security. Roxana Tiron has more.
Biden said the controversial Nord Stream 2 natural gas pipeline between Russia and Germany would be stopped if Vladimir Putin orders an invasion of Ukraine. "We will bring an end to it," Biden said at a news conference at the White House yesterday with German Chancellor Olaf Scholz in a short answer to a question about whether he'd received assurances from Scholz. "The notion that Nord Stream 2 is going to go forward with an invasion by the Russians—that's not going to happen."
Scholz, who has tended to play up the urgency for diplomacy with Russia, was uncharacteristically forceful in warning about the potential price to the Kremlin. Scholz was pressed on whether he would commit to sanctioning Nord Stream 2. The new German leader switched to English to make plain that there was no daylight between Germany and its allies. He made no effort to dispel Biden's pledge that the pipeline would be stopped. "We are acting together, we are absolutely united. We will not take different steps," Scholz said. Read more from Birgit Jennen and Jenny Leonard.
The U.S. is losing patience with China after the nation failed to meet its purchase commitments under their trade agreement struck during the Trump administration, according to American officials. The U.S. has engaged with China's government on the shortfalls, but hasn't seen any real signs of Beijing making good on its commitments over the past several months, the officials said. While China continues to talk with the U.S., the White House wants concrete action, and that hasn't happened, the officials said. Read more from Jenny Leonard and Eric Martin.
A flurry of diplomacy preceding the resumption of Iran nuclear talks in the Austrian capital today suggests sides are trying to close in on a long-sought agreement. Iran and China coordinated strategies going into the renewed negotiations in Vienna on reviving world powers' nuclear deal with Tehran. Putin, meanwhile, indicated his country's position was closely tracking France's. Read more form Jonathan Tirone.
The U.S. plans to deploy a squadron of Lockheed Martin's F-22 fighter jets in addition to moving guided-missile destroyer USS Cole to help the United Arab Emirates fend off attacks from Yemen's Houthi rebels. Read more from Shaji Mathew.
To contact the reporters on this story: Zachary Sherwood in Washington at zsherwood@bgov.com; Brandon Lee in Washington at blee@bgov.com
To contact the editors responsible for this story: Giuseppe Macri at gmacri@bgov.com; Loren Duggan at lduggan@bgov.com; Michaela Ross at mross@bgov.com