What to Know in Washington: Biden to Target Russia Trade Status
Biden set to call for end to Russia's normal trade status with U.S.
Senate clears $1.5 trillion spending measure, sending it to Biden
President Joe Biden is set to call for an end of normal trade relations with Russia, clearing the way for increased tariffs on Russian imports, people familiar with the matter said. His announcement to revoke such trade privileges will come alongside the Group of Seven nations and European Union leaders, the people said.
The president can't unilaterally alter Russia's trade status as that authority lies with Congress, but Republicans and Democrats on the Hill have both called for a revocation. Suspending normal trade relations with the U.S., which other nations call "most-favored nation" status, would put Russia in the company of countries like Cuba and North Korea. It would allow the U.S. to hit Russia with significantly higher tariffs than it applies to other World Trade Organization members.
Just like the U.S., the other nations calling for the repeal due to Russia's invasion of Ukraine will go through their own processes, the people said. Biden is scheduled to discuss "actions to continue to hold Russia accountable"—including the trade preferences announcement at 10:15 a.m on Friday, according to the White House.
House and Senate leaders have pushed for the repeal of the preferential trade relations, but earlier this week, the provision was removed from a House bill barring all Russian fossil fuel imports. The Biden administration has worked with U.S. allies and made Congress aware of those conversations, but lawmakers faulted the White House for asking that the provision be struck, as those talks were ongoing.
Sen. Rob Portman (R-Ohio), a former U.S. trade representative, said he has a bill with Sen. Ben Cardin (D-Md.) to revoke Russia's trade status, adding that it's important Biden also has allies following suit. "It's much more effective if they all do it," Portman said in an interview on the Hill. "For us it's not a big deal, but for Europe it's huge. And it's the right thing to do—access to our market is a privilege, not a right." Read more from Jenny Leonard.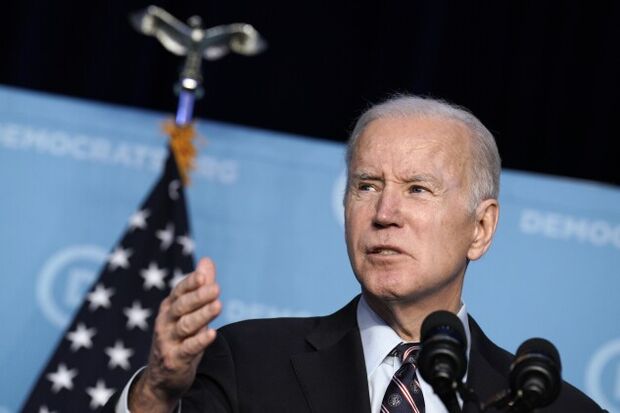 MORE ON THE WAR IN UKRAINE:
The war in Ukraine has touched off a feud between the White House and U.S. oil industry as many companies reap record profits from rising prices despite pumping less crude than before the pandemic, leaving American consumers beset by surging gasoline costs. Biden has urged U.S. oil companies to step up production — but they are wary given his historic hostility toward fossil fuels and the risk that new drilling won't pay off over the long term. Read more from Jennifer A. Dlouhy, Jordan Fabian and Kevin Crowley.
The Biden administration is working to accelerate domestic uranium production despite environmental concerns. The Energy Department is moving forward with two programs—the Strategic Uranium Reserve and HALEU Availability Program—that could bolster fuel supplies for the existing nuclear fleet and for future reactors, a senior DOE official told Bloomberg Law. Read more from Daniel Moore.
About 2.5 million Ukrainians have fled the country as refugees, a majority of those to Poland. The mayor of Kyiv said on Thursday that almost half the capital's citizens have left since Russia began attacking the city. Vladimir Putin plans to bring in fighters from the Middle East to shore up his efforts in Ukraine. Two cities in western Ukraine, far from the site of the fighting to date, were hit by airstrikes overnight. For the latest, read the Bloomberg News Ukraine Update.
Happening on the Hill
The Senate passed a $1.5 trillion appropriations package that wards off a possible government shutdown, and also provides Ukraine with money to respond to Russia's invasion. A bipartisan sense of urgency to approve the $13.6 billion for humanitarian and security aid in response to Russia's attack led to an overwhelming 68-31 vote on the package. The legislation, which passed the House on Wednesday, now heads to Biden's desk. The government has been running on autopilot using Trump-era funding levels since Oct. 1 and now domestic agencies will get a 6.7% boost. Read more from Erik Wasson.
Supporters of a sweeping bill that would eliminate almost all pre-dispute arbitration agreements are calling out the recent vast bipartisan approval of a narrower law nullifying arbitration agreements only for #MeToo allegations. The U.S. House is slated to consider the FAIR Act, or the Forced Arbitration Injustice Repeal Act, as soon as next week. Lawmakers will then be forced to again grapple with their stances on arbitration, an alternative dispute resolution process that forestalls suing in open court. Read more from Paige Smith.
Rep. Bill Pascrell is beginning an inquiry into how 11 oil companies, including Exxon Mobil and BP, are using tax benefits and going about stock buybacks amid surging crude prices and a stark jump in gasoline costs. Pascrell (D-N.J.), who leads a House Ways and Means Oversight panel, sent letters to the companies' CEOs Thursday, asking them which tax code preferences they claim, to list the tax breaks they received from President Donald Trump's 2017 tax overhaul and for information about stock buybacks in recent years. He requested a response by March 24. Read more from Laura Davison.
Also on the Hill, Sen. Sheldon Whitehouse is pitching a steep tax on oil companies, such as Chevron and Shell, as part of a wider plan to mitigate the impact of inflation on middle-income U.S. families.

Whitehouse

(D-R.I.) said taxing the corporate profits that are the result of high oil prices would be preferable to a suspension of the 18-cents-per-gallon federal levy on gasoline, an idea that some of his Senate colleagues have floated. "There's absolutely no guarantee that if we pulled back the gas tax, big oil just wouldn't jack its prices another 18 cents," he said, Davison reports.
Top Democrats and immigrants' rights advocates are ramping up pressure on Biden to end a pandemic-related policy that permits U.S. officials to expel asylum-seekers and other migrants swiftly at the border. The practice has "defied common sense and common decency," Senate Majority Leader Chuck Schumer (D-N.Y.) said. "I continue to be disappointed—deeply disappointed—in the administration's response." Then-President Trump invoked the public health authority during the pandemic in 2020. Biden officials have left it in place. Read more from Ellen M. Gilmer.
Republicans who say they were fined after being maskless on the House floor asked the U.S. Court of Appeals for the District of Columbia Circuit to revive their constitutional challenge to the rule. Reps. Thomas Massie (R-Ky.), Marjorie Taylor Greene (R-Ga.), and Ralph Norman (R-S.C.) sued Speaker Nancy Pelosi (D-Calif.) over their $500 fines, claiming they violate their free speech rights, as well as of the 27th Amendment. The fine "explicitly violates the prohibition against salary reductions" in that amendment, they argue. A lower court dismissed the lawsuit Wednesday, Maeve Allsup reports.
Meanwhile, the pandemic's death toll may be three times higher than official records suggest, according to a study that found stark differences across countries and regions. Up to 18.2 million people probably died of Covid in the first two years of the pandemic, researchers found in the first peer-reviewed global estimate of excess deaths. They blamed a lack of tests and unreliable mortality data to explain the discrepancy with official estimates of around 5.9 million deaths. Covid-19 drove a 17% jump in deaths worldwide, according to the findings in the Lancet medical journal. Jason Gale has more.
Biden Rallies Party as Midterms Near
Biden, in remarks to the Democratic National Committee Thursday night, presented an optimistic vision of the party's prospects in November's midterm elections despite the Russian war in Ukraine and inflation continuing to slice into Americans' purchasing power. "The message resonates," the president said to fellow Democrats of his economic agenda. "Now we have to do is to sell it with confidence, clarity, conviction and repetition."
Biden told the audience at the DNC's winter meeting in Washington—the organization's first in-person event in two years—that Republicans vying to take over the chambers of Congress have been "playing a game" by trying to blame his policies for soaring oil and gas prices. "This crisis is another indication of why we need to get off of fossil fuels," he said. Biden spent several minutes touting the bipartisan $1.2 trillion infrastructure law he signed last year. The other part of his agenda, the Build Back Better plan, remains stalled. Biden is scheduled to meet with House Democrats for a strategy session in Philadelphia on Friday.
Democrats mustering in Washington on Thursday defended the president's policies while also criticizing recent GOP proposals to make lower-income workers pay more in taxes and make another effort to repeal the Affordable Care Act. "We know exactly what the Republican economic agenda is," DNC Chairman Jaime Harrison said. "It's for higher taxes, higher health care premiums. And they have no plan to reduce the cost of prescription drugs or other things in this country. Corporate profits are soaring right now but you don't see Republicans asking the wealthy or corporations to pay a penny more in taxes."
Before Biden's DNC speech, Emma Vaughn, a spokesperson for the Republican National Committee, released a statement citing inflation, rises in crime, the chaotic U.S. withdrawal from Afghanistan and the surge of migration at the Mexican border as major reasons Democrats "can expect to keep losing." Biden's approval rating has rebounded somewhat from its all-time low a month ago, but is still low by historical standards. Read more from Gregory Korte and Justin Sink.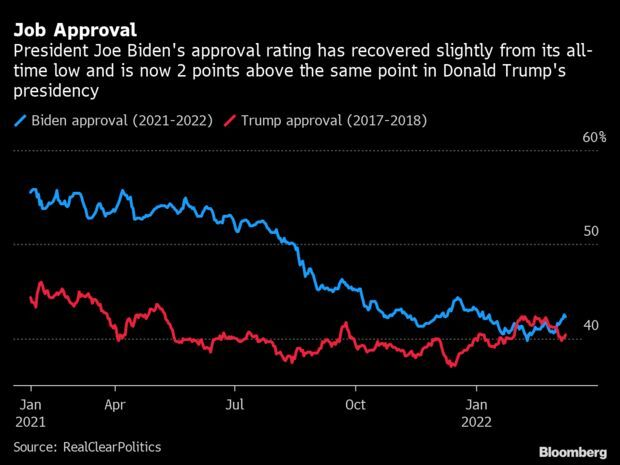 Around the Administration
BIDEN'S SCHEDULE:
Biden will deliver remarks on Russia's trade status at 10:15 a.m.
The president will then travel to Philadelphia, arriving shortly before noon, to deliver remarks to House Democrats at a policy retreat.
The U.S. is preparing new penalties against North Korea after determining that a pair of purported satellite launches by Kim Jong Un's regime were used to test systems for a long-anticipated new ICBM. The restrictions would aim to further block North Korea's purchase of foreign technologies, a senior Biden administration official told reporters Thursday, without offering more details. The U.S. Indo-Pacific Command was also intensifying surveillance activity in the Yellow Sea and increasing readiness for ballistic-missile defense forces in the region, a Pentagon spokesman said. Read more from Justin Sink.
In South Korea, Biden may have a new ally, as President-elect Yoon Suk-yeol prepares a foreign policy reboot that more closely aligns with the U.S. president's views of China. Yoon's election win this week is well-timed for Biden, who's seeking to rally allies to combat Russia's war in Ukraine, China's assertiveness over disputed territory and North Korea's testing of longer-range missiles and nuclear weapons. Outgoing President Moon Jae-in's feud with Japan and efforts to court Beijing hindered U.S. efforts to stitch together a stronger coalition in Asia. Read more from Jeong-Ho Lee.
Garland Blends Outreach With Restraint to Build Justice Morale: Attorney General Merrick Garland has spent much of his first year in office delicately reinstating pre-Trump era traditions to rebuild the Justice Department's independence and career lawyers' morale. Garland has largely stayed out of the public spotlight, rarely discussing the department's investigation into the Jan. 6 insurrection and other fallout from Trump's presidency.
Restraint and what one former senior DOJ official described as a detached management style come naturally to Garland, who spent the previous 24 years cloistered half a mile up Pennsylvania Avenue as a federal appeals court judge. Read more from Ben Penn.
To contact the reporter on this story: Brandon Lee in Washington at blee@bgov.com
To contact the editors responsible for this story: Giuseppe Macri at gmacri@bgov.com; Loren Duggan at lduggan@bgov.com; Michaela Ross at mross@bgov.com