What to Know in Washington: Biden to Take Oath Amid Shut Capitol
Joe Biden will be sworn in as the 46th U.S. president today in an inaugural ceremony set to unfold under heavy security after weeks of tumult and unrest stoked by Donald Trump.
Biden will take the oath at noon on the steps of the U.S. Capitol, making a plea for national unity from the very spot that was overrun by Donald Trump supporters just two weeks ago in a deadly attempt to derail the transfer of power.
The event — themed "America United" — will be nearly devoid of the customary pomp that surrounds a presidential inauguration as the recent violence and ongoing coronavirus pandemic preclude any large gatherings. Instead of throngs of supporters crowding the National Mall, Biden will see thousands of National Guard soldiers and barricades — a grim reminder of the deep national rift he wants to mend.
In an address after he's sworn in, Biden will call on Americans to bring the country together during an unprecedented crisis, according to advisers to the president-elect who asked not to be identified ahead of the speech. He'll ask every citizen to meet what the advisers called an extraordinary challenge facing the nation, in a speech they said would be built around the theme of unity. The address will be 20 to 30 minutes long, according to a person familiar with the matter who also asked not to be identified. Read more from Josh Wingrove.
Biden's First Day Schedule: Timing of Events, Executive Orders and Psaki Briefing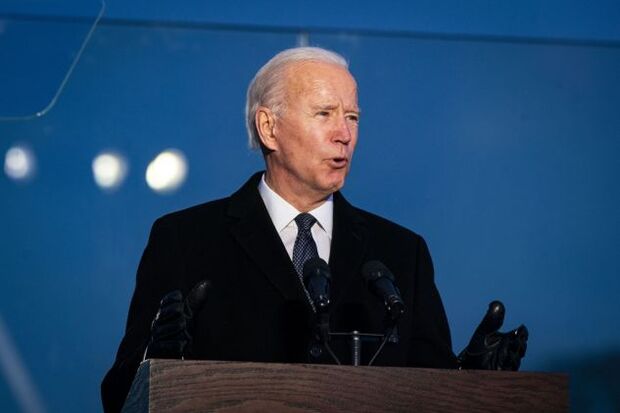 Related: Scenes From Joe Biden's Inauguration in a Locked Down Washington
Biden to Unwind Trump Policies on Immigration, Health
Biden plans to begin immediately unwinding Trump's policies on immigration, climate and other issues today with at least 15 executive actions, including moves to reverse U.S. withdrawals from the Paris Agreement and the World Health Organization, and stop construction of a border wall.
Biden will also sign orders revoking a permit for the controversial Keystone XL pipeline, imposing a mask mandate on federal property to combat the coronavirus pandemic and ending Trump's travel ban against some predominantly Muslim and African countries.
While some of the orders roll back unilateral measures Trump imposed, others — including an extension of moratoriums on student loan payments, foreclosures and evictions — are intended to address the health and economic crisis wrought by the pandemic. Justin Sink has an overview of Biden's first day orders.
Bloomberg Government OnPoints:
The Economy in Charts as Biden Takes Helm of Uneven Recovery: Biden assumes the helm of the world's largest economy and faces an uneven recovery — steady in some areas like housing and manufacturing but rough in others, most notably the job market. In the week prior to his inauguration, Biden vowed to push for more aid once in the White House, unveiling an initial economic recovery plan with a $1.9 trillion price tag.
Janet Yellen, Biden's pick for Treasury Secretary and a former Federal Reserve chair, backed that proposal at her confirmation hearing yesterday — urging lawmakers to "act big" in efforts to rescue an economy battered by the coronavirus. Click here to see six charts from Vince Golle that help depict the degrees of progress in various sectors since the pandemic upended the economy nearly a year ago and as the nation continues to get vaccinated.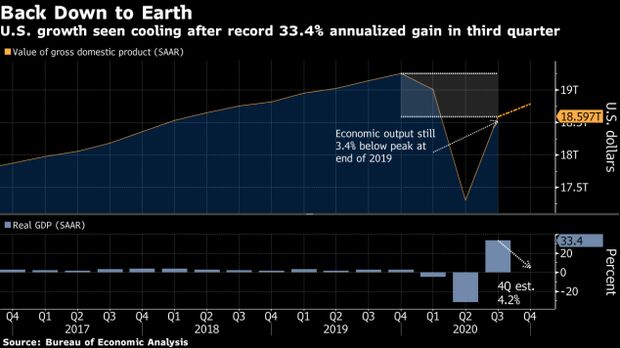 New Administration Takes Shape
Homeland Nominee Mayorkas Faces Short Delay: Alejandro Mayorkas, Biden's pick to head the Department of Homeland Security, faces a short confirmation delay as some Republicans at a confirmation hearing expressed skepticism about the nomination. Josh Hawley (R-Mo.) vowed in a statement after the hearing to place a hold on the nomination, preventing a quick floor vote following Biden's inauguration today. Shaun Courtney has more.
Biden Taps Prelogar as Acting Solicitor General: Elizabeth Prelogar, a Washington appeals lawyer who worked on the special counsel investigation into Russian election meddling, will serve temporarily as the top Supreme Court advocate for the Biden administration, a person who has been briefed on the plans said. Prelogar will be appointed in the next day or two as deputy solicitor general and will serve as acting solicitor general until the Senate confirms the new president's nominee to fill the post permanently, said the person. Greg Stohr has more.
Ex-Steelworkers Safety Official to Join Biden's DOL: Biden's transition team plans to install former United Steelworkers safety official Jim Frederick as acting chief of the Department of Labor's workplace safety agency today, part of a team of interim leaders who will help jump start the new administration's labor and employment agenda. He will join a group of Obama administration alums who will begin serving in temporary roles across the Labor Department beginning today. Read more from Ben Penn.
Biden Team Snubs Outgoing DOD Chief: The Biden team denied Acting Defense Secretary Christopher Miller's request for transition space at the Pentagon after he leaves office today, a courtesy normally extended at the Defense Department. The Biden transition told Miller's team that it denied his request for transition office space for himself and a handful of aides, a reversal from past practice, according to a top Defense Department official. Read more from Nick Wadhams.
Biden to Ask Surgeon General Jerome Adams to Resign: Biden is expected to ask U.S. Surgeon General Jerome M. Adams to resign, after he is sworn in as president, Washington Post reports, citing people familiar with the decision, Sarah Jacob reports.
Biden Team Hints at Keeping Tough Line Toward China: Biden's cabinet picks signaled that the new administration would continue some of Trump's hard-line economic policies toward China, with officials vowing to fight "abusive" trade practices and bar products from the area home to the nation's ethnic Uighur Muslim minority. Yellen said the U.S. is "prepared to use the full array of tools" to tackle moves like "dumping products, erecting trade barriers and giving illegal subsidies to corporations." Read more from Saleha Mohsin, Katira Dmitrieva, Jenny Leonard, and Nick Wadhams.
Meanwhile, Biden's pick to lead the State Department said the U.S. would decide whether more steps need to be taken against Turkey once it determines the impact of sanctions already imposed over Ankara's acquisition of a Russian missile system. "We need to take a look to see the impact that the existing sanctions have had and then determine whether there is more that needs to be done," Antony Blinken said in testimony yesterday to the Senate Foreign Relations Committee, Selcan Hacaoglu reports.
Trump to Depart With Airbase Send-Off
Trump will depart the White House a final time as president today, skipping Biden's inauguration and instead throwing a military-style send-off for himself before he leaves for his Florida resort.
Following the event at Joint Base Andrews outside of Washington, Trump will fly to Palm Beach, Fla., where he plans to take up residence at his Mar-a-lago resort. He will become the first U.S. president since the 19th century to skip his successor's swearing-in ceremony.
Trump's departure marks the end of one of the most divisive and chaotic presidencies in modern U.S. history. His term hit its nadir on Jan. 6, when the outgoing president incited a mob of his supporters to storm the U.S. Capitol in a failed but deadly attempt to stop lawmakers from certifying his electoral defeat. Read more from Jordan Fabian and Jennifer Jacobs.
Trump Pardons Bannon, Lil Wayne: Trump granted clemency to dozens of people today, including his former strategist Steve Bannon, the rapper Lil Wayne and former Detroit Mayor Kwame Kilpatrick, in one of his final official acts as president. A list of pardons and commutations the White House released early today doesn't include the president himself. Read more from Josh Wingrove.
Trump Revokes Lobbying Ban: Trump revoked his administration's ethics pledge banning political appointees from lobbying their former colleagues in a late-night executive order issued in the final hours of his presidency. The move frees former administration officials to begin immediately lobbying federal agencies and employees. Trump did not justify his decision in the executive order, saying simply that his political appointees would "not be subject to those commitments after noon January 20, 2021." Read more from Justin Sink.
White House Tries to Lock Down Construction Wage Change: The Department of Housing and Urban Development published a late-afternoon memo on the Trump White House's last full day in office that could make it harder for the incoming Biden administration to reverse newly enacted changes to construction wage calculations. Read more from Ian Kullgren.
Bernhardt Says Arctic Leases Will Survive Biden: Outgoing Interior Secretary David Bernhardt said he expects both political and legal constraints to get in the way of Biden's pledges to block new oil and gas permitting on federal government land. "You can write a lot of executive orders, but an executive order doesn't get you past 'Go,'" Bernhardt said in an interview on his last full day as secretary. Read more from Jennifer A. Dlouhy.
Trump Signs Order to Restrict Foreign Use of Cloud Companies: Trump signed an executive order the White House said was aimed at preventing foreign malicious cyber-actors from using U.S. online infrastructure to carry out their activities. The order, which provides the Commerce Department with the authority to impose record-keeping obligations on foreign transactions, is viewed as a response to the recent hacking campaign that infected software from SolarWinds and targeted organizations including government agencies. Read more from Jamie Tarabay.
EPA to Grant at Least One Refinery a Biofuel Waiver: The Environmental Protection Agency is slated to grant at least one oil refinery an exemption from biofuel-blending requirements, according to people familiar with the planned move. The agency said it would update data on small refinery exemptions from the Renewable Fuel Standard in an online dashboard, Jennifer A. Dlouhy reports.
YouTube Extends Trump Suspension: YouTube extended Trump's temporary suspension for another week, citing the possibility he could incite violence during the transition of power. "In light of concerns about the ongoing potential for violence, the Donald J. Trump channel will be prevented from uploading new videos or livestreams" for seven more days at a "minimum," a spokesman wrote in an email. Read more from Nico Grant.
Trump Fights Release of Tax Returns: Trump's lawyers made a preemptive move to stop congressional Democrats from obtaining his tax returns once Biden takes power, asking a judge for an Inauguration Day hearing in a case that could threaten the secrecy of his closely guarded financial information. The Democrats in the last Congress have run out of time in their demand for Trump's tax information from the Treasury Department, but the new Congress could re-issue it in the coming days. At the same time, Biden will take power, making it possible that the Justice Department could reverse its position in the case and simply hand over the records. Read more from David Yaffe-Bellany.
Meanwhile, investigators probing Trump's finances have gotten hold of some of his tax records, allowing them to move ahead even without a Supreme Court order that would give them eight years of his returns. Read more from Greg Farrell and Greg Stohr.
To contact the reporters on this story: Zachary Sherwood in Washington at zsherwood@bgov.com; Brandon Lee in Washington at blee@bgov.com
To contact the editors responsible for this story: Giuseppe Macri at gmacri@bgov.com; Loren Duggan at lduggan@bgov.com; Michaela Ross at mross@bgov.com