What to Know in Washington: Biden to Survey Hurricane Ida Damage
President Joe Biden will survey damage from Hurricane Ida today as he visits Louisiana — where hundreds of thousands of homes and businesses remained without electricity — and meets with Gov. John Bel Edwards (D) and local officials.
Ida is testing the Biden administration's ability to provide assistance to those in a path of destruction that stretches from the Gulf Coast to the New York City region, which suffered catastrophic flooding from the storm's remnants.
Biden said yesterday he wants his visit to convey the message that, "We're all in this together. The nation is here to help."
His administration deployed roughly 6,000 National Guard members to Louisiana, Mississippi, Alabama and Texas and has sent generators to hospitals and medical facilities. Biden has directed his administration to take steps to increase the availability of gasoline to ease pressure on prices at the pump while most oil production in the Gulf of Mexico remains shut. The Department of Energy authorized Exxon Mobil to receive crude oil from the Strategic Petroleum Reserve to kickstart the production of fuels.
The Louisiana congressional delegation, including fiscally conservative Republicans, yesterday called on Congress to pass emergency-funding legislation to help the state recover from Hurricane Ida and other recent storms. Read more from Nancy Cook and Jennifer Epstein.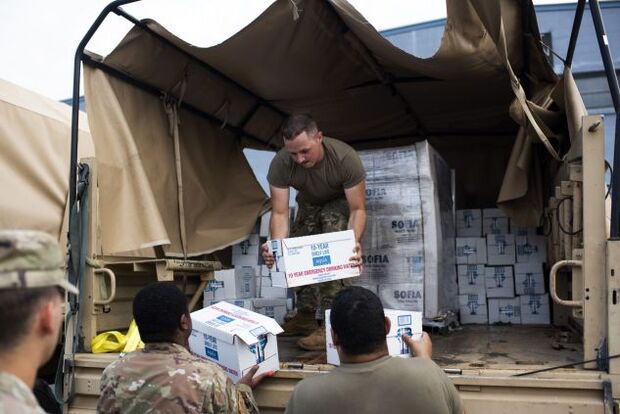 Today's Agenda: Biden will deliver remarks on the August jobs report at 10 a.m. He will arrive in New Orleans at 12:10 p.m. and will receive a briefing from local leaders at 1:15 p.m. At 2:35 p.m., Biden will tour a neighborhood in LaPlace, La. He'll take an aerial tour of the area at 3:55 p.m. Biden will meet with local leaders in Galliano, La., at 5 p.m. He is scheduled to depart Louisiana at 6:10 p.m., arriving in Wilmington, Del., at 10:10 p.m.
Ida's Wake Leaves Toxic Chemicals: Exxon Mobil released sulfur dioxide and hydrogen sulfide at its Baton Rouge refinery as Ida churned ashore. A broken pipeline poured crude oil near a bayou that flows to the Gulf of Mexico. And a miles-long black slick has appeared near an offshore rig off the state's coast, stirring fears of a spill. Days after the hurricane, the environmental aftermath is emerging in a petrochemical corridor packed with hazardous-chemical plants and refineries. In some areas, the chemicals are mixing with raw sewage released from treatment plants that lost power. Read more from Ari Natter.
Fallout from Texas Abortion Law
Roe v. Wade Left in Peril: The U.S. Supreme Court majority insisted it was merely issuing a procedural order late Wednesday night when it let Texas ban most abortions after six weeks. But with the court set to consider overturning the landmark Roe v. Wade case in coming months, the 5-4 decision stands as an ominous sign for the fate of constitutional abortion rights. Read more from Greg Stohr.
Abortion Bans Risk Alienating Suburban Voters: The Texas law will complicate Republican efforts to stem their losses among college-educated suburban voters as the polarizing issue moves to the forefront of upcoming elections. The law, and a possible reactive wave of abortion bans in other conservative states, risks driving away Americans who have stuck with Republicans because of economic issues just as the GOP begins its campaign to retake control of the House and Senate in the 2022 midterms. "Republicans are already hemorrhaging college-educated suburban voters," said Sarah Longwell, publisher of the Bulwark, an anti-Donald Trump conservative news and opinion site. "This is an issue that further alienates that exact group of people." Read more from Ryan Teague Beckwith.
'Shadow Docket' Use in Top Court Fuels Angst: A crucial moment on a question of U.S. Supreme Court precedent on abortion rights unfolded on the court's "shadow docket," an expedited decision-making process playing a bigger and what critics say is an unhealthy role in high court jurisprudence. The request for high court intervention from abortion groups was expedited on the docket meant for death penalty appeals and other emergency rulings, commonly, but not always, a request for a stay or other temporary action. But more and more hot-button issues are being resolved there, including several in recent weeks on immigration in reviving the Trump administration's "remain in Mexico" asylum policy, and scrapping the Biden administration's new Covid-related eviction moratorium. Read more from Kimberly Robinson and Jordan Rubin.
BGOV OnPoint: Texas Law Renews Abortion Fight in Congress, Court
Happening on the Hill
Manchin Jolts Democrats on $3.5 Trillion Bill: Sen. Joe Manchin (D-W.Va.) is demanding a "strategic pause" in action on Biden's economic agenda, potentially imperiling the $3.5 trillion tax and spending package that Democratic leaders plan to push through Congress this fall. Manchin, a linchpin vote in the evenly divided Senate, doubled down in an Wall Street Journal op-ed yesterday that rising inflation and a soaring national debt necessitate a go-slow approach and a "significantly" smaller plan than the one Democratic leaders and the White House have endorsed.
The chair of the Congressional Progressive Caucus, Rep. Pramila Jayapal (D-Wash.), replied "Absolutely not" on Twitter to Manchin's idea of a pause. Sen. Bernie Sanders (I-Vt.), chairman of the Senate Budget Committee, tweeted last night: "Rebuilding our crumbling physical infrastructure – roads, bridges, water systems – is important. Rebuilding our crumbling human infrastructure – health care, education, climate change – is more important. No infrastructure bill without the $3.5 trillion reconciliation bill." Read more from Laura Litvan.
Progressive groups are calling for major lobbying efforts in support of Biden's $3.5 trillion spending plan, demanding that Democratic lawmakers avoid compromise as the measure faces a reckoning in Congress. "All eyes are on the reconciliation bill and progressives need to up their game," a group of 11 organizations wrote in a letter released today. "We are in a powerful, but precarious place — we passed the budget resolution with all our progressive priorities still on the table, but still have a race to the finish line as major corporations invest millions in a major lobbying blitz." Read more from Jarrell Dillard.
Biden Tax Plan Suffers $116B Blow: The Congressional Budget Office estimates that increasing IRS funding by $80 billion over a decade would raise $200 billion in total revenue—more than $100 billion less than the Biden administration previously estimated. Giving the IRS more resources to audit corporations and the wealthy is among the administration's proposals to pay for trillions in new spending. The lower CBO estimate is a blow to the administration, which needs as much revenue as possible to offset the cost of the $3.5 trillion tax-and-spend bill. Read more from Allyson Versprille.
Natural Resources To Finish Budget Markup Next Week: The House Natural Resources Committee plans to continue on Sept. 9 its markup of legislation to fulfill its plank of the House's $3.5 trillion budget bill, Kellie Lunney reports. The panel, which began the markup yesterday, debated and voted on several amendments of dozens offered.
A provision to ban funds from the bill to be used to close the Bureau of Land Management headquarters in Grand Junction, Colorado, was offered by Rep.

Lauren Boebert

(R-Colo.) and adopted by unanimous consent, Kellie Lunney reports.
Related Coverage: Offshore Drilling Ban and Mining Curbs Edge Closer to Passage
Democrats Eye Drug Pricing Changes: Allowing Medicare to directly negotiate the price of prescription drugs is a top priority for Democrats as lawmakers craft their budget reconciliation bill, though the details are still undetermined. This Bloomberg Government presentation reviews bills related to Medicare price negotiations and generic drugs, as well as potential next steps in Congress. Read the analysis from Christina Banoub.
Lawmakers Probe 'Anomalies' in Biogen Alzheimer's Approval: Leaders of two congressional committees probing the approval of Biogen's new Alzheimer's drug pressed the Food and Drug Administration for more information on "apparent anomalies" in the agency's review of the $56,000-a-year therapy. The Democratic leaders of the House Energy and Commerce Committee and the Committee on Oversight and Reform said in a letter to the agency that "significant questions remain" about the June approval of Aduhelm, even after FDA officials met with committee staff in July and provided documents. Read more from John Tozzi and Robert Langreth.
Around the Administration
Biden Faces Sanctions Test in Afghanistan: The Biden administration's reluctance to ease sanctions on the Taliban will hamper the group's ability to establish a new government in Afghanistan and risk plunging the country deeper into poverty. Long-standing U.S. measures restricting Taliban officials from access to the financial system are likely to stay in place. The sanctions offer crucial leverage for Biden's team as they negotiate to win safe passage for 100-to-200 Americans and thousands of Afghans who weren't evacuated in August and still want to leave the country. Read more from Saleha Mohsin.
Mullah Abdul Ghani Baradar, the diplomatic face of the Taliban, will lead the new Afghan government, Reuters reported, citing three unnamed Taliban officials. Baradar is one of the three deputies of the Taliban's Supreme Commander Haibatullah Akhundzada, and was the main signatory of the peace deal with the Trump administration in February 2020 that laid out the roadmap for the withdrawal of U.S. and NATO forces from Afghanistan. Eltaf Najafizada has more.
Biden and first lady Jill Biden met with wounded service members yesterday at Walter Reed National Medical Center, where some of the Americans hurt in last week's suicide bombing in Afghanistan are being treated. Read more from Jennifer Epstein.
Three Doses Could Become Standard Covid-19 Regimen: Three doses of Covid-19 vaccine may become the standard regimen for most people, White House chief medical adviser Anthony Fauci said yesterday at a briefing. A study in Israel showed dramatic improvement in protection among recipients of three doses of the vaccine from Pfizer and BioNTech, normally given in two doses, Fauci said. If the gains last, "you're going to have very likely a three-dose regimen being the routine regimen," he said. Read more from Emma Court.
Biden's Asks Congress for Opioid Crackdown Help: The Biden administration is asking Congress to permanently classify illicit fentanyl-related drugs alongside heroin and ecstasy, one day after a bankruptcy court approved Purdue Pharma's plan to resolve thousands of opioid lawsuits. Permanently classifying the drugs as Schedule I under the Controlled Substances Act, a category reserved for substances with high potential for misuse and physical and/or psychological dependence, would help law enforcement pursue opioid traffickers and manufacturers, acting Office of National Drug Control Policy Director Regina LaBelle wrote in a letter to Congress. Read more from Ian Lopez.
Gensler to Join Panel Aimed at Curbing Consolidation: The chairman of the Securities and Exchange Commission will join the debut meeting of Biden's competition council, a group intended to curb corporate consolidation that Biden says raises prices for consumers. The council, announced in July, will hold its first meeting on Sept. 10 at the White House. The panel includes eight cabinet secretaries and chairs of six independent agencies, according to officials familiar with the plan. The council is led by National Economic Council Director Brian Deese, and attendees will speak about steps their agencies have taken to lower consumer costs, the officials said. Read more from Josh Wingrove.
Mexico Asks U.S. to Grant Temporary Visas for Migrants: Mexico's President Andres Manuel Lopez Obrador said yesterday he will send a letter to Biden by next week repeating his proposal that people in Central America enrolled in his flagship reforestation program be given temporary U.S. work visas. Six-month visas for migrants would allow for a government strategy of not just preventing migrants' travel, he said, adding that Mexico will prevent a caravan of Haitian and Central American migrants in Chiapas state from leaving the south. Read more from Maya Averbuch.
'Quad' Leaders Slated for In-Person Summit: Biden affirmed plans for an in-person leaders summit of the "Quad" block—Australia, India, Japan and the U.S.—later this fall during a call with Australian Prime Minister Scott Morrison, the White House said in a statement, Se Young Lee reports.
Agencies Look For Diversity Training, Consulting: There has likely never been a better time to provide diversity, equity, inclusion, and accessibility-related services to federal agencies. There are currently 176 open, active solicitations related to DEIA, based on a new Bloomberg Government analysis, and agencies posted nearly all of those solicitations in 2021. Read more from Laura Criste.
With assistance from Kellie Lunney
To contact the reporters on this story: Michaela Ross in Washington at mross@bgov.com; Zachary Sherwood in Washington at zsherwood@bgov.com
To contact the editors responsible for this story: Giuseppe Macri at gmacri@bgov.com; Loren Duggan at lduggan@bgov.com