What to Know in Washington: Biden to Sign Abortion Order Friday
Administration seeks to ease abortion access, resources
White House to hold last meeting on cutting China tariffs
President Joe Biden will issue an executive order intended to preserve access to abortion after advocates and Democratic lawmakers have demanded that the White House take more robust action following last month's Supreme Court's decision to overturn Roe v. Wade.
The order, which Biden is to sign at an event Friday morning at the White House, is unlikely to restore the availability of abortion in states that have largely outlawed the procedure in recent weeks. Yet it will codify efforts taken by health officials in the aftermath of the high court's ruling that are designed to provide resources for women seeking abortions.
Under the order, which was detailed by the White House in a statement, the Department of Health and Human Services will be required to submit a report to the president within the next month about efforts to ensure the availability of abortion pills, contraception, and emergency medical care for pregnant women.
The department will also be expected to detail its public education efforts on abortion access, and consider ways to protect patient information related to reproductive health care from law enforcement.
The Justice Department and White House lawyers, according to the statement, will also organize a group of attorneys to offer free legal services to people seeking abortions, including those who want to travel outside the states where they live. And the administration is creating an interagency task force to coordinate abortion rights efforts between the White House and Cabinet agencies. Justin Sink has more details.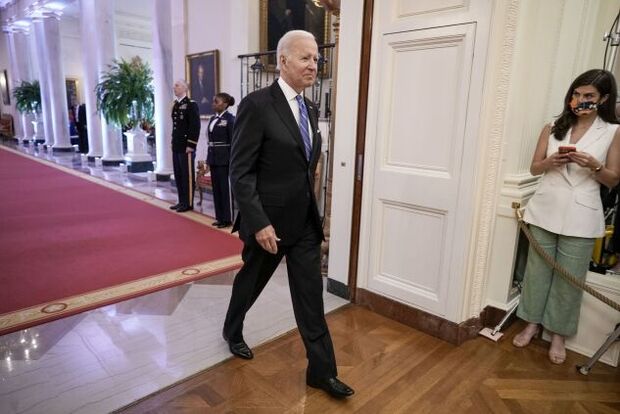 Biden will discuss possible reductions in US tariffs on Chinese goods in a meeting with his advisers set for Friday, according to people familiar with the matter, as his administration nears a closely-watched decision on trade with China.
The White House meeting is the latest in a series Biden has held on the issue, and it's not clear if he intends to decide on a path forward, according to the people, who spoke on the condition of anonymity because the president has yet to reach a decision.
Biden has been weighing whether to remove some of the tariffs on more than $300 billion in Chinese imports imposed by his predecessor, Donald Trump, according to people familiar with the deliberations, as his administration desperately tries to curb fast-rising US inflation. Jenny Leonard lays out the stakes ahead of the meeting.
Around the Administration
PRESIDENT'S SCHEDULE:
At 11:30 a.m. Biden is scheduled to deliver remarks on protecting access to reproductive health care alongside Vice President Kamala Harris and HHS Secretary Xavier Becerra.
At 2:15 p.m., Biden will visit CIA headquarters and later give a speech commemorating the agency's 75th anniversary.
GOP-led states and industry groups acted too soon to challenge a judge's order tossing a Trump-era rule limiting the power of states and tribes to reject potentially water polluting projects, the EPA told the Ninth Circuit. The lower court's decision isn't a final order that's appealable by non-agency litigants, the EPA told the Ninth Circuit. Maya Earls has more.
The GSA is targeting federal purchases of single-use plastics and packaging, the agency proposed on Thursday in an action that environmentalists called an encouraging step. The General Services Administration is seeking public comments for future rulemaking of reducing unnecessary single-use plastics in government purchases, material that is often used in packaging and shipping. Read more from Nyah Phengsitthy.
The US and allies must cooperate to create shared standards for regulating cryptocurrencies to make it harder for bad actors to get away with crimes, Treasury said on Thursday. "Uneven regulation, supervision, and compliance across jurisdictions creates opportunities for arbitrage and raises risks to financial stability," the Department of the Treasury said. Insufficient antilaundering rules across countries make it harder for the US to investigate illicit transactions, it said, Allyson Versprille reports.
Secretary of State Antony Blinken blamed Russian diplomats for Moscow's role in worsening global food insecurity in a rare encounter at a Group of Twenty foreign ministers meeting in Indonesia, according to a western official. Although Blinken is not meeting with Russian Foreign Minister Sergei Lavrov at the G-20 meeting in Bali, he addressed Russian diplomats directly in a plenary session on Friday, according to the official who declined to be named citing rules for speaking to the media.
Blinken told them that Ukraine didn't belong to Russia and that Moscow should stop blockading Ukrainian ports and allow the country to export vast amounts of stored grain in order to ease shortages that have caused commodity prices to skyrocket, hurting developing countries, the official said. Iain Marlow has the latest on Blinken's comments.
Treasury Secretary Janet Yellen is heading out on her first trip to Asia since taking office, aiming to use sit-downs with global counterparts to help build momentum for a complex effort to cap prices for Russian oil. Christopher Condon has more on the effort.
The Justice Department on Thursday backed an antitrust class-action filed by former college students who claim top universities including Brown University and Yale University improperly boosted tuition costs by agreeing not to compete over how much financial aide they offer. Read more from Leah Nylen.
Five chicken industry executives were found not guilty of conspiring to fix prices from 2012 to 2019, a defeat for prosecutors that came after two mistrials and a major setback for the Biden administration's attempts to police rising meat costs. Bob Van Voris has more.
The US will make an additional 144,000 doses of Jynneos vaccine available to states and jurisdictions to deal with monkeypox, HHS announced in an emailed release Thursday. The doses will begin shipping on July 11, Jim Silver reports.
US regulators received over 90,000 messages after Elon Musk's Starlink asked subscribers to rally to his side in an airwaves dispute with Dish Network. At issue are frequencies that Dish wants to use for fast 5G service. Read more from Todd Shields.
Biden awarded the Medal of Freedom to two politically active female athletes—soccer star Megan Rapinoe and gymnast Simone Biles—and to the late Apple co-founder Steve Jobs as part of his first slate of recipients of the nation's highest civilian honor. Read more from Jenny Leonard and Justin Sink.
The White House is monitoring reports out of Japan after former Prime Minister Shinzo Abe — Japan's longest-serving premier and a figure of enduring influence — was shot to death at a campaign event Friday, attack that shocked a nation where political violence and guns are rare, Isabel Reynolds, Yuko Takeo and Lily Nonomiya report. "We are shocked and saddened to hear about the violent attack against former Japanese Prime Minister Shinzo Abe," a White House spokesperson said in an emailed statement.
Elections, Politics & Probes
John Cornyn knew he was accepting a task fraught with political risks when he agreed to be the GOP's lead negotiator on a gun control compromise in the aftermath of the Uvalde school shooting in Texas. The assignment from Minority Leader Mitch McConnell (R-Ky.) had the potential to further inflame Republicans in Texas, where gun rights are sacrosanct among rural conservatives, and encourage primary opponents waiting in the wings for Cornyn (R) to stumble.
But the school shooting tragedy in his home state that left 19 children and two teachers dead, and a desire to cut bipartisan deals and enact meaningful legislation drove Cornyn, a close McConnell ally, to head the Republicans' effort that led to the passage of the first significant gun-violence prevention measure (Public Law 117-159) in years. Read more from David Hood.
Texas Governor Greg Abbott authorized National Guard troops and state police to apprehend migrants who illegally cross from Mexico and return them to the border. Voter concern over a surge in illegal immigration has been a top issue for Abbott as he campaigns for a third term in office against Democrat Beto O'Rourke, a former congressman from El Paso. Read more from Brendan Walsh.
The Treasury Department's inspector general will look into why two former top FBI officials who ran afoul of Donald Trump were subjected to rare tax audits. The invasive IRS audits of former FBI Director James Comey and Andrew McCabe, the deputy FBI director who later ran the agency after Comey's firing by Trump, spurred demands for an investigation by top congressional Democrats and Republicans. Read more from Laura Litvan.
House Ways and Means Chair

Richard Neal

(D-Mass.) also asked the watchdog to share whether IRS Commissioner Chuck Rettig or former IRS chief counsel Michael Desmond—both Trump political appointees—knew that Comey and McCabe had been tapped for audits, Richard Tzul reports.
Meanwhile, the revelation is the latest hit to the agency's already-marred public image. The IRS quickly pushed back on the idea that Rettig or any other senior official would have selected specific people for politically motivated audits, Naomi Jagoda reports.
The Supreme Court since August has issued more emergency orders than opinions in cases that got fully briefed and argued despite several justices expressing misgivings about the practice. The most conservative justices signaled they wanted to use the "shadow docket" even more aggressively. Clarence Thomas, Samuel Alito, and Neil Gorsuch dissented most often when the court refused to act on expedited appeals. Read more from Kimberly Strawbridge Robinson.
To contact the reporters on this story: Michaela Ross in Washington at mross@bgov.com; Brandon Lee in Washington at blee@bgov.com
To contact the editor responsible for this story: Giuseppe Macri at gmacri@bgov.com