What to Know in Washington: Biden to Sign Abortion Access Order
President's second executive order directed at travel for abortions
Trump-backed Republicans score in latest round of primary wins
President Joe Biden on Wednesday will sign a second executive order intended to improve access to abortion services more than five weeks after the US Supreme Court allowed states to largely put them off limits.
The order will direct the secretary of Health and Human Services to consider actions to help patients travel outside their states for abortions using funds from Medicaid, a move which conservatives will likely challenge in the courts.
The Hyde Amendment prevents the use of federal funds for abortions, except in cases of rape, incest or when a woman's life is at risk. A senior administration official said the White House did not believe using Medicaid funds for travel violated the amendment.
The order also instructs Health and Human Services ensure that health care providers comply with existing federal anti-discrimination laws so that pregnant people receive necessary medical care without delay. Finally, it asks HHS to enhance its collection of data on maternal health at the National Institutes of Health and the Centers for Disease Control and Prevention.
The order is likely to have little immediate effect. The travel provision will likely be held up by courts; the anti-discrimination proposal must go through a regulatory process. Nancy Cook and Shira Stein cover the latest.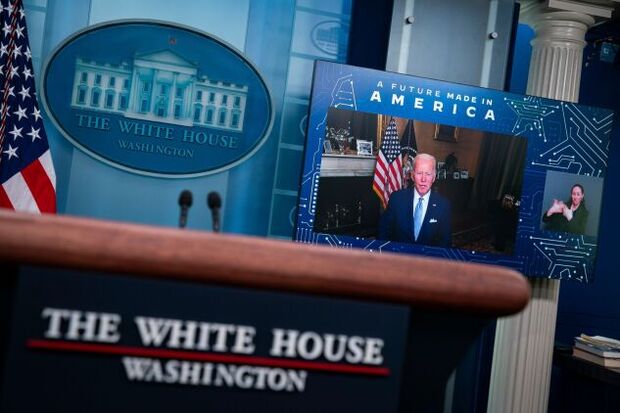 Democrats' Climate-Tax Deal
A partisan messaging battle has erupted over an official US analysis suggesting it won't be just the rich who will pay higher taxes under the Democrats' latest economic agenda, raising risks for the party in the November elections. The Joint Committee on Taxation found some middle- and low-income households could pay $16.7 billion in additional taxes next year as a result of the draft bill. But veteran budget watchers said the figures aren't a complete picture. Read more from Laura Davison.
Democrats, including Treasury Secretary Janet Yellen, pushed back on the analysis and said it won't raise taxes for families earning less than $400,000 a year. Read more from Christopher Condon.
Democrats want to make insulin a major part of drug-pricing package set for a vote this week, but face a technical hurdle, senators said. Democratic leaders want to reinstate two major provisions of their drug-pricing language, Sen. Jeanne Shaheen (D-N.H.), said Tuesday. One would automatically subject insulin products to federal negotiations for lower prices and the other would cap out-of-pocket insulin costs at $35 per month. Read more from Alex Ruoff.
MORE ON THE LEGISLATION
Also Happening on the Hill
CONGRESS' SCHEDULE:
The Senate in a vote scheduled for today is expected to sign off on Finland and Sweden joining the North Atlantic Treaty Organization.
Legislation giving veterans exposed to toxic burn pits access to expanded health benefits cleared Congress in an 86-11 Senate vote Tuesday night. The bill (S. 3373) ultimately drew support from 37 GOP senators and now heads to President Joe Biden for his signature. Read more from Diego Areas Munhoz.
A bipartisan bill aims to raise the quality of patents by targeting the examination process. The bill from Sens. Thom Tillis (R-N.C.) and Patrick Leahy (D-Vt.) would direct the Government Accountability Office to evaluate factors that may affect the quality of patents issued by the US Patent and Trademark Office. Samantha Handler has more.
The Surface Transportation Board would get enhanced powers to deal with rising service complaints, under legislation House Democrats introduced Tuesday. The bill is expected to face pushback, as draft text sharply divided shippers and railroads. Lillianna Byington highlights provisions in the bill.
A new Senate bill would expand the current scope of sanctions on those committing human rights abuses against Uyghurs, according to a statement from sponsors Bob Menendez (D-N.J.) and Marco Rubio (R-Fla.), Augusta Saraiva reports.
Elections, Politics & Influence
It was a good night for Donald Trump-endorsed Republicans — and moderate Democrats. With fewer than 100 days to the midterm elections, voters in five states chose their parties' nominees for Congress in an extended primary season shaped by redistricting and ideological fissures. Candidates in the primaries will compete for control of Congress in November, with a closely divided House and Senate.
Gregory Korte lays out the highlights of some of the most consequential contests Tuesday night.
The Department of Defense electronically wiped the phones of some former top officials who served under Trump, including deleting text messages related to last year's assault on the US Capitol. Government lawyers made that admission in a court filing tied to a Freedom of Information Act lawsuit by American Oversight, a government watchdog. The group has been seeking Jan. 6-related records, including from former acting Defense Secretary Chris Miller. Read more from Billy House.
Trump welcomed Hungarian Prime Minister Viktor Orban to one of his luxury golf resorts barely a week after the Central European leader made remarks that have been compared to Nazi rhetoric. Trump released a statement saying it was "great spending time with my friend" and that the two were also celebrating Orban's April electoral victory, in which Trump endorsed him, Mario Parker reports.
Cohen-Trump Lawsuit: Trump urged a judge to toss out a civil suit filed by his longtime lawyer Michael Cohen, who claims Trump tried to silence him before the election by extending his prison stint for lying to Congress. Read more from Erik Larson.
A New York Congresswoman said she didn't "believe" that Biden would run for reelection in 2024, the latest Democratic official to question whether he will run for a second term. Rep. Carolyn Maloney (D) made the comment during a televised debate on Tuesday against Jerrold Nadler (D) and lawyer Suraj Patel, Marie-Rose Sheinerman reports.
A group aligned with Senate Minority Leader Mitch McConnell (R-Ky.) is targeting Sen. Mark Kelly with a TV ad accusing the Arizona Democrat of casting votes that directly contributed to inflation. The spot was scheduled to begin airing Wednesday, the day after Arizona's GOP voters went to the polls to select a nominee to take on Kelly. Read more from Zach C. Cohen, Alexander Cohen, and Ellen M. Gilmer.
Groups funded by the tech industry have spent almost $120 million on political advertising since the beginning of 2021, according to AdImpact, an ad-tracking service. (That doesn't include the $90 million the companies have spent on lobbying over the past year and a half.) It marks the first time the tech industry has spent more on political ads than the pharmaceutical industry, the traditional leader in the field.
Almost all of the money is directed against the American Innovation and Choice Online Act, making antitrust reform the second-largest political advertising campaign this election cycle, behind only the pivotal Georgia Senate race, according to AdImpact. Advocates supporting the legislation have spent less than $300,000 on advertising. Emily Birnbaum has the story.
MORE IN ELECTIONS & POLITICS
Defense & Foreign Affairs
Speaker Nancy Pelosi pledged that the US wouldn't abandon Taiwan, reaffirming American support for the democratically elected government in Taipei despite threats of fresh trade curbs and military actions by Beijing.
Pelosi (D-Calif.) made her comments on Wednesday during a Presidential Office ceremony with Taiwanese leader Tsai Ing-wen. The California Democrat's arrival in Taiwan late Tuesday made her the highest-ranking US official to visit in a quarter century, and the most high-profile success in Tsai's six-year drive to attract greater foreign support and reduce reliance on China. Read more from Samson Ellis, Debby Wu and Sarah Zheng.
The US approved the potential sale of more Patriot missiles to Saudi Arabia in a deal valued at as much as $3.05 billion, just weeks after an awkward meeting between Biden and Prince Mohammed bin Salman. Read more from Roxana Tiron.
The US warned of "higher potential for anti-American violence" abroad following the US strike that killed Ayman al-Zawahiri, the al-Qaeda leader who succeeded Osama bin Laden. Current information suggests terrorist groups "continue to plan terrorist attacks against U.S. interests in multiple regions across the globe," the State Department said in an advisory on Tuesday. Read more from John Harney.
Around the Administration
PRESIDENT'S SCHEDULE
Biden is scheduled to give virtual remarks at the first meeting of the interagency Task Force on Reproductive Healthcare Access at 2 p.m.
Federal Reserve officials effectively pushed back against a narrative in financial markets over the past week that policy makers are envisioning a pivot away from tightening amid evidence of a turn in the economy. Four Fed district-bank presidents said that there was no sign yet of inflation easing. Matthew Boesler and Catarina Saraiva have more.
The Biden administration's efforts to protect reproductive health information from law enforcement post-Dobbs hangs on how much authority its health agency has to preempt state criminal laws—a thorny issue for health lawyers. Read more from Allie Reed and Christopher Brown.
All 50 states have now submitted plans to the Biden administration to seek funding from a $5 billion tranche of money from last year's infrastructure law (Public Law 117-58) to install chargers for electric vehicles along highways. Read more from Lillianna Byington.
WHAT ELSE TO KNOW TODAY
Antitrust Aide Leaving: White House adviser Tim Wu, who helped shape the administration's agenda to bolster economic competition within industries including technology, health care and agriculture, is set to step down in the coming months, according to people familiar with the move. Read more from Emily Birnbaum, Leah Nylen, and Nancy Cook.
States' Robocall Fight: A bipartisan coalition of 50 state attorneys general launched a joint probe into telecom companies that facilitate illicit robocalls from outside the US. Andrea Vittorio has more.
Second Booster Efficacy: Hospital workers who got a fourth dose of Pfizer's mRNA vaccine were far less likely to get Covid than triple-vaccinated peers in a study, Dong Lyu reports.
To contact the reporters on this story: Brandon Lee in Washington at blee@bgov.com; Michaela Ross in Washington at mross@bgov.com
To contact the editors responsible for this story: Giuseppe Macri at gmacri@bgov.com; Loren Duggan at lduggan@bgov.com