What to Know in Washington: Biden to Reveal Major Spending Plan
President Joe Biden this week will reveal the scope and ambition of his plans to expand and reorient the U.S. government, setting the stage for a bitter fight on Capitol Hill that could define his presidency.
Biden will unveil the framework for a major infrastructure-and-jobs program on Wednesday in Pittsburgh, and later in the week offer the first glimpse of his 2022 budget — which promises to redirect federal funds to areas such as climate change and health care.
The announcements will offer the first concrete details of Biden's plan to overhaul federal spending, in a sales pitch without the immediacy of the pandemic emergency that he had for his first package. To succeed, Biden will have to convince the public and lawmakers on a multi-trillion dollar investment in infrastructure and social safety nets, along with a revamp of the tax code to help address funding needs and widening inequality.
"Successful presidents — better than me — have been successful in large part because they know how to time what they're doing," Biden said Thursday when asked why he was pursuing the massive spending package instead of other legislative priorities, such as gun control. Infrastructure is "the place where we will be able to significantly increase American productivity, at the same time providing really good jobs."
While Biden has made clear his plans will include tax-policy changes to help fund what aides have laid out as a roughly $3 trillion long-term program, how specific he'll be on Wednesday is uncertain. His budget plan also won't include a comprehensive breakdown about the agency-by-agency spending increases the administration is seeking. Read more from Erik Wasson and Justin Sink.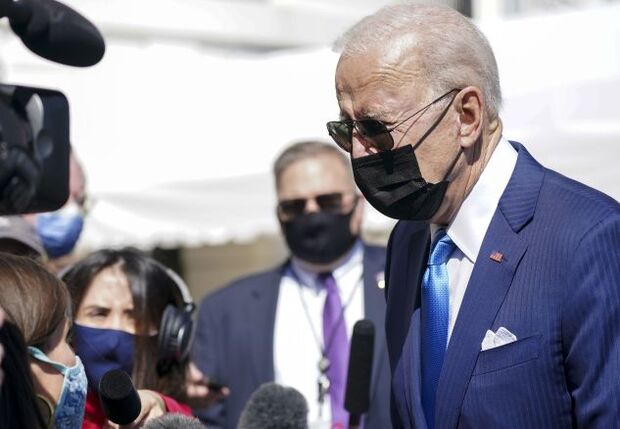 Happening on the Hill
Domestic Terrorism to Skirt Sweeping 9/11-Style Law: Domestic White-supremacist extremism is the greatest threat to U.S. security, Biden's top homeland security official told Congress — in the same way Islamist extremists were cast as the greatest threat before and after the 9/11 attacks two decades ago. But unlike after 9/11, when Congress enacted broad measures to combat Islamist terrorism — ranging from a new airport security regime to warrantless wiretapping — key homeland security lawmakers aren't likely to pursue expanded powers to fight the domestic threat any time soon. Read more from Shaun Courtney.
Republicans Demand Restoration of Trump Border Policy: Senate Republicans who visited the U.S.-Mexico border Friday demanded that the Biden administration restore a Trump-era policy that requires migrants who cross the frontier to go back to Mexico to file for asylum and wait there while their claims are filed. The group led by Sens. Ted Cruz (R-Texas) and John Cornyn (R-Texas) said that any congressional action on immigration policy is unlikely until that happens. Read more from Laura Litvan.
The Homeland Security Department will issue a notice of proposed rulemaking "to preserve and fortify" the Deferred Action for Childhood Arrivals program known as DACA, Secretary Alejandro Mayorkas said Friday in a statement. Mayorkas called the proposed rule an "important step" and says that only Congress can provide a path to citizenship for recipients of the program, who are known as Dreamers, Caitlin Webber reports.
Visa applicants facing agency processing delays are turning to the federal courts for relief that can save their employment and investments. The strategy is yielding, at best, mixed results. U.S. State Department embassies and consulates abroad have seen their visa interview backlogs grow from 75,000 at the start of 2020 to 473,000 by February of this year, Consular Affairs Acting Deputy Assistant Secretary for Visa Services Julie M. Stufft said at a briefing this month. Read more from Genevieve Douglas.
Elections, Politics & Influence
Progressives See a Chance to Push Democrats Left: Progressive groups see an opening to expand their influence in Congress thanks to the new president. With three special elections in coming months to replace Democratic House members selected by Biden for posts in the White House, the organizations that helped elect Rep. Alexandria Ocasio-Cortez (D-N.Y.) and other young progressives in recent elections see those races as openings to nudge the party further to the left, including on Medicare-for-All, the minimum wage, and the Green New Deal. Jarrell Dillard has more.
Sullivan Vows Murkowski Election Support: Sen. Dan Sullivan (R-Alaska) said he'll support colleague Lisa Murkowski's (R-Alaska) re-election campaign despite a vow by former President Donald Trump to campaign against her in 2022. Murkowski was one of seven Republicans to join Democrats in a vote in February to convict Trump of high crimes and misdemeanors for his role in inciting the U.S. Capitol riot. "We don't agree on everything but we make a good team for Alaska," Sullivan said. Read more from Shawn Donnan.
Coke, Delta Defend Failure to Stop Georgia Election Law: Corporations that declined to publicly oppose a sweeping Georgia election law accepted some responsibility for pushing to remove some of the most egregious elements from the legislation, which critics have said will make it more difficult for residents to vote. With pressure mounting in the state, several groups were threatening boycotts of Coca-Cola, Delta Air Lines, and other companies that have supported the bill's sponsors. Read more from Brett Pulley and Margaret Newkirk.
Ex-Google Official Starts Pro-Tech Progressive Group: A new technology industry group led by the former head of public policy at Google is looking to remind Democrats that technology companies are on their side when it comes to progressive priorities like voting rights, fighting climate change and reducing income inequality. Adam Kovacevich has launched the Chamber of Progress to promote "a progressive high-tech society, economy, workforce, and consumer climate," according to a statement. Read more from Ilya Banares.
Around the Administration
Biden Gives Covid-19 Response Update: Biden will speak at the White House this afternoon on the Covid-19 response and the state of vaccinations, according to the White House schedule.
The U.S. has spent months trying to vaccinate those most at-risk of severe illness from Covid-19, from health-care providers and the elderly to frontline workers and those with underlying medical conditions. In the weeks ahead, data on hospitalizations and deaths will show whether such strategy is working, just as infections are rising again in many states. Read more from Emma Court.
The coronavirus probably spread from bats to humans via another animal, with the likelihood it was leaked from a lab in China "extremely unlikely," according to the long-awaited results of a joint World Health Organization-China study into the origins of Covid-19 reported by the Associated Press. Read more from Jason Gale.
Ahead of the WHO report's release, top Biden administration officials yesterday expressed concern about the way it was crafted, including the possibility that the Chinese government had a hand in writing it. The U.S. has "real concerns about the methodology and the process" of the report, including that the Chinese government "apparently helped to write it," Secretary of State Antony Blinken said on CNN. Read more from Ros Krasny and Tony Czuczka.
U.S. Boosts Effort to Shield Power Grid: The Biden administration is escalating efforts to safeguard the U.S. power grid from hackers, developing a plan to better coordinate with industry to counter threats and respond to attacks, said people familiar with the matter. Top administration officials, including Energy Secretary Jennifer Granholm and Deputy National Security Adviser Anne Neuberger, briefed top utility industry executives on the efforts in a March 16 meeting, said the people, who requested anonymity because the session was private. The plan, which could prompt widespread changes in standards and cyber defense strategies, is set to be issued within weeks. Read more from Jennifer Jacobs, Jennifer A. Dlouhy and Michael Riley.
SolarWinds Hackers Accessed Emails of Top DHS Officials: Hackers accessed email accounts of then-acting Homeland Security head Chad Wolf and members of the DHS cyber security staff, AP reports, citing more than a dozen current and former U.S. officials. Hackers accessed other agencies including the Energy Department, and also accessed top officials' private schedules. DHS spokeswoman Sarah Peck said "a small number of employees' accounts were targeted in the breach" and the agency "no longer sees indicators of compromise on our networks."
Nord Stream Won't Change Germany Ties, Blinken Says: Secretary Blinken suggested U.S. options for stopping Nord Stream 2 are limited, but that differences over the Russian gas pipeline to Germany shouldn't burden relations between the two allies. While "we think it's a bad idea," Germany "is one our closest allies and partners anywhere in the world," Blinken said on CNN's "State of the Union" in an interview recorded after a NATO summit in Brussels last week. Read more from Tony Czuczka.
Blinken Condemns China's Sanctions: Blinken has condemned China's sanctions on two U.S. Commission on International Religious Freedom officials, apparently in retaliation for U.S. sanctions on China officials connected with human rights abuse in Xinjiang. "Beijing's attempts to intimidate and silence those speaking out for human rights and fundamental freedoms only contribute to the growing international scrutiny of the ongoing genocide and crimes against humanity in Xinjiang," Blinken said in a statement, Eduard Gismatullin reports.
Meanwhile, China and Iran signed an overarching deal aimed at charting the course of their economic, political and trade relations over the next 25 years. The Chinese government plans to invest in Iran and buy oil from the Islamic Republic, further straining ties with the U.S. already frayed by China's imports of covertly-shipped Iranian crude, Arsalan Shahla reports.
U.S., Allies Condemn Burmese Military's Violence: The defense chiefs of Australia, Canada, Germany, the U.K. and the U.S. condemned the use of lethal force against unarmed people by the Myanmar Armed Forces, according to their statement. Military officials from Greece, Italy, Japan, Denmark, the Netherlands, New Zealand, South Korea have also joined the move. Read more from Eduard Gismatullin.
U.K.-U.S. Trade Accord Is Likely Years Away: The U.K. and the U.S. are unlikely to be ready to strike a trade deal before 2023, in a blow to British hopes of a quick win from Brexit, according to people familiar with the matter. The Biden administration is focused on other top priorities, such as China and investing in domestic programs to boost the economy. And his legal power to fast-track a trade deal through Congress will expire July 1, Joe Mayes and Erci Martin report.
Biden Contracts for 18 Million Masks for At-Risk People: Two U.S. companies will produce some 17.8 million cloth masks under a new government contract as part of the White House plan to send the protective gear to disadvantaged communities that have borne the brunt of the coronavirus. Parkdale Advanced Materials and H.C. Contracting will each make 8.9 million masks for $20.5 million each, the Defense Logistics Agency said. Read more from Shira Stein.
Biden's Delay of Trump's Gig Contractor Rule Attacked: Business groups are mounting a legal challenge to the Department of Labor's decision to delay a Trump-era rule that would make it easier for businesses to classify workers as independent contractors. In a complaint filed in federal court in Texas, the Coalition for Workforce Innovation alleged the decision to punt implementation violates the Administrative Procedure Act, Maeve Allsup reports.
To contact the reporters on this story: Zachary Sherwood in Washington at zsherwood@bgov.com; Brandon Lee in Washington at blee@bgov.com
To contact the editors responsible for this story: Giuseppe Macri at gmacri@bgov.com; Loren Duggan at lduggan@bgov.com; Michaela Ross at mross@bgov.com