What to Know in Washington: Biden to Push Congress on Stimulus
President Joe Biden will escalate appeals for Congress to back his top priority, $1.9 trillion in pandemic relief, seeking to overcome Republican opposition to the plan as he enters his first full week in office.
Biden's top economic adviser, Brian Deese, spent more than an hour on Sunday discussing the proposal with a bipartisan group of lawmakers. Some asked the White House to further justify what would be the second-largest emergency spending measure in U.S. history and expressed interest in a much narrower bill focused on accelerating coronavirus vaccine distribution, according to Sen. Angus King (I-Maine) and people familiar with the matter.
Deese and other officials provided details and context in response to the senators' questions, according to an administration official. Senior White House aides plan to keep talking with lawmakers in both parties this week to hear their concerns but also press for urgent action, the official said.
As the president's team began its work with key lawmakers, Biden is moving forward with another round of executive actions, following on a series of orders signed soon after he took office. Today, he will sign an order directing federal agencies to buy more American-made products and is expected to take other actions on criminal justice, climate, health care and immigration.
The new orders will add to roughly two dozen actions Biden has signed since Inauguration Day in an effort to address the coronavirus pandemic, reverse former President Donald Trump's agenda and point the nation in a new direction.
While girding for what may be prolonged negotiations with Republicans, Biden received welcome news with the Senate's decision to delay the start of Trump's second impeachment trial. The president had urged lawmakers to spend more time filling Cabinet posts and working on his agenda. The Senate this week is expected to take up the nomination of Janet Yellen to lead the Treasury Department, which would fill a key vacancy at a critical moment for the economy. Read more from Jordan Fabian.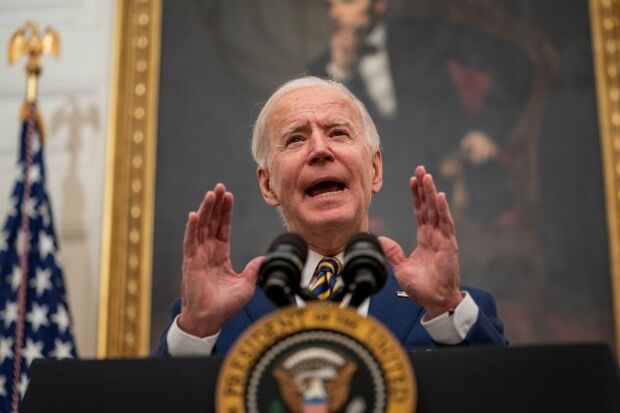 Biden to Sign Order on Buying U.S. Goods: Biden will sign an executive order today to boost federal agencies' purchases of U.S. products, fulfilling a campaign pledge to lay out a "Buy American" plan. The order directs agencies to strengthen requirements so that they acquire more goods and services from U.S. companies and workers, according to administration officials. The agencies spend almost $600 billion through these contracts.
The new policy makes it harder for federal officials to obtain waivers to purchase products from overseas, addressing what the administration called were loopholes that allowed agencies to skirt existing requirements. It establishes a new position in the White House Office of Management and Budget to oversee the changes and forces agencies seeking a waiver to post them on a public website where U.S. companies can check if they could fill the contract. Read more from Jordan Fabian.
Pandemic Tops Biden's Agenda
Shot Scarcity Weighs on Hopes for Biden's Global Push: With a new president in the White House, the U.S. is re-engaging with the rest of the world to combat Covid-19. But for now, the Biden administration may hold back the one thing poorer nations desperately need: vaccines. A day after Biden's inauguration last week, his chief medical adviser, Anthony Fauci, pledged support for the World Health Organization, including participation in the Covax program that aims to deploy vaccines globally. But even with the U.S. playing a major role, tough challenges remain in the effort to aid lower-income nations. James Paton and John Lauerman have more.
U.S. Won't Relax Travel Restrictions as Trump Had Planned: Biden will continue to restrict travel to the U.S. from the U.K., Ireland, and 26 countries in Europe, and will extend the ban to South Africa, to slow transmission of Covid-19, said a White House official familiar with the plan. The latest ban would prevent most non-U.S. citizens from entry if they have recently been in South Africa, where a new strain of the virus has been identified. It's unclear how long the restrictions will continue. Read more from Jordan Fabian.
U.S. to Boost Surveillance of Virus Variant: The U.S. government, including the Pentagon, is boosting surveillance of coronavirus variants to monitor their effect on Covid-19 vaccines and therapeutics, the new Centers for Disease Control and Prevention director said. "We are now scaling up both our surveillance of these and our study of these," Rochelle Walensky told "Fox News Sunday." The agency is working with others, including the Defense Department and the FDA, to monitor the novel variants, she said. Read more from Craig Torres and Tony Czuczka.
As the U.K. coronavirus variant spreads across the country, the U.S. has reached another milestone in the year-long struggle against the coronavirus, as total infections exceeded 25 million—or roughly 8% of the population—Johns Hopkins University data show. Brian Wingfield has more.
Birx Says Trump Presented Charts She Never Made: Deborah Birx, who recently ended her stint with Donald Trump's coronavirus task force, said misinformation abounded in his White House and that the former president had presented "parallel" information about the pandemic. "I saw the president presenting graphs that I never made. So I know that someone — someone out there or someone inside — was creating a parallel set of data and graphics that were shown to the president," Birx said in a lengthy interview on CBS's "Face the Nation" that aired yesterday. "I know what I sent up, and I know what was in his hands was different from that," she said. Read more from Yueqi Yang.
Also on Biden's Radar
Biden Talks With Foreign Leaders: Biden spoke with the leaders of Canada and Mexico on Friday, his first calls with foreign counterparts since his inauguration. The White House said that Biden underlined to Canadian Prime Minister Justin Trudeau "the strategic importance of the U.S.-Canada relationship," including on fighting the pandemic and climate change. In the call with with Andrés Manuel López Obrador, Biden outlined his plan to address root causes of immigration, the White House said. Read more from Josh Wingrove and Kait Bolongaro.
Texas Files Immigration Case Against Biden: The Homeland Security Department, 12 days before Inauguration Day, struck a "binding" deal with Texas agreeing to consult with the state for 180 days before making changes to immigration policies, effectively tying the hands of the new administration. That accord is at the center of the first major lawsuit against the Biden administration. Read more from Erik Larson.
Can Biden Oil Leasing Halt Survive Legal Challenges: An industry trade group is pledging legal action to force the Biden administration to hold quarterly oil and gas leases, but legal observers say the federal government's expected moratorium on such sales stands on solid legal ground. The Interior Department on Jan. 20 temporarily halted oil and gas leasing activity on federal lands and waters for 60 days, a move widely expected to be a prelude to a long-term moratorium set to be unveiled next week as part of Biden's climate plan. Read more from Bobby Magill.
Late Trump-Era Health Rules Raise Legal Questions: The Biden administration could delay or rewrite three major health-care rules issued in the last weeks of the Trump administration after their effective dates were found unlawful by a federal watchdog agency. Two of the new rules provide broad exceptions to the Stark Law and Anti-Kickback Statute, which police fraud in the health-care industry. Read more from Tony Pugh.
Termination Urged of For-Profit Accreditor: Biden's administration should revoke approval of a college accreditor with a long history of compliance and oversight failures, career officials at the Education Department recommended Friday. The Accrediting Council for Independent Colleges and Schools has been scrutinized for years after the closure of two for-profit chains, Corinthian Colleges and ITT Tech. Read more from Andrew Kreighbaum.
Biden Administration Takes Shape
Yellen Set for Confirmation Vote: Janet Yellen is on the verge of confirmation as treasury secretary after getting the unanimous approval of the Senate Finance Committee on Friday, with a full vote by the chamber set for today. Senate Majority Leader Chuck Schumer (D-N.Y.) said Friday that the full chamber will vote on her confirmation today at 5:30 p.m. Read more from Saleha Mohsin, Erik Wasson and Daniel Flatley.
Biden Health Picks Stuck With Power-Sharing in Flux: The Senate Health, Education, Labor, and Pensions Committee is stuck in a holding pattern until Senate leaders are able to reach a power-sharing agreement, potentially pushing back a confirmation hearing for Biden's pick to lead the Health and Human Services Department. Committees aren't formally adding any new members or chairs until the agreement is struck, leaving the Senate HELP Committee without a ranking member and delaying the committee's work in scheduling hearings for Xavier Becerra, according to two Democratic Senate aides, Alex Ruoff reports.
Biden Urged to Back Okonjo-Iweala for WTO: Dozens of former senior government officials called on Biden to clear a path for Ngozi Okonjo-Iweala to head the World Trade Organization after the Trump administration halted her nomination. Okonjo-Iweala, who would be the first woman to lead the WTO, is a dynamic leader who can manage the trade body through an era of reform, former World Bank official Joseph Stiglitz and others told Biden, Eric Martin reports.
Martha Gimbel Joins Biden's Economic Council: The Biden administration appointed economist Martha Gimbel as a senior adviser to the White House's Council of Economic Advisers and continues to round out the ranks of the team at the Office of Management and Budget. Gimbel was a senior manager for economic research at Schmidt Futures, an organization dedicated to advancing science founded by Eric Schmidt, the billionaire former Google chief executive. She announced the appointment on her Twitter account. Read more from Ana Monteiro.
Biden Names Hanson as Nuclear Regulator Chief: Biden designated Christopher Hanson, currently a commissioner on the Nuclear Regulatory Commission, as the agency's new chair effective immediately. The Democrat is a former staff member of the Senate Appropriations Committee and an aide in the Department of Energy's nuclear office, Jordan Yadoo reports.
Trump Under Scrutiny
Trump's Senate Trial Divides GOP: Prospects for convicting Trump in his impeachment trial are waning as more Republicans embrace the argument that a conviction would be divisive, unwarranted or even unconstitutional. A key point of argument is whether the Constitution allows Congress to try a president who has left office. Many constitutional scholars and 19th century precedent say yes; a growing number of Republicans — even some who have decried Trump's conduct — say no.
Sen. Mitt Romney (R-Utah) is one of few Republicans to publicly say Trump, now a private citizen, should stand trial on the House's charge that he incited his supporters to storm the Capitol on Jan. 6. "The preponderance of the legal opinion is that an impeachment trial after someone's left office is constitutional," Romney said yesterday on CNN's "State of the Union" program. "I believe that what is being alleged and what we saw, which is incitement to insurrection, is an impeachable offense. If not, what is?" Read more from Steven T. Dennis.
Trump-DOJ Election 'Plot' Will Get Probe: Top Democrats vowed to investigate "troubling questions" about the involvement of officials at the Justice Department in efforts to reverse Trump's election loss. Responding to a report by The New York Times, Senate Majority Whip Dick Durbin (D-Ill.) said Saturday that the Judiciary Committee, which he'll chair in the new Congress, would take up the matter. Durbin and other Democrats on the panel in a letter asked acting U.S. Attorney General Monty Wilkinson to ensure relevant documents are preserved and made available to the committee.
The New York Times reported Friday that Trump considered ousting acting Attorney General Jeffrey Rosen and replacing him with another DOJ lawyer, Jeffrey Clark, who was prepared to back Trump's efforts to overturn the election. The Democrats in their letter called the details in the report "astonishing," and drew a direct line between the "alleged plot" and the events of Jan. 6. Read more from Ros Krasny.
The Trump administration's top environmental lawyer faces career repercussions and possibly ethics probes in the wake of allegations, which he disputes, that he worked with Trump to try to cast doubt on the 2020 election results. Read more from Ellen Gilmer.
Money, Politics & Influence
Generics-Makers Prepare for Exclusivity Fight: The generic drug industry is gearing up for a busy year with members of Congress mulling changes to the pharmaceutical supply chain and how medicines are priced. The Covid-19 pandemic sparked fears among U.S. regulators and lawmakers around drug shortages and the U.S. reliance on foreign medicine producers, particularly for the ingredients crucial to generic drugs. Read more from Alex Ruoff.
Covid Dented Lobbying by Business Groups: As the coronavirus forced lockdowns and slammed the economy, some trade groups took a hit to their annual dues and canceled plans for revenue-generating conferences. As a result, some of Washington's biggest and most powerful trade associations spent less on lobbying in 2020 than in 2019, year-end disclosures show. The list of groups that posted declines includes many whose members were hardest hit by the pandemic: the Business Roundtable, American Hotel & Lodging Association, Cruise Lines International Association, National Retail Federation, National Restaurant Association and the National Federation of Independent Business. Read more from Ben Brody and Naomi Nix.
'Dark Money' Helped Pave Biden's Path: Biden benefited from a record-breaking amount of donations from anonymous donors to outside groups supporting him, meaning the public will never have a full accounting of who helped send him to the White House. The Biden campaign was backed by $145 million in "dark money" donations, a type of fundraising Democrats have decried for years. Read more from Bill Allison.
To contact the reporters on this story: Zachary Sherwood in Washington at zsherwood@bgov.com; Brandon Lee in Washington at blee@bgov.com
To contact the editors responsible for this story: Giuseppe Macri at gmacri@bgov.com; Loren Duggan at lduggan@bgov.com; Michaela Ross at mross@bgov.com