What to Know in Washington: Biden to Pressure Scholz on Ukraine
Bloomberg Government subscribers get the stories like this first. Act now and gain unlimited access to everything you need to know. Learn more.
When Chancellor Olaf Scholz arrives at the White House on Friday, the challenge of how to maintain weapons supplies to Ukraine will be high on the agenda.
The German leader may come under pressure from President Joe Biden over the struggle to produce enough ammunition for the front lines and the two leaders are likely to discuss ways to cooperate more on stepping up manufacturing. This will be Scholz's second visit to the White House since taking office in 2021.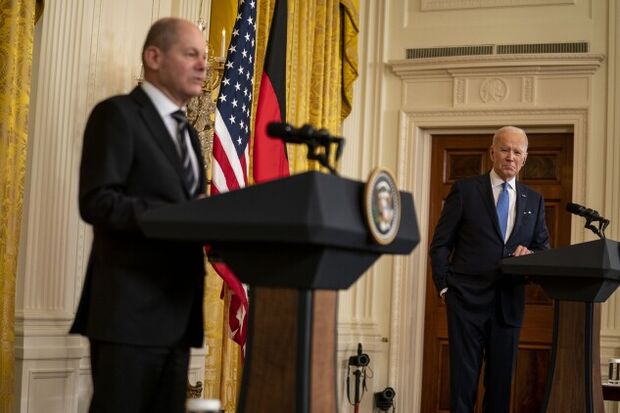 While the US and Germany already agreed in lockstep to send battle tanks and Patriot missiles to Ukraine earlier this year, President Volodymyr Zelenskiy's troops are still waiting on much of that equipment and face a shortage of basic artillery shells.
White House National Security Council spokesman John Kirby on Thursday told reporters that Biden and Scholz are likely to discuss their recent conversations with Zelenskiy, the upcoming NATO summit and relations with China. A senior administration official said the two leaders would meet in the Oval Office for an hour or so, and that they'd likely have a significant portion of one-on-one time.
Arne Delfs and Michael Nienaber list the main issues to watch.
The US will also announce a fresh round of military aid to Ukraine on Friday, Kirby said that the new US package will include "mostly ammunitions and munitions that the Ukrainians will need for the systems they already have." Read more
China and Russia refused to join other Group of 20 nations in a statement in which most members condemned

Vladimir Putin

's war in Ukraine, showing divisions remain entrenched on how to end a conflict that has roiled the global economy. Read more
Happening on the Hill
CONGRESS' SCHEDULE
The House returns Tuesday.
The Senate convenes Monday at 3 p.m.
The top Senate appropriators are planning to start spending bill markups in May, they shared today with their colleagues on the committee.
The Equal Rights Amendment has faced a century of setbacks since its first introduction in 1923, most recently this week's court ruling that has ERA backers largely shifting their focus to pressing Congress to validate the measure.
A House investigation into the entities that manage prescription drug benefits should be accompanied by other actions that can help shed light on how US drug prices are formed, analysts say.
The heads of key US intelligence agencies will testify at a March 9 hearing by the House Permanent Select Committee on Intelligence, according to an advisory issued by the panel.
Starbucks on Thursday said it isn't planning to send interim Chief Executive Officer Howard Schultz to testify on alleged labor-law violations before a US Senate committee.
Sen. Robert Menendez (D-N.J.) urged Biden to nominate a Latino to a vacancy on the Federal Reserve Board of Governors, according to an aide to the senator.
Biden's picks to lead his Medicare agency and serve as deputy health secretary advanced out the Senate Finance Committee Thursday, despite objections from leading Republicans.
The Senate Finance Committee on Thursday advanced Danny Werfel's nomination to be IRS commissioner, putting Werfel one step closer to leading the agency.
A congressional watchdog says that progressive Rep. Alexandria Ocasio-Cortez (D-N.Y.) might have broken House rules when she attended the 2021 Met Gala in New York in a rented designer gown, which attracted as much if not more attention than anything the celebrities alongside her were wearing.
Sen. Dianne Feinstein (D-Calif.), the chamber's oldest member, has been hospitalized in San Francisco with a case of shingles.
Elections, Politics & Probes
House Democrats are retooling a messaging strategy on promoting accomplishments that gained little traction when they were in the majority in their bid to win back the chamber in 2024.
The stage is set for Biden's first veto, which would halt an effort to block a new policy on socially conscious 401(k) investing as retirement plans play a larger role in forging a greener Wall Street.
The US Supreme Court requested a new round of briefing in a closely watched election-law case, suggesting the justices have questions about their power to rule after a lower court said it would reconsider one aspect of the clash.
Two California men were sentenced to prison for plotting to firebomb the Democratic headquarters in the state's capital following the 2020 presidential election.
Around the Administration
BIDEN'S AGENDA
Biden at 11:30 a.m. awards a Medal of Honor to Vietnam War veteran Ret. US Army Col. Paris Davis.
Biden is scheduled to meet German Chancellor Olaf Scholz at 2 p.m. at the White House.
At 3:45 p.m., Biden leaves for New Castle, Delaware.
White House Press Secretary Karine Jean-Pierre gives a 12:45 p.m. briefing.
Biden said he'd sign Republican legislation barring the government in Washington, DC, from making changes to its own criminal code, reversing his earlier position in a move that will surely anger statehood advocates and others in the heavily Democratic city.
Biden said he would visit East Palestine, Ohio, as the town recovers from a fiery train derailment that left residents fearful about contaminated air and water.
Some of the valves on railroad tank cars designed to keep volatile, toxic chemicals from exploding were damaged in the Ohio derailment last month as the train burned, investigators said Thursday. Read more
Biden's push to put software vendors on the hook for cyberattacks is a significant strategy shift for an industry that has largely escaped legal liability after high-profile hacks.
US Secretary of State Antony Blinken and his Quad nation counterparts seemed to use a public appearance to reassure China the grouping was not a security union seeking to force countries in Asia to choose between them and Beijing.
The Biden administration on Thursday announced export restrictions for dozens of Chinese entities, including server maker Inspur and units of genetics firm BGI, citing activities contrary to US national security and foreign policy interest. Read more
It's been more than three decades since the Philippines ordered US troops to withdraw from their sprawling military bases in the country, ending an era that hearkened back to America's colonial days.
US Securities and Exchange Commission Chair Gary Gensler said he's open to changing the agency's proposed overhaul of Wall Street trading rules as market participants vigorously debate and, in some cases, mount opposition to the measures.
A congressional advisory commission is considering a series of recommendations to help curb Medicare spending for "Part B" drugs that are administered in doctors' offices and hospital outpatient departments.
To contact the reporters on this story: Brandon Lee in Washington at blee@bgov.com; Michaela Ross in Washington at mross@bgov.com
To contact the editor responsible for this story: Katrice Eborn at keborn@bgov.com
Stay informed with more news like this – from the largest team of reporters on Capitol Hill – subscribe to Bloomberg Government today. Learn more.