What to Know in Washington: Biden to Pitch Electric Cars at Ford
President Joe Biden's visit to a Ford plant in Michigan today will highlight the potential and peril of electric vehicles as the White House looks to build support for its $174 billion proposal to transform the automobile industry even as a global chip shortage hinders production.
Biden will get a sneak peek at the F-150 Lightning — an all-electric version of the pickup that has been the best-selling vehicle in the U.S. since the Reagan administration — during his visit to Ford's new Rouge Electric Vehicle Center in Dearborn, scheduled for 12:45 p.m. Ford has heralded the new model, which is to go on sale next year, as a turning point in the electric-vehicle revolution, and the White House is hoping the rollout can strengthen Biden's push to spend billions of dollars on tax credits and charging stations.
The ultra-popular pickup is in many ways an ideal opportunity for Biden to paint his infrastructure effort as a boon for the middle class. The F-150, which generates $42 billion a year in revenue, sells strongest in red states, with Texas being its No. 1 market — an image that helps counter lingering perceptions that electric vehicles are largely the purview of coastal elites.
The White House framed Biden's overall push for electric vehicles as a central effort in the competition with China in a fact sheet released shortly before the president departed for Michigan. "Despite pioneering the technology, the United States is behind in the race to manufacture these vehicles and the batteries that go in them," the White House document said. "Today, the U.S. market share of plug-in electric vehicle sales is only one-third that of the Chinese EV market." Read more from Justin Sink and Keith Naughton.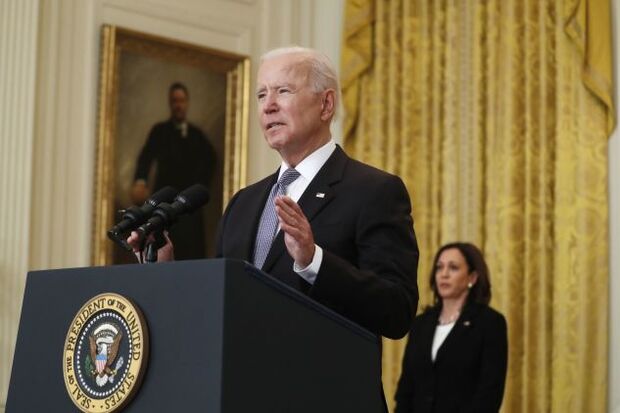 Happening on the Hill
Today's Agenda:
The House is scheduled to consider nine measures under expedited procedures.
The Senate will resume consideration of a bill to bolster the U.S.'s ability to compete with China.
Click here for a complete list of today's hearings and markups.
BGOV Spring 2021 Hill Watch Event: Join Senator Mark Warner (D-Va.) and Bloomberg Government's Rebecca Kern for a live, moderated discussion at 10 a.m. today on the outlook for legislative efforts on Section 230 reform, online privacy, and more. Download Bloomberg Government's Spring 2021 Hill Watch here.
GOP 'Getting There' on Infrastructure Counteroffer to Biden: Republican senators say they are on track to deliver their counteroffer today to the Biden administration on the biggest infrastructure package in recent decades. "It's not all ready but it's getting there," Sen. Shelley Moore Capito (R-W.Va.), who's leading the GOP effort, said yesterday. Capito and other Republican senators will meet today with administration officials including Transportation Secretary Pete Buttigieg and Commerce Secretary Gina Raimondo as the two sides continue negotiations that started last week with Biden hosting a meeting at the White House. Read more from Erik Wasson and Laura Litvan.
House Republicans plan to introduce legislation this week to authorize more than $400 billion over five years for surface transportation programs, according to a person familiar with the matter, Lillianna Byington reports. The bill will include funding for highways, safety programs, and transit, but doesn't include a passenger rail authorization.
Senate Advances China Competition Bill: The Senate voted to move ahead with a bill that would jump-start U.S. research and development with a cash infusion of more than $100 billion as part of a broader push to strengthen American technological competitiveness against a rising China. The bill, known as the Endless Frontier Act, is now headed for as much as two weeks of debate. Read more from Daniel Flatley and Jenny Leonard.
Manchin, Murkowski Call to Rewrite Voting Rights Act: Sens. Joe Manchin (D-W.Va.) and Lisa Murkowski (R-Alaska) are urging congressional leaders to embark on a broad rewrite of the Voting Rights Act of 1965, a bipartisan move that underscores the difficulties Democrats face in getting their own sweeping voting bill through Congress. In a letter to House and Senate leadership in both parties, the two said reshaping the landmark 1965 law, designed to protect the right of minority groups to vote, is the best way to secure consensus on ballot-box inequities. Read more from Laura Litvan.
Vote on Repealing Worker Bias Rule This Week: The Senate will vote this week on whether to overturn a rule on how employers can resolve workplace bias claims, its third effort to kill a regulation from Trump's administration. A resolution to repeal the Equal Employment Opportunity Commission rule is first on the Senate's to-do list for this week, Majority Leader Chuck Schumer (D-N.Y.) said yesterday. Read more from Courtney Rozen.
Defense Bill Could Be Delayed Until September: The House Armed Services Committee may delay writing the fiscal 2022 defense authorization bill until September due to other legislation taking priority and Biden's budget coming later than normal, congressional aides said. House leaders have indicated that floor time would be taken up by other bills, according to the aides, who asked not to be named because the schedule isn't confirmed, Roxana Tiron reports.
Politics & Influence
Democrats in Swing Districts Reach Out on Tax Hikes: Democrats likely to face some of the most challenging re-elections in 2022 are preparing for a potentially tough sell back home on how to pay for Biden's spending plans. Before any details are finalized or bill text has been released, some vulnerable House Democrats are attempting to help shape the infrastructure and social safety net packages Biden proposed over the past few months. And, with tax hikes on corporations and high-income earners included to pay for them, the incumbents have also begun engaging businesses in their districts on the benefits of the legislation and the effects of the new taxes. Read more from Emily Wilkins.
Abortion Case Injects Supreme Court Into 2022: The U.S. Supreme Court's agreement to take up a Mississippi abortion case has injected an unexpected culture-war issue into a 2022 midterm election season that both parties hoped would be a referendum on Biden's economic plan. Whichever side wins at the high court could end up losing at the ballot box. Both abortion rights groups and anti-abortion activists are gearing up to make Roe v. Wade an unavoidable issue as the races for Congress and state government offices heat up. Read more from Gregory Korte.
Stefanik's Move to Leadership Draws Lobbyists' Attention: Rep. Elise Stefanik's (R-N.Y.) congressional campaign invited donors in Washington to an in-person fundraising lunch as her House leadership bid ramped up and former President Donald Trump was about to endorse her. The event, set for tomorrow according to an invitation obtained by Bloomberg Government, marks the start of the New York Republican's new relationship with K Street after ascending last week to her party's No. 3 position in the chamber. Stefanik enters the job without a large network of lobbyists in Washington, with only one former aide now at a government relations firm. That's about to change thanks to her role as GOP conference chair. Read more from Megan R. Wilson.
Arizona Audit Rankles GOP County Leaders: Maricopa County Republican leaders are done addressing allegations of wrongdoing lodged by Arizona state GOP senators about the 2020 election and ballots subpoenaed for an audit of Biden's win, they said yesterday in an impassioned rebuttal. The Maricopa County Board of Supervisors meeting came weeks into an unprecedented audit led by a state Senate contractor that includes a recount of 2.1 million county ballots. Read more from Brenna Goth.
Around the Administration
Biden Proposes Billions for Cybersecurity: Biden's infrastructure proposal includes billions of dollars tied to improving cybersecurity, an area of intensified interest after the ransomware attack on the Colonial Pipeline sent U.S. gasoline prices soaring last week. But the exact amount that will be spent on improving cyber defenses remains to be seen. The $2 trillion infrastructure plan includes $20 billion for state, local and tribal governments to modernize their energy systems contingent upon meeting cybersecurity standards, as well as $2 billion for grid resilience in high-risk areas that will be contingent on meeting cybersecurity targets, the White House said in a fact sheet released today. Read more from Jennifer Epstein and Kartikay Mehrotra.
Biden Eyes Jobs in Expanding Vaccines Abroad: Biden began yesterday to make good on his promise that the U.S. would be an "arsenal" of coronavirus vaccines for the world, announcing he'd share FDA-authorized shots after criticism that his administration had hoarded hundreds of millions of doses. But he also signaled that he intends for U.S. manufacturers to hold or grow their share of the global market for vaccines, casting his decision to begin supplying other countries as an engine for American jobs. He cautioned that American contributions alone won't resolve the crisis. Read more from Josh Wingrove.
CDC Deputy Director Set to Retire in Second High-Profile Exit: A top-ranking Centers for Disease Control and Prevention official will retire this summer, the second member of the agency's leadership to announce a departure in a month as controversy has swirled around its recommendations. CDC principal deputy director Anne Schuchat's departure come amid criticism of the agency's communications and policy changes in response to emerging science on how the virus spreads through aerosols and when wearing masks is needed. Read more from Elaine Chen.
Biden Tells Netanyahu He Supports a Cease-Fire: Biden said he would support a cease-fire between Israel and Hamas during a phone call yesterday with Israeli Prime Minister Benjamin Netanyahu, according to a statement. That's the most significant move yet by the U.S. to end the violence in Gaza. "The President expressed his support for a ceasefire and discussed U.S. engagement with Egypt and other partners towards that end," White House Press Secretary Jen Psaki said in a statement describing the call, Jordan Fabian reports.
Navy to Seek Eight Vessels in Next Budget: The U.S. Navy will request funding for eight new vessels in the next fiscal year budget, down from the 12 originally sought in a Trump administration blueprint meant to build a vastly larger fleet of ships and submarines, according to budget data and officials. Read more from Tony Capaccio.
Biden's Income Dropped in 2020: Biden's income fell dramatically to $607,336 in 2020 as he dropped lucrative speaking engagements to campaign for the White House, but he still earned enough to pay the higher tax rates he's proposed for wealthy people. Biden and first lady Jill Biden paid $157,414 in federal income tax, making their federal income tax rate 25.9%, according to their 2020 tax return obtained by Bloomberg News. Jennifer Epstein has more.
Measures to Preserve DACA Said Coming Soon: U.S. Citizenship and Immigration Services is working on a new rulemaking to preserve the Deferred Action for Childhood Arrivals program pending the verdict of litigation. The DACA program "continues as is until litigation issues are resolved," USCIS Chief of Staff Felicia Escobar Carrillo said at an event yesterday hosted by the Catholic Legal Immigration Network. Read more from Genevieve Douglas.
U.S. Meets with Mexico, Canada on Trade: The U.S., Mexico and Canada yesterday discussed workers' rights and protections for energy investment and the environment in Latin America's second-largest economy. On the first day of an annual meeting to review their trade pact, U.S. Trade Representative Katherine Tai and Mexican Economy Minister Tatiana Clouthier talked about the importance for Mexico to continue its labor overhaul, Tai's office said in a statement. Read more from Eric Martin.
To contact the reporters on this story: Zachary Sherwood in Washington at zsherwood@bgov.com; Brandon Lee in Washington at blee@bgov.com
To contact the editors responsible for this story: Giuseppe Macri at gmacri@bgov.com; Loren Duggan at lduggan@bgov.com; Michaela Ross at mross@bgov.com