What to Know in Washington: Biden to Pick Young for Budget Chief
President Joe Biden plans to nominate his acting budget chief to permanently lead the White House Office of Management and Budget, after the previous nominee dropped out following bipartisan backlash in Congress.
Here's what Bloomberg Government is tacking today:
Biden's Agenda:
Biden will remain in Nantucket, Mass. through Sunday. The president has no public events scheduled.
Biden Will Nominate Shalanda Young as His Budget Chief
Biden will nominate Shalanda Young as the chief of the Office of Management and Budget, a position she has held in an acting capacity for much of this year, a person familiar with the matter said late last night, Jenny Leonard reports.
Young assumed the role of acting director, after Biden's first nominee, Neera Tanden dropped out of Senate consideration back in March.
The president had originally nominated Young as deputy director and the Senate confirmed her to that post. Top House Democrats including Speaker Nancy Pelosi (D-Calif.) pushed Biden to promote Young, who had been on the staff of the House Appropriations Committee.
The decision to nominate her as permanent director was reported earlier by the Washington Post.
OMB, according to the White House website, "oversees the implementation of the president's vision across the Executive Branch." Even so, the job of permanent director was one of many top posts across the administration that remain unfilled.
Tanden's nomination last November touched off an angry backlash on the right and the left over sarcastic Twitter posts that were critical of her political opponents, including supporters of Sen. Bernie Sanders (D-Vt.) and as well as prominent Republicans, who would have voted on her selection.
Tanden, who had been president of the liberal Center for American Progress, then joined the White House staff as a senior adviser and in October was named staff secretary.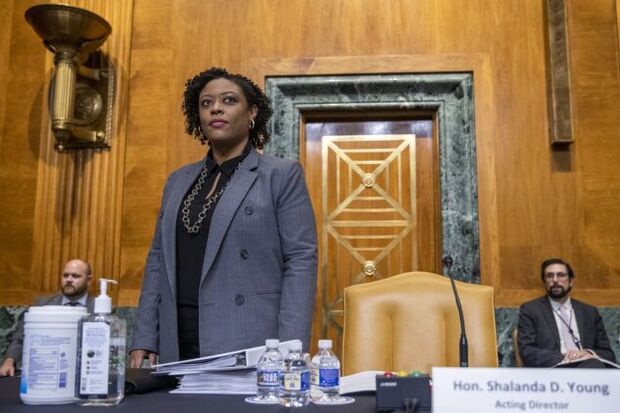 Biden will nominate former Obama administration Housing and Urban Development deputy secretary Nani Coloretti to fill Young's previous role as deputy OMB director, CNN reports.
Immigrant Protections in Democrats' Plan Inch Forward
Senate Democrats moved through another procedural hurdle yesterday in their effort to include immigration provisions in a sweeping social spending and tax bill they hope to pass next month.
Democratic aides met with the Senate parliamentarian to informally discuss a plan to give some undocumented immigrants temporary work permits and deportation protections, a pathway known as parole, according to a person familiar with the effort.
House lawmakers passed their version of the legislation (H.R. 5376) last week. The Senate meeting is the latest sign of life for immigration provisions that have repeatedly been declared dead prematurely.
The immigration proposal is set to move as soon as next week to a formal "Byrd bath" process, the source said, referring to a procedure in which legislation is assessed to see if it complies with the Byrd rule requiring measures to be primarily budget related.
The parliamentarian will hear arguments from both parties on whether the immigration provision can be included under the budget reconciliation process Democrats are using to pursue their agenda. Read more from Ellen M. Gilmer.
For millionaires trying to decipher if they will pay more or less in taxes under Biden's Build Back Better plan, the answer largely depends on just how much income they get and how it's earned. Millionaires would collectively pay a higher average tax rate in 2022—33.1%, up from 29.9%—under the version of the Build Back Better Act passed by the House last week, according to new data released by the the congressional tax scorekeeper, the Joint Committee on Taxation. Read more from Laura Davison.
Also in House Democrats' bill, employers likely would reduce workplace paid leave benefits if the legislation's proposed federal paid leave benefit makes it to Biden's desk, the Congressional Budget Office said. The paid leave part of the package is not likely to survive Senate scrutiny because Sen.

Joe Manchin

(D-W.Va.) is resistant to the new benefit, and Democrats can't lose a single vote. It's estimated to cost $205 billion over 10 years. "To retain existing employees and attract new employees, employers would probably need to increase earnings or other benefits to offset some of the decline in employees' total compensation," CBO analysts wrote. Read more from Chris Marr.
A little-noticed provision of the House-passed Build Back Better Act that would lower the share of health-care premiums employees must pay could jeopardize company-sponsored plans, pushing millions of workers into Medicaid or Obamacare coverage, according to employer groups and the Congressional Budget Office. The bill includes a provision that would lower the share of premiums employees have to pay for coverage deemed affordable and adequate under the Affordable Care Act to 8.5% of household income for 2022-25. Read more from Sara Hansard.
ALSO HAPPENING ON THE HILL:
The House committee investigating the Jan. 6 storming of the U.S. Capitol has subpoenaed leaders of militia groups linked to the riot. The subpoenas unveiled yesterday were issued to Oath Keepers founder Elmer Stewart Rhodes, a former Army paratrooper; Henry "Enrique" Tarrio, who was chairman of Proud Boys at the time; and Robert Patrick Lewis, chairman of a group that calls itself "First Amendment Praetorian." The committee also seeks records in the Lewis subpoena from his group. Read more from Billy House.
Covid-19 relief grants for motorcoaches, schools buses, and other passenger vehicle-dependent industries should receive the same tax-free treatment as aid offered to other sectors, a bipartisan group of 41 senators led by Sen.

Chuck Grassley

(R-Iowa) said. The pandemic aid package enacted in December 2020 established Coronavirus Economic Relief for Transportation Services grants, which aimed to replace a portion of the revenue eligible businesses lost out on in 2020. Read more from Kaustuv Basu.
Around the Administration
Biden Drug Agency Pick Returns With Deep Industry Ties: Biden's pick to lead the Food and Drug Administration made millions of dollars from health and drug companies since his prior stint in government, raising new questions about his ties to firms the agency oversees. Robert Califf was paid $2.7 million by Verily Life Sciences, the biomedical research organization operated by Alphabet and sits on the boards of two pharmaceutical companies, AmyriAD and Centessa Pharmaceuticals. Read more from Alex Ruoff, Jeannie Baumann, and Celine Castronuovo.
Biden Urged to Take Lead in Vaccine IP Waiver Talks: Biden's administration is facing increased pressure to fulfill its commitment to a global waiver on coronavirus vaccine intellectual property protections, as nations gear up for a renewed discussion on the proposal at a World Trade Organization meeting next week. More than 3 million petition signatures are calling on the administration to take the lead in negotiations to secure a temporary WTO waiver on IP rights for Covid-19 vaccines, treatments, and tests, according to advocacy group Public Citizen. Ian Lopez has more.
Lawmakers yesterday in a letter to Treasury Secretary Janet Yellen said the department should back House Democrats' move to approve the issuance of additional Special Drawing Rights by the International Monetary Fund to further support developing countries deal with the effects of the Covid-19 pandemic. The group of House Democratic lawmakers signing onto the effort included Rep.

Pramila Jayapal

(D-Wash.), Se Young Lee reports.
U.S. Asks Appeals Court to Revive Biden's Vaccine Rule: The Biden administration asked a federal appeals court in Cincinnati to lift another court's order blocking OSHA's emergency rule that requires large employers to ensure their workers are fully vaccinated against Covid-19 or tested at least weekly. The administration petitioned the Sixth Circuit yesterday to immediately reverse the Fifth Circuit's order pause of the shot-or-test regulation. OSHA has the requisite authority to protect workers against Covid-19, it said in the filing. Read more from Robert Iafolla.
Challengers to the OSHA rule on vaccinations and testing have raised constitutional claims that could limit the agency's authority to act in the future. Those suing to block the measure got a boost from the Fifth Circuit, which put the regulation on hold just a day after it was issued. Reiterating the decision in a later ruling, the all-Republican-appointed three-judge panel said the emergency standard is probably unconstitutional. Read more from Fatima Hussein and Robert Iafolla.
MORE HEADLINES:
To contact the reporters on this story: Michaela Ross in Washington at mross@bgov.com; Brandon Lee in Washington at blee@bgov.com
To contact the editors responsible for this story: Giuseppe Macri at gmacri@bgov.com; Loren Duggan at lduggan@bgov.com